The Fake Facebook Pages Targeting Vietnam Veterans
The pages are operated out of Eastern Europe and the social network took almost two months to shut one of them down.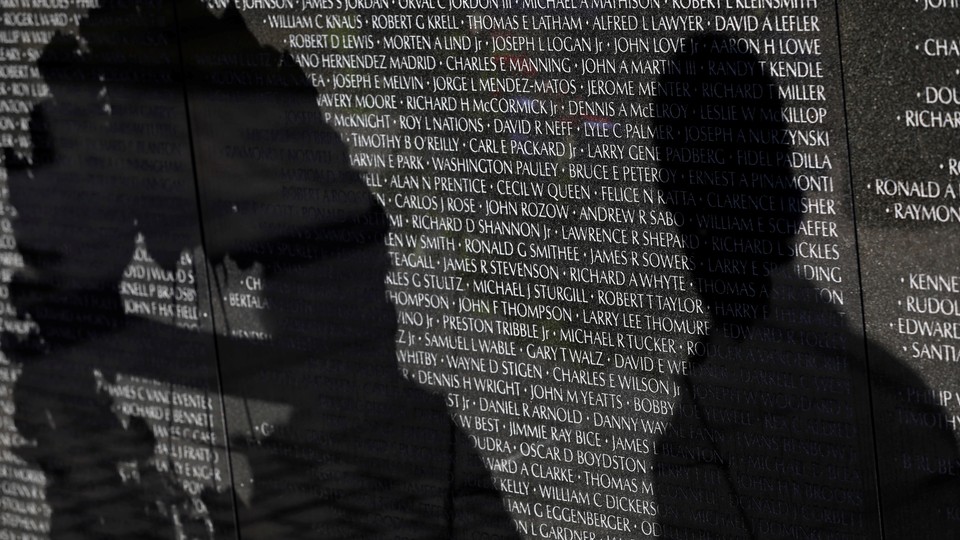 Earlier this week, Facebook CEO Mark Zuckerberg promised lawmakers that his platform would crack down on fake accounts and foreign influence. But at least two Facebook pages linked to websites operating out of Bulgaria are still targeting U.S. veterans of the Vietnam War, according to a letter obtained by The Atlantic that was sent to lawmakers by a nonprofit veteran's organization.
The U.S. military community is not a new or unusual target for foreign influence operations. A study published in October by the University of Oxford found that three websites linked to Russia—Veteranstoday.com, Veteransnewsnow.com and Southfront.org—engaged in "significant and persistent interactions" with veterans during the election, concluding in part that veterans are targeted because they tend to be "community leaders" trusted by the public. Russian operatives went as far as to use advertising tools to target users by demographics and geography throughout 2016, prompting House and Senate investigators to question Facebook, Google, and Twitter executives about how foreign actors were exploiting their platforms to conduct influence operations.
Despite their exposure, however, these operations are ongoing—likely so that foreign actors can use them to spread divisive or fabricated news and other political content, especially in the run-up to the 2018 midterm elections. In August 2017, the nonprofit Vietnam Veterans of America (VVA) discovered a Facebook page bearing its name, logo, and registered trademark that was not affiliated with the organization and whose posts linked to "vvets.eu"—a website anonymously registered through Netfinity JSC of Bulgaria. The page shared divisive political content, including posts about the NFL "Take a Knee" boycott controversies and the racially charged "Blue Lives Matter" movement.
The page had nearly 200,000 followers by October 2017, according to VVA, but was not shut down when the organization first flagged it to a Facebook representative on August 23, 2017. (Facebook said later that it had initially determined that the imposter page had not violated its terms of use.) VVA's assistant director for policy, Kristofer Goldsmith, told a Facebook representative in late August that the page was "building an audience by sharing incendiary fake news" and propaganda, according to emails obtained by The Atlantic. On August 31, the representative asked Goldsmith whether he had reported the page, and said it was being reviewed by Facebook's internal team. When the page had still not been shut down by September 26, Goldsmith reached out again, this time to flag a video posted by the page with the caption: "Do you think the criminals must suffer?" The Facebook representative did not respond.
The page was ultimately taken offline for copyright infringement. But two more like it—"Nam Vets" and "Vietnam-Veterans.org," both of which are registered to the same Netfinity JSC of Bulgaria—were subsequently discovered. "Vietnam-Veterans.org" is registered specifically to an individual named Nikola Mitov, also through Netfinity JSC of Bulgaria. Mitov did not respond to an request for comment sent to an email listed under his name. Facebook did not respond to a request for comment.
Combined, "Nam Vets" and "Vietnam-Veterans.org" have fewer than 4,000 followers. But they have used the same tactics to gain traction and engagement as the previous imposter page did. "Vietnam-Veterans.org" used a logo similar to VVA's as its profile photo, and "Nam Vets," at its inception in 2015, co-opted the logo entirely. Both pages have promoted divisive political content including videos of protesters stomping on American flags and photos of veterans' memorials being defaced. The pages are riddled with spelling and grammatical errors, mirroring the pages and ads purchased by Russian actors during the election that impersonated Americans and spread misinformation. "Does all of your friends know what day is today?" reads one link posted by "Vietnam-Veterans.org." "Very useful inormation (sic) for each Veteran!" reads another posted by "Nam Vets."
In the case of the now-defunct "Heart of Texas" Facebook page, the language was the biggest clue that it was a project spearheaded by foreign actors and not dissatisfied Texans seeking to secede. The memes posted in the group contained typos, grammatical errors, and a general unfamiliarity with basic English phrases. Still, followers engaged with the content and rarely, if ever, raised questions about the grammar. Moreover, some of the Facebook pages exposed as foreign influence operations were not limited to memes and "news" stories—they actually transformed into an organizing force, promoting rallies and protests that average Americans attended during the lead-up to the 2016 election.
"On behalf of the 80,000-plus members of Vietnam Veterans of America, we are requesting the assistance of your committee in investigating the use of social media by foreign actors to target and influence American veterans," Vietnam Veterans of America wrote in their letter to the chairman and ranking member of the House Committee on Energy and Commerce. "As social media becomes ever more important to the daily lives of all generations of veterans, we hope to see the government take a proactive approach to ensuring a safe cyber environment."
In his marathon congressional testimony earlier this week, Facebook CEO Mark Zuckerberg seemed pessimistic about the prospects of halting foreign influence operations on social-media platforms altogether. "This is an arms race," he told lawmakers. "They're going to keep getting better."