Amazon May Have a Counterfeit Problem
The company is facing multiple lawsuits from brands who say it does not do enough to prevent fakes from being listed on its website.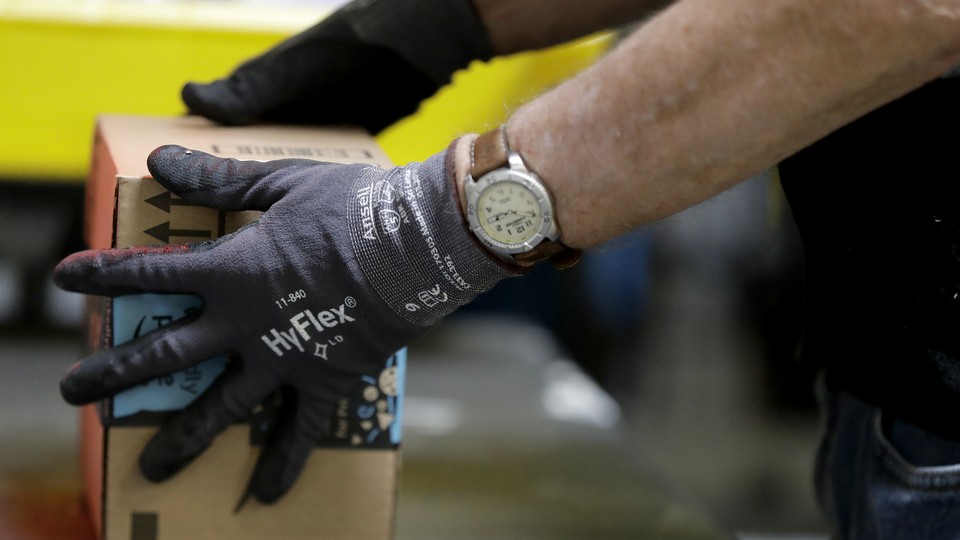 A decade ago, when I was a reporter for the Los Angeles Times, I tagged along with Chris Johnson, an attorney representing True Religion jeans, as he searched for counterfeits in the stores of Santee Alley, Los Angeles's hub for knockoffs. We'd go into a store undercover, look around, and ask if they sold any True Religion jeans. The store owner would sometimes lead us into a back room where the fakes were kept, and Johnson would buy them, and then inspect the jeans and see if they were indeed counterfeit.
Today, though, the process of finding people and businesses selling counterfeit versions of your product is much, much more difficult. The rise of e-commerce sites like Amazon and eBay have essentially helped created millions of such stores online—a seemingly infinite number of doors to knock on to check for fakes. Shut down one storefront for selling counterfeits, and the seller can just create a new account and open a new store. "Amazon has made it extraordinarily difficult to enforce against counterfeiters," Johnson, who now works on online anti-piracy cases with the law firm Johnson and Pham, told me recently.
Of course, the problem is not limited to Amazon. E-commerce sites like eBay, Newegg, and Walmart.com have also been accused of selling counterfeits. (All say they have strict procedures to remove offending products from their websites, and that they vociferously fight against counterfeits.) Still, e-commerce sales through third-party platforms have resulted in "a sharp increase" of small packages being shipped to the United States, which has also led to a rise in knockoffs, according to the Department of Homeland Security. In 2007, U.S. Customs and Border Protection and U.S. Immigration and Customs Enforcement recorded 13,657 seizures of goods that violated intellectual property rights. Last year, the agencies recorded 34,143 seizures.
Courts have yet to find Amazon liable for selling counterfeit products on its site, because the company has been able to argue that it is a platform for sellers, rather than a seller itself. But Amazon did say, through a spokesperson, that it invests substantial resources into preventing counterfeit products from being sold on its site. In a statement, the company said it has a team available 24/7 to take action on reported violations, and has invested significantly in machine learning and automated systems to detect copyright violations. Customers who are not satisfied with a product they receive can get a full refund. Amazon has also joined with brands including Vera Bradley and Otter Products to file lawsuits against companies that try to sell counterfeit goods on its site.
Despite these measures, Amazon is facing multiple lawsuits from large and small brands who say the company does not do enough to prevent counterfeits from being listed on its website. In 2016, Daimler AG, the parent company of Mercedes-Benz, filed a lawsuit against Amazon in U.S. District Court in Washington State, arguing that Amazon "has gained profits" by selling wheels that violated Daimler's patents. Consumers trust items listed as "shipped from and sold by Amazon.com," Daimler says, and so Amazon should be doing more to "detect and deter" infringement of patents. Amazon is fighting these allegations in court. Last year, the chief executive of Birkenstock accused Amazon of "modern-day piracy" for allowing counterfeit versions of his company's shoes to be sold on its site. Eventually, he yanked his brand from Amazon. In 2016, a family sued Amazon in Tennessee because they said they bought a hoverboard on the website that they say was counterfeit, and which they say started a fire that burned down their home. Amazon is fighting the lawsuit in court, and argues that it is just the website where a third-party seller posted the hoverboard, and not the seller of the product itself.
David Rifkin sells 2,600 items on Amazon through his company MPO Global, and has been selling on the site for nearly 15 years. "It's definitely getting worse," he told me, about the problem of knockoffs appearing on the site. "These problems come up once a week," Rifkin said. One of the products he sells, My Critter Catcher, is a device that traps bugs and looks like a pole attached to a plastic gun. My Critter Catcher is patented in the United States and globally, but a few weeks ago, the company saw an identical product pop up on Amazon, which sold for $1 less than My Critter Catcher. Rifkin ordered it to see if it was similar to his product, and found it was exactly the same, he says. When Rifkin initially submitted a complaint to Amazon, he received a reply back a week later, on April 1, asking him to work with the owner of the offending product to "resolve this dispute." Amazon did not, at the time, take down the problem listing.
Two weeks later, on Friday, April 13, I sent an email to Amazon asking about Rifkin's allegations. While Amazon did not respond to that specific question when it got back to me on Monday, April 16, the offending listing had been taken down by 1:30 that afternoon. Rifkin was told that Amazon couldn't disclose why it was removed or what actions were taken against the seller.
These battles over counterfeit goods show how Amazon can both be a savior to small businesses, and their downfall. On the one hand, Amazon has enabled sellers to reach a wider audience than was possible ever before. More than 300,000 U.S.-based small and medium-sized businesses joined Amazon in 2017 alone. Last year, the company shipped 5 billion items through Prime, its subscription program, and it's adding sellers and customers in the United States and around the world every day.
But the emergence of this powerful distribution channel has also opened up the opportunity for illegitimate sellers to copy patented products and sell them fairly easily. Companies, often in China, copy an item, sometimes using the item's trademarked logo in their advertising, and then sell it online for far cheaper than the original item. When I went on Amazon to buy Bluetooth headphones for my iPhone recently, I found dozens of versions of Apple's patented AirPods, some for as little as $30. When I ordered a pair to see how similar they were to the real thing, I got, through Amazon Prime, a pair of headphones that look exactly like AirPods, except that they didn't work very well and their instruction manual was written in nonsensical English. "When making calls, there is only one side earphone working, and there's incoming call, it would broadcast calling numbers," went one sentence.
The law generally protects e-commerce sites from being responsible for what third-party actors are selling on their sites, and acknowledges that it would be very difficult for companies to monitor every single product that is being sold on their site. That is partly because Congress gave companies that provide online services "safe harbor" immunity from copyright-infringement liability for their users' actions in 1998 as part of the Digital Millennium Copyright Act. Essentially, the law says that internet service providers are highways that goods travel over, said Amy Goldsmith, the cochair of the Intellectual Property Practice Group at Tarter, Krinsky, and Drogin. They are not responsible for what's in the trucks that go over these roads, as long as they apply a "rigorous" takedown procedure to complaints about counterfeit goods, Goldsmith said.
But if e-commerce sites aren't responsible for monitoring what is being sold on the web, who is? "The internet is really the Wild, Wild West, in that sense," Goldsmith told me. A decade ago, brands could hire people such as Chris Johnson to knock on doors and search for knockoffs in the real world. With the rise of e-commerce, that task is much more daunting. Still, it is often brands that are responsible for policing the web for counterfeit items or products that infringe on their trademarks. Apple, for example, "employs teams of specialists who are constantly investigating points of sale around the world, and working with resellers, e-commerce sites, and law enforcement to remove counterfeit products from the market," an Apple spokesman, Josh Rosenstock, told me.
Amazon says it has a robust process of preventing counterfeits from being sold on its site. When a business registers to sell products on Amazon, the site's systems "scan information for signals that the business might be a bad actor," the company said in a statement. Over 99.9 percent of all Amazon page views land on pages that have not received notices of infringement, the company said. Amazon also launched a program called Brand Registry that allows companies to share their trademark, verified photos of their product and other information with Amazon so that the company can scan the site for counterfeits. According to Amazon, its team responds to 93 percent of all notices of potential infringement received on its Brand Registry within four hours.
But many brands complain that Amazon isn't doing enough, and that the company doesn't properly vet the products it lists as "ships from and sold by Amazon.com." Helena Steele, who founded the kitchen-apparel company Jessie Steele in 2002, told me that counterfeits on Amazon are driving her out of business. She started selling through Amazon in 2009 or 2010, she told me, but by 2014, had stopped selling her products there. Yet log onto Amazon today, and there are dozens of "Jessie Steele" products available—whimsical aprons dotted with cherries, mugs covered in blue flowers, oven mitts printed with cupcakes.
These, Steele says, are not legitimate Jessie Steele products, but are instead made in a Chinese factory that has stolen her trademark. Steele says that she keeps close track of her inventory, and requires third-party sellers to sign documents saying they won't sell her products on Amazon. Yet her products are still for sale there, listed as "Ships from and sold by Amazon.com." She says that her sales have gone from around $5 million a year to around $500,000 a year because of competition from businesses copying her products and selling them under her name brand. "Amazon has brought us to our knees," she told me. "It's just financially gutted us." (An Amazon spokesperson told me that the company buys Jessie Steele goods from "legitimate U.S. suppliers with an established track record.")
For now, brands' only legal recourse is to try to go after the companies listing the counterfeit goods on Amazon, rather than pursuing a legal strategy against Amazon itself. Jessie Steele filed a lawsuit last year against a Washington woman who the company says sold counterfeit Jessie Steele products on Amazon. In early April, a judge found that the defendant had sold counterfeit Jessie Steele items, and ordered her to pay Jessie Steele $35,000. And Apple in 2016 sued Mobile Star, a company in New York that it alleges sold counterfeit Apple power adapters and charging cables through Amazon—the lawsuit says that Apple bought 12 different products from Amazon, listed as "sold by Amazon," and all were counterfeit. The case is still ongoing. In court documents, Mobile Star denied infringing on Apple's copyrights or trademarks.
But this type of litigation can be costly for small businesses. Helena Steele told me that the mere act of sending out a cease-and-desist letter to a violating brand costs $2,000. "We don't have the money to fight this fight all over the world," she told me. She worries that consumers' love for buying things on Amazon is going to lead to the disappearance of small businesses like hers that can't afford to fight all the counterfeiters out there.
And trying to find and sue the counterfeiters often leads nowhere. In 2015, the founders of Milo and Gabby, a Seattle company that made animal-shaped pillows, saw knockoffs of their pillows listed on Amazon. The knockoffs even used Milo and Gabby's ads, which had a picture of the founders' son on them, Phil Mann, a lawyer with Mann Law Group who represented Milo and Gabby, told me. Milo and Gabby tried to track down the sellers, but almost all of the sellers had given false names when setting up their Amazon seller accounts, and the addresses they gave turned out to be bogus as well, he said.
"The real problem is that it's possible to set up an Amazon account using totally fictitious information," Mann said. Online service providers are not required to vet whether sellers are giving them accurate information when they sign up to sell products, Goldsmith told me. Unable to find the counterfeit sellers, Milo and Gabby decided to sue Amazon. But a jury decided that Amazon wasn't to blame. "Amazon said that even though the product is in our fulfillment center, even though we collect the money, we never take the title to it" and so are not legally responsible for counterfeits, Mann said.
The judge in the Milo and Gabby case did write in his opinion that he was troubled by the decision. "There is no doubt that we live in a time where the law lags behind technology," the judge, Ricardo S. Martinez, wrote. He called on Congress to address the problem, but so far, they haven't. Without much legal wiggle room, some brands are still hoping that Congress will take up the issue. President Trump, after all, has asked the government to look into unfair Chinese trade practices, including intellectual property issues. His animosity toward Amazon could open the door for legislation holding online service providers more accountable for what is being sold on their sites. This, of course, would create a whole new problem—figuring out how to monitor every product on the largest marketplace in the world.