YouTube Removes the 'Hail, Trump' Video From Search
It said The Atlantic's footage, which captured alt-right members giving Nazi salutes, was "borderline content" under its hate-speech policy. It restored the video after being questioned on Monday.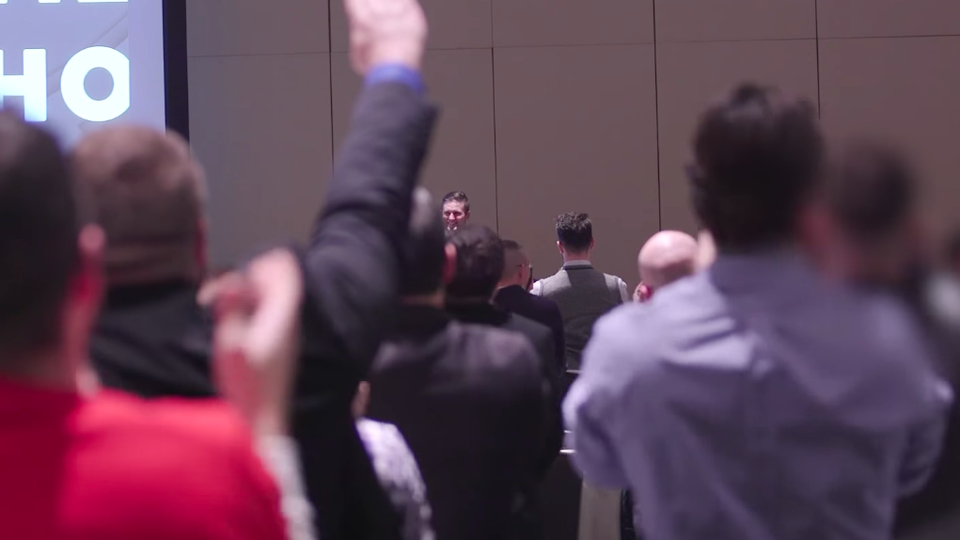 Less than two weeks after the 2016 election, a prominent alt-right leader addressed more than 200 people gathered at the Ronald Reagan Building in Washington, D.C. Millions of people would come to know what happened next.
"Hail Trump, hail our people, hail victory!" said the leader, Richard B. Spencer.
Attendees in the room replied with shouts, applause, and Nazi salutes. The speech closed the annual conference of the National Policy Institute, which describes itself as "dedicated to the heritage, identity, and future of people of European descent in the United States and around the world."
The moment was captured on video by Daniel Lombroso, a journalist at The Atlantic. In the days after the speech, Lombroso's footage of Spencer's declaration—and the Nazi salutes that followed—would be viewed nearly 50 million times on Facebook and YouTube. It was also broadcast on dozens of television networks.
Yet for all its notoriety, YouTube recently curtailed the video's spread on its platform and categorized it as borderline hate speech—a decision that illustrates the problems faced by the company as it tries to address the use of its platform to spread hate speech, conspiracy theories, and violent extremism.
Specifically, YouTube removed the video of Spencer's speech from all public search results on its site and made it much more difficult to access overall. The YouTube video was only accessible during this period by clicking a direct link or by first finding The Atlantic's user page, then locating the video in a menu. (The video was still indexed by Google, YouTube's parent company.)
This delisting accompanied a broader change in status for the video. When it removed the video from search, YouTube also closed comments on the video, hid social-media share buttons on the page, and did not provide a way for users to embed the video on another page. In a message below the video, YouTube said it had "disabled some features" of the video.
"This video contains content that may be inappropriate or offensive to some audiences," said that text. The message linked to a page suggesting that the video counted as "borderline" content under its hate-speech policy, defined as "inflammatory religious or supremacist content without a direct call to violence."
After The Atlantic challenged the deactivation, YouTube allowed the video to appear in public searches again and reopened comments on Monday afternoon. In a statement, a YouTube spokeswoman said that the video's delisting was a mistake.
"With the volume of videos on our platform, sometimes we make mistakes and when this is brought to our attention we correct them. We also give uploaders the ability to appeal these decisions and we will rereview the videos," said the statement.
It continued: "With 400 hours of video uploaded every minute, we rely on our community of 1.5 billion monthly users and we are increasing use of machine-learning technology across some categories to flag content that may violate our Community Guidelines for human review."
"It is up to YouTube to hire people who can tell the difference between videos made by Nazis and videos about Nazis," said Jeffrey Goldberg, the editor in chief of The Atlantic.
"Daniel Lombroso did the country an important service," he told me. "He captured on film American Nazis acting like Nazis. YouTube should reward this video for capturing the truth about a moment in America; it shouldn't be punishing the video for capturing the truth."
YouTube did not notify The Atlantic before removing the video from public search. It is unclear how long the video remained inaccessible, though analysis of traffic data suggests that it may have been initiated on March 13. The Atlantic was first informed of the change when a reader emailed Lombroso on Sunday, concerned that he could no longer find the video on YouTube.
In recent months, YouTube has been criticized for failing to penalize its most famous users for violating its own terms of service, and for cycling conspiracy-theory videos into its supposedly child-safe area. Scholars have also accused its algorithm of continually serving users the most extreme, polarizing content on its platform.
"People forget that Google owns the biggest search engine in the world—and it also owns the second-biggest search engine in the world, which is YouTube," said Joshua Benton, the director of the Nieman Journalism Lab at Harvard.
"Any document has multiple meanings. It can be used to promote an ideology, or it can be used to study an ideology. When you have a video document like this that is clearly created to inform people about what is going on, it seems like a bad idea to lump that in with raw hate speech," he added. "That this happened to a known publisher, without any notification initially, is pretty disappointing."
The Spencer video did not only feature Nazi salutes and an apparent allusion to "Sieg Heil!" During the three minutes of footage, Spencer refers to "the mainstream media" as the "Lügenpresse," a term used by Adolf Hitler and other members of his regime to discredit critics in the free press.
"America was until this past generation a white country designed for ourselves and our posterity," Spencer says in the footage. "It is our creation, it is our inheritance, and it belongs to us."
Ultimately, the video prompted apparent divisions in the American far-right, splintering it into a hyper-reactionary "alt-lite" and a Nazi-aligned "alt-right."
Spencer later appeared at the "Unite the Right" rally in Charlottesville, Virginia, in August 2017, which included neo-Nazis, the Ku Klux Klan, and other ethno-nationalist groups. A 32-year-old woman, who was protesting the presence of white nationalists in Charlottesville, was killed at that march after a car plowed into a crowd. A man with neo-Nazi ties has been charged with first-degree murder for her death.
Spencer led another torchlit march in Charlottesville less than two months later.
YouTube has struggled to deal with the presence of both white nationalists and Islamist extremists on its platform since last year. In a blog post in August 2017, the company announced that it would remove some features from "videos that aren't illegal but have been flagged by users as potential violations of our policies on hate speech and violent extremism."
It also bragged that "better detection and faster removal driven by machine learning" were helping it identify extremist videos faster than ever before.
"YouTube has become our civilization's collective visual memory. And bravo to them for making a great service and for being so successful, but there should be some responsibility that comes with that role," Benton told me. He noted that when Google removes an entry from search results because of a copyright notice, it informs users on the results page.
"Taking down a legitimate video by a known publisher without informing either the user or the publisher doesn't seem to recognize that responsibility," he said.
"It is so much easier to complain about Nazis on a platform than it is to actually deal with them," said Benton. The challenge of moderating YouTube, he added, is "not that far removed from having to edit all human speech."
"But the power imbalance is so amazing here that they need to be held accountable for every little thing," he said.
"In one sense, it's comforting to know that there's not a lot of 'I' in AI," said Goldberg. "Eventually, these companies are going to have to acknowledge that they're in the journalism business. And for market reasons, it seems like they don't want to hire people who will actually edit their site."
"If they can't tell the difference between a video by Nazis and a video about Nazis, it's just farcical," he added.
YouTube is the primary video player on TheAtlantic.com. The Atlantic and YouTube have a contract in place that allows the publication to sell advertising in its video streams, says Kim Lau, a senior vice president and head of business development at The Atlantic.
The "Hail, Trump" footage—and an accompanying 11-minute documentary about Spencer—have been "demonetized" by YouTube for more than a year, which means that advertisements do not run on the video. That documentary also includes short clips of the "Hail, Trump" footage. During the time the extended footage of Spencer's speech was hidden, the documentary was not removed from public search results by YouTube.