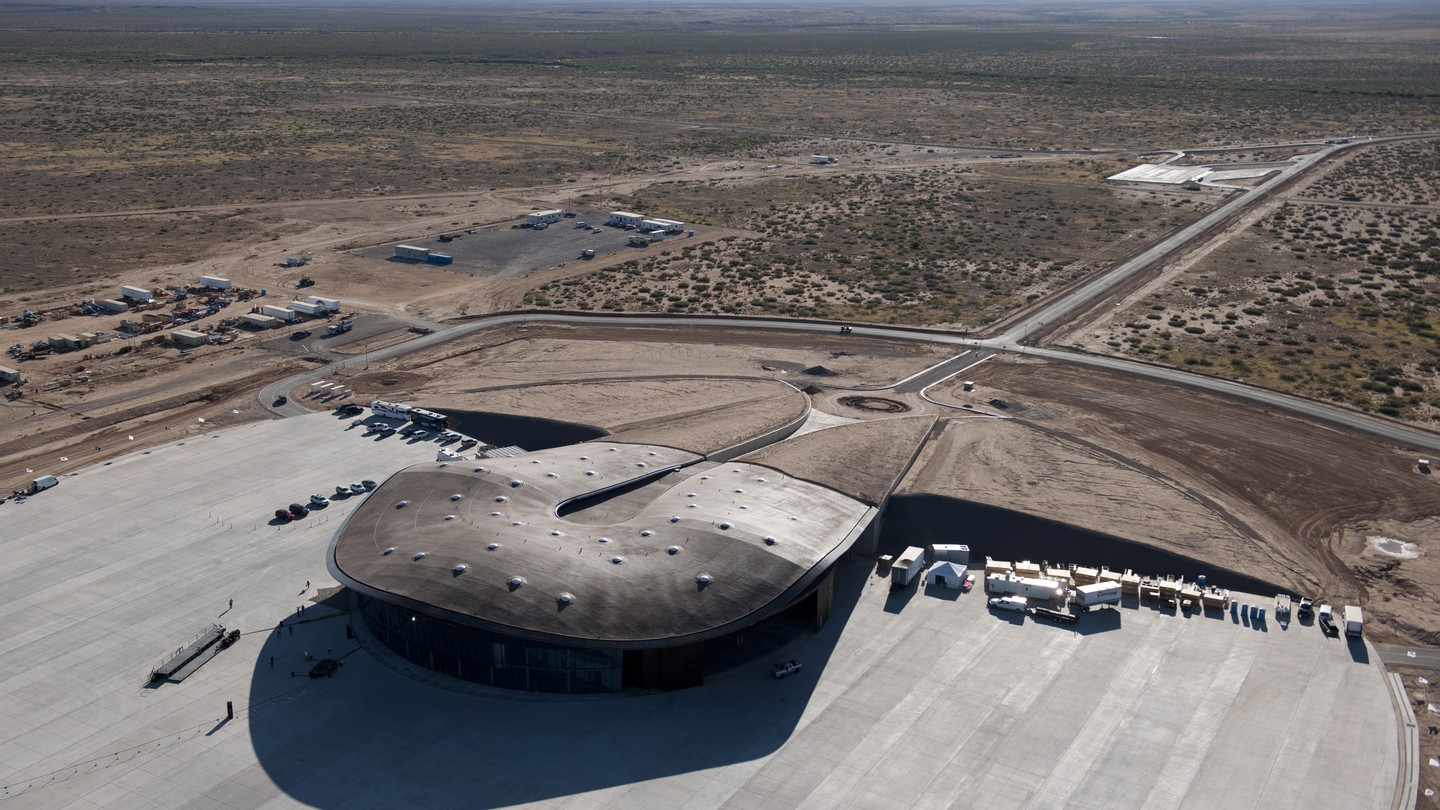 New Mexico's Sad Bet on Space Exploration
Spaceport America was supposed to bring a thriving space industry to the southern New Mexico desert—but for now it's a futurist tourist attraction, not an operational harbor to the cosmos.
Soon after departing the small resort town of Truth or Consequences, New Mexico, the video monitors on the bus come to life. Stars glitter in the night sky, a mystical flute soundtrack lilts, and a narrator's voice intones: "All that you see around you was at the bottom of the sea." The Conquistadors named the flat desert basin that formed after the sea receded Jornada del Muerto, or Journey of the Dead Man. As the bus lumbers through it, the narrator chronicles humanity's fixation with the mysteries of the sky.
This is the road to Spaceport America, which bills itself as "the world's first purpose-built commercial spaceport." But to believe the tourist-bus video, it's not just a dormant industrial park erected with the promise of economic revitalization. It's the latest stop in humankind's ageless reach for the stars.
Spaceport America lies about 20 miles southeast of Truth or Consequences, roughly 50 miles north of Las Cruces, and at a perpetually indeterminate moment in the near future. Although the spaceport has been flight-worthy since 2010, the first launch by its anchor tenant, Virgin Galactic, still hasn't taken off. While the private space industry appears to be at a major turning point elsewhere in the world, its impacts haven't quite reached the small New Mexico cities banking on its future. There aren't many places where a spaceport like this, meant to service an international community, is feasible. Given the state's large and controversial investment in the project, its success or failure might have broad impact on private space travel.
---
A New Mexico spaceport is only the latest entry in a triumphant time line of military and aerospace innovation in this southwestern state. Our video narrator speeds through Spanish colonialism and westward expansion to highlight the Manhattan Project's work in Los Alamos, to the north, and Operation Paperclip, a secret program that recruited German scientists to the United States after World War II. Among them was Wernher von Braun, who brought his V-2 rockets to the state.
White Sands Missile Range, a 3,200-square-mile military-testing site in South Central New Mexico's Tularosa Basin, hosted much of this work. It's home to the Trinity Site, where the first atomic bomb was detonated, and von Braun's rocket testing site, too. Spaceport America is positioned adjacent to the Army property, in a tightly protected airspace. That makes rocket-ship testing a lot easier.
Money is another reason Spaceport America finds itself here. In 2006, then–New Mexico Governor Bill Richardson struck a partnership with Richard Branson's Virgin Galactic to build the company's headquarters in New Mexico. The state paid for the $220 million in construction costs with public funds, some of which came directly from neighboring Doña Ana and Sierra counties via gross-receipts-tax increases. Those taxes are expected to deliver nearly $75 million by 2029. In exchange, the locals long for economic opportunity. They could use it; according to U.S. Census data, Sierra County has one of the lowest median household incomes of the 33 counties in the state of New Mexico.
Mandy Guss, a business-development administrator with the City of Las Cruces, is optimistic about the spaceport's potential impact on the city's future and identity.* "It feels exciting, it's like the future is now," she says. "I think it's something that's going to put Las Cruces and our region on the map." In addition to the ripple effects of about 90 projected Virgin Galactic employees relocating to Las Cruces (as of last summer, 21 were already there), the city eagerly anticipates more aerospace companies setting up shop at the spaceport and in Las Cruces.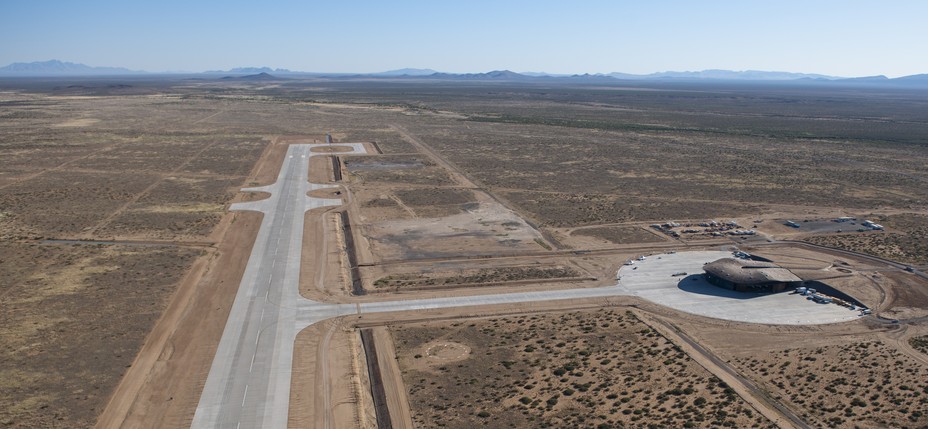 Steve Green, the mayor of Truth or Consequences, recognizes that a town of less than 6,500 primarily known for its hot springs (the city changed its name from Hot Springs in 1950, in homage to a popular quiz show; locals call the place T or C) isn't likely to see the same population spike: "I am realistic enough to understand that Las Cruces will get the lion's share of the people who are coming there. We will get the people who don't want the big-city life." But Green is bullish on the tourism opportunities the spaceport will bring once the commercial spaceflights begin.
If they begin. For now, the spaceport is a futurist tourist attraction, not an operational harbor to the cosmos. The tour buses depart from a former T or C community center twice a day every Saturday. They pass thrift stores, RV parks, and bland but durable-looking structures, defiant underdogs against the mountains. We pass the Elephant Butte Dam, a stunning example of early-20th-century Bureau of Reclamation engineering that made it possible for agriculture to thrive in southern New Mexico; even so, a fellow spaceport tourist notes that the water levels seem far lower than what he recalls from childhood.
Spaceport America's architecture involves monolithic concrete domes and curved forms in weathered earth tones, unobtrusively impressive, like an architectural humblebrag. The complex and its buildings vaguely recall a Southwest landmark frequently mistaken for the city of the future: Arcosanti, the architect Paolo Soleri's 1970 "urban laboratory" nestled in the mountains north of Phoenix. It's oddly fitting: Soleri imagined a sustainable desert utopia, as well as speculative space "arcologies"—self-sustaining architectural ecologies, delicately rendered as hypothetical asteroid-belt cities or prototype ships.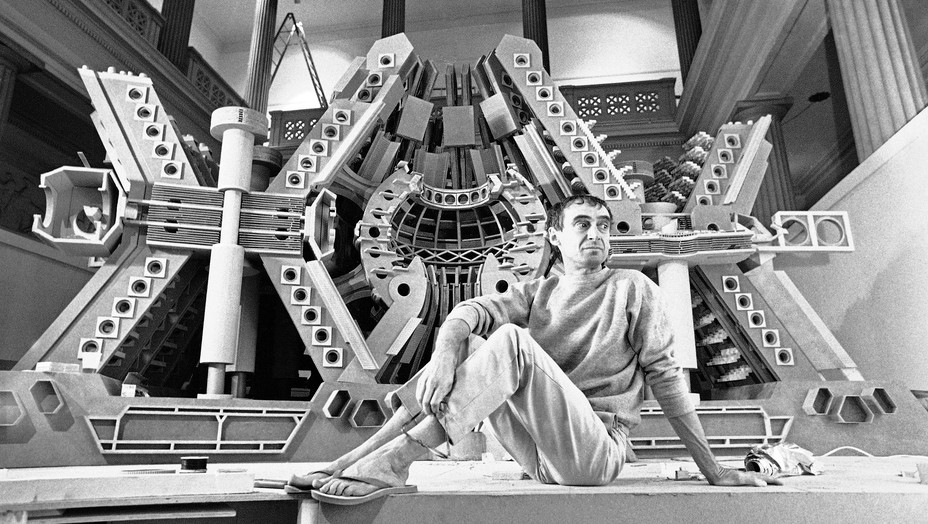 At times, the spaceport feels as much like a prototype as Soleri's drawings. The official tours are daytime weekend affairs, so when we enter the Operations Center on the weekly Saturday tour it feels empty. We are told that work happens at the spaceport, but there's little sign of it. At the Virgin Galactic office building, masking tape marks the carpet floors, perhaps in anticipation of future furniture arrangements. The only spacecraft we see on the tour is a model of Virgin Galactic's SpaceShipTwo, glimpsed from a distance in an otherwise empty hangar. Even the spacecraft isn't real.
Admittedly, the name Spaceport America suggests theatrics. There are several commercial spaceports throughout the United States, some of which sport more activity and tenants. Most of Virgin Galactic's testing has happened at the Mojave Air and Space Port; Virginia's Mid-Atlantic Regional Spaceport recently signed on the SpaceX competitor Vector as a customer.
Others, like Oklahoma's Air and Space Port, seem to be even more like ghost towns than this one. But New Mexico's gambit suggests we are at the spaceport of the nation. It doesn't feel like the frontier of private space travel so much as a movie set.
---
It's a quintessential American desert trope: the future as rehearsal rather than reality. Many promises for technologies of future urbanism start as desert prototypes. Hyperloop One's test track in the Nevada desert; self-driving cars tooling around Tempe, Arizona; and Bill Gates's Belmont, Arizona, smart-city pilot offer a few more recent examples, but that tendency to treat the desert as blank canvas for constructing utopia resonates from the Mormon state of Deseret to Burning Man's Black Rock City. New Mexico examples tend to include slightly more dystopian rehearsals: Much of the state's existing science and defense industries emerged from bringing Manhattan Project scientists to what, at the time, was the middle of nowhere to test nuclear weapons—essentially, to practice ending the world.
Spaceport America hasn't done much rehearsing, yet (although it has, in fact, been literally used as a movie set—most recently for the 2017 sad-teen-from-Mars feature The Space Between Us). Following a disastrous 2014 test flight in the Mojave desert that left the pilot seriously injured and the copilot dead, Virgin Galactic postponed its plans while addressing what the National Transportation Safety Board called a "failure to consider and protect against the possibility that a single human error could result in a catastrophic hazard." A successful flight in January 2018 has restored some confidence that, at long last, space tourism really is around the corner. Down in Las Cruces, Guss expressed cautious optimism. "You'll always have a lot of folks who, you know, won't believe it till they see it. But overall people are hopeful and excited."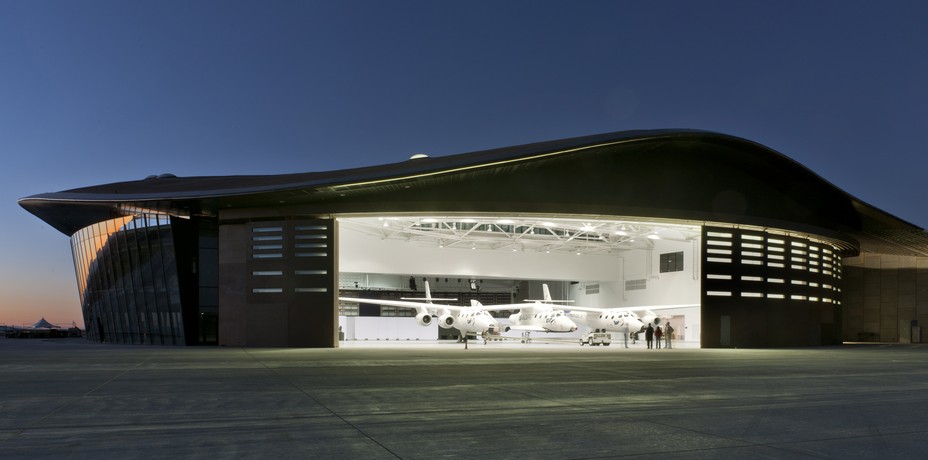 Notwithstanding Virgin Galactic's absence, there is a lot already happening at the spaceport. The tourism at the heart of the Spaceport America pitch hasn't yet materialized, but meta-tourism like the Saturday tours provide some revenue, and the aerospace industry has been active here. Google tested its SkyBender project to beam high-speed internet via drone there. Spaceport America boasts of its 39 vertical launches and seven horizontal launches, which have included launches by UP Aerospace in partnership with White Sands and the launching of various human cremains into space by the "memorial spaceflight" provider Celestis. On the tour, one of the firefighters on-site points to a hangar rented by Boeing holding the CST-100 Starliner, a space capsule the company is testing.
Aerospace successes outside of New Mexico are also encouraging to the spaceport's supporters: Shortly after my visit, SpaceX's Falcon Heavy rocket successfully launched Elon Musk's Tesla into orbit, along with even greater optimism for the future of the private space industry. (SpaceX was briefly slated to be a regular Spaceport America tenant but has since shifted its ambitions toward a private site in Brownsville, Texas.)
But when it's not inviting the public to take in a spectacle, the space industry treats most of its activities as closely guarded trade secrets—so much so that the spaceport's public financing and ownership has been deemed a major liability. This was the reason that the New Mexico legislature voted overwhelmingly in favor of a bill that gives the spaceport significant exemptions from public-records requests. The Spaceport America CEO, Dan Hicks, argued that companies that might have come to New Mexico were choosing competitor sites out of fear that competitors could glean information about their R&D through records requests. The legislature agreed; during the same session, it also allocated $10 million to Spaceport America for a new hangar and additional operations.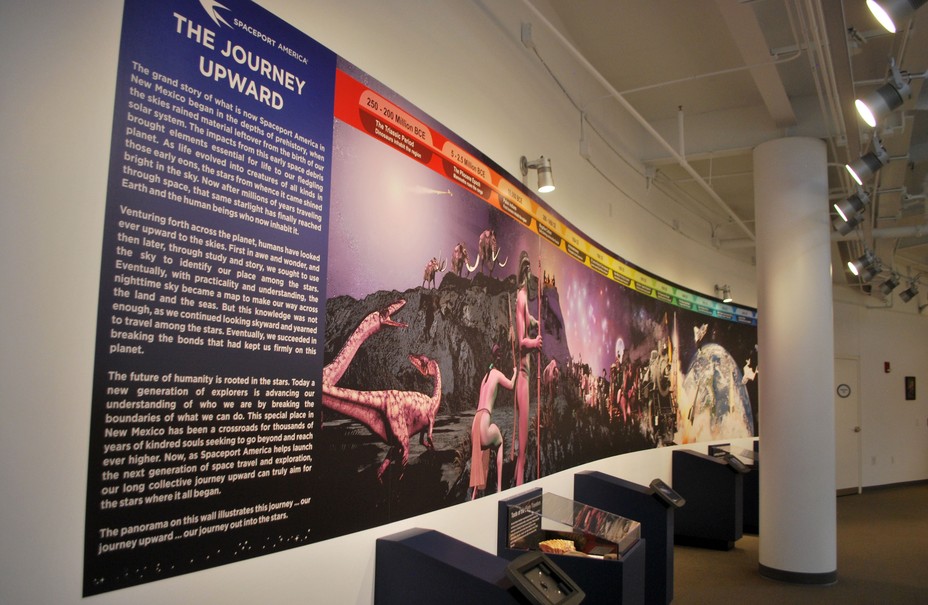 Some last-minute revisions to the bill appeased government-transparency advocates, but the exemptions are subject to Spaceport America's interpretation. It's unclear, for example, whether Spaceport America could exempt tenants from disclosing information about toxic chemical spills or other environmental disasters (an attempted amendment on this issue by the state legislator Jeff Steinborn failed to pass). Spaceport America acknowledges the validity of the concerns but insists that the bill as passed effectively addresses them.
For the cities that view the spaceport as potentially economically transformative, the records-request exemptions are seen as a cost of doing business. "I think that New Mexico has to grow up," Green, the T or C mayor, told me when asked about the potential slippery slope of giving exceptions to publicly financed projects. "I don't see why the public has to know what SpaceX or Boeing or Virgin Galactic are doing, what technology they're dealing with. That's their business. You want to know about it? Buy their stock."
The NMPolitics.net editor Heath Haussamen, who has been reporting on the public-records issue, believes success isn't predicated on secrecy. "I hope the spaceport works," he says. "I've lived here all my life. My daughter's six years old. And New Mexico's greatest export is our children—we do a great job of giving them college degrees and not giving them opportunities in the state." He appreciates the efforts the state has made to think longer term about the spaceport's impact; a portion of the taxes paid by Sierra and Doña Ana County, for example, are dedicated to expanding and supporting STEM education in the counties' schools. Haussamen believes Spaceport America could help revitalize the southern New Mexico economy, but he also believes that "the public has a right and a duty to be able to know what kind of return they're getting on their investment."
Perhaps the insistence on secrecy for its tenants explains why Spaceport America's marketing materials, along with conversations on the official tour, still emphasize Virgin Galactic's space-tourism business. Passengers who can afford the $250,000 fare spend several minutes in zero gravity before returning to Earth. It's a far cry from democratizing space travel and pretty unlikely to be the primary source of Spaceport America's revenue. Virgin Galactic's notable absence at the spaceport makes these crewed missions seem like stunt more than science, but most of my fellow tourists take the premise of ubiquitous space travel to colonies on Mars as a fait accompli. I'm not sure why people in a desert would fantasize about going somewhere even harder to inhabit.
---
But the mythologies of the former American frontier tend to collide with the final frontier: As extreme environments, deep space and remote desert have a lot in common. That explains projects like Utah's Mars Desert Research Station, a faux-Martian habitat for long-duration fieldwork for a hypothetical, future Martian expedition. Humanity dreams of going to space for many of the same reasons some people went to the desert: because it is there, because they hope to get rich extracting natural resources they find there, and because they suspect mysterious, new terrains can't be any worse than the irredeemable wreckage of the landscape they're leaving behind. In a region defined by boom-and-bust cycles of mining and oil and gas, where the future has always been in part determined by the art of water-rights negotiations, and where climate change presents a very real threat (more than half of the state of New Mexico is currently experiencing severe drought), believing in the inevitability of Mars colonies is maybe no less idealistic than believing in the Southwest itself.
This is perhaps the most unavoidable and disconcerting truth of Spaceport America. The romance and promise of the American West was built, in part, on federal land grants to private corporations that promised to bring boomtowns to places previously otherwise deemed uninhabitable wastelands. Cities rose and fell with the rerouting of railroads; a major turning point in Las Cruces' own history came when the city sold right-of-way to the Atchison, Topeka, and Santa Fe Railway in the 1880s, making the city part of a crucial industrial thoroughfare.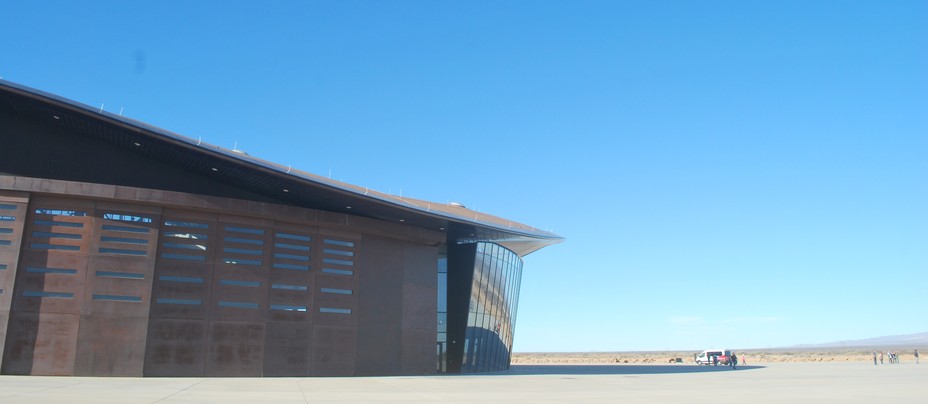 To manifest destiny's proponents, to doubt the inevitability of technological and social progress via the railroad was tantamount to doubting the will of God. Today, questioning the value of (mostly) privately funded space development likewise feels like doubting human progress. Spaceport America isn't all that different from the railroad and mining executives building company towns that it cites in its own promotional literature—which is to say, it uses the promise of progress as a smoke screen from very real concerns over taxpayer funding and public accountability. The romance of space distracts from the reality that at the end of the day, Spaceport America is a publicly financed resource mainly serving private companies, built on a long-stalled promise of bringing new money and a daring new tech industry to a jobs-hungry and very poor region. The price tag and PR rhetoric may differ from that of cities engaged in bidding wars over a Facebook data center or a new corporate tech campus, but concerns over public concessions to private-industry demands for secrecy and tax breaks (along with questions of whether the project's benefits will actually be felt by residents who need them the most) remain more or less the same.
On the bus ride back to the Truth or Consequences visitors' center, yet another video celebrates the possible democratization of space through the can-do efficiency of the private sector. New Mexico, we are reminded, has been part of that journey this whole time, "from petroglyphs to spaceships." Perhaps Spaceport America is part of a grand southwestern history—but a fraught history, and one that provides no guarantee of inevitable success. Whether on the empty spaceport runway or driving across New Mexico, Arizona, Utah, Nevada, or California, it is hard to escape the ghosts of the West's promised cities of tomorrow among its present cities hanging onto borrowed time.
Watching a group of bored cows on the Jornada del Muerto as Spaceport America recedes into the distance, I wonder if the future always feels like rehearsal until it arrives, or if it is always rehearsal, only seeming like it has arrived when the run-through loses its novelty. Maybe all of the impatient skeptics will be proven wrong this year, and the future will finally arrive at Spaceport America. Here in the desert, a better future always seems to be right around the corner.
---
* This article previously misstated Mandy Guss's title. We regret the error.