WWI's Zeppelin Bombings Popularized the Trend of 'Pyjamas'
It was a matter of practicality—but also of looking good.
World War I introduced so many terrifying new ways to die, and chief among those was, of course, death by air.
You didn't even have to be a soldier. For Londoners, the threat began in January 1915, when the Germans sent zeppelins loaded with bombs across the Channel. Eventually, they sent planes, too.
The air raids, often at night, accomplished little tactically, but their true purpose was to terrorize civilians and sink British morale. "There's never been anything like this. Suddenly a blazing bomb is coming out of the sky and setting light to a house, it's almost science fiction," an aviation historian told the BBC.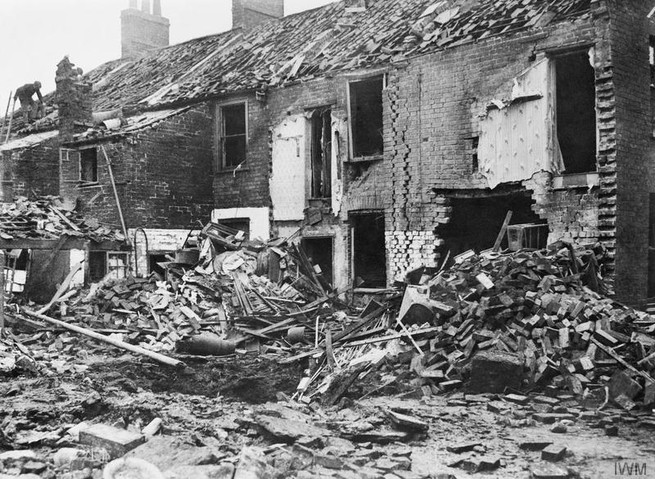 The air raids brought the war to the home front. They intruded in the bedroom, the most private space of all. And thus, they had quite an effect on fashion.
Think about it this way: Bedclothes are among most intimate of garments. But with the advent of nighttime raids, these private fashions were thrust suddenly into the public sphere when people had to evacuate their homes at a moment's notice. It was the original "I woke up like this."
A crumpled nightdress would no longer do. It was a matter of practicality! But also a matter of looking good!
On January 21, 1915, days after the first zeppelin raid over England, the Manchester Guardian reported that women were already strategizing how to prepare to "meet the midnight world at a minute's notice."
None of those questioned seemed to be much alarmed at the prospect of a raid, but they all admitted—with some surprise that anyone else should have had the same forethought—that when they go to bed nowadays they are always careful to hang a becoming cloak near at hand. Some of them had thought of silk scarves to throw over their heads. An elderly lady recommended an emergency toupee.
As the bombings continued, distinct trends took hold. Pajamas, or "pyjamas," as the Brits called them—a loose-fitting set of jacket and pants—became especially popular. "Women in trousered attire of any kind was a new phenomenon in 1915 and many magazines saw pyjamas simply as 'the season's novelty,'" wrote the historian Lucie Whitmore in a recent Twitter thread on WWI air-raid fashions. But they ended up being much more than a season's novelty—"pyjama" sets are hanging on the racks of your local Target even today.
Pyjamas were both warmer and more practical than thin nightdresses during air raids, but attractiveness was important for some, too. "The zeppelin raid has not only set a fashion for respirators but it has, ridiculously enough, given rise to an attempted fashion in clothes," sneered one Guardian columnist in August 1915. The column went on: "Zeppelin pyjamas can be made of honest flannel. Very much more often they are made of crepe de chine, or, failing that, of Japanese silk. Favorite colors are dark blue and pale pink. Needless to say the former color is most suited for its purpose"—presumably to blend into the night.
Among the more keen was a fashion editor, quoted by the historian Lucy Adlington: "I do want a little zep scare, so that I can wear them," the editor confessed about her black silk pajamas. "Of course I don't want anyone to be killed."
Another novel form of trousered attire for women was the one-piece sleeping suit, suitable for venturing out during air raids. An ad touted the sleeping suit in "white, pink, blue, or mauve nainsook"—a soft, delicate form of muslin.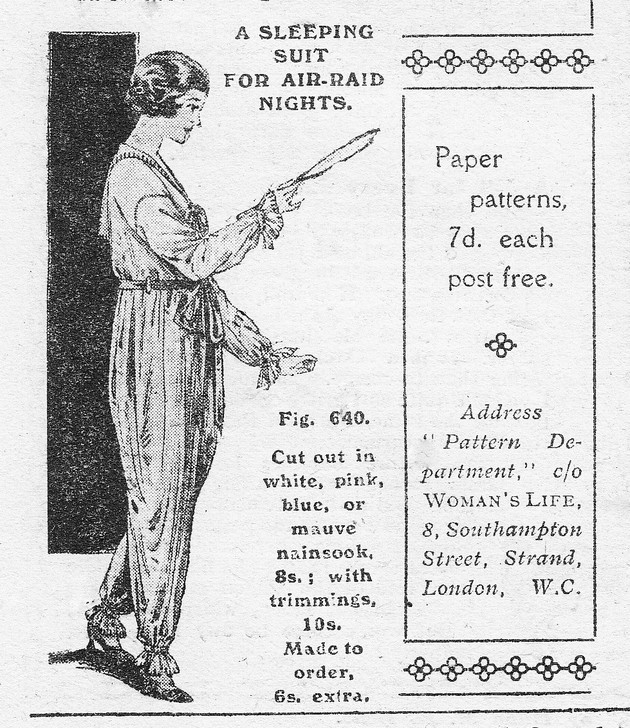 As for the head, women now faced the prospect of running out with their hair undone. Boudoir caps kept them presentable. The caps could be lacy, embroidered, threaded with gold, or decorated with ribbons. Whitmore notes that boudoir-cap sales increased 50 percent at one London department store in October 1916.
7 #UPMTC Boudoir caps, an incarnation of the nightcap, had been worn by women since the 19thC to cover hair in pins/curlers (or undressed hair) at night, or in the privacy of their own homes. The papers reported a great boost in popularity as a consequence of #WW1 air raids. pic.twitter.com/3bb7ZE7BSz

— Lucie Whitmore (@LucieWhitmore) January 12, 2018
Boudoir caps were, obviously, not practical against shrapnel or falling debris. But to call them simply frivolous may not do either. They served a purpose: to conceal the undressed, unmade female body so rarely seen in public. Women could now wear their trousered pyjamas, but of course they couldn't look totally undone.