The Life of an Undocumented Coder
A student's path into software engineering has not been easy with DACA protections hanging in the political balance.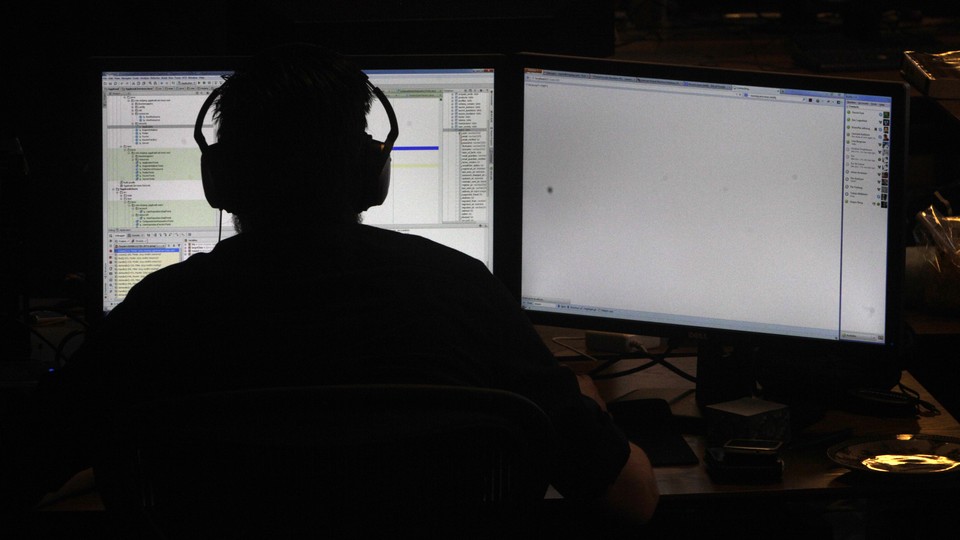 D has done everything right. He's worked hard in school, built a valuable skill set, and tried to join the technology industry. But the DACA political confusion keeps throwing up new obstacles.
D's parents are from Guadalajara, Jalisco, in Mexico. They came north as farmworkers and brought their son with them when he was 9, settling in Salinas, California, an agricultural town ten miles inland from the great curve of the Monterey Bay.
Farms dominate the Salinas Valley. The area grows 70 percent of the nation's lettuce, is home to two of the four largest orchid growers in America, and produces the most chardonnay grapes in California.
But D was fascinated by computers. He wanted to become a game developer or graphic designer. He took a class in high school so that he could start to learn how to code, and the next thing he knew, he had become part of a program at California State University at Monterey Bay that would let him get his computer-science degree in three years—for him, funded in part by the Matsui Foundation, which is associated with one of those big orchid growers.
"The first time my parents saw one of my computers, they thought that they only existed in movies," D told me.
As he approaches the halfway point of his program, he's been applying for internships right in the middle of the political fight over the future of the program President Barack Obama initiated to help immigrants, Deferred Action for Childhood Arrivals, or DACA. Hundreds of thousands of people who arrived in the United States as children are covered by the program, which the Trump Administration is pushing to rescind, a battle that remains frozen in federal court. Congress has not come up with a compromise, either, so the whole situation has become a mess.
For D, who has documents that permit him to work through May 24 and for his prospective employers, it's all very confusing. If President Donald Trump had not moved to rescind DACA, D would have been able to renew for another two years, if he filled out all the forms and met the criteria. Now, who knows?
I spoke with him about what it's like finding his way into tech while DACA's future hangs in the balance, the offer a company rescinded when they learned about his immigration status, and the tech giant that's extended him both an internship and legal aid.
Because of his family's immigration status, D requested to be identified only by the first letter of his first name. This interview has been edited and condensed.
---
Alexis Madrigal: Tell me a little about yourself.
D: I came to Salinas when I was 9 years old and I've been here since. Right now, in CSU at Monterey Bay, I'm doing computer science with an emphasis in software engineering. I'm 20 years old, and it's my junior year. I'll be graduating in May of 2019.
Madrigal: How does your college program work?
D: The program gives you a bachelor's degree in CS in three years. They group us with a cohort of 30 students. We all take the classes together and have the same mentors. Our workload is a little bit more, since we do everything in less time. We don't have summer vacation. We don't have winter breaks. The second summer that you're in the program, they allow you to look for an internship.
Madrigal: How'd you go about trying to get that intership?
D: I was doing my internship hunt, looking for companies. I started interviewing with Apple. I also found out about Code2040 [an organization that's working to get more black and Latin people into tech]. So I applied for Code2040 and did their whole process. I really enjoyed all the tests. After I became a finalist, they helped me with the different companies.
Madrigal: How did it all go?
D: One company put me through a total of five interviews. They challenged all my background knowledge on computer science. I had to study really hard for them. I spent nights reviewing all my data structures. One day I got the call from their recruiter. She was just calling to say, "Hey, you got the position! We'll send you written confirmation." She told me about all the opportunities and resources and benefits I was going to get from the internship. I was overwhelmed. It was awesome.
At the end, she said, "Do you have any questions?" I was like, "This is my time. I'm going to disclose my status." So I told her and asked, are you able to sponsor me? The internship will start May 21, my papers expire May 24. After that, she said, we'll hold off on the paperwork until we know you'll be able to work here. That was a little downer right there.
Madrigal: Did you hear any more from them?
D: They actually tried to look more into it. After that conversation, I reached out to Code2040 and told them what was happening. They talked to the company and tried to share some advice with them. They were trying to push the company to give me some slack and give me time to figure it out. They did try to give me a lawyer to work with, but after an initial conversation, the lawyer didn't reach out to me and I didn't have more conversations.
Madrigal: What ended up happening?
D: They rescinded the offer. Because DACA was up in the air, it wasn't clear if I was going to be illegal or not. I was really excited to work for them. But I understood. They tried to help me, but they weren't really experienced with my situation, so they ended up taking that opportunity away. But around that time, I got the call from Apple.
Madrigal: And did they have the same position, that they couldn't give you the internship when you told them about your status?
D: Thankfully, Apple was extremely helpful and understanding. They didn't hesitate whatsoever. They were really great. They gave me a lawyer to push the renewal of my documents. They really made me feel welcome. I want to work for a company that accepts who I am.
Madrigal: So you're happy with how it turned out?
D: During my internship hunt, I didn't really care what company I ultimately got. All I cared about was getting that work experience. I really wish that there were more companies that took students in without looking at their documents. There are students out there who are willing to show their skills. I would go to any company just to get work experience, without caring about money. Right now, I just want to get through school and will take all the opportunities I can.
Madrigal: Is your family happy?
D: They have no idea what I'm doing. They think I'm on my computer watching videos all day.
Madrigal: That's only half the day.
D: Okay, maybe a third. I come from a family that's all farmworkers. They don't even know the opportunities that I could get or where I would be working or what I would be doing. After a while, I started teaching them: "Hey mom, here's what I'll be doing." She's very proud. She's very happy that I'm pushing this on myself.
Madrigal: Do you have any sense of how your situation could resolve?
D: I try to stay away from news about how DACA is going, so I can focus on school. What I do know is that even though it has been going in the right direction, it's still grayish. My family and I are still hopeful and going day by day as if nothing is happening. Or at least trying.