After 61 Years, America's Busiest Highway Is Almost Complete
An infamous gap in Interstate 95 will finally be closed this summer.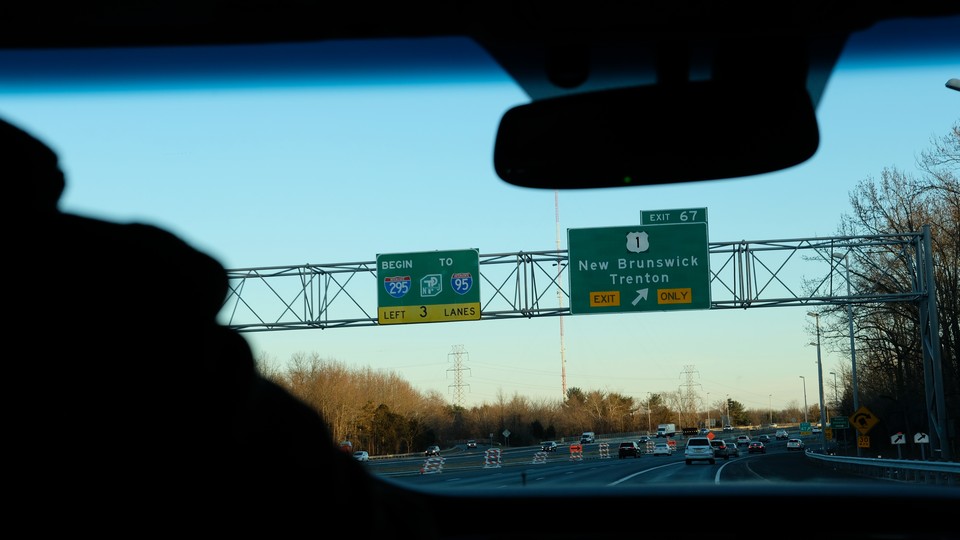 PENNINGTON, N.J.—The past few years have been thick with promises of shiny new infrastructure and the revival of American greatness.
Funny, then, that so little has been made of a quiet victory for U.S. infrastructure due later this year. By September 2018, one of the country's most famous civil-engineering projects will finally complete construction, six decades after work on it began.
Interstate 95, the country's most used highway, will finally run as one continuous road between Miami and Maine by the late summer. The interstate's infamous "gap" on the Pennsylvania and New Jersey border will be closed, turning I-95 into an unbroken river of concrete more than 1,900 miles long. In so doing, it will also mark a larger milestone, say transportation officials—the completion of the original United States interstate system.
Construction to fix the I-95 gap began more than eight years ago in Pennsylvania, but it has now reached its final stage. This week, the New Jersey Department of Transportation began switching out road signs in preparation for the change.
But I-95's completion isn't a standalone feat. Local transportation planners claim it will herald a larger accomplishment.
"The original Interstate Highway Act had a network of highways across the nation that were associated it. Through some federal bills since then, that list was amended a little bit and made a little bit larger—but our understanding is that this is the final piece of that original interstate system," says Jay Roth, a consultant at Jacobs Engineering Group who has worked to close the gap in I-95 for more than two decades.
It may be surprising that President Dwight Eisenhower's dream of a linked network of American autobahns is still (a little) incomplete in 2018, more than half a century after the passage of the Federal-Aid Highway Act. But the reason has less to do with recent national politics and much more to do with long-term planning, wealthy homeowners, the 1970s fuel crisis—and that pesky gap in New Jersey.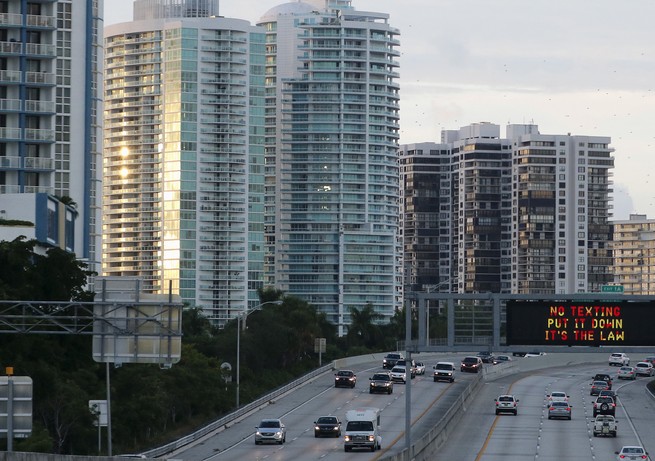 I-95 is an American marvel. It's the longest north-south highway in the United States and the country's most-used highway in terms of vehicle miles traveled, according to the Department of Transportation.
It's efficient, serving about 10 percent of America's land area but almost 40 percent of its population, or roughly 110 million people. Its path is "as densely settled as much of Western Europe," brags the I-95 Corridor Coalition, a group of government agencies that maintain the route.
On the way, it passes an atlas of magnificent American town names: Jupiter, Mims, Pooler, Walpole, Applegarth, Throgs Neck, Mystic, and Gray—not to mention the novelty of New Zion, New London, New Castle, New Smyrna Beach, and New Limerick.
Yet despite all these accolades, I-95 isn't particularly beloved or extolled—though it appears in at least one Springsteen song. In some ways, it's a lot like the densest cities on its path: a little rough around the edges, and nothing special to look at, but every day it does its job without much of a fuss.
Except, that is, in New Jersey, where at one crucial juncture, I-95 utterly fails to work.
If you are driving northbound on I-95, just outside of Princeton, a road sign will warn you that I-95 North—the road you are on—is ending. But the physical road itself doesn't end—instead, the highway veers south, now under the name Interstate 295. If you don't get off at an exit, you will find yourself suddenly driving south, and have to do a complicated series of maneuvers to get back on a northbound road.
On the other side of this gap, Interstate 95 continues northward, starting from eight miles away.
It all sounds confusing, and it is—I didn't fully understand what was happening until I reported this story, and I grew up 10 minutes from this stretch of interstate.
But while the current situation may be perplexing, the root cause of the problem is easy to explain: There was supposed to be a chunk of highway in this part of New Jersey, and no one ever built it.
Its origins go back to the late 1930s, when federal planners first proposed the idea of a national superhighway system. The authors of Toll Roads and Free Roads, a 1939 federal report that proposed interregional highways, envisioned a major north-south artery through central New Jersey. In 1955, Eisenhower adopted many of their plans when he first proposed the interstate system to Congress. He, too, slotted a highway into the same part of the state.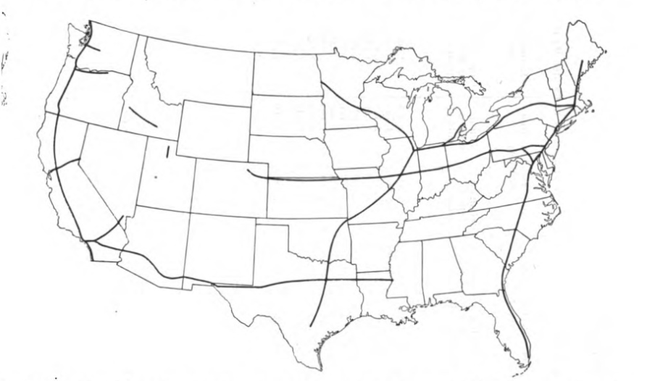 During the late '50s, the new highway also got a name. State transportation officials agreed to christen the major interstates using the same scheme they used for the U.S. routes decades earlier: East-west highways would receive even numbers, while north-south highways would be odd. But U.S. routes started counting from the northeast, so to avoid confusion, the officials numbered interstates starting in the southwest. Thus, Interstate 95 runs north-south on the Atlantic Seaboard, roughly mirroring the old U.S. Route 1. (This is also why I-5 mirrors U.S. 101 along the Pacific.)
By the early 1970s, most of I-95 had been constructed through New Jersey. But one segment remained: the so-called Somerset Highway, the very link in I-95 between Pennsylvania and New Jersey's urbanized north that Eisenhower and the authors of the 1939 report thought so crucial.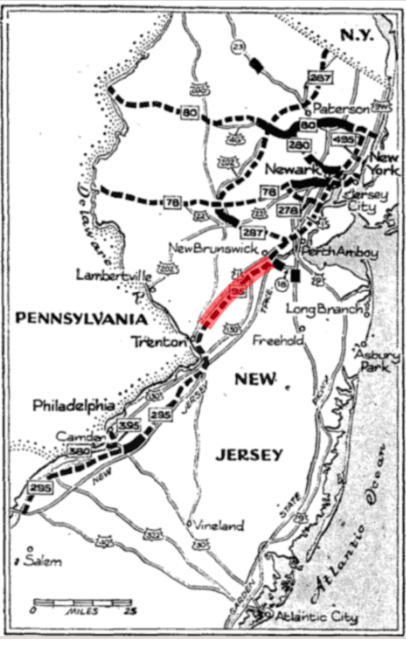 Plans called for I-95 to pass through the middle of Hopewell Valley, a majority-white patchwork of farms, small towns, and affluent estates sandwiched between Princeton and the Delaware River. The highway also would have cut through the Sourlands, a hilly offshoot of the Appalachians that forms a large natural reserve. It was also rumored to bisect the property of a powerful local CEO.
Hopewell residents had fought against the proposed interstate nearly from its first proposal. "I've lived in Hopewell Township for 26 years, most of which have been fighting I-95," a local man said at a 1976 public meeting, according to The Times of Trenton. That same year, the state's governor made a last-ditch push to build the route.
That's when Alain Kornhauser, a professor of operations research and financial engineering at Princeton University, got involved. He believed the highway was too important to the region not to build. He was also ready with ideas: When locals worried about traffic congestion, he proposed that the offending segment of I-95 should be built with no exits. When others fretted that the highway would disturb the wooded Sourlands, he floated a different idea.
"I said, well, if noise and ugliness are a problem, why not just bury it? Why not just put it underground?" he told me recently. "Of course, people went nuts."
The project was estimated to cost $500 million in 1976 dollars, or more than $2 billion today. The AFL-CIO supported the new highway on behalf of construction workers, and pushed the governor to support it; the state transportation chief wanted it canceled.
The fight attracted regional media attention. There was an acrimonious public meeting in Hopewell Valley Central High School's auditorium—with some unusually sentimental speakers. "Two young girls, barely able to speak between giggles, stepped to the microphone and told department officials the Hopewell Valley was just 'too beautiful for you to destroy the animals and the things around it,'" The Times of Trenton reported in September 1976.
As gas prices rose, and state elections approached, the governor relented. The final segment of I-95 was dead, killed by "a developing energy crisis, dwindling public financial resources, increasing environmental opposition, and demands for mass transit" reported The New York Times. "The environmental damage that the highway would have created in what is widely regarded as one of the most beautiful valleys in New Jersey" also helped defeat the route, it said.
And so the gap in I-95 was born.
In 1982, Congress resolved to fix it. A highway bill that year ordered the interstate to be completed by linking I-95 to the Pennsylvania Turnpike north of Philadelphia. Then the already-constructed New Jersey Turnpike could become Interstate 95 where it meets the Pennsylvania Turnpike.
Pennsylvania soon began studying its options. Preparations and environmental study took years, and construction only began on the interchange in 2010. Along the way, the New Jersey gap became I-95's last major remaining discontinuity, after Florida closed a 33.8-mile hole in its section of the interstate in 1987.
Now, the Pennsylvania Turnpike Commission says it will complete its portion of the I-95 section by August.
New Jersey is aiming for a similar date.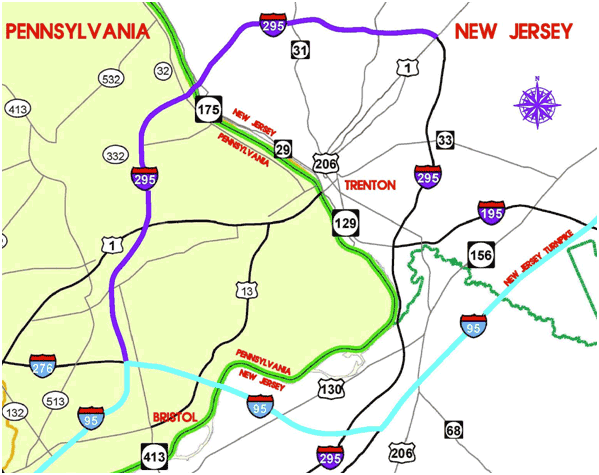 "They've needed an interchange between 95 and the Pennsylvania Turnpike. It's good that they've done this," said Kornhauser, the Princeton professor, of the project.
But he still lamented that the old Somerset Highway would still never get built. Separating I-95 from the New Jersey Turnpike would have helped alleviate one of the Mid-Atlantic's biggest design flaws, he said. The original plan to bridge the gap by hooking the Somerset Highway into Interstate 287, which forms a beltway around greater New York, would have allowed most interstate drivers to circumvent the city's downtown.
Instead, I-95 now feeds into the George Washington Bridge, dumping drivers who would otherwise bypass the region into uptown Manhattan and the Cross Bronx Expressway.
"This is boring. This is really doing nothing," he said of the plan. "This is really doing nothing to try to alleviate the pressure on the northern part of the New Jersey Turnpike and the George Washington Bridge."
But Roth, the project's longtime manager, sees in its completion the promise of further development for the region. He has spent most of his career working or leading the project to close the gap in Interstate 95. "Things like this are what's needed for regions to compete economically," he told me, noting that thousands of people commute out of his home county every day to get to work.
"I grew up here, I went to school here, I live here. So it's been exciting to be part of something that has moved along from an idea into something real," he told me. "I went into this career to be able to solve problems, and I feel like we're actually doing that here."