The Power Suit's Subversive Legacy
Women have long borrowed from men's dress to claim the authority associated with it. It hasn't always worked. An Object Lesson.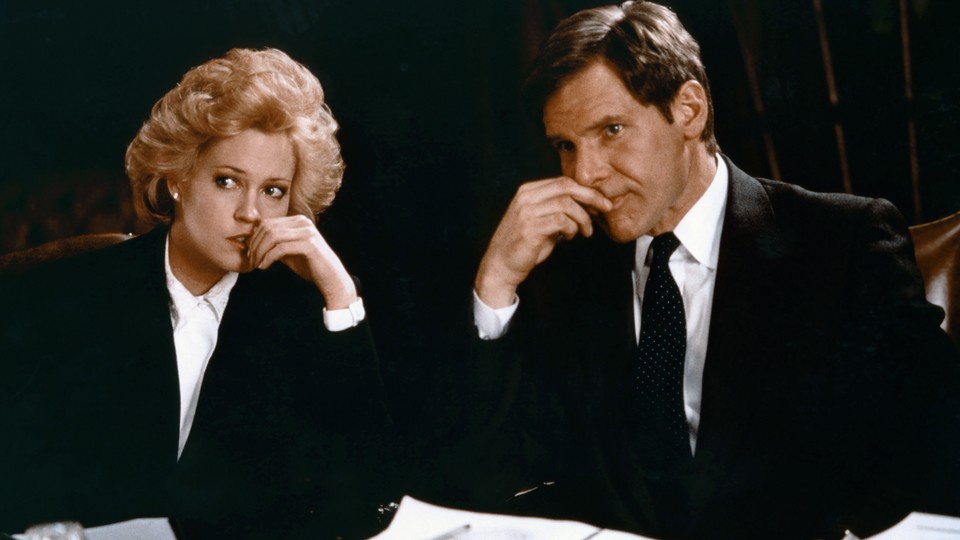 Power dressing is usually associated with white-collar women of the 1970s and '80s—women who dressed for success. This look was iconic in its caricature: architectural shoulder pads, big hair, double-breasted jackets, and sensible heels. In film and television, power dressing suggested that hard work and a little feminist ingenuity was enough to propel a woman to the top. She's Dolly Parton in Nine to Five, Melanie Griffith in Working Girl, Faye Dunaway in Network. She's Grace Jones on the runway, Elaine Benes with a cigar between her teeth, heels kicked up on J. Peterman's desk.
But power dressing appeared, in different forms, long before it became popular near the end of the 20th century. Women entered the workforce during the two world wars, only to be expelled from it (or sexualized in it) by the mid-century. Women have returned to the workplace many times since, whether thanks to women's lib, through small-business ownership, or, most recently, by "leaning in." In each case, defying the male gaze in the workplace and public life took serious negotiating. That negotiation began, in part, with power suits.
Hillary Clinton was not the first woman in the public eye to wear a pantsuit. Before her came Coco Chanel and Katharine Hepburn, who famously told Barbara Walters, "I'll wear a skirt to your funeral." And Georgia O'Keeffe, too, who wore chic, streamlined garments, including a cache of finely tailored pantsuits.
Changes to social mobility and gender norms often start with physical movement. A monochrome pantsuit was an easier way to dress, especially for work. In the late 19th and early 20th centuries, women adapted the "bloomer look" as a way to sidestep the Victorian morality attached to feminine dress. Oversize pants called bloomers allowed women to do manual labor or play sports without revealing the curves of their bodies. However, donning bloomers went afoul of class and social expectations. As the gender scholar Cristina Giorcelli has written, wearing trousers became a way to show intolerance for gender categorization and social distinctions.
During and following World War I, women became accustomed to a breezier style of dress after stepping in for absent men who were shipped to the front lines. Early in the century,  Parisian designer Coco Chanel had stitched a look with wide-legged slacks matched to tailored jackets hewn from sporty materials like jersey or tricot. The classic Chanel suit is a collarless, button-up wool jacket with braided trim, metallic buttons, and fitted sleeves made specifically with women in mind. Coco wore the signature suit herself, a uniform for women at work and at play. The status of public life expanded soon after, and included a limited class of women, mostly white, who smoked in public, won voting rights, and began wearing trousers—all activities previously reserved for men.
Come World War II, working women were ubiquitous: in factories, driving delivery trucks, welding metal parts for war machines, managing post offices. Wearing pants was necessary for much of this work, and therefore it became normal. As the feminist geographer Hille Koskela argues, dressing to take on the chaos of the city allowed women to reclaim space otherwise dominated by masculinity. If the city is a theater, the power suit is its costume.
The practice spread from work clothes to a whole fashion regime. In the United Kingdom of the 1950s, Teddy Girls appeared—a prototype of the late-1990s punk feminist riot grrrls. Like their counterparts, Teddy Boys, they sported a part-dandy, part–rock 'n' roll look endemic to disenchanted British working-class teens in postwar London. Originating from the East End, where wartime devastation was most visible, Teds were pure attitude and rejected their economic class status by borrowing the accoutrement of an aristocratic past.
Not only did Teddy Girls (or "Judies," as they were also known) thumb their nose at the upper classes, they also rebuffed gender. Rather than feminize the Teddy Boy look by borrowing it, Judies reinvented it. Hair was coiffed with a bouffant and a topknot in the style of the Gibson Girl, a neo-Edwardian nod to the era's feminine ideal, now cut with a rebellious edge. They paced the block in penny loafers or saddle shoes, cuffed denim pants, and tailored Drape jackets with velvet collars. Pussy bows replaced ties at the neck, hoop earrings and coolie hats donned the crown, and an impractically small clutch for cigarettes or coins or whatever completed the look.
In mid-century America, where racial tension was about to give way to an explosion of social movements, pachucas—Mexican American women who dressed in a modified version of the male-dominated subculture of zoot suiters, or pachucos—exemplified a feminist resistance similar to that of the Teddy Girls across the pond. Their male counterparts already earmarked racism and segregation for criticism, but the pachucas also targeted gendered social norms. Both pachucos and pachucas ignored wartime fabric restrictions by wearing oversize pants, elaborate hats, and sharp shoes. Pachucas expressed dissent through extravagant looks, ultimately inspiring the iconic East Los Angeles style.
Pachucas were inimitable but still erased from mainstream histories. The author Catherine S. Ramirez writes in The Woman in the Zoot Suit that pachucas undermined the look of Hollywood glamour by making it their own and "laid claim to an American identity, one defined in great part by leisure, consumption, and the conspicuous occupation of public space." A keen vision of self, despite dominant culture's dictate, was everything.
The term "working girl" is a double entendre. Used to describe women's labor outside the home—whether that was sex work or desk work—the turn of phrase also connotes class.
Melanie Griffith played the part as the starring role of the titular 1988 film, in which she steals her boss's clothes and identity to transcend her Staten Island–rooted ranks.* The film addresses class, but only at the top, an imaginary corporate space that Griffith's character accessed easily by way of her quirky hijinks. This film might have done more than any other to cement the power-dressing trend of the 1980s.
Meanwhile, off the screen and in Washington, power suits became the unofficial uniform for women taking command in office.
Women's ongoing fight against workplace sexual harassment was most notably led by a woman in a flawless turquoise power suit, Anita Hill. She wore it during the 1991 confirmation hearings for U.S. Supreme Court nominee Clarence Thomas, whom she accused of sexual misconduct in the workplace. To many, Hill became an icon of strength and determination, laying the groundwork for other women. (That project continues today, more than a quarter-century later, as women reveal widespread workplace harassment in this year's Weinstein Moment, as it's become known.) "More women were elected to Congress in both the house and the Senate, but even more importantly, more women became engaged in politics throughout the system," Anita Hill recently told The Washington Post.
In the following election year, declared "the Year of the Woman" by media outlets, four women took seats in the Senate—an unprecedented event in political history. "We're not a fad, a fancy, or a year," said Maryland Senator Barb Mikulski, who became the first woman to wear a pantsuit on the Senate floor in 1993, inspiring Hillary Clinton literally to follow suit.**
It was a hard-won victory for the garment. In his 1977 book Woman's Dress for Success, John T. Molloy had spurned pantsuits. "Wear pants only if you need them to look like a member of the team or to perform tasks that require them," he wrote. Though influential, Molloy's notions of success only included women if they were willing to conform to the sexist strictures of the workplace.
A power suit hoped to establish an air of authority through carefully tailored self-presentation, not just by putting women in menswear. As Molloy wrote, "Dress for the job you want, not the job you have"—including the jobs traditionally reserved for men. A 1997 article in The Baltimore Sun admonished Molloy's failure to include the classic tailored pantsuit, which had "become a staple in the wardrobes of successful women in a wide range of professions." Molloy's power dressing linked a sharp look with success, but it only included certain kinds of sharp looks.
While power dressing didn't necessarily require a pantsuit, its aesthetic opened the door for more gender-neutral fashions to enter the mainstream. The 1990s saw a return to unisex fashion that echoed its popularity during feminism's second wave in the 1960s and '70s. In 1988, the designer Thierry Mugler debuted his She-Devils collection, a witchy take on power dressing with signature broad shoulders now cut with long asymmetrical sleeves and heavy peplums. A minimalist version of the power suit that emerged in 1997, called the Slouch Suit, was featured in a summer issue of Vogue. "Everyone's into power dressing, I'm into personal statements," said the designer Jil Sander, who, along with John Paul Gaultier and Calvin Klein, sent oversize jackets without shoulder pads matched with baggy slacks down the runway in those days. Even '90s grunge could get dressed up.
Looking at the runway today, power dressing is back in style—even if its purpose never fell out of favor. This year, Céline, Jil Sander, and Balenciaga all remounted the classic, broad-shouldered silhouette for their spring 2017 runway looks: oversize jackets and men's pants rolled at the waist, the "boyfriend jeans" look but without the boyfriend. At New York Fashion Week, lines like Alexander Wang, Off-White, and Ellery all ran menswear blazers in plaid. Others, like Eckhaus Latta, Oscar de la Renta, and Tibi, showcased grandpa-sized two-piece suits, draped in cornflower blue and patterned emerald green.
The power suit still might not counteract the sexual hostility rampant in the workplace. The New Modesty movement, which came to the fore in the last year, contends that baggy or masculine clothes offer a strategy to negate the male gaze in public life. Still, as daily reports of workplace sexual harassment increase, it seems that renegotiating power in the office has less to do with what women wear anyway.
As gender fluidity becomes more visible and more normalized, power dressing continues to be a vehicle for affirming newer gender roles in the mainstream. Of course, wanting power isn't the same as having it. Putting on a pantsuit doesn't guarantee its wearer power. But as a symbolic act, it projects a prowess that tells the world its wearer means business. Even if that business is simply getting up, getting dressed, and taking on another day.
---
* This article previously misstated where Melanie Griffith's character lives in Working Girl.
** This article previously misstated the state that Senator Barb Mikulski represented. We regret the errors.