The Environmental Cost of Internet Porn
So many people watch porn online that the industry's carbon footprint might be worse now that it was in the days of DVDs and magazines.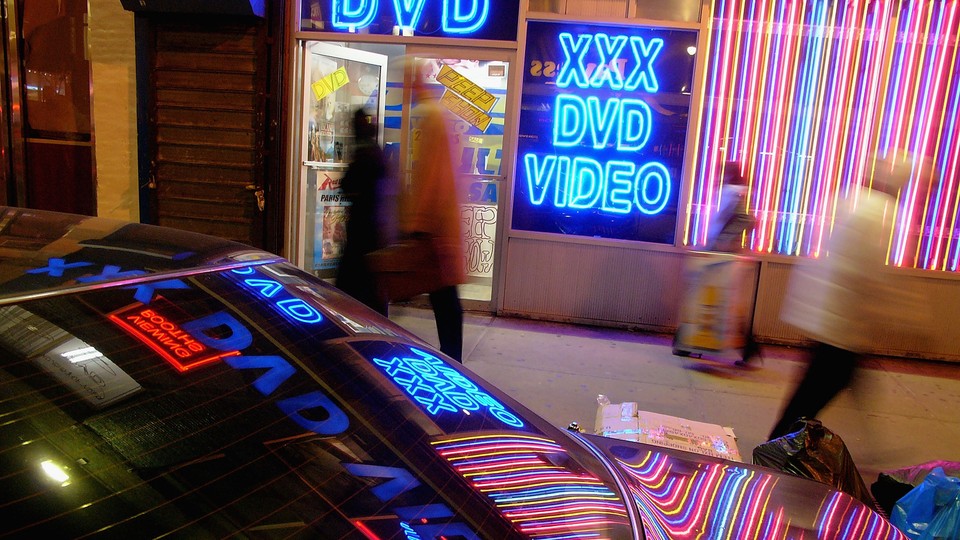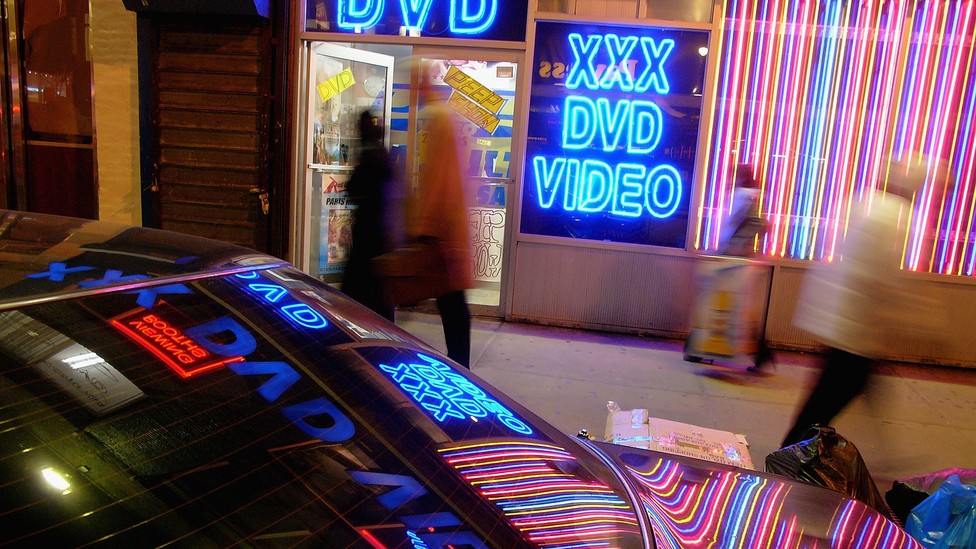 Online streaming is a win for the environment. Streaming music eliminates all that physical material—CDs, jewel cases, cellophane, shipping boxes, fuel—and can reduce carbon-dioxide emissions by 40 percent or more. Video streaming is still being studied, but the carbon footprint should similarly be much lower than that of DVDs.
Scientists who analyze the environmental impact of the internet tout the benefits of this "dematerialization," observing that energy use and carbon-dioxide emissions will drop as media increasingly can be delivered over the internet. But this theory might have a major exception: porn.
Since the turn of the century, the pornography industry has experienced two intense hikes in popularity. In the early 2000s, broadband enabled higher download speeds. Then, in 2008, the advent of so-called tube sites allowed users to watch clips for free, like people watch videos on YouTube. Adam Grayson, the chief financial officer of the adult company Evil Angel, calls the latter hike "the great mushroom-cloud porn explosion of 2008."
Precise numbers don't exist to quantify specifics, but the impression across the industry is that viewership is way, way up. Pornhub, the world's most popular porn site, provides some of the only accessible data on its yearly web-traffic report. The first "Year in Review" post in 2013 tabulated that people visited the site 14.7 billion times. By 2016, that number had almost doubled, to 23 billion, and those visitors watched more than 4.59 billion hours of porn. And Pornhub is just one site.
Is pornography in the digital era leaving a larger carbon footprint than it did during the days of magazines and videos? Obtaining raw numbers will always be a sticking point, because the stigmatized industry has never kept track of sales like the music and film industries, and has no significant archives. But if pornography experts' estimates are accurate, they suggest a rare scenario where digitization might have increased the overall consumption of porn so much that the principal of dematerialization gets flipped on its head. The internet could allow people to spend so much time looking at porn that it's actually worse for the environment.
* * *
Using a formula that Netflix published on its blog in 2015, Nathan Ensmenger, a professor at Indiana University who is writing a book about the environmental history of the computer, calculates that if Pornhub streams video as efficiently as Netflix (0.0013 kWh per streaming hour), it used 5.967 million kWh in 2016. For comparison, that's about the same amount of energy 11,000 light bulbs would use if left on for a year. And operating with Netflix's efficiency would be a best-case scenario for the porn site, Ensmenger believes.
Grayson says he has witnessed this explosion of growth firsthand at Evil Angel. He estimates that the site's viewership has increased by 7,000 percent since the time of DVDs. In the late 1990s, he says, a new Evil Angel DVD would sell approximately 7,500 copies in the first 30 days. Now, he says, Evil Angel videos are streamed 30,000 times in the first 30 days—and that only represents the 5 percent of its web traffic comprised of paying customers. Each week, 2 million free previews are watched. "There's no way, 15 years ago, at the peak of physical media, that many people were touching our brand," he says.
Still, it's impossible to access any data for the porn industry as a whole. Trade magazines like Variety or Billboard don't exist, and sales records have never been archived. For Jon Koomey, a data scientist who studies the environmental impact of the internet, this lack of information hamstrings any serious inquiry. Although the estimates sound reasonable to him, and he believes pornography very well could provide an exception to the rule of dematerialization, he warns against speculative comparisons. "I don't even know what fraction of the internet is porn," he says. "And without data, it's hard to say anything sensible."
Koomey warns that there are simply too many variables to be considered. For instance, the growth of porn consumption since the turn of the century would have to be compared to the growth of all internet data during the same time period. The energy and emissions for manufacturing, marketing, transporting, and using porn DVDs would have to be compared to the electricity required to make a search-engine query, the electricity used by the device making the search, and the operational cost of the website's server, network, and specific data center.
Gail Dines, a sociologist who studies pornography, agrees that precise numbers would be impossible to find. But as an anti-pornography advocate, she views the potential environmental costs of such rabid online consumption as an important critique against the industry. She is sure that online pornography is much more popular, and attributes this growth to what she calls the principle of the "three As": affordability, accessibility, and anonymity. "The more anonymous you make porn, the more affordable, the more accessible, the more you drive demand," she says.
In her view, each new technology heightens the three As. Mobile phones, which can be viewed anywhere, are more private than desktop computers, DVDs, and VHSs, which must be viewed in a home. Those, in turn, are more private than an adult theater. Consumption has also become more anonymous as tube sites like Pornhub require no log-in or credit-card information. There is no fear of being seen by a neighbor at a sex shop.
* * *
All the researchers I spoke to would love to have access to reliable data. The sociologist Chauntelle Tibbals believes in the educational benefits of pornography, but she has qualms with the industry's exploitative practices, and therefore has misgivings about using numbers provided by Pornhub. She notes that Pornhub is part of a vast porn empire called MindGeek, which quietly controls almost all of the free tube sites and an increasing number of production companies. Tibbals believes Pornhub releases these numbers—and engages in promotional activities like a recent offer of free snow removal in Boston—as an attempt to normalize itself and to shift the focus away from rampant piracy issues and accusations of promoting sexual violence against women. (Pornhub did not respond to a request for an interview.)
Although their numbers could be accurate, Tibbals believes trusting them without access to company records would be naïve, akin to trusting numbers published in brochures by companies like Goldman Sachs or Exxon. For that reason, she says a huge asterisk must be placed beside them in any serious effort to comprehend their impact. It's possible Pornhub's data is not reflective of the adult industry, but only of adult piracy sites.
Ensmenger, the Indiana University historian, agrees that the numbers are nebulous at best. But like Dines, he still thinks these questions are worth asking, even if only to raise awareness that internet porn does take an environmental toll. While Pornhub may be using an enormous amount of electricity, "none of us are paying that electrical bill in any way that impacts our behavior," he says.
For Ensmenger, this epitomizes the problem with the digital economy, where so many of the costs are outsourced or hidden that consumers believe everything is free. Most sites offer their free videos by selling advertising to companies that track consumer behavior, and these cookies require a considerable amount of energy. More importantly, consumers don't have to think about the significant environmental costs of constructing and destructing electrical products, such as screens, servers, and hard drives.
A notion like dematerialization, Ensmenger says, can often be a myth that Silicon Valley tells itself, without acknowledging that the region contains the country's highest number of EPA Superfund sites, where the federal government must clean up hazardous pollutants and contaminants.
Even if consumers don't pay the electric bill, somebody must. "With digital things, it's just so easy to externalize the costs to other places, other actors, that we make assumptions about them being less environmentally impactful that are just not justified," Ensmenger says.