Has the Google of South Korea Found a Way to Save Struggling News Outlets?
The nation's dominant search engine has a model for benefiting local publications—but many are worried about its implications.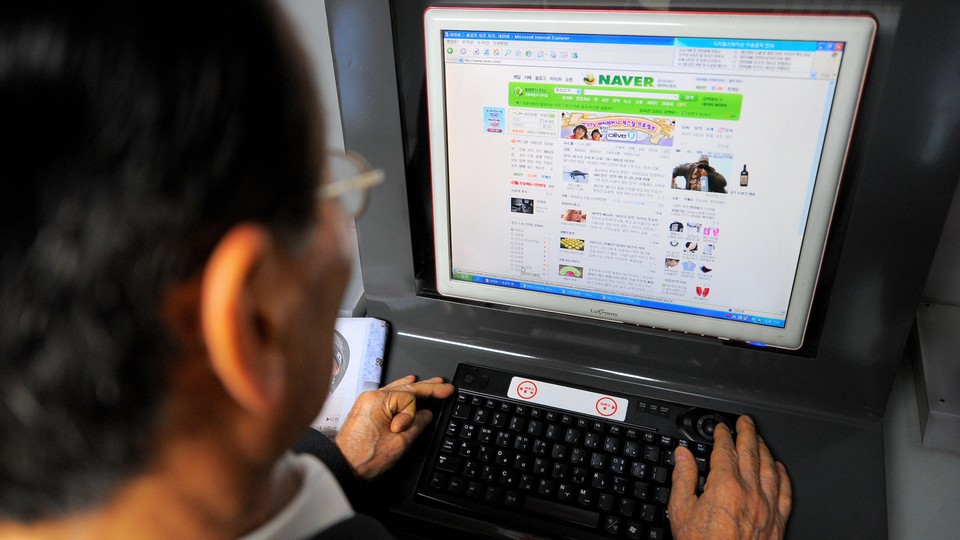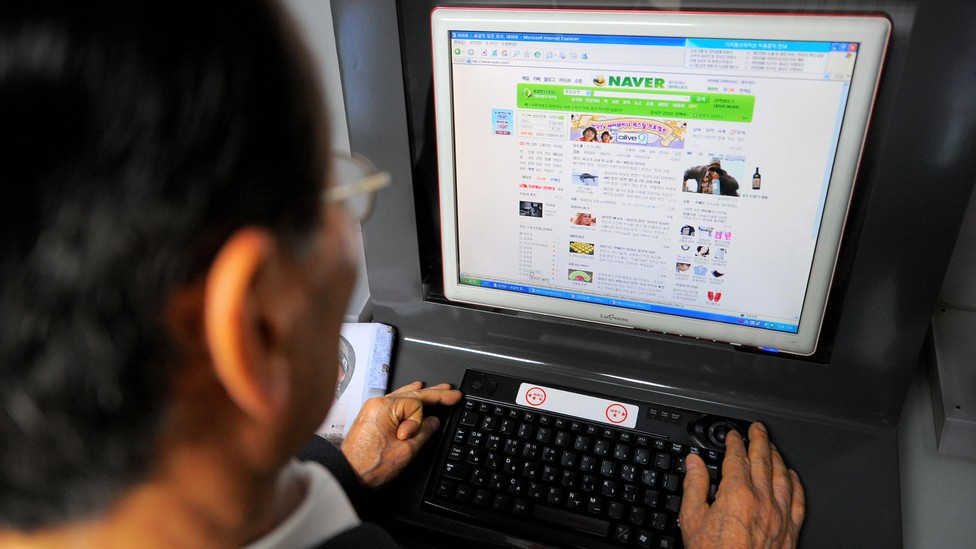 Walk into the headquarters of South Korea's biggest search engine, Naver, and you could be in Silicon Valley. Like Google and Facebook, the company has an affection for bean bags and primary colors. There are oversized toys in the shape of emoji from Naver's messaging app, Line. A green wall is lined with ferns, and there's an immaculately designed library.
Also like Google and Facebook, Naver has a tense relationship with journalists. Though the company produces no journalism itself, Naver's desktop and mobile news portal is South Korea's most popular news site. (The second is another local portal, Daum.) Naver hosts stories by various outlets, somewhat similar to news-aggregation apps like Apple News. In a country where around 83 percent of the population accesses news online, the company has outsize control over what Koreans read and see.
Naver's scale has allowed it to dominate advertising revenue in South Korea. Its success nationally is analogous to Google and Facebook's seemingly insurmountable digital-advertising "duopoly" globally. Thanks to their immense reach and ability to target consumers online, these two tech giants have proved irresistible to advertisers, and Naver shares a measure of their advantage. Yu Seo Young, a deputy manager with the company's news team, mentioned local newspapers sometimes call Naver an alligator or some other apex predator when describing its market power.
This hold that internet companies now have over digital advertising has left news outlets around the world in search of a sustainable business model. Some are doubling down on subscriptions; others rely on philanthropy. But Naver has an unusual model for working with Korean news publishers: The company directly pays 124 outlets as "Naver News in-link partners." The outlets' stories are published on Naver's portal, making the site a one-stop source of articles and video and eliminating the need for readers to leave and visit the original news site. All the better for Naver's own shopping platform and its own ads. (Another 500 or so news outlets are unpaid "search partners." The site links to the publishers' articles, much like Google News.) The total payout comes to more than $40 million per year.
For "in-link partners," Naver's model offers an alternative to relying on traffic from an aggregator like Google News, or schemes like Facebook's Instant Articles that aim to share ad revenue. The partners have a negotiable relationship with the company that wants their work—a company that needs new content for readers each time they log on. Whether Naver's compensation to publishers is sufficient, however, remains controversial. And like some of its fellow technology giants overseas, Naver's news practices are under increasing scrutiny.
Naver's content fee has become a sore point. Its terms are confidential, but local news producers are well aware that Naver itself earns healthy digital-ad revenue. In 2016, it made 2.97 trillion won ($2.7 billion) from advertising. "The news media who get the payment tend to be unsatisfied with their share of the amount," said Sonho Kim, a senior researcher at the Korea Press Foundation. "Considering [Naver's] revenue, the news media tend to think that $40 million is tiny."
A new Naver program dubbed PLUS aims to create a more "balanced" relationship, according to Yu. The company is beginning to share ad revenue with news partner outlets—about $7 million—based on their number of page views, among other statistics. Another $3 million from ad revenue will pay for "experimental projects" like a new fact-checking effort run by Seoul National University that aims to assess the veracity of political statements. An extra internal fund, also worth $10 million, will be shared in 2018 to reward publishers for what Yu called "quality factors," which are still being determined.
Money aside, politics is never far away in South Korea, and never far from Naver. In an email, Choi Ki Sung, a reporter with the Korean news channel YTN, said there is unconfirmed "suspicion" that Naver downgrades news stories on its portal that are unfriendly to whichever government is in power. It's not uncommon to hear locals suggest the news portal initially tried to bury articles about the corruption scandal that led to President Park Geun Hye's impeachment in early 2017.
A recent incident has only fed such rumors. In October, Naver apologized over allegations that the company manipulated the ranking of articles that criticized South Korea's top football association on the request of the organization. The Korea Herald called it the "first confirmed case of news manipulation by the portal," noting Naver's power over what news the Korean public sees.
This is all happening in a media landscape characterized by extreme distrust. Only 23 percent of Koreans say they trust the news media. There are plenty of reasons for this: Journalists who unquestioningly champion the country's powerful corporations are jokingly referred to as "Samsung scholarship students." Entrenched ideological schisms between conservative and liberal news outlets online also have an impact. "When the internet first emerged in the early 2000s, online news and blogs were all left-wing or progressive. They dominated the internet," said Ki-Sung Kwak, the chair of the University of Sydney's Department of Korean Studies. "Once conservative newspapers realized their mistake, they heavily invested in the online-media business."
In his view, besides convenience, one reason why Naver may be attractive to readers is because it appears somewhat politically agnostic. For now, it does this with human editors who decide which content should be selected on specific topics and issues within their section. There are about 20 editors in news, 15 in entertainment, and 15 in sports. A chief editor has final say over what appears on the portal.
But similar to Facebook's notorious decision to fire its human editors in 2016, Naver may soon turn to machines. In response to the Park allegations, Yu said in an email that conservatives believe Naver is biased toward the left, and liberals believe Naver is biased toward the right. "Despite our efforts, human curation is still being criticized," she said. "Therefore, we are planning to automate article placement with algorithm[s], which will be completed during the first quarter next year."
Still, humans will create the news-selection algorithm, and humans have a say about which outlets appear on Naver's news portal in the first place. In 2015, the company helped form the Committee for the Evaluation of News Partnership along with Kakao, the owner of the internet portal Daum and the country's most popular messaging platform.
The committee has two key functions. The first is to evaluate which new outlets can supply news to portal sites. The second is to penalize news outlets that violate contract conditions, such as publishing sponsored or violent content, or clickbait. Sometimes this clickbait is an attempt to game the system: Naver provides a chart on its portal that shows the most popular search keywords in real time. According to Yu, media outlets might produce up to 30 almost identical articles about one popular keyword to win clicks.
Committee members are recommended by the Korean Newspapers Association and the Korean Broadcasters Association, among others, but the power of this unelected group over which publishers can access Naver's traffic fire hose is a sensitive issue. The lack of openness about the assessment criteria is a common complaint.
Despite its problems, the committee arguably provides a "quality control" bulwark between the public and junk news. Google also vets publications that apply to be part of its news-aggregation service, but bots and bad actors continue to haunt social media, including on YouTube, which is owned by Google, and Facebook. "Everybody on Facebook can create content, including the fake news," Kim pointed out. "But on Naver sites, not everyone can create content."
Naver's model is not a complete answer for the global media industry. The company is neither solely a news aggregator nor a social-media network. And the content partnerships Naver has established with news publishers are not immediately translatable in other markets, not least because Facebook and Google are so powerful elsewhere. In response to questions about Naver's portal, the Google spokesperson Nic Hopkins pointed out that more than 80,000 publishers are accessible through Google News. Facebook declined to comment on the record.
Despite committees and "quality factors," Naver is a profit-seeking company just like its American contemporaries—maybe even an "alligator" as some suggest. If news companies become too reliant on its payments, their independence could be compromised. But for a global media industry in search of a business model, Naver does offer an alternative path where news outlets have a direct financial relationship with the company that shares their content. For Kim, this is unique."The platform, whether or not it is sufficient, tries to make some kind of collaborative effort and share profits with the news media," he says.