'It's Decorative Gourd Season, Motherfuckers' Will Never Die
The author of the classic humor piece on his "spewing" of joy for autumn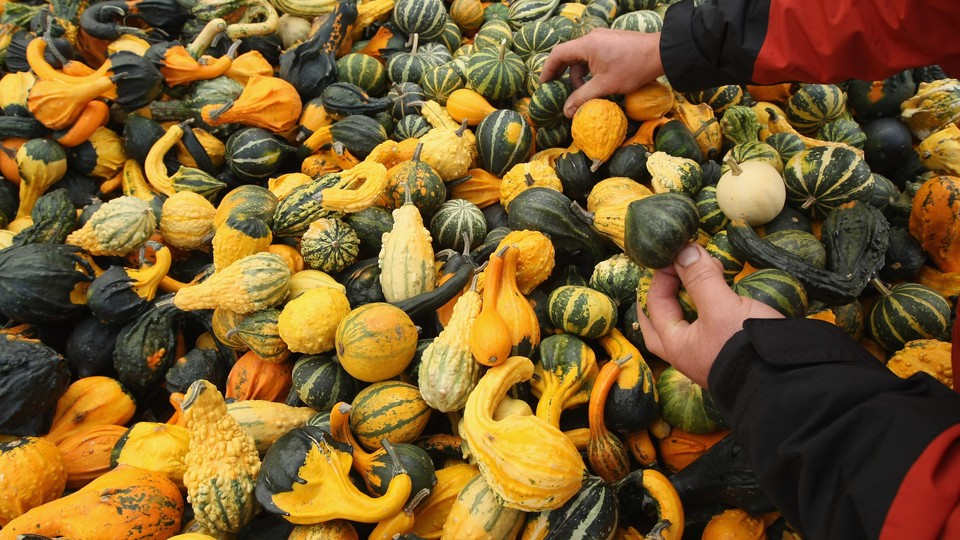 To everything there is a season, and a time to every purpose under heaven. A time to be born, and a time to die; a time to plant, and a time to pluck up that which is planted.  —Ecclesiastes 3:1-2
The autumn is the time to pluck up that which is planted, and, often, to arrange it in aesthetically pleasing centerpieces and porch displays. That's right. It's Decorative Gourd Season, Motherfuckers.
That trumpeting proclamation is the title of an essay Colin Nissan wrote for McSweeney's Internet Tendency in 2009. The piece is an aggressively exuberant fist-pumping celebration of fall, and of the reason for the season: decorative gourds, of course. Ever since it was published, much like you can feel the wind changing outdoors as summer gives way to fall, you can tell when the weather is changing online, because eager tweeters with pumpkins in their eyes will start posting the essay once more. It is trotted out every fall, much like the "wicker fucker" Nissan dusts off in his opening paragraph in order to jam it full of "shellacked vegetables."
Why? "Because it's not summer, it's not winter, and it's not spring," he writes. "Grab a calendar and pull your fucking heads out of your asses; it's fall, fuckers."
The piece is the Catch-22 of online humor essays. Its title has become a shorthand for the thing it describes: autumn and the attendant mania some have for its trappings. It has shaped the very language the internet uses to talk about the season. If decorative gourds aren't your thing, here are some other seasonal descriptions Twitter has recently conjured up:
I would venture to say fall is the most polarizing season, and not just because it's when American elections take place. It has the most enthusiastic fans, and thus attracts vehement haters. For every person excited for pumpkin-spice products to hit the shelves, there is a curmudgeon online calling them basic and bemoaning the inescapable flavor of nutmeg.
Nissan, though famous for his eloquence in describing gourd-love, is a jack of many trades. He writes humor pieces for various publications, works in advertising, and is a voice-over actor (I definitely recognize his voice from commercials, and you might too. Also he's never done a Nissan car commercial, I asked.)
I spoke with Nissan about the origins and legacy of the piece. While he was largely unaware of the Fall Culture Wars, he gamely offered his opinion on some of fall's most famous fixtures. An edited, condensed transcript of our conversation follows.
---
Julie Beck: Take me back to 2009. What inspired the piece? Was there a specific gourd display that touched you, personally?
Colin Nissan: I don't know if there was a singular moment or anything. I just love fall, and it all just came out in one giant spewing that was that piece.
Beck: Who was your editor at McSweeney's?
Nissan: It's a guy by the name of Christopher Monks. He's awesome; he's been there for years. He works out of what he calls "McSweeney's World Headquarters," but it's his home in Arlington, Massachusetts. They once did a Kickstarter where I actually signed like 270 gourds or something. I went to his house and sat at his dining-room table. It was quite a scene. There was this gigantic pile of gourds and we sat there all day and signed and boxed them up.
Beck: Do you remember what his reaction was when you pitched the piece? What did you guys talk about in the editing stages?
Nissan: They did a thing recently where he put up on this patrons' page, on the McSweeney's site, our email exchange from when I first submitted it to him. It started out with me saying, "I'm not totally sure how you feel about the word 'motherfucker,' but here's a piece for your consideration." So then it just went back and forth with very funny detailed exchanges about specific swears and it became funnier than the piece, I think, the whole exchange.
Beck: Are there any good jokes that didn't make it in?
Nissan: One of his main contributions was, I think I [originally] had a wider range of swears in there, and he said very seriously: "I just like sticking with the word fuck. I think there's just something more pleasing about [that]." So I ended up kind of limiting it to that word mostly.
And the ending, I can't remember exactly what it was ...
Beck: It's just, "Welcome to autumn, fuckheads!"
Nissan: The original ending was one thing that [Monks] commented on. I can't remember what the original ending was. But I'm so glad he did, because it got super dark. It was not a good ending. So I went back and reworked the ending and it ended up being what it is.
Beck: What was the reaction to the piece at the time? Did it immediately become really popular or was it more of a slow burn?
Nissan: It was pretty fast. I remember Chris emailing me. This thing very quickly went to the top spot on their page and I think he said within a few days it had a million hits. I think at the time it was fairly unusual for the site, so that was exciting.
Beck: It's become a perennial favorite. Every season there's tweets, you'll see like: "It's 'It's Decorative Gourd Season, Motherfuckers' Season, Motherfuckers." Why do you think that is? How has it lasted the test of time?
Nissan: I really don't know. It's always really fun to see it come back, but I'm always like, I can't believe it's had the staying power that it's had. I just think, as it was for me to write it, maybe it's just a release for people.
Beck: You write for a lot of different places and do a lot of voice-over acting and all that. Do you feel like the gourd has cast a shadow over your life in any way?
Nissan: The only thing is the first couple years, people who had read the piece, if they met me I think they just thought I was like the piece. They were like, "Why aren't you swearing? Why aren't you funnier?" I just got that feeling like I should be outrageous in person when I'm talking, which I'm not.
But writing-wise, when a piece does well like that, as a writer you just try to figure out—was there some magical combination or something that I did that connected with people and worked? And can I repeat that somehow? I think the first five drafts of things I wrote afterward were in that exact similar swearing tone, which is obviously not the right thing to do. And I never did anything with them. My first instinct was maybe I can do that again. You really can't.
Beck: Do you think you have figured out what the magical combination was for that piece?
Nissan: I just think it's tricky, because swearing like that in a piece nine times out of 10 will backfire. In most cases people would be like: "It's cheap and easy to swear like that and can't you come up with jokes without swearing?" But there was something about this piece. I think possibly one of the reasons is that the guy in the piece was just pumped. He was swearing like crazy but he was never angry. I think if he was angry maybe it wouldn't have worked as well. But there's something about the excitement and the swearing that just seemed to work.
Beck: Do you feel like, writing this piece, the fact that it comes up again every fall, has that shaped your experience of autumn in any way?
Nissan: It's really fun to see people posting photos of their kids and quoting it. I've heard people say it randomly.
Beck: Just in the world?
Nissan: Yeah, I have a couple times. It definitely makes the season a little extra fun for me.
Beck: There's now a culture war of sorts over fall. There's been something of a backlash to people's enjoyment of things like apple picking, or pumpkin-spice stuff.
Nissan: Oh, that's funny. This is the perfect example of what's happening in the world today, where I'm in my little media silo, my bubble, and my world loves fall, so that's all I see. I honestly haven't seen much of the backlash.
Beck: What would you say to the haters of fall?
Nissan: I just don't know how you can hate it. It's cozy, there's delicious foods, the foliage is beautiful. There are built-in activities to fall. Maybe it's the people who love summer so much and they feel like fall just means winter's coming. But fall is it's own beast. You just have to relish it.
Beck: I was hoping that you might be down, from your position as an authority on fall, to offer a verdict on various fall-related things. Can we do a lightning round?
Nissan: Yeah, sure.
Beck: Apple picking.
Nissan: Too humid. I remember as a kid it was amazing and crisp, and now I feel like the last four seasons I've just been sweating through my shirt while apple picking. Which kind of wrecks it. But other than that, I love it, it was one of my favorite things ever.
Beck: We got to climate change really quickly.
Nissan: I know.
Beck: Okay, corn mazes.
Nissan: I've only done one and it was, I would say, terrifying.
Beck: Hay rides.
Nissan: Bumpy. All of a sudden, I feel like everything I'm saying is negative. How did I end up being negative about every fall thing you're mentioning? I would say bumpy and itchy. But fun.
Beck: Sweaters.
Nissan: Not a sweater guy, honestly. I end up looking like Paddington Bear whenever I wear sweaters.
Beck: What about scarves?
Nissan: No, I don't know how to tie a scarf. I can't do that either.
Beck: I'm trying to find a positive one.
Nissan: I know. I guess I hate fall. Maybe we got to a deeper meaning here for the piece.
Beck: Oh my God, the internet is going to kill me. What about candy corn?
Nissan: Love candy corns.
Beck: That's a real controversy.
Nissan: I thought the only controversy is if you eat each color, if you eat the white then eat the yellow then eat the orange. I do it that way, layer by layer.
Beck: "Leaf peeping?" Do you know this term?
Nissan: Oh yeah. I love foliage. Big fan. Love the colors.
Beck: The end of daylight-saving time?
Nissan: I just never know when it is. I've never gotten it right once in my life.
Beck: Pumpkin-spice lattes?
Nissan: Not a fan. I'm not a hot milk kind of guy.
Beck: What about just things that are pumpkin-spice flavored? That you would find in grocery stores?
Nissan: I don't know about prepackaged stuff, but I love pumpkin bread, that type of stuff. What do they have that's pumpkin spice?
Beck: Oh, everything. Cereals, bagels, cookies. Just throw a stick in Trader Joe's, you'll hit something.
Nissan: I don't think I've done much of that. I'm the worst fall person ever to interview apparently.
Beck: You do seem very disconnected from many of the fall controversies online.
Nissan: I'm just very gourd-focused.
Beck: How many gourds do you have in your house right now?
Nissan: Currently, let's see. [Ed: At this point, I can hear him moving what sound like gourds in the background.] About ... 12.
Beck: Are they all decorative or are they for eating?
Nissan: All decorative.
Beck: Respect.
Nissan: Thank you.