Why the Times' White House Reporter Quit Twitter
Even in the age of a tweeting president.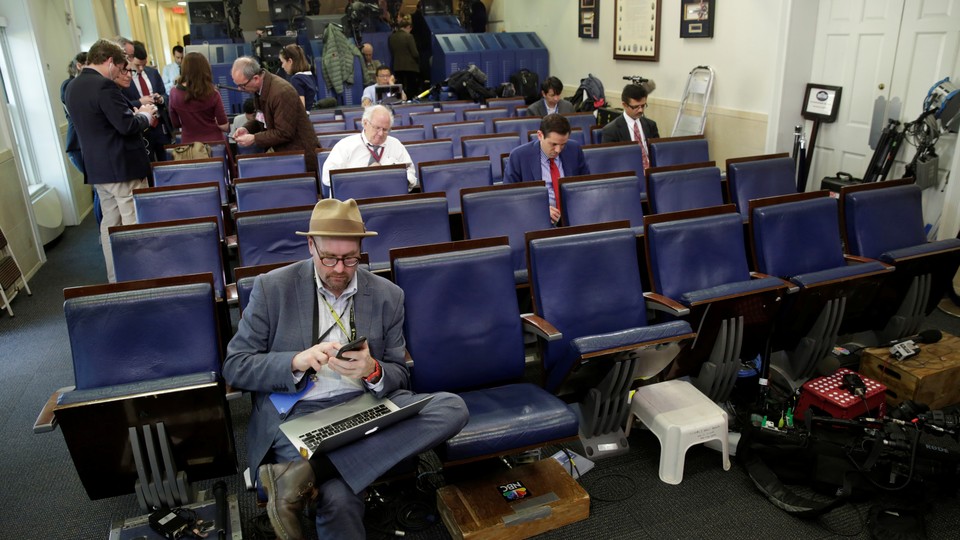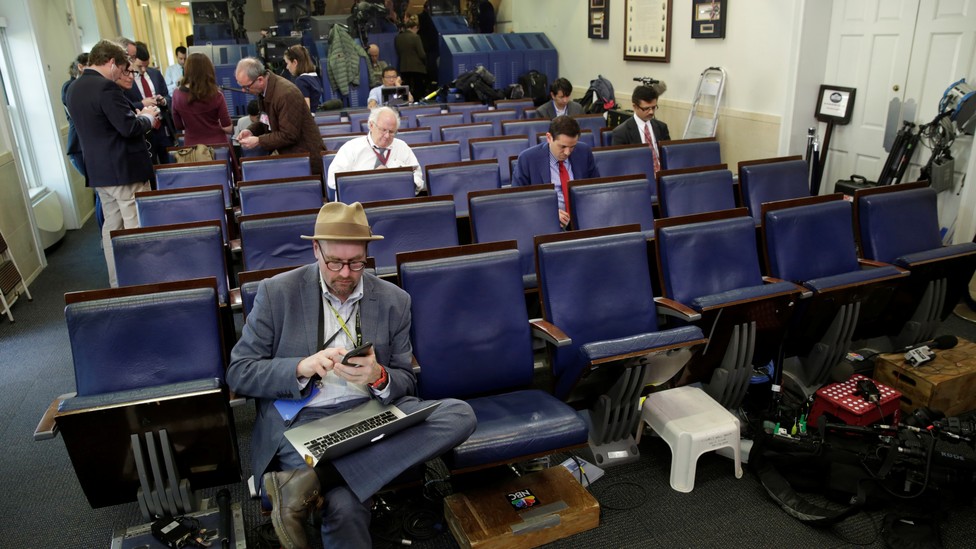 Not long ago, Glenn Thrush, a White House reporter for The New York Times, sat down at 7:30 a.m. to plan his day. His schedule and laptop sat arrayed before him. With so much time to spare, he checked Twitter—an easy mistake to make—where he noticed someone saying something vile and ill-considered.
And then, somehow, 90 minutes passed. It was 9 a.m. No planning had gotten done.
"Someone had said something nasty and it had totally hijacked my day," he said on Thursday. Twitter's addictiveness, and its mysterious ability to speed the passage of time, were part of the reason that Thrush deactivated his own account on the platform earlier this month—an interesting choice for a White House reporter during the administration of a president who loves to break news on Twitter. On September 19, Thrush posted his last tweet and logged off. At least for now.
Now, he feels more in control of his day, though he lamented that he couldn't promote his Times colleagues' work anymore. But there were other workplace benefits to leaving the site. "I'll just say straight-out, I think my bosses are pretty pleased with my decision to do this," he said.
Twitter was just one of the topics that Thrush and two other politics reporters covered on Thursday at the Washington Ideas Forum, which is sponsored by the Aspen Institute and The Atlantic. Thrush was joined by Katy Tur, a correspondent for NBC News; and Robert Costa, a national political reporter at The Washington Post and the moderator of  Washington Week on PBS. During the forum, they discussed the many roles the media—social and otherwise—have played in the early Trump era.
All three of the journalists have achieved new recognition in the Trump era—though only Thrush was honored with a regular portrayal on Saturday Night Live. All three have also experienced the topsy-turvy—and, sometimes, inappropriate—assaults of the new administration and its most prominent figure.
Tur was one of the first national reporters tasked to cover Trump full-time. Often, she said, it was just her and a bunch of local reporters at any one campaign event. She came to be one of the first reporters that Trump recognized—so much so that by June 2015, Trump shouted, mid-rally, "Katy, you haven't even looked up at me once."
"I yelled back, 'I'm tweeting what you're saying!'" Tur said. "And he liked that and moved on."
The president did not always move on. In a now widely reported moment, Trump shocked Tur by kissing her on the cheek in November 2015 while on an MSNBC set in New Hampshire.  "Before I know what's happening, his hands are on my shoulders and his lips are on my cheek. My eyes widen. My body freezes. My heart stops," Tur writes in her new book, Unbelievable.
"F—k," she thought. "I hope the cameras didn't see that. My bosses are never going to take me seriously. I didn't have time to duck!"
A few minutes later, Trump mentioned the kiss on-air. "But actually, Katy Tur — what happened? She was so great," he told Joe Scarborough and Mika Brzezinski. "I just saw her back there. I gave her a big kiss. She was fantastic."
For Tur, the incident—aside from being inappropriate—signified the president's ignorance if not active rejection of the courtesies normally expected from presidential candidates (or, for that matter, adult professionals).
Tur and Thrush described Trump as a hybrid figure, a creation and impresario of every kind of media.
"Prior to covering his presidential campaign, my final two interactions with Donald Trump were not taking his phone calls when he was trying to get an exit ramp built [in New York City]," said Thrush.
Like Ed Koch, a former New York mayor, Trump was for decades best described as "unavoidable for comment," he said. "I think it's notable that most of the people who cover him right now started at tabloids in New York City."
The president hasn't fully given up his old act: He called Costa's cellphone minutes after an early Obamacare repeal bill failed.
But if his roots are inky, his power is televisual. Trump supporters across the country have mentioned The Apprentice when explaining their support to Tur. "His supporters would say, Donald Trump will know who to hire. And I'd say, how do you know that?" she said. They would reply: "I've seen him on The Apprentice."
In other words, the press—whom Trump has described as "the enemy of the people"—emerged as less like a target of his ire than just another tool to be exploited. "I think it's way overstated, their hostility to the press," said Thrush, referring to Trump and his administration.
"It really was, walking into that building, a very hostile environment for the first three to five months. Now," he said, "it's settled into the usual trench warfare."