London's Uber Beef Has Deep Cultural Roots
The ride-sharing app has clashed with traditional taxis before—but this is different.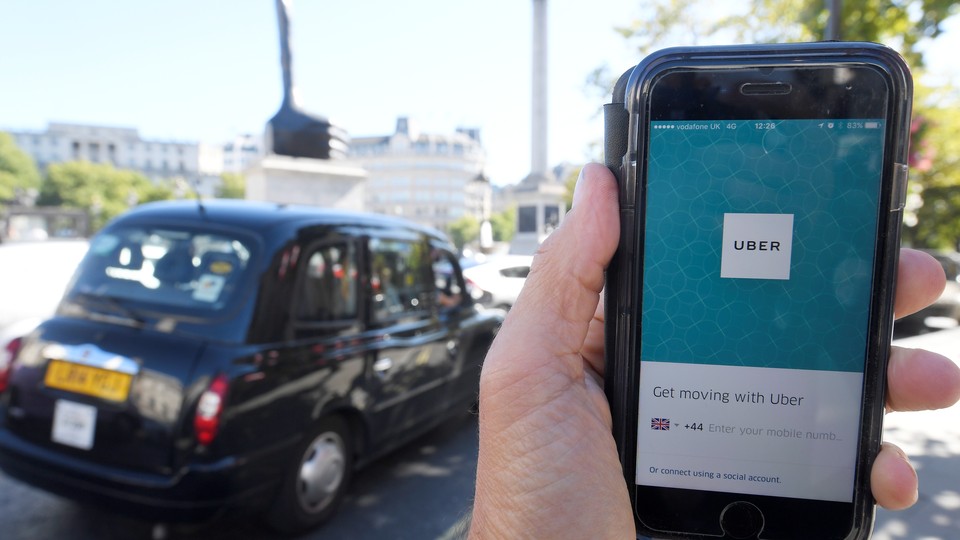 On Friday, more than 3 million London commuters learned that they would soon have fewer options for the commute home, after the city's transport authority announced Uber will no longer be allowed to operate within the sprawling capital's city limits.
"TfL has concluded that Uber London Limited is not fit and proper to hold a private hire operator license," Transport for London said in a statement, citing a range of concerns with the ride-sharing app, from its history of reporting serious criminal offenses to its policies on obtaining background checks for its drivers. Uber's current operating license expires in eight days, after which the app will no longer be permitted to operate within the city. TfL, however, said Uber would have three weeks to appeal the decision, during which time the company may continue to operate.
The leader of London's Licensed Taxi Drivers' Association praised the transport authority's decision, as did London Mayor Sadiq Khan, who noted that "providing an innovative service must not be at the expense of customer safety and security." Tom Elvidge, Uber London's general manager, accused the city of attempting to restrict consumer choice. "Not only will this decision deprive you of the choice of a convenient way of getting about town," Elvidge said in an email to customers, "it will also put more than 40,000 licensed drivers who rely on our app out of work." The email did not make mention of the safety concerns raised by the city.
Overall, the move will affect millions. Since Uber first made its London debut in 2012, some 3.5 million have downloaded the app—many of them seeking a cheaper alternative to the traditional black cabs, which can be as much as twice as costly. In the five-year period Uber has operated in London, its fleet of cars has nearly doubled the number of traditional cabs.
Though rivalries between Uber and the traditional taxi companies where they operate are hardly new (they've been well documented in Brazil, Canada, and China), Uber's relationship to London—and the iconic cabs that roam its streets—is in a different category. As The New York Times reported in July, the clash is less about "the disruptive power of an app, or a new business model, than about the disruption of Britain. London's cabbie wars echo the culture wars that fueled Britain's vote last summer to leave the European Union—and that have brutally flared up again in recent weeks: immigrant versus native, old versus new, global versus national."
Part of this divide can be seen in the demographic makeup of those who drive for both services. According to 2017 statistics by TfL, 68 percent of London's taxi drivers identified as white and British, compared to only 6 percent of private-hire drivers, under which Uber qualifies. Other factors the Times noted, such as those who regard Uber as emblematic of the threat of globalization to the hundreds of complaints Uber drivers have reported involving offensive or racist abuse from other cab drivers, make this division even more stark.
The rift between Uber and London's cabs may not be resolved anytime soon. Since TfL announced its decision, more than 300,000 people have signed an online petition announcing their opposition. Uber, meanwhile, has said it will immediately challenge the decision.