America's Latest Utopian Experiment
A next-generation mountain town in Utah is following a long tradition of turning to design to change the world.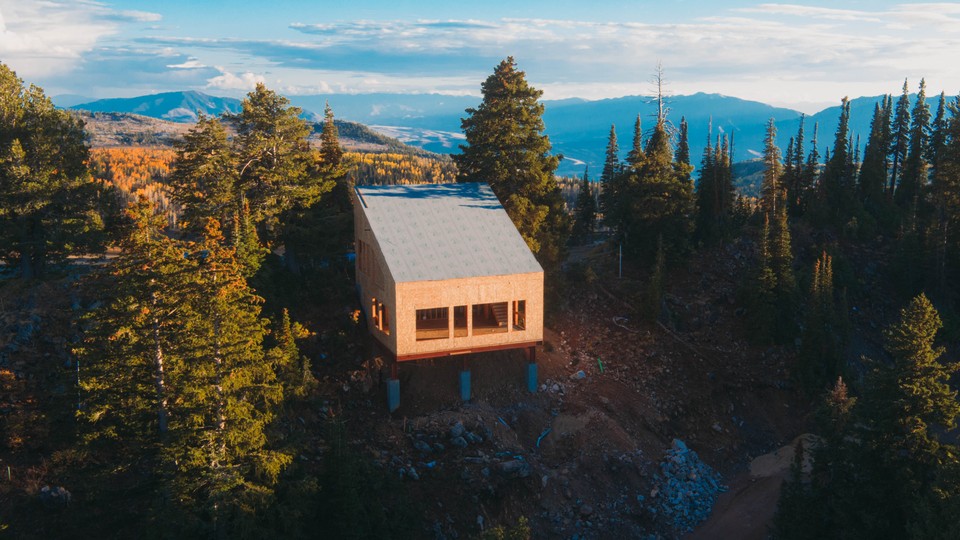 On my final night on Powder Mountain in Eden, Utah, I joined a yoga class in a window-walled lodge with dream catchers dangling from the rafters. The class's attendees were blissed out from spending several days in late February skiing. As we stretched, a man wearing gray athleisure gave us all high fives before unfurling his own mat. It was unclear what we were being congratulated for—perhaps our luck. Whatever our stories, we'd landed here, in the snow globe that is the Wasatch Mountain Range.
Lying on my back, I could see the area's surrounding mountains and the lights inside a dense thicket of town house–style condos—all that seemed to stand between the lodge and Paradise. Literally, Eden is a 58-mile drive south of the town of Paradise, Utah, making Powder Mountain some kind of mecca.
Since the 1970s, the mountain's pilgrims have been skiers, drawn to its unpretentiousness and unbeatable conditions. Today, it's also a Zion for a different kind of seeker. Construction began this summer on a public mountain town that will straddle a 10,000-acre site between three skiing bowls. In 2013, Powder Mountain was purchased by Summit, a company—or, perhaps more accurately, a collective—founded in 2008 by five 20-something friends who want to "catalyze entrepreneurship" and "create global change."
With $40 million raised from its "members"—mainly tech entrepreneurs recruited through days-long events on the mountain, on cruise ships, or, this fall, in downtown Los Angeles—Summit plans to build 500 single-family houses, a village for amenities, and a home for the organization's nonprofit arm, Summit Institute. By 2022, Summit says much of the village will be operational and occupied, with full build-out occurring over the next 20 years.
Despite having some of the trappings of an exclusive retreat for start-ups, Summit Powder Mountain is not a gated community or a resort. Its founders say they are creating a year-round community for innovators, thought leaders, artists, scientists, and others to solve the world's most pressing challenges, from environmental catastrophe to access to basic medical care.
They plan to do this, in large part, by physical design. Mapped out over years by a coterie of prestigious architects and planners, Summit adheres to a logical grid and strict aesthetic guidelines specifically meant to avoid a dissolution into a ski resort of McMansions and Gucci outposts. If you attract the right people, the founders envision, solutions to global problems will come on a shared chairlift ride up the mountain, or during a fireside chat between strangers.
While Summit doesn't like to associate itself with the word "utopia," its turn to architecture to reflect and contain its ideals puts it squarely in line with the hundred or so utopian societies, secular and religious, that were founded in the United States in the 19th century, and also the hippie communes of the 1960s and '70s. Many of these societies failed because of change—in religion, politics, technology, war. But when they did succeed—as Summit hopes to—it often had a lot to do with how successfully their physical world matched their spiritual and intellectual goals.
I flew out to Powder Mountain during one of Summit's weekend retreats, where 150 or so attendees paid $1,500 for skiing, farm-to-table meals, guest speakers, and entertainment. The retreats are aimed mostly at entrepreneurs, though the organization says anyone "kind and open-hearted" and "doing innovative work regardless of your discipline" can attend.
That's a tricky line to toe when also offering a rarefied experience. At a communal dinner on my first night, guests gathered at one of the mountain's original '70s-era lodges. The banquet tables were set with tea lights, and we shared braised beef from a cow that had grazed the mountain over the previous summer. A spoken-word poet asked everyone to shout our names at the same time.
Later, while most people were skiing, I traveled between three lodges on the mountain, one of which is a yurt-like structure called Sky Lodge on the very top. Whiteout conditions prevented me from looking out over the deck and better envisioning Summit's snaking site plan, so I worked on my laptop instead, sipping something called Saffron Elixir and listening to the deaf-blind advocate Haben Girma discuss her disability-rights work. When lunch was served, Summiters clambered in on their boots. "This is next-level, man," I overheard one of them say. (Summit has values—and it has perks.)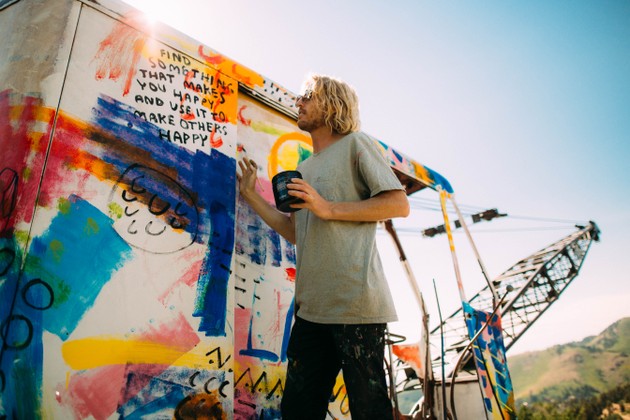 One neighbor, as Summit calls future residents of the town, is Bryan Meehan, the CEO of Blue Bottle Coffee. "There's a lot of amazing progress happening in California in technology," says Meehan, who lives in Marin, "but sometimes we don't pay attention to the impacts of progress socially and environmentally. The conversation can be too focused on how beautiful this bottle of wine is, or 'have you seen my new Tesla?'" At Summit, the discussions might be about poetry or regenerative agriculture. Pass out your business card and you'll get the cold shoulder from the Summit community.
Christiana Moss, a cofounder of an architecture firm involved in design and planning on the mountain, refers to Summit's founders as "compassionate capitalists"—businessmen with a heart, who want Powder Mountain to seed new companies, philanthropic endeavors, and creativity. "You have young people with revolutionary ideas hanging out with people with a lot of money who can make their ideas happen," Moss says of Summit's design. If it works like its supporters hope it will, Powder Mountain will become a new center for thought leadership, and one that isn't located on either of the coasts: a new American campus.
As Chris Jennings writes in Paradise Now: The Story of American Utopianism, the experimental communities that were born in the 19th century "intended to catalyze a global revolution by building a working prototype of the ideal society." The Shakers built more than 20 communities in the United States and are known for their distinct architectural style, with its identical sets of doors, gates, and stairways—everything in perfect symmetry and broom-swept starkness. Others, like Brook Farm, inspired by transcendentalism and founded in the 1840s in West Roxbury, Massachusetts, attempted to construct a single building to house their entire community and bind it together spiritually.
In the 1960s and '70s, rather than create communities meant to transform the world, a new wave of DIY counterculturists escaped it. They constructed camps like Drop City, established in 1965 by four art students and filmmakers who bought seven acres of land in southeastern Colorado and erected Buckminster Fuller–esque dome structures made of junkyard scraps. By 1977, Drop City had been abandoned, but not before a period of intense creativity ensued.
One of Summit's inspirations is Aspen, Colorado, as the Aspen Institute's founder Walter Paepcke originally conceived it. In the late 1940s, Paepcke began buying up property in the defunct mining town with the intent to make it not just a vacation retreat, but "a Kulturstaat, a civilized state organized around culture and thriving on it," writes James Sloan Allen in The Romance of Commerce and Culture: Capitalism, Modernism, and the Chicago-Aspen Crusade for Cultural Reform. By the 1950s, Paepcke had succeeded in opening a ski resort, the Institute, the Aspen Music Festival and School, and the International Design Conference. But Greg Mauro, a venture capitalist who purchased Powder Mountain with the other founders, believes the opulence of Aspen of today would be anathema to Paepcke.
Sensitive to potential criticism that Summit Powder Mountain could become a wealth ghetto, the leadership is baking equal opportunity into the design of the town: subsidizing artists-in-residence, building cabins and hostels, adding low-income housing, offering fellowships to artists and entrepreneurs, and creating programming for the town of Eden's 600 residents. It would be a fake town otherwise, says Mauro. As a managing partner of Learn Capital, a venture-capital firm focused on educational technology, he hopes to bring schools to the mountain, too, aiming to grow the permanent population one or two percentage points per year.
In part, Summit's owners are banking on a 125-page book of design guidelines to discourage potential residents who would want to steer the town toward luxury. Private houses designed by architects such as Brian MacKay-Lyons (who, for years, created his own utopian experiment on his family's farm, calling it the Ghost Architectural Laboratory) and Todd Saunders (whose work, like MacKay-Lyons's, often feels like a dramatic extension of its surroundings) must adhere to the guidelines, which dictate what can and can't be done on the mountain, down to a list of acceptable shrubs, houses capped at 4,500 square feet, and a "modern mountain" style.
No one at Summit mentioned Salt Lake City in any of our discussions, but the Mormon-founded city is only an hour's drive south of Eden, and it's an obvious example of urban planning and architecture as physical embodiments of ideals—and one that survives, in an evolved form, today. Just as Summit's founders knew that Powder Mountain was their future home as soon as Mauro introduced them to it, Brigham Young supposedly declared "this is the place" about Salt Lake City in 1847, kicking off nearly a century of impressive architecture, industry, and growth for Mormons and non-Mormons alike.
Other utopias can look alluring on paper, but would have been dystopian in practice. Frank Lloyd Wright's Broadacre City, an "anti-city" plan the architect introduced in 1932, laid out a gridded suburbia that isolated families within their own one-acre plots of land, and made the automobile central to survival. With no true center, Broadacre City would have siloed the programs that create a sense of community: schools, public transportation, retail, recreation.
Summit, too, has risks. The project has been criticized by some Eden residents who are wary about what is being built and how it will affect their town. The organization recently clashed with some people over water rights; "Summit Sucks Water" signs still dot some lawns. (Echoing Mauro, Jeff Rosenthal, another of Summit's cofounders, says that if the town of Eden doesn't accept the mountain town, he'll deem the project a failure.)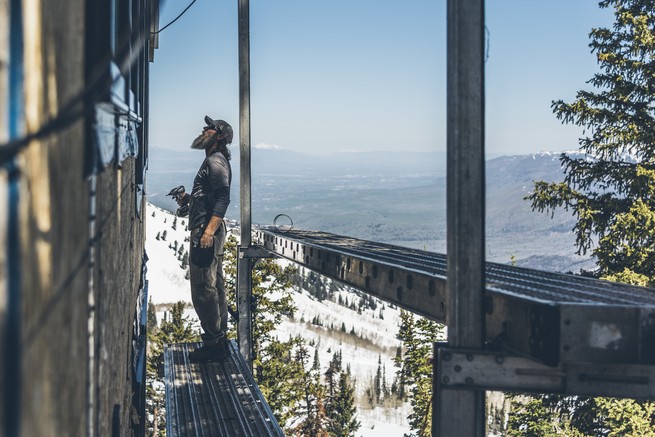 There's also the issue of diversity—of great importance to Summit. While Summit's attendance is around 55 percent men and 45 percent women, the organization was founded by young, white men. For some members, that translates into a tangible feeling of a boys' club. Personally and professionally, Summit has been a boon for Rebecca Clyde, a cofounder of a digital-marketing agency and a chatbot startup: She's met friends and investors, and has considered buying property on Powder Mountain. But she chuckled when she attended a session about the development plans on Powder Mountain. "There were three men up there on this panel, and they were talking about why they loved that mountain: because the land has a feminine energy and the village and concept is trying to harness it," she recalls. "Where are all the women who are going to bring all this feminine energy to life?"
The French philosopher Michel Foucault once wrote that utopias "present society itself in a perfected form, or else society turned upside down, but in any case these utopias are fundamentally unreal spaces." Summit has money, time, sensitive architects, and a mission of goodwill—perhaps all the raw ingredients needed to actually succeed in creating a paradisiacal mix of leisure, thought leadership, philanthropy, and education.
Still, the intentional communities in the United States have tended to fall short of their initial feverish inspiration, or else survived in isolation from the rest of the world. Summit's brand of utopianism is not that of the 19th century: Its community isn't interested in multiplying Powder Mountains across the globe, nor is it cut off from the world in an outcropping of geodesic domes in the desert. As an idea, Summit Powder Mountain is some next-gen hybrid. Time will tell if it can become a real place—and not just another resort town.