More Than 10 Million People Lost Power in Florida
Thanks to Hurricane Irma, the southwest of the state's electrical grid will need a "wholesale rebuild."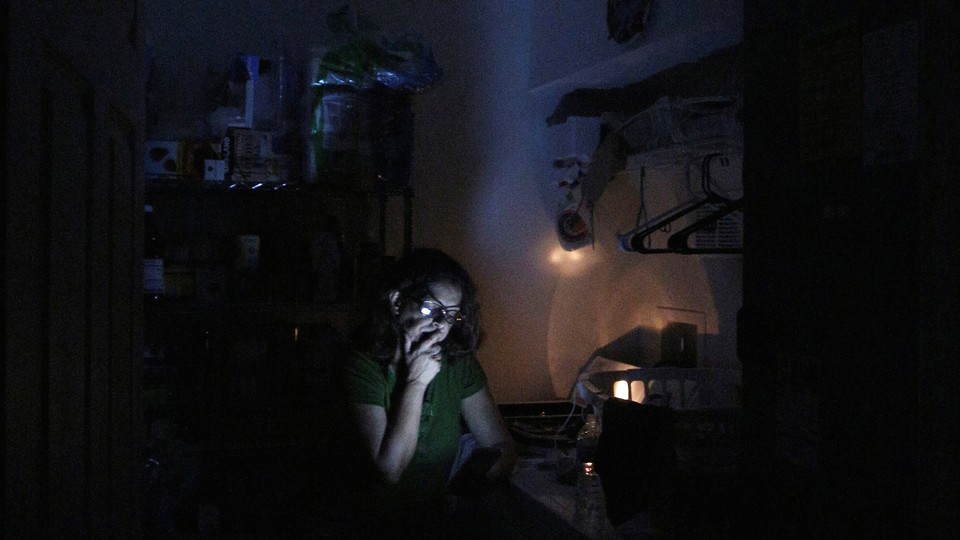 Hurricane Irma slammed the west coast of Florida on Sunday, making landfall first in the Keys and then at Marco Island, 15 miles south of Naples. Since then, it's been making its way northward, visiting destruction on the state as it weakens.
As the storm progressed through Florida, it knocked out the lights all over the state. In a press conference Monday morning, Eric Silagy, the president of the state's largest electric utility, Florida Power and Light, estimated that more than half the state is without power. That's more than 10 million people, which dwarfs the number who lost electricity during Hurricane Sandy, which had been the record holder for hurricane-related power problems with 6.2 million affected.
Florida Power and Light is the nation's third-largest utility and provides power to 4.9 million homes and businesses. Early Monday morning, 4.4 million of those customers had lost power, some multiple times, as the utility restored service and then it was knocked out again. "We've had over 5 million outages across our territory. That is unprecedented," Silagy said. "We've never had that many outages. I don't think any utility across the country has. It is, by far, the largest in the history of our company."
Already, the company has restored 1 million connections, though some only temporarily.
On Sunday, the utility's VP of communications, Rob Gould, told ABC that residents on the east coast could expect a standard post-storm restoration timeline, but that the west coast's electrical grid would need a "wholesale rebuild."
"This is going to be a very, very lengthy restoration, arguably the longest and most complex in U.S. history," Gould said.
That task will begin very soon. The company plans to have 16,000 people, including thousands from other utilities, working out on the lines.
The restoration of power to western Florida will be a test of the resilience of Florida Light and Power's vaunted smart-grid infrastructure. The utility says it has invested over $3 billion in making its grid "stronger, smarter, and more storm-resilient."
It was standing with FPL's CEO that President Obama announced $3.4 billion in smart-grid grants through the Department of Energy as part of the stimulus package, and when the utility finished its smart-grid installation in 2013, it was lauded as smart-grid technology's coming-of-age moment.
In other words, FPL's grid was about the best the country could have brought to the table. And now, apparently, Irma has laid waste to at least a large chunk of that system.
What could a "wholesale rebuild" mean?
An electric grid is a complex technical system. There are power plants that feed electricity onto the grid and there are consumer loads that take the power. In between, there is connective tissue that allows for long-distance transmission of power as well as for the local distribution of that electricity: high-voltage transmission lines, substations, transformers, and regular local power lines.
Generally speaking, power outages usually happen toward the edges of the network, when local power lines get snapped or their poles are felled.
FPL's statement indicates that the west-coast grid has sustained damage beyond the standard downed power lines. Pieces of the system's core have been compromised. However, given how early they are in the effort to bring power back, they haven't had a chance to inspect all their facilities.
"We haven't seen structural damage," the utility's president Silagy said Monday morning, "but I am sure we will see some."
This happened to several utilities during Hurricane Sandy in 2013—which, until today, had caused more people to lose power than any other in history. In a deep postmortem, Greentech Media detailed some of the carnage inflicted on one utility, Public Service Enterprise Group. Sandy had damaged 16 substations, one-third of its transmission circuits, multiple power plants, and thousands of distribution lines and poles. Two million of their 2.2 million customers lost service.
By November 3, a few days after Sandy struck, 65 percent of PSEG's customers had power. A week later, 98 percent of service had been restored.
Given that the aftermath of Sandy is one of the parables of the electric-utility industry, it's fair to say that Gould means that the restoration project on the western coast of Florida will take longer and be harder, despite FPL's state-of-the-art grid.
FPL operates 6,926 miles of transmission lines and 605 transmission, subtransmission, and distribution substations. Major ones are shown on the map below, which highlights that most of FPL's infrastructure is on the eastern seaboard. The red lines are key power-import links, which run into Georgia and tap the Southern Company's power plants. Completed in 1982, they substantially upgraded peninsular's Florida's electrical reliability.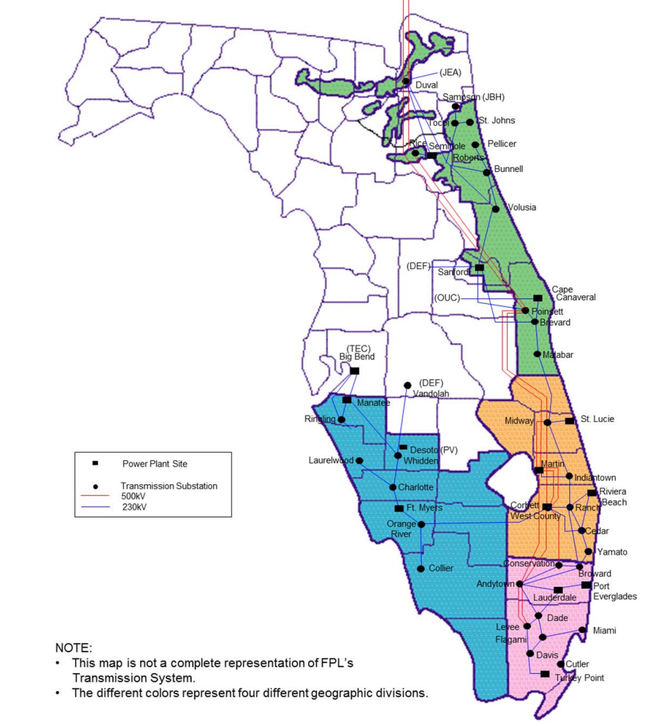 This Homeland Security map of substations shows the relative density of electrical infrastructure within the bottom half of the state.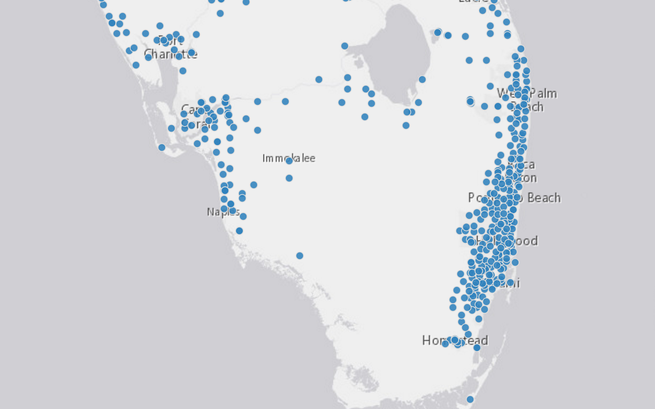 FPL's storm preparations are a matter of the public record. Each year, they submit a report to the Florida Public Service Commission detailing their distribution reliability and storm preparedness. Two things are clear from reading this document: First, FPL's overall reliability was excellent both in absolute terms and relative to other utilities in the state. Second, the utility learned from the northeastern utilities' experience with Sandy. For example, it installed flood monitors in 223 substations, which are supposed to help protect critical components, though how well they worked during Irma is unknown. They've also been investing hundreds of millions a year into hardening the system near key locations like police, fire, and sewage stations. And they established an initiative to coordinate more closely with local governments, an area that became a flashpoint after Sandy.
As the storm continues northward and the restoration effort begins in earnest, FPL's ability to bounce back will become a test of how resilient the smart-grid and post-Sandy systems really are.
Despite the huge numbers of people who have lost power, the early results have portend a faster restoration of service. Silagy, in particular, noted that the substation flood monitors seem to have performed well.
"Frankly those flood monitors [at substations] saved 3 or 4 days of work and millions of dollars worth of equipment that would have had to be be replaced rather than simply re-energized," the FPL president told reporters at the Monday press conference.