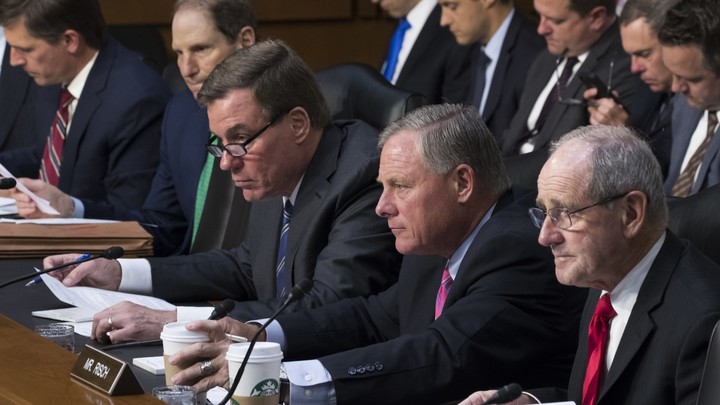 Last week, Facebook disclosed to congressional investigators that it sold $100,000 worth of advertisements to a troll farm connected to the Kremlin surrounding the U.S. presidential election. These advertisements, which targeted voters with divisive political content, added even more evidence of Russia's attempts to meddle with the election. But they also contributed to a larger conversation about free speech in an era where social-media posts replace political pamphlets and the public square has increasingly moved into cyberspace.
Tech giants like Facebook are largely left to decide for themselves how to arbitrate what is said on their platforms: what speech is permissible or not, whether to flag propaganda or not, and how to regulate advertisements. While, across mediums, it is illegal for foreigners to financially influence U.S. elections, last week's news also means a new reckoning with the specific responsibility of tech companies to regulate the ads they sell and the content they host.
Legal and tech experts have growing concerns about individual private companies' massive power over public discourse on the internet. The ability of any single entity to significantly arbitrate speech has previously belonged to the government alone. Now, Facebook, with a small number of its peers, has assumed much of the responsibility for regulating this influential realm online.
Jay Stanley, a privacy expert at the American Civil Liberties Union, sees danger in steps toward censorship on social media. "We would ideally like to see companies that provide a forum in which people communicate with each other to be free-speech zones, especially companies that play important roles in our national discourse," he said. "Once companies go down the path of engaging in censorship, line-drawing decisions are often impossible, inconsistent, capricious, or downright silly."
But Andrew McLaughlin, the cofounder of Higher Ground Labs, a company that invests in technology to help progressive candidates, believes that platforms should suppress propaganda in ad space. "Despite their best intentions, tech companies have built systems that are so open to manipulation by bots and trolls and other techniques that they effectively reward propaganda," he says. "Failing to tackle that problem means ceding the terrain to fraudsters, fake-news pushers, and other kinds of propagandists, who easily gain the upper hand."
Susan Benesch, a faculty associate at Harvard's Berkman Klein Center for Internet and Society and the founding director of the Dangerous Speech Project, likewise falls in this camp. "If you deceive people consistently and on a large scale, you are probably damaging their willingness to engage as citizens in our democracy," she says. She believes that the public should continue to pressure tech companies to create some mechanism for oversight as to what content is taken offline.
Facebook's ad policy already prohibits some forms of messaging, such as use of politically or socially controversial material for commercial benefits. And on Wednesday, Facebook announced new guidelines for monetized content—including new steps to verify the authenticity of buyers, which could deter trolls and bots. One of its provisions is a warning against making money off some forms of deception: Users who "share clickbait or sensationalism, or post misinformation and false news, may be ineligible or may lose their eligibility to monetize."
As far as non-ad content, tech companies censor certain disagreeable speech as well. Facebook, Twitter, and YouTube have removed ISIS-linked propaganda and accounts from their platforms. Following The Daily Stormer's inflammatory coverage of Charlottesville, Google and the web-hosting company GoDaddy refused to provide service to the neo-Nazi website. Meanwhile, the internet company Cloudflare revoked the site's DDoS-attack protections. And the chat app Discord banned other alt-right groups.
Eric Goldman, a codirector of Santa Clara University's High-Tech Law Institute, sees these cases as "inextricably linked" to the recent controversy over Facebook advertisements. "On the one hand, I'm excited when I see social-media companies and other online services being thoughtful about what kind of content they want on their services," he said. "On the other hand, whenever we see online services tinkering with political ads, we have the risk they might be adding their own biases into the mix."
Experts seem to agree on two principles with respect to free speech and tech company arbitration. First, social-media companies, like other private publishers and unlike the government, are not bound by the First Amendment—meaning that they have discretion over what kind of speech is allowed on their platforms. And second, it is dangerous for the government to play a role in censoring content and advertisements on social media—beyond requiring companies to ban illegal activity from their platforms.
Further, many experts believe that mandating the disclosure of political-advertisement sources on Facebook, like the requirement for television or radio to identify ad sponsors on air, could help solve the problem. "Even if nothing else is done, it should be possible to require that political advertisers on Facebook embed the financing information in the ad, and it should be possible for Facebook to archive a copy of the ad with state elections officials or the FEC," says Philip Howard, the director of research at the Oxford Internet Institute.
Senators Mark Warner and Martin Heinrich have suggested that social-media ads should be regulated like TV ads. And Warner, who vice-chairs the Senate Intelligence Committee, is calling for Facebook and Twitter to testify about Russian election meddling, as he sees the current landscape of social media and political campaigns as "the Wild West."
Of course, with any new disclosure requirements, defining the realm of political speech for Facebook and other online entities won't be simple. Most of the Russian ads disclosed last week were aimed at increasing the divisiveness across contested issues in America rather than overtly endorsing a candidate. Similarly, lawmakers would need to define the extent (if any) to which digital platforms should be required to investigate the underlying identities of its ad buyers.
Facebook, for its part, is "always exploring ways to make our ad policies more effective and transparent," a press representative claims.
The story of Russian Facebook advertisements also fuels the debate about the responsibilities of American companies that serve international populations. For example, India has more active Facebook users than the United States. Chinmayi Arun, an assistant professor at the National Law University in Delhi, sees the need for additional mechanisms to both flag harmful content and to contest unreasonable censorship by platforms.
It remains unclear if Facebook will adopt this or other measures. Morgan Weiland, an attorney and scholar affiliated with Stanford Law School's Center for Internet and Society, believes that along with previous problematic content—like untrue news and hoax videos—last week's revelations may help force tech companies to identify their values and define their role in the public discourse.
"Right now they are operating in an arena where they have some, but very few, legal responsibilities," she says. "We are going to keep seeing examples of this kind, and at some point the jig is going to be up and the regulators are going to act. Will the tech companies be the first movers and decide what they [themselves] will get to say, or will the regulators be the ones that move first?"
Neil Richards, a law professor at Washington University in St. Louis, likens the present moment to a Facebook relationship status: "It's complicated," he says. "The way these advertising models subject all of us and our attention to advertising, a kind of mental pollution, is unprecedented in human history. The decisions we make regarding the way that tech companies are a market for advertising affect, in a very real sense, what kind of digital democracy we are going to build."
We want to hear what you think about this article. Submit a letter to the editor or write to letters@theatlantic.com.