The Dumb Fact of Google Money
A Beltway scandal that calls into question the independence of a Google-backed think tank strengthens the argument that tech has too much money.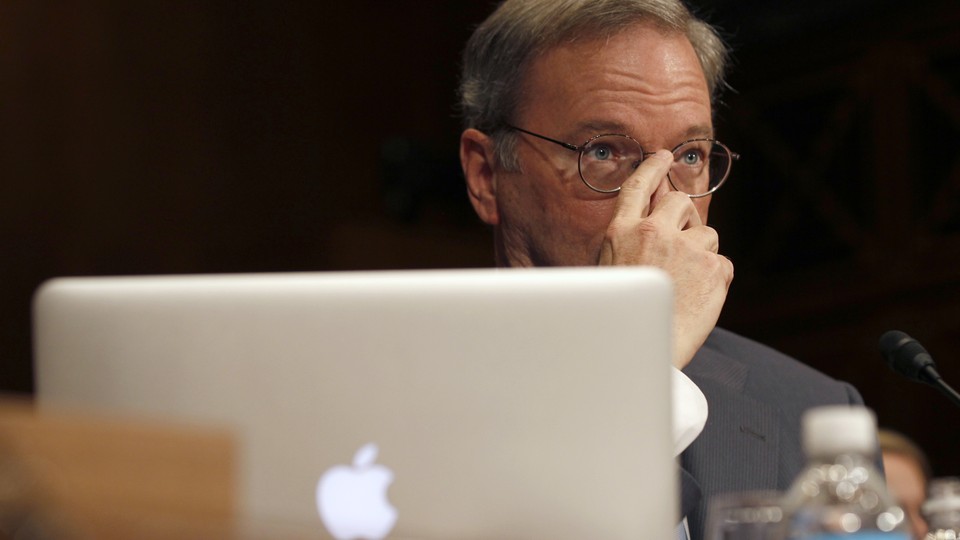 Washington, D.C., woke up to a humdinger of a story today, a flash portrait that shows the relationship between money, power, and ideas—and highlights the potential for intellectual corruption that has accompanied the flood of Big Tech money into the capital.
The New York Times reported that the New America Foundation, the digital-savvy center-left think tank, might have pushed out Barry Lynn, a ferocious and influential critic of "platform monopolies" like, for example, Alphabet (née Google). After Google was hit with a 2.42 billion–euro fine by the European Commission in June, Lynn posted a congratulatory note to the regulators and a call for action by American anti-trust officials.
New America, meanwhile, has received more than $20 million since its founding in 1999 from Alphabet companies and the foundation established by Eric Schmidt. Schmidt, currently executive chairman of Alphabet, also previously served as chairman of New America's board.
Before Lynn began his Open Markets program, New America had been closely, deeply associated with technology- and market-friendly Silicon Valley progressivism.
Open Markets took a completely different tack, "researching and reporting on the political and economic dangers posed by monopolization," largely by technology companies. And they were good at it. They were gaining adherents with influential essays by Lynn, Lina Khan, and Matt Stoller. They'd gotten the ears of Senators like Elizabeth Warren and even one of Silicon Valley's own representatives, Ro Khanna. Some have given them credit for the anti-monopoly plank in the Democrats' platform. (New America also has two Atlantic people on its board: the Atlantic Media chairman David Bradley and The Atlantic national correspondent Jim Fallows, neither of whom contributed to this story. Fallows was the chairman of the New America board from its founding until 2008, when Schmidt took over. New America's CEO, Anne-Marie Slaughter, has written for this magazine. As have Lynn, Matt Stoller, and Phillip Longman of the Open Markets team. And we've cited Open Markets work repeatedly in our coverage.)
Soon, Open Markets—and its staff of 10—will be spun out of New America and will stand on its own.
Those are the well-established public facts. What happened next is what's up for debate.
The Times article says that Schmidt saw the June note Lynn posted to the New America website and "communicated his displeasure" to Slaughter. The statement came down, then went back up without explanation. A few days later, Slaughter asked to meet with Lynn, and—somehow—it was decided his group would leave New America. She then sent him an email that he shared with the Times.
The Times wrote that the email said "the decision was 'in no way based on the content of your work,'" but but also noted that "Slaughter accused Lynn of 'imperiling the institution as a whole.'"
While the Times leaves out the context of the "imperiling" remark, a plain reading of the excerpts—and the fact that the email was sent at all—suggests a leader panicked about the loss of the institution's most important constellation of funders.
Shortly after the story broke, Slaughter said on Twitter, "This story is false. New America will issue statement shortly. We are proud of Open Markets work."
Slaughter's longer statement emphasized that the spin-out was occasioned by Lynn's "repeated refusal to adhere to New America's standards of openness and institutional collegiality," which is how educated people say, "He was an asshole." (Neither Slaughter nor Lynn immediately replied to my request for an interview Wednesday. Nor did a representative for New America.)
Update: New America has released the full text of three emails from Slaughter to Lynn. A charitable reading of Slaughter's position is that it was not Lynn's work itself—indeed she offers to keep his team on doing their same research—but his behavior around the presentation of his work. Slaughter tells Lynn that he's being pushed out not "based on any response from Google" but because of a "pattern" of "telling me one thing and doing another."
In the Times, Google disputed that it had anything to do with Open Markets leaving New America.
If it all sounds like an inside-baseball Washington-power story, that's because it is. But that doesn't make it unimportant. This is one way that the future of the nation's economy is being decided.
Whether Alphabet, Amazon, and others are treated as special entities, regular old companies, or monopolists is a key factor in determining what the internet will look like in the coming years.
All of which makes the undisputed facts of the case enough to tell the story. Maybe Eric Schmidt sent Anne-Marie Slaughter an email or a text message saying, "WTF?" with a link to Lynn's post. Or even just an email with the link. But even if he didn't, is anyone to believe that the institutional apparatus of New America would not be aware that one of its units was directly targeting the business model of a major funder and allied entity?
Working with just the dumb facts of the money involved, one might imagine that Lynn's time at New America would come to a close, sooner or later.
The scale of Silicon Valley money and Washington money are so different that the introduction of the former into the latter is almost comical. You've got companies amassing tens of billions of dollars in cash with mechanics that are linked to particular regulatory and tax regimes. And those regimes are held up by people who measure donations in the tens or hundreds of thousands.
This is a key component of what Robert Reich (a decade ago) called supercapitalism. Many times the most efficient way to make money is to change the rules governing how that money can be made.
"Supercapitalism has not stopped at the artificial boundary separating economics from politics. The goal of the modern corporation—goaded by consumers and investors—is to do whatever is necessary to gain competitive advantage," Reich wrote. "That includes entering any battleground where such gains can be made. Washington—and other capital cities around the world where public policies are devised—has become a competitive battleground because public policies often help some companies or industries while putting rivals at a comparative disadvantage."
And one of the best ways to change (or freeze) policy making and regulation is to change the conversations that people are having in Washington, D.C., through funding research at think tanks.
If Alphabet were Monsanto or General Motors or Pfizer, most people probably wouldn't even feign surprise. But for many years, just the word Google conferred a special halo on otherwise anodyne projects. They were the standard-bearers for the future and were afforded a generosity of intention that no other company received. But no matter the color of its logo, Alphabet's money is green, too, and it exerts the same power as anyone else's.
The details of how this all happened are significant for the individuals involved. But for the country at large, outside Washington policy circles, the essence of the story will remain the same: At some number of millions, even the invisible, digital kind of money takes on a tremendous weight. No matter where it falls, or even could potentially fall, it shapes the structures of power.
Which might just be the point that the Open Markets program has been trying to make.