Small Towns Prepare to Cash In for the Solar Eclipse
People are charging astronomical prices to rent out their homes for those chasing the moon's shadow.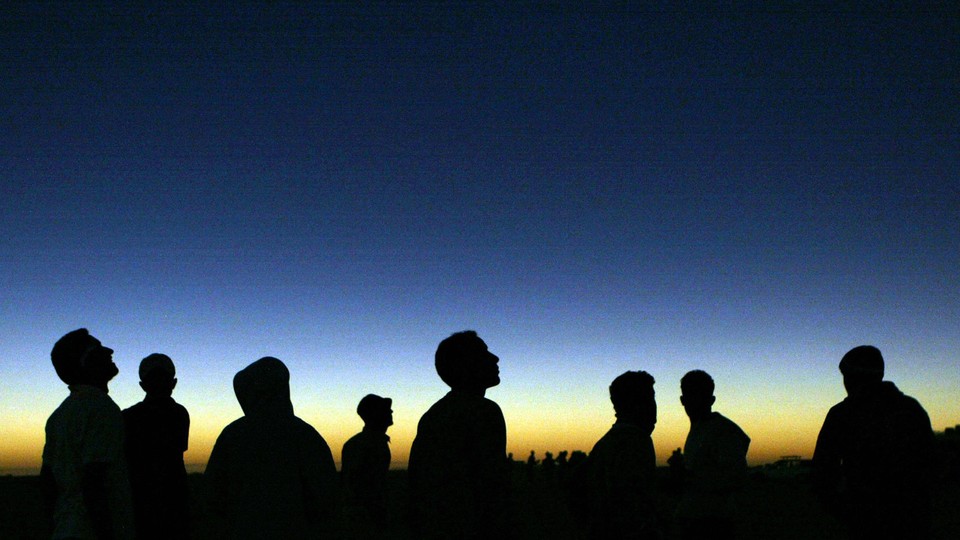 On August 21, the moon's orbit will bring it directly between the Earth and the sun, creating a total solar eclipse in the United States for the first time since 1979. One of the first towns perfectly positioned for the most dramatic view is Keizer, Oregon. Resident Matt Rasmussen is one of many people living along the eclipse's "path of totality" looking to make the most of this once-in-a-lifetime opportunity—and not just to take in the sights.
Rasmussen said a friend living in nearby Portland, which will only see a relatively mundane partial eclipse, casually suggested he try to rent out his house for the weekend of the eclipse. "She said we should post on Airbnb because she bet we could get a mortgage payment out of it," he says. "I laughed, and randomly set up our house at what we thought was a large amount, never expecting to have a taker. We were booked within two days."
Rasmussen charged $2,000 for a single night, as much as 10 times the typical price, which he guesses would be around $200 or $300. Other Oregonians contacted through Airbnb's messaging system for this article tell similar stories.
The eclipse has been a hot topic along its path for months, with preparations taking many forms. California is prepping its solar-heavy power grid to deal with the temporary drop in sunlight. School districts situated on the eclipse path in Illinois and Missouri are canceling class on August 21. Kentucky officials are stocking up on a drug to treat heroin overdoses, and NASA is readying a raft of science experiments. In Oregon, as with other states on the eclipse's cross-country path, government officials and locals are preparing for the swarm of visitors to these otherwise quiet, out-of-the-way towns. Residents have been told to prepare for power outages, cell-tower failures, internet-service outages, and other headaches. Gridlock figures to be a problem on roads across Oregon, straining emergency services.
"We're planning for a very busy few days," Peter Murphy, a spokesperson for the Oregon Department of Transportation, said in an email. He said 23 two-person crews will be stationed every few miles along U.S. Route 97, ready to remove any vehicles causing delays. "A lot will depend upon weather that day. Clouds on the coast or Willamette Valley may send travelers our way, and that will be a challenge to manage. Our message is 'Arrive early, stay put, and leave late.'"
Rasmussen's father-in-law works on the coast, where officials are also anticipating traffic will slow to a halt. "From what I hear about the mid-Oregon coast, 50 miles west of us, they are going to station ambulances with supplies every few blocks along U.S. 101," Rasmussen says, because authorities anticipate the roads, campgrounds, and beaches will be so jammed that ambulances may have a hard time getting through.
With a forecast like that, it's no wonder some people are heading out of town—and hoping to profit in the process.
Zachary Burns of Redmond, a town located about 100 miles farther inland than Keizer, recalls his telescope-hobbyist father first told him about the eclipse about a year ago. He has heard varying estimates for how many visitors are coming to his part of central Oregon, but even the most conservative guesses are in the hundreds of thousands.
"I originally had the thought to leave town and camp to avoid the crowds," he says. "Then I realized every camping spot was full. Then I heard every hotel was full. This was months ago, almost six months prior to the eclipse. That's when I realized it might be a good way to bring in a little extra income."
Burns rented his home for the night before the eclipse for $1,200. He figures it would likely go for $300 a night on any other weekend. Four times the typical rate isn't bad, but he says he may have actually underbid himself. "As the date draws closer and prices rise, I've realized I could have listed the house for possibly $2,000 a night," he says.
Others are opening up their property as a campground for multiple visitors. Bethany Stelzer from the town of Kimberly, another 100 miles inland from Redmond, said her family is offering campsites on the grounds of her orchard for $1,500 a night—each.
"I've heard from several locals that they are renting their homes or fields as campsites," she says. "It was my understanding that the Oregon state parks sold out all of their campsites in the path of the eclipse fairly quickly, so the community stepped up to offer more options."
For his part, Burns says he ultimately decided against camping during the eclipse, instead opting to stay with his parents. He made the decision in part because anywhere he could hope to find will be teeming with people. Then there are safety considerations; he worries any natural disasters, like late-summer wildfires, could make traffic jams even more dangerous.
Extra money from a night's rental or a guided tour isn't life-changing, but any extra bit helps given central Oregon's relatively high cost of living, residents say. The money is also a nice tradeoff for the disruption the eclipse—or, more accurately, all the people headed to see it—will bring.
Some residents of central Oregon are more optimistic about the small-town welcome visitors will receive. Shawn Stanfill lives in Madras, about 25 miles north of Redmond. The father of Madras police chief Tanner Stanfill, he says law enforcement have taken the necessary steps to be ready to help in any situation, and he insists residents of small towns are always willing to lend a hand. The elder Stanfill is listing a couple properties for $1,500 a night, though he cautions those looking to view the eclipse from a relatively remote location like Madras need to be prepared to spend an extra two days getting in and another two getting out, so extreme will be the glut of visitors.
Zachary Burns says his employer, a restaurant supply company, has been ordering supplies weeks in advance to ensure eateries have what they need—though no one really knows what to expect. "I've heard varying estimates of the number of people coming to the area, but even lower estimates seem to think in the hundreds of thousands," he says. "Should be an adventure."
While the eclipse has become a serious moneymaking opportunity for many Oregonians, as well as those in states eastward along the eclipse's path, those contacted for this article say they still intend to make the most of the eclipse itself. One resident said he plans to hike up a mountain trail known only to locals, where he'll be unlikely to run into any out-of-town sky-gazers. Considering all the commotion and chaos that the eclipse could bring, they've probably earned at least that small measure of solitude.