How to Track the Ongoing Fallout From Harvey
An annotated list of trusted sources on the hurricane and its aftermath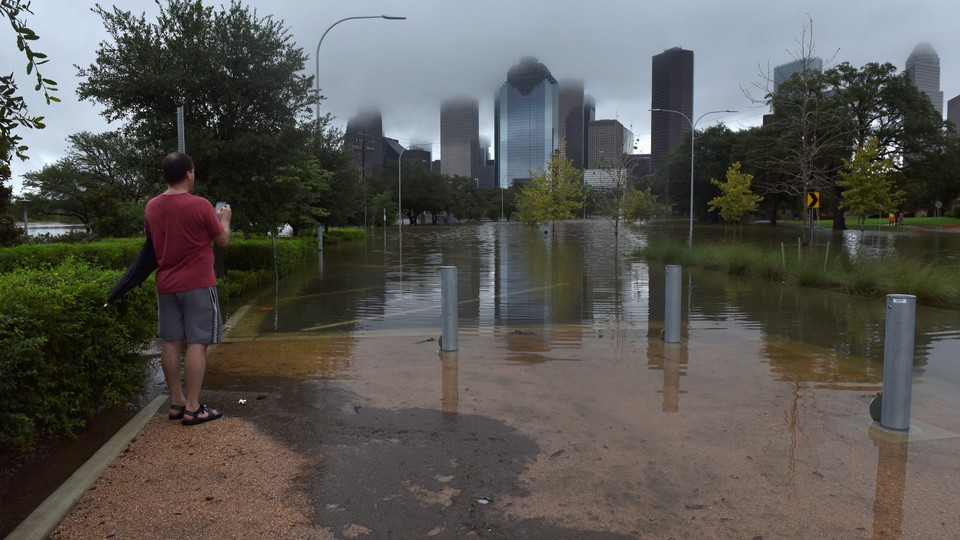 The fallout from the rainiest storm in (at least) Texas history continues. No one has ever seen a storm dump this much water over so wide an area. Or as the National Weather Center's prediction team put it, "The breadth and intensity of this rainfall are beyond anything experienced before." As the situation on the ground continues to evolve, we've compiled a short list of significant resources, and helpful stories, to stay abreast of what's happening. It will be updated.
We've gathered up the Twitter folks mentioned by name here (and several others) into this list.
Weather
The driving force for the event is, of course, the storm. As in many cases, the National Weather Service's various feeds are essential. The NWS websites are a bit inscrutable, so the Twitter feeds are a good way to access their updates:
Two meteorologists have started up their own site, Space City Weather, for "hype-free forecasts." They provide very in-depth analysis. For example, they have done an excellent job providing historical perspective on the storms that have flooded Houston:
Two other meteorologists have been heavily involved in filtering and amplifying significant information about the storm: Eric Holthaus and Brian McNoldy.
For a local perspective, Jeff Lindner is a meteorologist for the Harris County Flood-Control District, which manages the area's flood mitigation infrastructure. He's been tweeting, too.
Officials
The Harris County Flood-Control District manages the different pieces of infrastructure that try to protect Houston from flooding. They take a more traditional news approach, releasing press releases here. Their in-depth reports serve as excellent backgrounders:
The Harris County Sheriff's Office has been tweeting extensively, including Sheriff Ed Gonzalez himself.
The City of Houston has an active Twitter feed including live broadcasts of some news conferences. Mayor Sylvester Turner, too.
Media
The Houston Chronicle has a large team of reporters on the ground with local knowledge. Many are tweeting in addition to filing stories. The investigative reporter Susan Carroll has been doing an excellent job of highlighting coverage. They've also, through time, created some of the best contextual explainers, including these two, which are the best journalistic accounts of the city's flood history:
ProPublica, The Texas Tribune, and Reveal put together a remarkable explainer about the the previous two years' worth of flooding. It's essential background:
The reporters from that story are worth following: Neena Satija, Kiah Collier, and Al Shaw.
The alt-weekly Houston Press is also doing a very good job on the ground. Dianna Wray's explainer on the (troubled, in-need-of-upgrades) dams holding a ton of rainwater is an excellent starting point for their coverage:
Community Organizations
Texas Monthly has compiled a list of organizations that can help people on the ground. And the Greater Houston Community Foundation, which works with and vets nonprofits, has set up a Harvey fund.
Scholars and Writers
Cindy Ermus is a history professor at the University of Lethbridge. She has a book coming out next January about environmental disaster in the Gulf South. She tweets.
Scott Knowles is a disaster historian at Drexel University. He also tweets: "In American disaster we ask responders and emergency managers to save lives and to fix generations of poverty and deferred maintenance. Impossible."
Rebecca Solnit is not a scholar, per se, but her work on the 1906 San Francisco earthquake, A Paradise Built in Hell, is a rich (and heartening) exploration of what people do under the worst possible conditions. Here's an excerpt in The New York Times.