Using Twitter to Save a Newborn From a Flood
Search and rescue is evolving fast in the social-media age.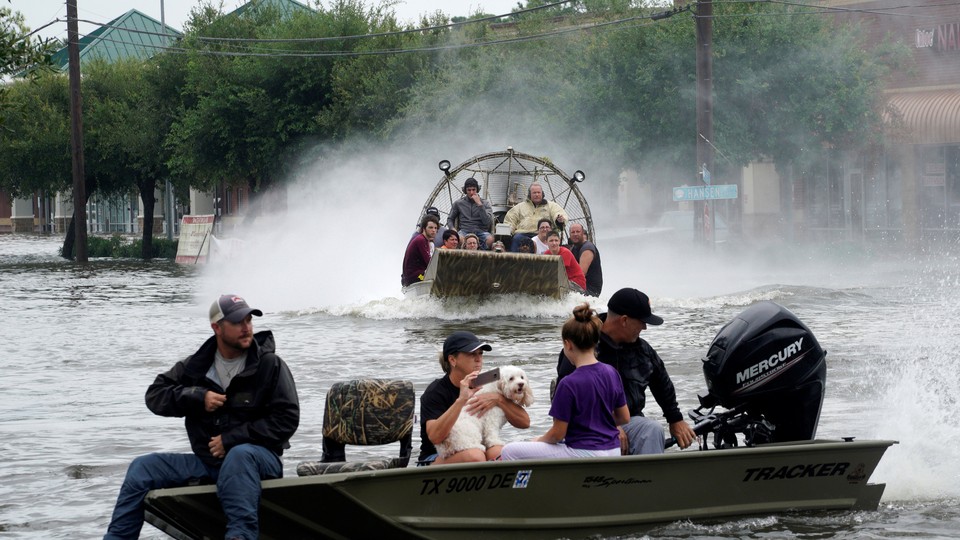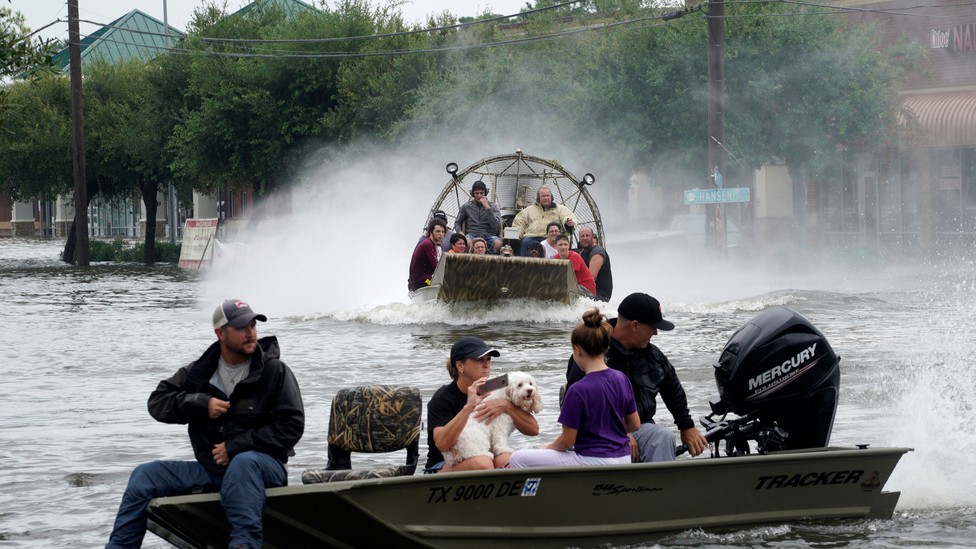 As torrential rain continued and floods swelled in Texas this weekend, thousands of people trapped in Harvey's path started calling 911 and other emergency lines for help. When they couldn't get through, some started tweeting.
"Please help I'm stranded with my kids I need help fast," a user wrote to the Houston Police's account on Twitter.
"Our apartments are surrounded with water like an island we need rescue," a woman pleaded.
"Please help us she a new born," a woman wrote above photo of a sleeping baby.
Dozens of pleas like this spread across Twitter and other social-media networks on Sunday as Harvey continued its assault in southeastern Texas. Users included their street addresses, mostly in Houston, which received 25 inches of rain in the last two days. Some took to Twitter because they said they couldn't get through to 911 and other helplines. Officials in Houston said 911 operators received more than 56,000 calls between Saturday and Sunday nights, a span of time that usually gets 8,000 calls. Emergency services received nearly 6,000 calls for high-water rescues, and more than 1,000 people have been rescued, officials said. In a tweet on Sunday, Houston Police asked anyone with a boat who can help to call the department, providing a phone number that was immediately swarmed with calls.
Social media provided stranded people with a digital megaphone that could be carried far beyond Harvey's path. Many other users joined the digital search-and-rescue operation and retweeted the voices of the stranded, hoping to buoy their pleas in fast-moving feeds. People offered words of comfort and replied with numbers or Twitter handles for local and national emergency services. Friends and family tweeted on their loved one's behalf. "Anyone in NE #Houston able to rescue my Aunt? Just had surgery & home filling up w/ water," a man pleaded. Conversations between flooding victims and concerned Twitter users, some nowhere near Houston, unfolded in real-time as the victims shared updates about water rising around them.
A crowdsourcing rescue effort appeared in the form of @HarveyRescue, a "remote volunteer logging requests for rescues seen on social media," according to the account's bio. The account started a Google spreadsheet Sunday and encouraged people to fill in requests for help. By Sunday night, they'd set up a more formal Google form, asking people for their names, phone numbers, and addresses, as well as information about the number of people and pets stranded and whether they had any urgent medical needs. The spreadsheet no longer appears to be visible to users, but on Monday morning there were about 400 requests for rescue. "Mother has 2 small kids & handicap son." "Family w/ water pouring into home." "One person is paralyzed." "5-week-old baby." About 40 were listed as "resolved."
Some calls for help in Houston eventually resulted in good news. "Rescued! Thank you one and all!" one woman wrote Sunday night, after sharing an address for three stranded women in their 70s. Others continued to broadcast updates, while some fell silent.
Ed Gonzalez, the sheriff for Harris County, one of the most affected areas, joined in, responding to users seeking help and asking for updates on their situations. But other officials, seeing pleas pile up in their comments, advised people against using social media to register their requests. "Please do not use the HPD social media accounts for rescue requests," Houston Police tweeted, telling people to 911 for life-threatening emergencies and 311 for help leaving their homes. The U.S. Coast Guard urged the same, tweeting, "Do not report distress on social media." If phone lines are busy, "please keep trying."
The use of social media during natural disasters like Harvey has become the norm in the last decade, allowing people to broadcast their safety or peril beyond the confines of a catastrophe. When phone networks crashed during the earthquake and tsunami in Japan in 2011, many people turned to Twitter, Facebook, Skype, and Mixi, a social-networking website in the country. When Manila, the capital of the Philippines, flooded after heavy rains in 2012, residents circulated a Google spreadsheet and crowdsourced aid. When a 7.8-magnitude earthquake shook Nepal in 2015, people around the world combed through Twitter and Facebook posts from the disaster zone and collected reports for help to help guide first responders and charities. More than 8.5 million people in Nepal used Facebook's Safety Check feature, launched a year earlier, to say they were safe.
The calls for help in Texas, online and offline, will likely grow as Harvey continues its slow churn this week, producing effects that the National Weather Service described in a tweet as "unknown & beyond anything experienced." Harvey struck the state's Gulf Coast late Saturday as a Category 4 hurricane and weakened to a tropical storm as it moved inland, but has unleashed nonstop rains, flooding whole neighborhoods and turning roads and highways into rivers that rise by the hour. The storm has resulted in at least five deaths and the displacement of thousands. The National Hurricane Center said Sunday night Texas could see between 15 to 25 inches of rain through Friday, with some parts getting as much as 50 inches—the amount Houston usually sees in an entire year.