Can the U.S. Government Seize an Anti-Trump Website's Visitor Logs?
The Department of Justice is seeking the 1.3 million IP addresses that accessed a website advertising Inauguration Day protests.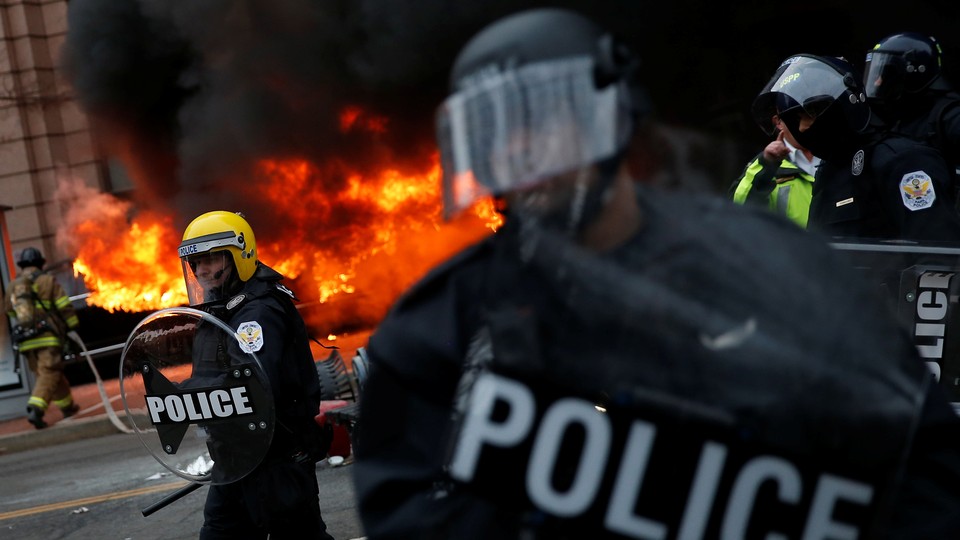 Suppose you were to click on this link: This one, right here.
It will take you to the website of Disrupt J20, which organized some of the "direct action" protests on the day of President Donald Trump's inauguration in Washington, D.C. The site contains general information about civil disobedience and political protests, and it advertises several Washington-specific events.
Some of the protests on Inauguration Day turned violent, and the U.S. government has since charged more than 200 people with felony rioting or destruction of property in connection to events on January 20. It alleges that some of the suspects were connected to the Disrupt J20 effort.
Yet if you clicked that link above—even if you were nowhere near Washington on Inauguration Day—the government is now allegedly interested in you.
The U.S. Department of Justice is attempting to seize the visitor logs and IP addresses of anyone who has visited DisruptJ20.org, as well as any email addresses, user logs, and photos collected by the website, according to DreamHost, a Los Angeles–based web host and domain-name registrar.
This data encompasses more than 1.3 million IP addresses, as well as the email addresses and photos of thousands of people, the company said. DreamHost is not politically connected to DisruptJ20, but it provided paid web-hosting services for the group.
DreamHost has so far refused to comply with the government's search warrant, arguing that it constitutes "investigatory overreach and a clear abuse of government authority."
"That information could be used to identify any individuals who used this site to exercise and express political speech protected under the Constitution's First Amendment. That should be enough to set alarm bells off in anyone's mind," said a blog post published to the company's website on Monday.
A spokesperson for the U.S. Attorney's Office for the District of Columbia did not respond before publication. A spokesman for the U.S. Department of Justice declined to comment.
Digital-privacy and civil-rights advocates were quick to criticize the scope of the government's warrant. But experts in computer crime law said it wasn't immediately obvious that the warrant was illegal.
"The Department of Justice isn't just seeking communications by the defendants in its case. It's seeking the records of every single contact with the site—the IP address and other details of every American opposed enough to Trump to visit the site and explore political activism," wrote Ken White, a criminal-defense lawyer and former assistant U.S. attorney.
He continued:
The government has made no effort whatsoever to limit the warrant to actual evidence of any particular crime. If you visited the site, if you left a message, they want to know who and where you are—whether or not you did anything but watch TV on inauguration day. This is chilling, particularly when it comes from an administration that has expressed so much overt hostility to protesters, so relentlessly conflated all protesters with those who break the law, and so deliberately framed America as being at war with the administration's domestic enemies.
"No plausible explanation exists for a search warrant of this breadth, other than to cast a digital dragnet as broadly as possible," said Mark Rumold, a senior staff attorney at the Electronic Frontier Foundation, in a blog post. The EFF is assisting DreamHost in its opposition to the warrant.
"The Fourth Amendment was designed to prohibit fishing expeditions like this. Those concerns are especially relevant here, where [the Department of Justice] is investigating a website that served as a hub for the planning and exercise of First Amendment–protected activities," he said.
In an email, Rumold added that the government had successfully seized visitor logs for other websites in the past. "But I've never seen anything on this scale, where we're talking about millions of users and there's no attempt whatsoever to narrow the scope (either by date, time, or user)," he told me.
"I don't think there are precedents one way or another on this," Orin Kerr, a law professor at George Washington University, told me.
"It's not obvious to me whether the warrant is problematic," he elaborated in an article at The Washington Post. The government's search warrant instructs DreamHost to turn over all its records about DisruptJ20.org. As Kerr understands it, DreamHost wants the government to only legally be able to ask for certain records about the website. He continues:
There's an interesting and unresolved issue presented here: What's the correct level of particularity for a website? Courts have allowed the government to get a suspect's entire email account, which the government can then search through for evidence. But is the collective set of records concerning a website itself so extensive that it goes beyond what the Fourth Amendment allows? In the physical world, the government can search only one apartment in an apartment building with a single warrant; it can't search the entire apartment building. Are the collective records of a website more like an apartment building or a single apartment? I don't know of any caselaw on this.
A hearing in D.C. Superior Court is scheduled for Friday.
President Trump has addressed the January 20 protests directly at least twice. Two days after they occurred, he belittled them and the Women's March, on January 21, in a tweet: "Watched protests yesterday but was under the impression that we just had an election!" he said. "Why didn't these people vote? Celebs hurt cause badly."
Two hours later, he tweeted an addendum: "Peaceful protests are a hallmark of our democracy. Even if I don't always agree, I recognize the rights of people to express their views."