Can a Sideways Elevator Help Designers Build Taller Skyscrapers?
ThyssenKrupp's design travels horizontally and diagonally, in addition to up and down, freeing up square footage that would otherwise be commandeered for a shaft.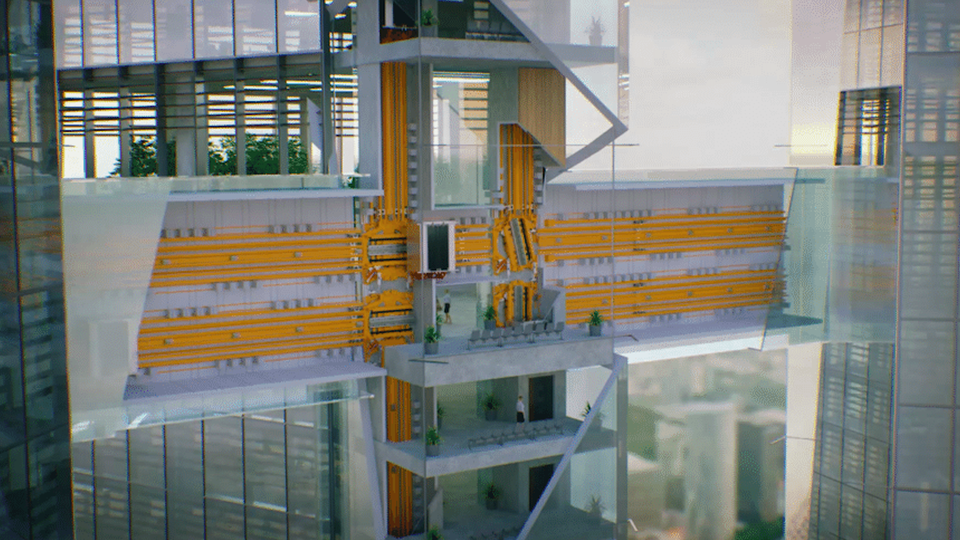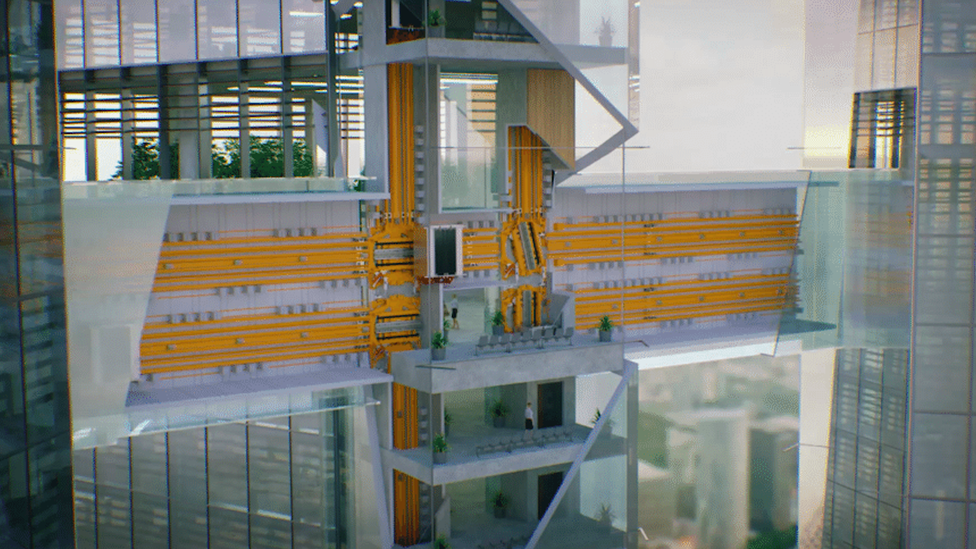 Half the world's population already lives in cities, and that number is expected to jump to 70 percent by the end of the century. To accommodate the new urban dwellers, cities will have to build higher—and that will mean doubling down on ways to transport residents from the ground up into the sky.
The medieval town of Rottweil, in rural South Germany, may seem like an odd place to contemplate the high-tech future. (The locale's claim to fame is breeding the Rottweiler dog.) But ThyssenKrupp, an industrial company based out of Essen, managed to do so last month, at a flashy event promising to change how we design, build, and occupy tall buildings.
"For 150 years, elevators have been dominated by ropes," says Andreas Schierenbeck, CEO of ThyssenKrupp Elevator. It's technology that by now, most of the world knows well: cables hoist a car up and down the elevator shaft, making stops along the way.
But with this promise of increasing urbanization, ThyssenKrupp sought to fill an opportunity to make tall buildings more efficient. Their new technology, known as MULTI, throws out the traditional elevator configuration in favor of a ropeless system that can move both horizontally and vertically. The conventional steel rope most elevators run on adds considerable weight to a building, and becomes more strained the taller you build, ultimately restricting a tower's overall height. By eliminating the cables—and the height restrictions that come with them—ThyssenKrupp executives brag it's a technology that could send "an elevator up to the moon." Indeed, it's the stuff of Star Trek and Willy Wonka—but it could eventually make its way to a city near you.
The company unveiled a functioning MULTI system at ThyssenKrupp's 807-foot-tall concrete test tower, which has been a proving ground for the system over the past two-and-a-half years. The result is an elevator utilizing the same magnetic technology that moves Japan's bullet trains. In this model, elevator cars—not unlike train cars—move along magnetic tracks, uninhibited by traditional cables. Linear motors and a multiple-level brake system replace cables. Cabs are able to change direction from vertical to horizontal thanks to a rotating "exchanger."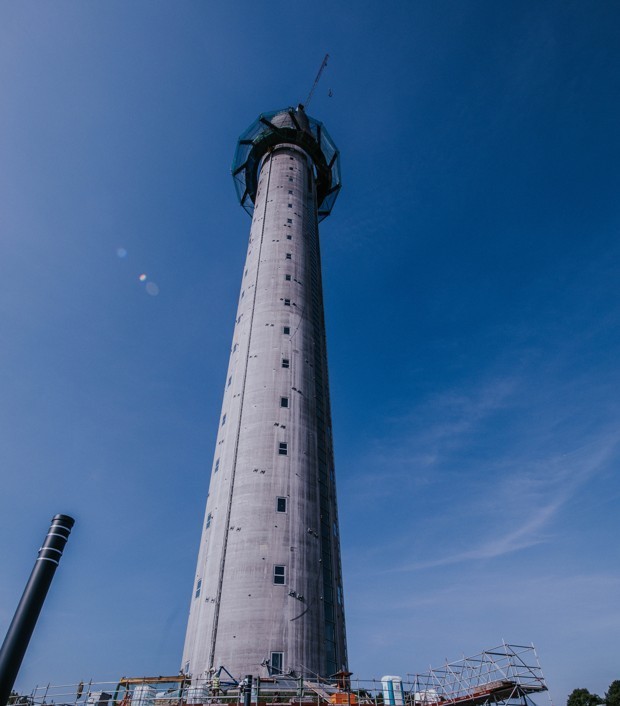 "We've been waiting for these developments for a while," says Roger Soto, a design principal with the global architecture firm HOK. Soto led the design of the Capital Market Authority Tower in Riyadh, Saudi Arabia, which includes another ThyssenKrupp elevator innovation. When the 1,260-foot tower opens in 2018, it'll utilize the company's TWIN elevator system, in which two elevator cabs travel independently—one above the other—in the same shaft.
The elevator is "pretty critical" to skyscraper design, Soto explains, as it makes up the building's core. But the current cable system takes up more space the higher you go. For the CMA Tower, the TWIN allowed HOK to build taller on a smaller floor plate: "The TWIN system allowed us to actually pack the elevators into the core in a way that made the tower more efficient and economical," Soto explains.
The horizontal movement "is something I'm still trying to get my head around," he says. "But I think the elevator can free us from certain constraints we have right now, and allow us to innovate in the way we conceive of towers."
At the MULTI unveiling event, Antony Wood, executive director of the Council on Tall Buildings and Urban Habitat, spoke to the shifting trends already happening in skyscraper design. For one, most of the innovation has moved out of North American cities like Chicago and New York, and is happening across Asia and the Middle East. (The world's tallest tower, Burj Khalifa, opened in 2010 and extends 2,717 feet in Dubai.)
We're also using these towers differently. Instead of office towers built to symbolize a single company—the Chrysler and Sears towers, for example—they are often operating as mixed-use "mini cities" with a combination of residential, office, hotel, and public space. As Soto put it, "We're thinking more about creating social connections in a vertical setting."
Wood called the MULTI "the holy grail of elevators" to address such shifts. For one, the system allows multiple elevator cabins to operate on a loop, moving more people in a continuous flow. Eliminating the space traditionally reserved for elevator shafts, it also frees up square footage for more apartments or office space. Schierenbeck estimates the system can achieve up to a 50 percent higher transport capacity, while increase a building's usable area by as much as 25 percent.
But at what point does an elevator become a totally different mode of transit? "This is technology that's not really distinguishable as an elevator anymore," says Daniel Safarik, the China Office Director at Council on Tall Buildings. "They're more like transportation vehicles of some kind. If you can get an elevator to go sideways or diagonally, then what's the difference between the car, the subway, and the elevator? They start to have a lot of the same properties."
Safarik thinks the real innovation of the MULTI is the possibility to send elevators underground, where they could move horizontally to connect buildings and transit hubs. It's been proposed before. Last year, London architecture firm Weston Williamson & Partners proposed a MULTI system that traveled underneath buildings vertically before descending down to Tube platforms, creating connections between stations. Innovative as it may sound, Safarik sees the "jurisdiction between what's a building and what's infrastructure" posing the biggest challenge to MULTI transforming cities in this way.
The stalwarts of the elevator industry have their own concerns. "Tradition still has a strong role here," says Rick Sayah, vice president of the New Jersey elevator consulting firm Van Deusen & Associates. "The reproducibility of work is how we're able to maintain safety, training and maintenance." His questions, too, revolve around what the technology exactly is, and who should regulate it: "Is this an elevator? Is it a vertical extension of the transit system? Will it require a new paradigm of building code?" He believes it'll be a challenge to build new safety codes around a technology that's so unlike the traditional elevator.
Schierenbeck says, "In the last five years, ThyssenKrupp developed comprehensive functional safety concepts using a multi-step braking system capable to handle all possible scenarios of operation." The company, which has yet to obtain a safety certificate for the technology, expects cars can begin testing with people inside in the next few months.
The East Side Tower in Berlin, designed by Netherlands-based OVG Real Estate, will be the first with a MULTI system. The company has released few details on the project, besides an anticipated opening in 2019.
Safarik, of the Council on Tall Buildings, believes the technology is likely to come to the United States as part of a hospital, campus, or government complex, where horizontal elevators can shuttle people from one building to the next. "It's not particularly freaky to imagine," he says. "It's a logical thing, even if it has always been in the realm of science fiction."
---
This post appears courtesy of CityLab.