All the Promises Automakers Have Made About the Future of Cars
If you believe them, there will be a lot of self-driving cars on the road by 2020.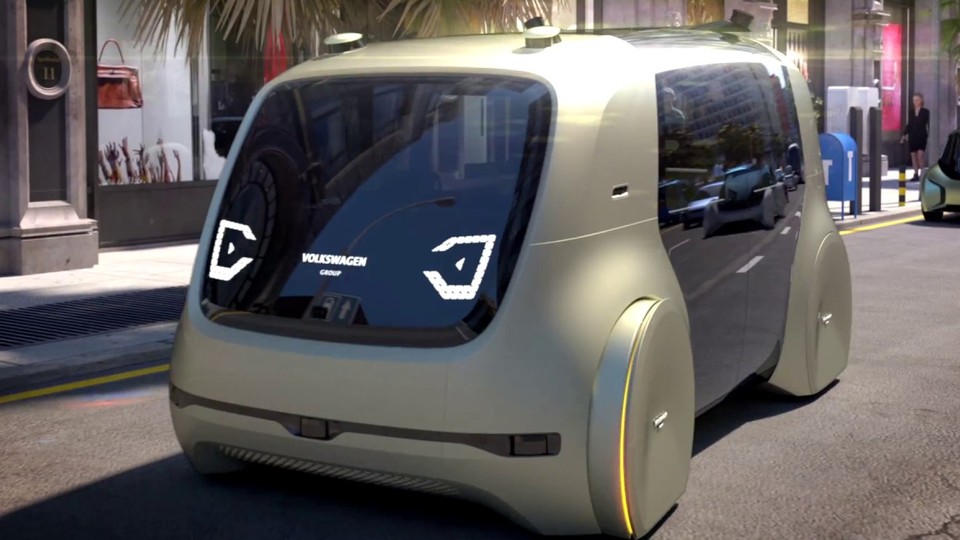 Yet another announcement came yesterday: Volvo, the Swedish slash Chinese car company, announced that it will only offer electric or hybrid vehicles by 2019. It was widely hailed as a bold move.
Previously, the company had committed to selling 1 million hybrid and fully electric vehicles by 2025.
Right now, hybrids have 2 percent of the passenger car market in the U.S., and completely electric vehicles are still a rarity. Even in EV-friendly California, battery-powered cars only hold 2.7 percent of the market.
But in a car industry roiled by self-driving vehicles and self-promoting Tesla, which is now valued as highly as General Motors and far more highly than Ford, automakers have to sell more than cars to be seen as exciting by Wall Street. They've got to be technology companies, not manufacturers. And that means developing autonomous systems, rethinking the motive power under the hood, and figuring out the art of bold pronouncements.
So, I compiled all the grand promises that the world's traditional carmakers have made in the past two years or so, and one thing is clear: Either the automotive world is going to undergo a radical transformation around 2020, or these companies have seriously erred in their planning.
Volkswagen
Volkswagen corporate is engaged in a major initiative they've dubbed "Together-Strategy 2025," which ties together the electrification and smartening of cars. As part of that, they've promised to "bring highly automated driving functions to market as a core competency from 2021." Recently, they introduced an on-demand self-driving car-like thing, which sort of looks like a character in Thomas the Tank Engine: Future Edition. They call it Sedric.
Audi, which is a part of the Volkswagen Group, has been more aggressive. They announced they're rolling out "Level 3" automation—which means a car that can drive itself some of the time—in the A8 model this year with promises to bring fully autonomous vehicles to market in 2020. Audi has also promised that 30 percent of sales will be partially or fully electrified vehicles by 2025.
On the electric side, the company has promised a sporty little electric vehicle called the I.D. by 2020. VW had bet heavily on what it termed "clean diesel" technology as its powertrain of the future. But as last year's major scandal revealed, their engines weren't that clean under normal road conditions. Instead, the company's engineers had built them to run artificially well under testing conditions (and only under testing conditions). That's left the company with a reputation to repair and a newfound interest in the benefits of electric vehicles.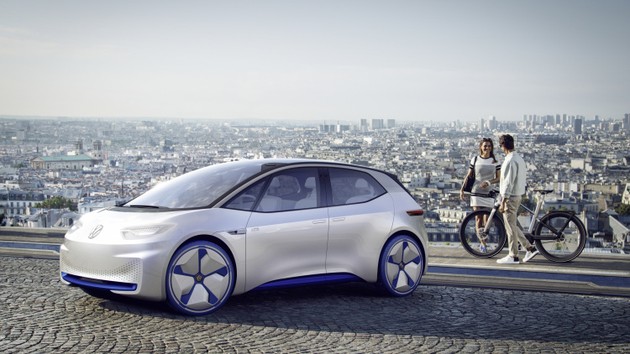 General Motors
GM's big self-driving play so far has been its Super Cruise system for semi-autonomous highway driving. After a delay, Super Cruise will debut this fall on the Cadillac CT6. Drivers will only be allowed to switch on the autopilot when they're on the highway, and the company has built sensors that track drivers' head movements and prod them to keep focused on the road, even when the computer is driving.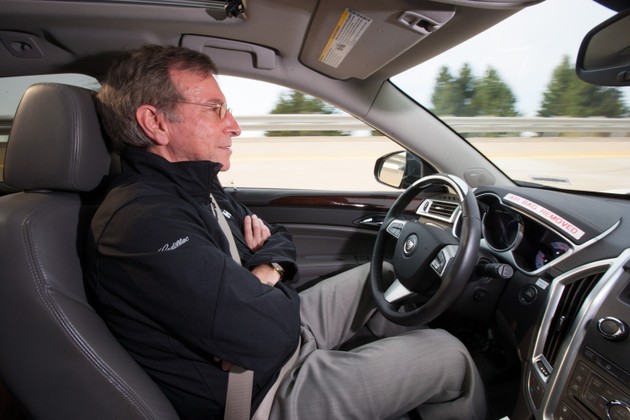 Of course, the company has plans to deliver fully self-driving cars in the early 2020s. They acquired self-driving startup Cruise Automation (for $1 billion) and have plans to hire 1,100 more technology-focused workers in California, centered around San Francisco.
GM has already delivered on a major promise in electrification with the introduction of the Chevy Bolt EV earlier this year. It's rated at 238 miles per charge — and costs about $36,000 before tax incentives, which in California could bring the price down to $25,000.
The company has also promised that it will have 10 electric models in the Chinese market by 2020, and expects sales of 500,000 EVs there by 2025.
Hyundai-Kia
Hyundai showed off an electric, autonomous concept car at CES in 2017 called the Ioniq, but it has been circumspect about its plans.
But the Hyundai-Kia automotive group's parts supplier Hyundai-Mobis has already laid out its roadmap for the next decade. The company will offer some components for autonomous systems by 2020, with mass production coming in 2022. They described themselves as in "fast follower" rather than "leader" mode. And they're trying to make self-driving work without the laser systems that add to the price and complexity of systems like Waymo's.
Ford
In August 2016, Ford promised a fully self-driving car—sans steering wheel—by 2021. The company reaffirmed that commitment this spring. Ford's plan is to have self-driving cars available in some sort of ride-sharing fleet.  The company is also aggressively investing in and snatching up startup companies working on the foundational technologies for self-driving cars like sensors and maps.
As for electrification, Ford has promised it will add an EV SUV with a range of 300 miles by 2020.
Nissan-Renault
Last month, Nissan and Renault announced a partnership to create a self-driving car ride-sharing service. The companies said the service wouldn't launch by 2020, but "certainly within 10 years," or by 2027.
Nissan CEO Carlos Ghosn had made several big promises about self-driving cars. Back in 2013, he said that the company would have autonomous vehicles for sale at reasonable prices by 2020. He reaffirmed that in 2015 (with some caveats). And in 2016, the company said it would have 10 car models with some autonomy baked in by 2020.
The 2018 Nissan Leaf will have enough self-driving features to allow for autonomous single-lane highway driving.
Electrification-wise, Nissan has made the Leaf the second-best-selling electric vehicle (after Tesla, of course).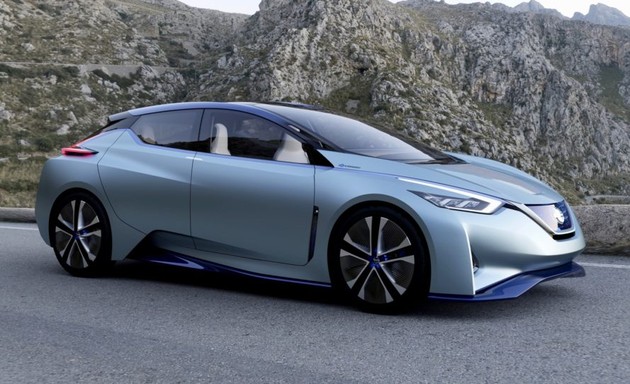 Daimler
Like many other car companies, Daimler—the maker of Mercedes—sees an opportunity in moving their business toward ride-hailing with self-driving cars at the core of the operation. Daimler cut a deal with Uber in January to partner on self-driving cars. And in April, they announced another one with Bosch to deliver autonomous taxis to the road in 2021.
Also in April, the company announced that it was bringing up its electric vehicle rollout date from 2025 to 2022. That's when Daimler expects to have 10 EVs in its lineup.
BMW
BMW has been something of a frontrunner in autonomous vehicle development. In 2016, the company committed to introducing a fully autonomous vehicle by 2021. In May of this year, BMW struck a deal with Intel and major automotive supplier Delphi to create an alliance to meet that goal, possibly with other car companies who might want to join in.
The company expects to sell 100,000 electric vehicles in 2017.
Toyota
Toyota, the world's largest automaker, has played it cool for the most part. In 2013, the company emphasized that humans must remain in control of vehicles. But in October 2015, Toyota promised that vehicles "with an autopilot switch" would be on the roads of Tokyo by 2020. (They're working with chipmaker Nvidia.)
The company has had mainstream success with hybrid vehicles, but has not gone all-in on electrification like some of its competitors. In part, that's because Toyota continues to push fuel-cell vehicles.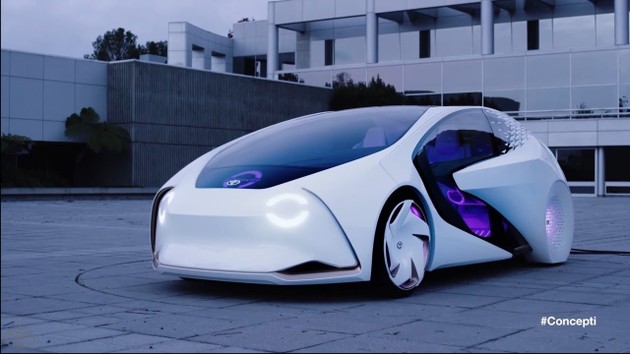 Honda
Honda has promised to have fully autonomous cars on the road by 2025. Along the way, the company plans to have lower level self-driving features such as supercharged cruise control in cars by 2020. That's several years behind its competitors. But hey: It's no sure thing that the first-generation of autonomous vehicles are going to be a success.
Mazda
Mazda might be the only true contrarian among the traditional automakers: They still want to make cars that you buy and drive. They are only interested in developing driver-assistance technology, their CEO said in April.
Subaru
Japan's smallest carmaker does not currently have a promise around self-driving cars — and is planning its first plug-in hybrid electric car next year.
Tata
Tata Motors, India's largest carmaker, has asked Indian authorities to test an autonomous vehicle, but many people are skeptical that self-driving cars will work well on India's chaotic roads.
SAIC
We don't know much about China's largest car maker's self-driving car plans, aside from a partnership with U.S. sensor maker Savari. The company maintains a research center in Silicon Valley and recently received a permit to test its vehicles on California roads.