What Will Uber Become Without Travis Kalanick as CEO?
Investors forced the brash executive's resignation for the good of the company—but what does that mean for its future?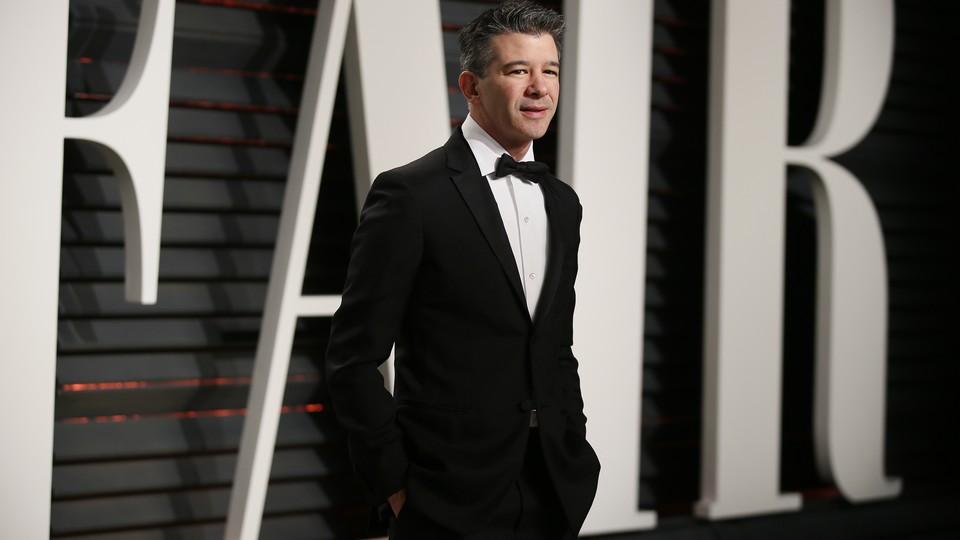 It came down to money, in the end. Investors backing Uber decided it wasn't enough that Travis Kalanick announced last week he would take an indefinite leave from his position at the helm of the scandal-plagued company.
He had to go. Now.
This was an "outright rebellion" by shareholders, says Mike Isaac, The New York Times reporter who first reported Kalanick's surprise ouster overnight. On one hand, it all seemed to have happened rather quickly: Investors delivered a letter to Kalanick while he was on business in Chicago on Tuesday, insisting he step down. Kalanick then spoke with investors and at least one Uber board member, the Times reported, and agreed to resign. (Uber didn't immediately respond to The Atlantic's request for comment early Wednesday.)
Viewed another way, Kalanick's departure was a long, long time coming. Uber has been beset by scandals for most of the year, including a boycott campaign from users, explosive allegations of sexual harassment by a former Uber engineer, a leaked video showing Kalanick arguing with an Uber driver, a federal lawsuit alleging Uber stole a competitors's design secrets—and those aren't even all of the big ones. More than once, one unfavorable story about Uber was still prominently in the news when the next PR nightmare materialized.
To onlookers without any stake in the company, Uber's troubles have been so pronounced as to seem, at times, darkly funny. ("Getting Out Ahead Of This One: Uber Has Apologized In Advance If Anyone Finds Out About Something Called 'Project Judas,'" said a joke-headline from the satirical website Clickhole, a sister site to The Onion.) In recent weeks, so many of Uber's senior leaders had either resigned or been fired that, as one mock-suggested on Twitter, a company focused on self-driving cars had become driverless itself. Susan Fowler, the engineer who wrote the explosive blog post about Uber's toxic culture in February, joked about the possibility of a Hollywood adaptation of the mess: "I would just like to say, just for the record, that I would like to be played by Jennifer Lawrence."
But the serious questions always came back to Kalanick. It began to seem there was no breaking point. How long could one man remain in charge of a company that seemed to be so badly flailing? And, crucially, what was the public-relations fire-swamp doing to Uber's $70 billion valuation?
Kalanick's ouster—and the paradox of how it seems both sudden and drawn out—is a reflection of the forces that rule Silicon Valley. Namely, money, money, and more money. ("Cash flows before bros," as the tech news site Pando put it last week.)
It was ultimately concerns over the bottom line—not merely the toxic culture, or Kalanick's trademark hubris, or explosive allegations of sexual harassment, or revelations about Uber's secret software to evade of law enforcement—that forced Kalanick out. Well, out of his job as CEO, that is. He'll still be on Uber's board of directors, and he will retain his control of a majority of Uber's voting shares.
Which means that, even without Kalanick at the helm, Uber is still the Uber Kalanick built—barring other changes that the company has promised to make. In the meantime, you can be sure Uber employees are watching to see who will succeed their old boss, and what that hire might reveal about the seriousness with which Uber takes its employees' complaints and its commitment to improving diversity. That remains an open question: The results of Uber's recent internal investigation yielded superficial and outright bizarre attempts to change the company's culture—renaming the "War Room" the "Peace Room," for example, and a request for everyone who attended a company meeting to hug. (Seriously.)
All this calls to mind the old business joke about a CEO who attends a conference on the importance of corporate culture, then barks at the head of HR, "get me one of those things." The difficulty of shedding a company's culture—even after shaking up top leadership—was on full display last week. Shortly after Uber published a spate of initiatives it said would help make the company move past its hostile reputation, leaked audio emerged of a board member making a sexist remark at a meeting intended to help with a smooth transition during Kalanick's then-leave. (Within hours, that board member had resigned.)
Now that Kalanick's indefinite leave has become definite, Uber finds itself at a crossroads. An Uber without its founding CEO is an Uber untethered to the principles that the company has associated with its rapid growth since it launched in 2009, for better and perhaps for worse. Uber has recently tried to distance itself from some of what it long described as core competencies—qualities like "super pumpedness," "always be hustling," and "toe-stepping." It even announced this week it will allow tips to drivers in a longstanding reversal of a controversial policy.
Neither Kalanick's departure nor small hints at changes to come are guarantees that Uber's troubles are over. One of the biggest tests ahead is Uber's legal battle with Waymo, the driverless-car company that spun out from Google, which claims Uber stole its design secrets.
Eventually, it was investors who answered the question of whether Uber could thrive with Kalanick as CEO. They decided it could not. Next, they will find out if the company can survive without him.