Who Gets to Use Facebook's Rainbow 'Pride' Reaction?
An analysis to see if the algorithms behind the new emoji contribute to political bubbles in America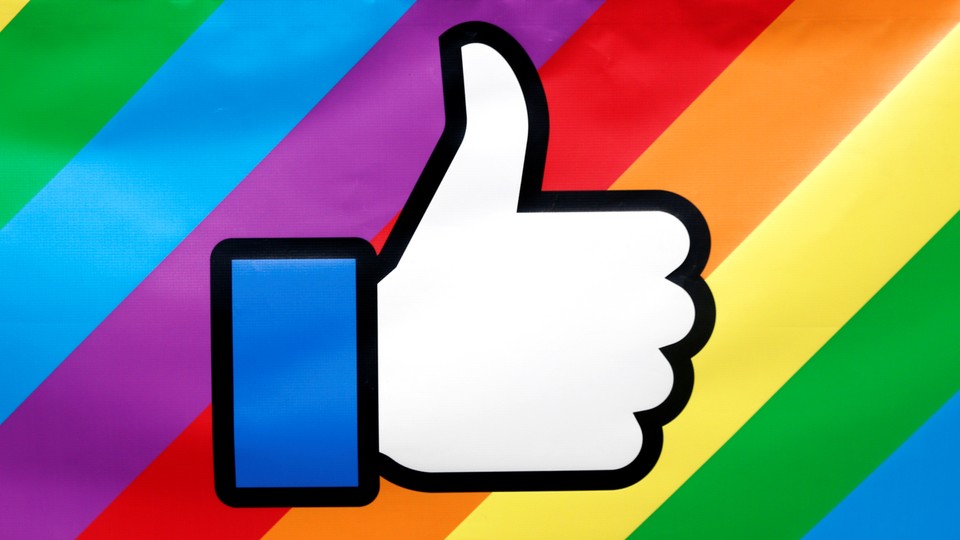 James Berri traveled three hours to Sacramento earlier this month for his first Pride parade, one of hundreds of annual LGBTQ celebrations across America. Berri also talked about the experience on Facebook, reading and reacting to other people's posts with thumbs-up likes and Facebook's new rainbow "Pride" emoji. Throughout June, the platform is offering a rainbow flag alongside likes, hearts, and angry faces that people can click on to react to others' posts and comments. Yet Berri, a 21-year-old transgender artist, is conflicted over the fact that not everyone can use this new rainbow button.
Back in Fresno, Berri wondered how Facebook decides who's eligible. "Why don't they have it, too?" he asked, referring to friends sitting with him in a salon in the larger, less-prominent California city. "It makes me confused for my friends."
One friend disagreed: "Maybe I don't want my family to actively know that I'm in all of these things because they're just gonna—they're not gonna like it."
As a rare commodity, the Pride reaction has attracted a rainbow hunt among Facebook users. This June, Facebook announced that the feature would be available in "major markets with Pride celebrations" and for people who follow the company's LGBTQ page. They also announced that the rainbow would "not be available everywhere." For example, Facebook limits access in countries where LGBTQ rights are politically risky. Yet many Americans, like Berri's Fresno friends, also missed out.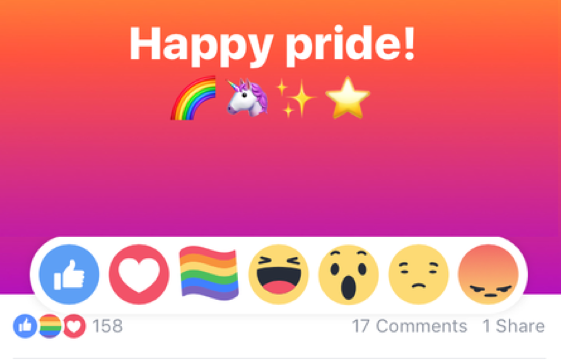 Is Facebook's rollout of rainbow flags a case of algorithmic hypocrisy, user protection, or something else? Using their ability to detect people's location and interests, the company's algorithms are choosing which people get the rainbow flag while hiding it from others. At first glance, this approach looks like it could contribute to the creation of political bubbles, as a feature promoted in progressive cities and less available in the rest of America. If real, these discriminatory political bubbles could constitute a secret kind of "digital gerrymandering," according to Harvard Law professor Jonathan Zittrain.
Algorithmic political bubbles are hard to detect because they show something different to each person. Only by comparing notes can people map the boundaries of what a platform chooses to show its users. Doing so, when legal, allows independent researchers to detect discrimination and hold platforms accountable for their actions. To find out if Facebook's rainbow Pride reaction was a case of digital gerrymandering, our three-person team—a data scientist, a survey researcher, and an ethnographer of youth social-media practices—conducted an algorithmic audit, asking hundreds of Facebook users in 30 cities to report if they could access the Pride reaction.
Our audit asked two questions. First, are there U.S. cities where everyone is allowed to give a rainbow reaction? Second, do Facebook's own LGBTQ-interest algorithms predict who has access elsewhere?
By using Facebook's algorithms, we based our audit on the way that Facebook's software sees the world. When advertisers publish an ad with Facebook, the company asks them to define the regions, interests, and demographics of the people they want to reach. While the platform's gender targeting does not allow grouping by LGBTQ identities, their algorithms do infer LGBTQ-interest based on what people like, share, and write about. People can be categorized for their interests in, for instance, "Gay Pride," "LGBT Culture," "Pride Parade," "Rainbow Flag (LGBT)," and "LGBT Social Movements." Since Facebook allows advertisers to include or exclude people from those categories, we could survey people to discover if LGBTQ-interested people have a different experience on the platform from people that Facebook categorizes as not LGBTQ-interested.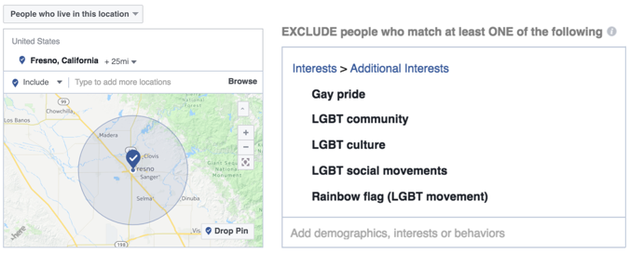 Across 15 states that are home to the largest U.S. cities, we chose a large city per state and paired it with a smaller city elsewhere in the state. Within each city, we used Facebook's ad targeting to recruit people who the platform's algorithms think are interested in LGBTQ issues, compared to people who aren't. We then tested the correlation between LGBTQ interest and access to the Pride reaction.
Among the cities we investigated, an overwhelming percentage of people without LGBTQ interests reported having the pride emoji in New York City, San Francisco, Chicago, Seattle, and Boston. Yet many other cities among the largest 25 in the U.S. were excluded from city-wide access, including Philadelphia, Detroit, Phoenix, and Nashville.
In places without city-wide access, Facebook's LGBTQ advertising groups correlated strongly with people's ability to use the rainbow reaction. On average, people with LGBTQ interests who responded to our ads were 46 percent more likely than the non-LGBTQ interest group to report having access to the rainbow reaction. It's possible that people in the LGBTQ interest groups received the rainbow because they chose to "like" the LGBTQ@Facebook group, which the company says will unlock the rainbow reaction.
Kristina Boerger, a 52-year-old musician and human-rights organizer from Greencastle, Indiana, was surprised that other people could use the reaction but not her. "It certainly wouldn't be because Facebook doesn't know that I am queer," she said. "That would be one of the first things they know about me."
Why would Facebook selectively release the pride reaction? When we reached out for comment, a company spokesperson replied with a quote from an early June press release, explaining that Facebook limited access to test the feature, even though 22.7 million people have presumably unlocked the rainbow by liking the LGBTQ page. The platform may also be trying to protect users in parts of the U.S. where they could face harassment. When Facebook encouraged people in 2015 to choose a rainbow profile picture, some administrators of Facebook groups banned any member who made the change.
Limited access to the Pride reaction might also allow Facebook to gain PR benefits from supporting gay rights in some U.S. cities while avoiding scandal elsewhere. Could regional geo-fencing help the company manage public expectations in a polarized political environment? Betsy Willmore, an organizer of PrideFest in Springfield, Illinois, thinks the company is carefully managing its image. "Their intention is not to piss people off," she said. "And they are legitimizing those that are getting pissed off by it."
Many Americans could be unaware of Facebook's public support for LGBTQ rights. After facing election-year pressures, the company might benefit from selective public understanding of its positions. Facebook and its PAC, like many corporations, routinely fund both Democrat and Republican candidates and events. Yet we failed to find a correlation between 2016 presidential election patterns and access to the Pride rainbow. Large cities that supported Trump in 2016 didn't receive the pride reaction, but neither did many Clinton-supporting cities. If there's a political pattern to Facebook's decision, we couldn't detect it.
Overall, our audit found that Facebook is doing what it says. The platform has avoided offering city-wide pride reactions in large metropolitan areas that supported Trump in the last election, but LGBTQ-interested people are still able to access the feature on average.
This month, millions of Americans have celebrated Pride with large urban events, in small towns, and across their digital-connected communities. For Berri and his friends in a Fresno salon, the choice to fly a flag online was as consequential as any march. During the conversation, one friend, a queer 19-year-old from Clovis whose name has been omitted to protect them from harassment, decided to "like" Facebook's LGBTQ page for access to the rainbow reaction. Speaking of disapproving family, they said, "If they're gonna be pissed off about it, whatever."