Travis Kalanick Is Taking a Break From Uber
The embattled CEO says he's not sure how long he'll be on leave.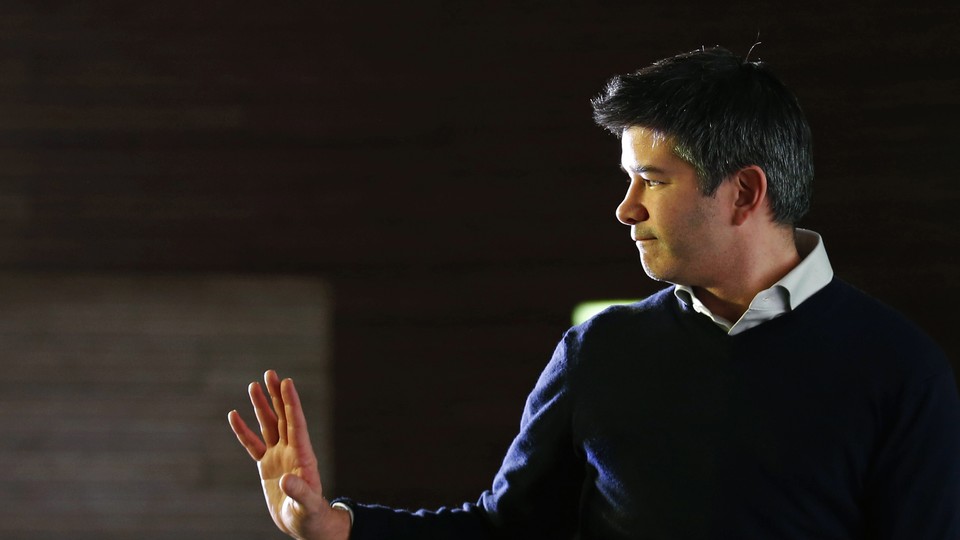 Travis Kalanick, Uber's embattled CEO, is taking a leave of absence. "It's hard to put a timeline on this," he told his employees in an emotional email on Tuesday. "It may be shorter or longer than we might expect."
An extraordinary string of scandals have consumed Uber for the better part of the year, including an instance when a leaked dashboard-video showed Kalanick cursing at a driver. Amid all this, Kalanick's mother died in a boating accident last month.
"For the last eight years my life has always been about Uber," Kalanick wrote. "Recent events have brought home for me that people are more important than work, and that I need to take some time off of the day-to-day to grieve my mother, whom I buried on Friday, to reflect, to work on myself, and to focus on building out a world-class leadership team."
"But if we are going to work on Uber 2.0," he added, "I also need to work on Travis 2.0 to become the leader that this company needs and that you deserve."
Also on Tuesday, Uber made public the recommendations put forth by a special committee hired to investigate the company's culture. In a marathon meeting on Sunday, the Uber board unanimously voted to adopt all recommendations in the Holder Report, a representative for Uber told The Atlantic, referring to the report that came from the investigation.
Uber asked Eric Holder, the former U.S. attorney general, to lead the probe after an extraordinary string of scandals at the ridesharing company. The past six months have been enough of a public-relations nightmare for Uber to have raised the question of whether the company can survive—or at least whether its $70 billion valuation will take a hit.
Uber's recent problems have included a high-profile public boycott, an explosive first-hand account of sexism at the company, revelations of how Uber used secret software to evade law enforcement, and the leaked video of Kalanick's argument with a driver.
Kalanick's leave will begin just three months after he pledged to his employees that he would "grow up" and get the "leadership help" he needed, Kalanick may take a leave of absence from the embattled ridesharing company, according to multiple reports. Though the board was expected to discuss Kalanick's future on Sunday, it's not clear whether a leave of absence was one of the items formally recommended in the Holder report.
The Holder report chronicles "a frequently chaotic and 'hostile work environment' without adequate systems in place to ensure that violations such as sexual harassment and retaliatory behavior were dealt with professionally," according to Recode. Emil Michael, one of Kalanick's closest confidants and the second in command at Uber, stepped down on Monday, according to an email to Uber employees obtained by The New York Times. It wasn't clear from the email whether he resigned or was forced out.
Uber has suffered several high-profile resignations and terminations in recent months. In May, Uber fired Anthony Levandowski, a star engineer and the central figure in a high-profile legal battle over self-driving cars.
His termination was tied to a federal lawsuit in which Waymo—the self-driving car company that spun out of Google—is accusing Uber and Levandowski of stealing its design secrets. An Uber spokesperson told The Atlantic that Uber had been pressing Levandowski to help with its internal investigation of the matter for months, but that he did not meet a deadline set for him. Levandowski could not be reached for comment. He has exercised his Fifth Amendment right against self-incrimination, which played a role in a federal judge's decision to deny arbitration in the Waymo case.
Uber's request for arbitration would have allowed the ride-sharing giant to defend itself behind closed doors. Instead, Uber will have to go to trial to answer Waymo's accusations in what is sure to be an ugly showdown.
The case is poised to be among the biggest legal fights over intellectual property so far this century. The technology at stake is at the center of the emerging and potentially highly lucrative self-driving car industry, and the key players are two of the world's top tech companies. (Google rebranded its self-driving car project as Waymo in 2016.)
Not only will there be a trial, but Judge William Alsup also referred the case to the U.S. Attorney for investigation of possible theft of trade secrets, a move that suggests the Uber engineer at the center of the case could face criminal charges.
Waymo is accusing the former Google engineer Levandowski of secretly stealing a trove of files from the company before he quit to start his own self-driving truck startup. Uber acquired that company, Otto, for $680 million shortly after it launched last year.
Self-driving cars are arguably the great technological promise of the 21st century. They are in that rare class of technology that might actually change the world. And not just in the way everyone in Silicon Valley talks about changing the world—but really, fundamentally change it. So much so that their dramatic life-saving potential is almost secondary to the other economic, cultural, and aesthetic transformations they would cause.
Those who aren't able to drive themselves today—people who are blind, for example—would be granted a new level of transportation freedom. Mass adoption of self-driving cars would create and destroy entire industries, alter the way people work and move through cities, and change the way those cities are designed and connected.
To build the technology that prompts all this change is to be in an enormous position of power.
That's why the race to bring self-driving cars to the masses is so intense. It's also what makes this particular competition echo other transformative moments in technological history—going all the way back to the Railroad Wars, at least. (Incidentally, there was a different kind of driverless car back then.) "The Wright brothers jump into my brain immediately," John Leonard, an engineering professor at M.I.T., told me in 2015. "But maybe it's kind of like a decentralized space race. Like Sputnik, but between the traditional car companies and their suppliers versus tech companies and their startups."
There's a lot of money at stake. A lot a lot. We're talking billions of dollars per year in potential profits, maybe more. All of the major players know this. For some companies, it is a fight to the death. Each one intends to come out on top.
* * *
Waymo (formerly Google)
When Google (now Alphabet) launched its self-driving car program in 2009, it had no competition to speak of. Culturally, the idea of a self-driving car was novel. Even the flying cars in 20th-century science fiction tended to have human drivers. So when Google began to go public with information about the project, in 2010, its level of seriousness about the effort wasn't yet clear. "Some of these things will turn out to be wildly successful, and others will just fade away," one investor told The Los Angeles Times at the time, referring to Google's suite of unusual projects.
Wild success still isn't a guarantee, but it's now obvious that Google—which has since spun off its self-driving-car unit into a company called Waymo—is deeply invested in the work it's doing. Its test fleet is now on public roads in four states: California (since 2009), Texas (2015), Arizona (2016), and Washington state (2016). "We've self-driven more than 2 million miles mostly on city streets," Waymo says on its website. "That's the equivalent of over 300 years of human driving experience, considering the hours we've spent on the road. This builds on the 1 billion miles we've driven in simulation in just 2016."
All that driving and a near-perfect safety record—a reputation that has undoubtedly helped buoy the public's perception of self-driving vehicles.
Uber
Uber catapulted itself into the self-driving car space in truly Uberesque fashion: With a scandal. In 2015, the ride-sharing giant hired an entire department away from Carnegie Mellon—some 40 robotics experts and engineers, including several top experts in autonomous-driving systems.
Since then, Uber's commitment to the future of self-driving cars has only intensified. (Consider the business incentive of eliminating human drivers, who get a cut of every ride they give.) In 2016, Uber began testing its self-driving vehicles on public roads in Pittsburgh, it doubled down its own proprietary street-mapping system—ostensibly to reduce reliance on competitors like Google and Apple—and poached Google's top mapping expert to do so. (He later resigned.) Uber also acquired a fledgling self-driving truck company, Otto, for $680 million in 2016—but more on that in a minute.
Given the talents of its employees and how much venture capital the company has on hand, Uber has emerged as a formidable player in the emerging self-driving car industry. Yet Uber continues to be plagued by controversies.
After a dustup over Uber's refusal to seek permits for its self-driving cars in California in late 2016, the company changed course and applied for a state testing permit. In February 2017, Waymo filed a federal lawsuit claiming a former Google engineer had stolen self-driving car secrets before leaving the company to found Otto. Waymo says that when Uber acquired Otto, the former Google engineer used the information he allegedly stole to help build a circuit board for Uber's self-driving car systems. The legal battle is poised to be the first major intellectual-property fight of the driverless car era.
Apple
Apple remains one of the more mysterious and intriguing players in the self-driving car game. On one hand, Apple can't afford not to pursue this emerging technology if many of its major competitors are. On the other, Apple? A car company? To be fair, though, that's what people said of Google in 2010. And not all self-driving car companies will manufacturer vehicles themselves; some will just lease out the self-driving software for auto manufacturers.
In April 2017, Apple secured permits to test self-driving vehicles on California roadways. Two weeks later, Bloomberg News published photos of a sensor-equipped Lexus RX450h SUV that emerged from an Apple facility, according to a person who provided the photos to Bloomberg.
For years it was rumored that Apple had a secret self-driving car project in the works. But there have been persistent reports that the project— which according to The Wall Street Journal had hundreds of dedicated employees as of 2016—was plagued by organizational and managerial problems. It wasn't until December of 2016 that Apple officially made it known that it is working in some capacity on self-driving cars, via a letter to the National Highway Traffic Safety Administration.
"The company is investing heavily in the study of machine learning and automation," wrote Steve Kenner, Apple's director of product integrity, "and is excited about the potential of automated systems in many areas, including transportation."
Other than that, however, Apple has remained characteristically secretive about its work.
Tesla
Tesla wants to bring driverless cars to the market, but it has a markedly different approach than Waymo, which may be its biggest competition. While Google wants to build fully self-driving systems from the ground-up, its critics say this will take too long. In the interest of making everybody safer sooner, Tesla is adding increasingly autonomous systems, bit by bit, to its existing high-end vehicles. But there's a big debate over which method—fully autonomous versus incrementally autonomous—is actually better for public safety.
Tesla's CEO, Elon Musk, has said it's "morally reprehensible" to wait until the technology is advanced enough for complete autonomy. Yet critics of the Tesla approach say that here-and-there semi-autonomous features may present too much of a gray area for today's drivers to safely navigate. The marketing around Autopilot, the current Tesla system, has arguably left people with the impression that Tesla's cars are more autonomous than they really are. The very name, Autopilot, certainly suggests it might be okay for human drivers to stop paying attention.
This concern came up again in the spring of 2016, when a Tesla driver who was using the Autopilot feature died in a car accident. At the time, Tesla's Autopilot feature was in beta mode, meaning the drivers who tested it on public roads were required to acknowledge any risks involved. Federal investigators eventually concluded Autopilot was not to blame in the fatal crash.
Tesla already claims on its website that all of its vehicles "have the hardware needed for full self-driving capability at a safety level substantially greater than that of a human driver." This is, at best, slightly misleading. Tesla's hardware may eventually allow for a "full self-driving" system, but it's definitely not there yet.
Whichever approach to building a truly autonomous car is the right one, Tesla's sense of urgency is helping to quicken the pace of competition in the driverless-car space.
Legacy automakers
Like Tesla, several legacy automakers are announcing their entry into the driverless-car space with incremental assisted-driving systems. This approach makes sense for them: After all, they already manufacture cars that people can go and buy—something that isn't true of Apple, Google, or Uber—which means one of the best hopes for legacy carmakers to stay in business is to evolve now rather than attempting to play catchup later (which they may still have to do).
But some legacy companies have gone farther than others. While nearly every major automaker pays lip service to the importance of developing autonomous vehicles, only some have backed up their talk with action. Volvo stands out among the more committed, for instance. In a project Volvo is calling Drive Me, the automaker will put a fleet of 100 driverless cars on the highways in Sweden. (As with tests by Google and Uber on public roads in the United States, humans will sit behind the wheel, ready to take control of the vehicles if needed.) In March 2017, Toyota unveiled its first self-driving car  prototype. The car came out of Toyota's artificial intelligence research institute, which it launched with a $1 billion investment in 2015.
Ford Motor Company has also made its efforts increasingly visible. Ford announced in August 2016 that it plans to be "mass producing vehicles capable of driving fully autonomously" by 2021. Six months later, the automaker announced a $1 billion investment in the software company Argo AI, a software startup specializing in self-driving cars. ("Ford is the majority stakeholder in Argo AI, but we are structured to operate with substantial independence," Argo AI says.) "This work is easily the most challenging of my career, and it may be the most important, as well," wrote Chris Brewer, the head of engineering for Ford's Autonomous Vehicle Development department, in a blog post in March 2016. "Come to think about it, who better to develop a self-driving car than a company that's been making cars for more than 100 years?"
As with Ford and Argo AI, several other tech firms and automakers are forging partnerships. Chrysler and Google announced in May 2016 that they would team up to make a driverless minivan, while Volvo and Uber announced a partnership in August 2016.
Newcomers
We should expect to see more startups in the self-driving car space in the years to come. One example is Drive.ai, which launched in August 2016 and is creating deep-learning software for driverless cars.
There will be others. Chris Urmson, the longtime head of Google's driverless car initiative, left the company in August 2016, at a time when the project seemed to be shedding several key players. In December 2016, the technology-focused news website Recode reported that Urmson is starting his own self-driving-cars venture.
Technology history tells us that the first company to build a technology is not always the company that ends up making a windfall. That may well be the case in the realm of autonomous vehicles.
There are many uncertainties in all this, but one thing is clear: The cultural space occupied by the automobile is undergoing rapid, radical transformation. There are sure to be big winners and losers along the way.