When Internet Memes Infiltrate the Physical World
Deplorable frogs and "nasty women" aren't just online for comic relief. They're central to how people engage with political issues.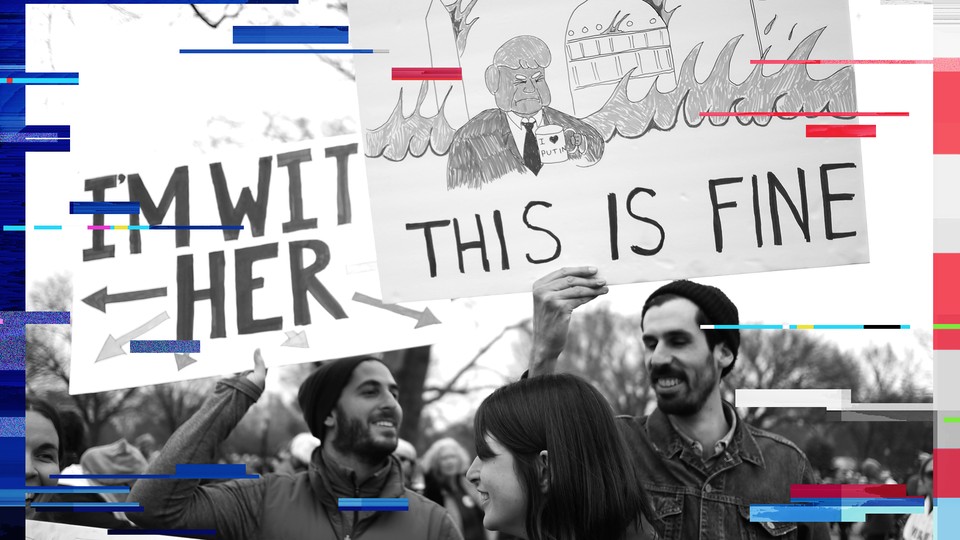 In addition to people of all genders at the Women's March on Washington and Inauguration Day, there were a number of creatures: octopi, frogs, honey badgers, and cats. No, people hadn't brought a variety of exotic pets—they were bringing along memes, and those memes appeared on signs, pins and other physical media. The octopus was the famous "Nope nope nope" octopus; the frog was Pepe and his leftist counterpart Kermit; the honey badger, known on the internet for not caring, decided to care deeply about the country's direction; and cats like Grumpy Cat registered their dismay, or approval, with the events of the weekend.
Today, in many global movement contexts, our meme lifecycles now include physical objects. In addition to protest signs, people now imbue hats, pins, cloth bags, pillow cases, and T-shirts with political meme material.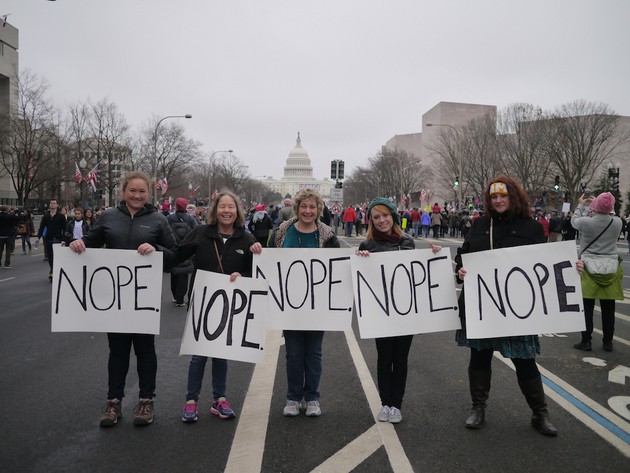 Objects are worn or brought to events, and when people take pictures of them, they circulate back on the internet, thus continuing the meme's lifecycle online and offline. This creates a visual and verbal language that crosses geographies, uniting protests large and small around the country and internationally.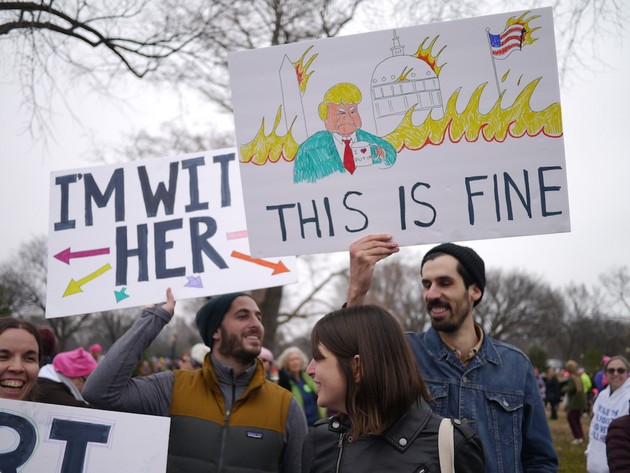 Consider, for example, the #NastyWoman memes that emerged on the left during the third presidential debate—a response to Donald Trump calling Hillary Clinton "such a nasty woman." Hashtags quickly popped up, as did a number of jokes in the form of images and image remixes, and within hours, the first Nasty Woman T-shirts were for sale, many of them with the phrase, many with the hashtag. Within days, these T-shirts started shipping to new owners (and helping fundraise for certain causes too), and, soon, returned to the internet via selfies. On the right, a similar set of #deplorables memes emerged in response to Clinton referring to many Trump supporters as a "basket of deplorables." These memes in turn inspired a variety of hats and T-shirts which circulated online and offline.
This meme-to-product-to-meme-again cycle may increasingly seem normal to us now, but it wasn't always this way. Sites that make it easy to design your own merchandise like Teespring, Zazzle, and CafePress help streamline the production and distribution process for popular items like T-shirts and hats. They do for products what meme generator sites have done for GIFs and images, making the process of getting an idea out into the world is accessible to more people. It now takes minutes to make a product out of a popular meme, and days to get that product shipped out to anyone who wants it.In many ways, producing physical objects now looks as memetic and decentralized as production digital ones.
The physicalizing of memes suggests an important shift in thinking, too: rather than see these digital expressions as solely native to the odd corners of the internet, we have to understand them now as part of our culture in general, participating in a larger media and material ecosystem that helps communities shape their political identities and affiliations. Where once a person could add a profile-picture overlay (a rainbow flag, for instance) to indicate political allegiance, they can now post a profile picture wearing a colored hat.
As people use and share memes in both digital and physical space, they also start making new relationships, forming new networks, and creating new slogans to rally around. It is often much easier to see a person's political affiliation from the shirts and hats they wear, in addition to what they share online, and from this affiliation can come new conversations and exchanges. These relationships can be transformed into forms of civic action, as we've now seen: action that might include getting together to call political leaders, gathering in town halls, holding local citizens' forums, organizing rapidly for protests, and other important functions for a democracy.
Memes aren't just a reflection of the way we express our values in a democracy, they are also catalysts and breeding grounds for political identities and messages. Our ability to share, remix and transform memes into action reflects our own ability to participate in the process of narrative-building and people-organizing. Every meme, no matter how small, carries within it a larger political narrative, reflected in many forms of non-memetic expression like broadcast media, online chats and speeches at rallies. As people gather around an issue, they take a strong stand against anyone who says, "No one cares about this."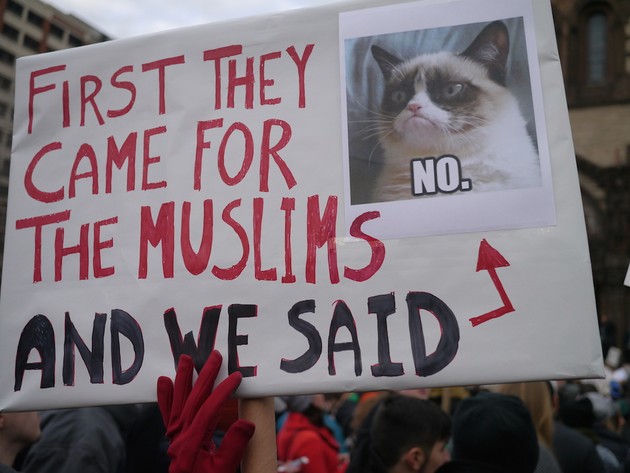 Back in 2008, memes against California's Proposition 8, which forbade marriage equality, focused on the negative: #NoH8. Driven by the high-profile NoH8 campaign, these early memes of resistance also took the form of chants at protests ("No hate, no on 8") and talking points for phone calls, op-eds and other actions. By 2015, when marriage equality was ruled legal across the land, another set of memes blossomed. As the iconic rainbow flag, a symbol of LGBT pride, was hoisted up in parades, supporters also transformed it into a set of memes, featuring selfies, GIFs, cartoons and even one of then-Vice President Joe Biden running around with a rainbow flag cape.  The hashtag #LoveWins emerged across a variety of social networks in celebration. #NoH8 was a message of early resistance, and, years later,  #LoveWins furthered the meme's lifecycle.
Many of today's political memes, by and large, are frequently ones of resistance, and, as we've seen, resistance itself is a critical way to mobilize people. But as we've learned from memes in previous movements on both the right and the left, participants also need to articulate what they stand for, in addition to what they stand against; they need to build organizing structures and strategies that back up the messages being shared with sustained political power. Looking to the future, the most effective memes also share a vision of how the world can be—and they're paired with actions that channel people's energy toward that vision.
One thing is certain: these new memes will start with clever hashtags, move to great GIFs and catchy video collages and then emerge as selfie-worthy hats, T-shirts and tote bags that we'll wear to our next protests, town halls and political gatherings.
---
This article is part of a collaboration with the Markkula Center for Applied Ethics at Santa Clara University.