The Westernization of Emoji
The takeout box and the fortune cookie are perceived as emblems of Chinese culture, when they're actually central to the American experience of it.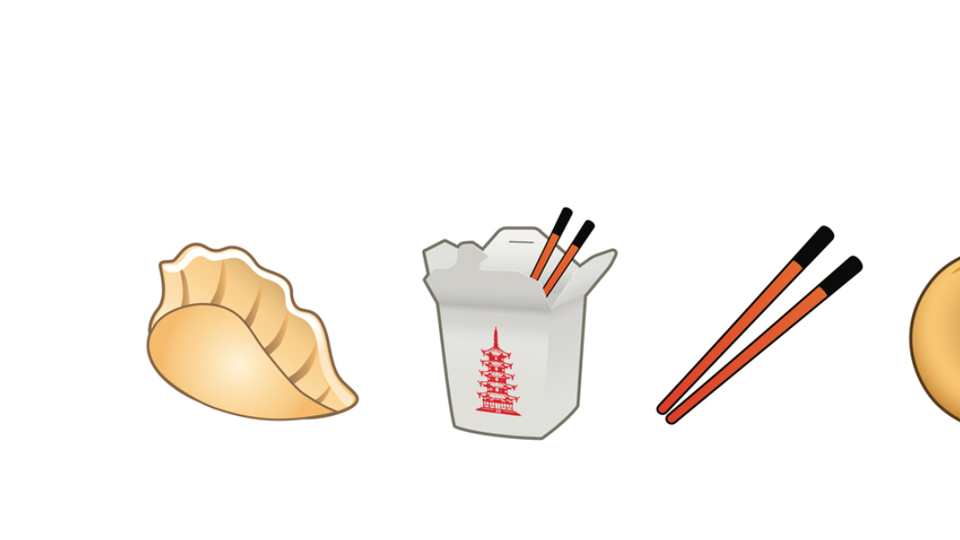 When the restaurant Fortune Cookie opened in Shanghai, in 2013, local patrons were mystified. The food was Chinese, but also not Chinese at all. Crab rangoon, sticky orange chicken, and fortune cookies are staples of American Chinese food. They're rarely found in China.
Fortune Cookie's owners wanted to introduce China to Chinese food as Americans know it—characterized by startlingly sweet flavors and laughably huge portions. For authenticity, the restaurant's owners had to import ingredients like Skippy peanut butter and Philadelphia cream cheese. And when restaurant staffers first saw the white-and-red takeout boxes, some of them gathered around to take photographs. The cardboard containers seemed like something out of a sitcom to Chinese workers, who had only ever seen them before on American television shows like Friends and the Big Bang Theory, Fortune Cookie's owners told news outlets at the time.
"I never saw any fortune cookie in my life until I was a teenager," said Yiying Lu, a San Francisco-based artist who was born in Shanghai. Lu encountered her first fortune cookie when she left China and moved to Sydney, Australia.
Now, the fortune cookie she designed for the Unicode Consortium will be one of dozens of new emoji that are part of a June update. Lu also created the new emoji depicting a takeout box, chopsticks, and a dumpling.
The irony, she says, is that two of the four new Chinese-themed emoji—the fortune cookie and the takeout box—are not Chinese Chinese, but instead reflect Westernized elements of Chinese culture. "It's kind of like Häagen-Dazs," Lu told me. "People think its Scandinavian just because of the two dots in the name, but it's American. It's the same thing with the takeout box. The Chinese takeout box is completely invented in the West. And the fortune cookie was invented by a Japanese person, but it was popularized in America."
Emoji, too, were invented by a Japanese person before becoming hugely popular in the United States. For people outside of Japan, emoji were a charming and mysterious window into Japanese culture. The fact that they weren't globally representative was part of what made emoji fascinating to people in the Western world.
Shigetaka Kurita, who designed the first emoji in 1999, never expected them to spread beyond Japan. But they did. And now they're everywhere, thanks to the widespread adoption of the smartphone.
"The whole reason emoji are taking off the way they are is largely because of Apple, which is an American company," said Christina Xu, an ethnographer who focuses on the social implications of technology. And although the Unicode Consortium—which standardizes how computers communicate text and agrees upon new emoji—it an international group, most of its voting members are affiliated with American companies like Apple, Google, Facebook, Oracle, and IBM. "So even when it is about other cultures, it's still about America," Xu said.
Xu, who was born in China and grew up in the United States, says she has "mixed feelings" about the fortune cookie and takeout box emoji, and the extent to which they reflect how Westernized emoji seem to have become in the nearly two decades since Kurita's first designs.
"I lump the fortune cookie and takeout box into American emoji in the same way that the taco emoji is about the American experience," she told me. "Because there is this funny sense of feeling like we somehow deserve [certain emoji]. The outrage about the lack of the taco emoji was such a Bay Area thing—like it is inconceivable to us that we could lack representation of things that are central to our specific experience."
"I identify as Chinese and Chinese American," she added. "And as a Chinese American, I don't really feel like we deserve a fortune cookie. It seems so limited. There are 1.5 billion Chinese people all around the world and there are more universal signs of our shared culture than a takeout box or fortune cookies. Those things are so specific to a narrow band of the Chinese experience."
On the other hand, she says, they're just emoji. And the fixation with depicting ever more emoji, and ever more realistic emoji, has taken away from some of their inscrutability—which was always a core part of their appeal.
"They accumulate whatever culture gets hanged onto them, and that is the fun part," Xu said. "So this idea that we're going to somehow create a truly diverse emoji set, when the concept of diversity itself is so essentially American? It's almost a disguised form of American cultural dominance. It's going to a place where it's overly deterministic."
Lu, who is also known for her design of the old-school Twitter fail whale, stumbled into emoji art by accident. It all began in a conversation with Jenny 8. Lee, who runs the literary studio Plympton, about how useful a dumpling emoji would be. The pair then launched a Kickstarter campaign advocating for the dumpling with a small group of emoji enthusiasts.
The first dumpling design Lu created had heart eyes. "That one was inspired by the poop emoji because it has a really funny face and it's just the circle of life," Lu told me. "You eat a dumpling and it becomes poop."
The anthropomorphized dumpling didn't last.

Emoji food typically don't have faces, the Unicode Consortium told her, and most foods are portrayed at a 45-degree angle.
"So I said, 'Okay, let me do research,'" Lu said. The research involved looking at (and eating) a lot of dumplings. "But it was hard! I had to figure out how do I represent the little folds in a way that it's still abstract enough and simple enough but iconic enough."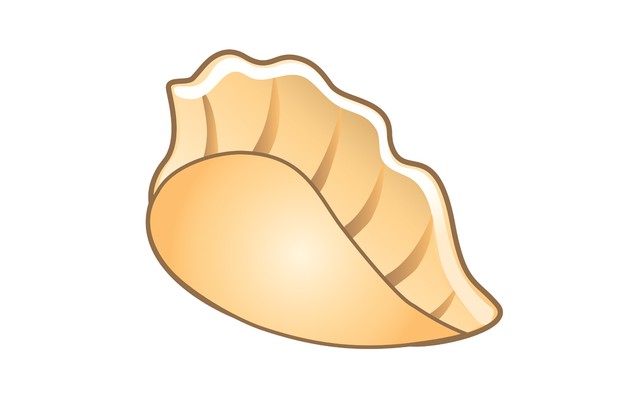 Lu says the dumpling project was a way of making her own "little contribution to cross-cultural communication in the age of globalization," and notes that she relied on others for cultural feedback in her subsequent designs. The first chopsticks she created were portrayed as crossed, which is considered impolite. Someone pointed this out to Lu on Twitter in response to the draft image. "I was born in China!" she said. "I thought I knew my root culture pretty well, but no! I was wrong."

Lee, who is the author of The Fortune Cookie Chronicles: Adventures in the World of Chinese Food, says she's "very proud" to have played a role in bringing the dumpling, takeout box, chopsticks, and fortune cookie to the realm of emoji. (She's also working on making a documentary film about emoji.) And as a non-voting member of the Unicode Consortium's technical committee, Lee knows first-hand how seriously the group weighs issues related to representation.
"We had this big long debate about whether zombies and vampires can take race," she told me, referring to the forthcoming zombie and vampire emoji. Ultimately, the consortium decided that people can select different skin tones for zombies and vampires—but not for genies. "They're just blue," she said. "The genies are raceless."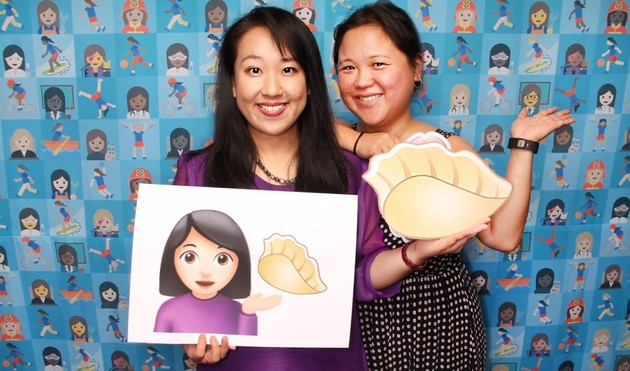 "The people who fight the hardest for certain emoji are usually trying to fight for representation for themselves in some way," Lee told me. "Most linguists say emoji are not currently a language—they're paralinguistic, the equivalent of hand gestures or voice tone. But for people who use them, it's almost like fighting for a word that [shows] you exist. When you come up with a word to describe your population, it's a very powerful thing."
Powerful but also impermanent. Language changes constantly. Cultural context shifts. Back in Shanghai, Fortune Cookie stayed open longer than its initial critics predicted, but it still didn't last. The restaurant closed abruptly last year. Its owners said at the time they'd decided to move back to America.