Silicon Valley's Big Bet on Europe's Hip New Start-Up Scene
Dipping into brick-and-mortar campuses could help American tech giants win major battles against foreign regulators.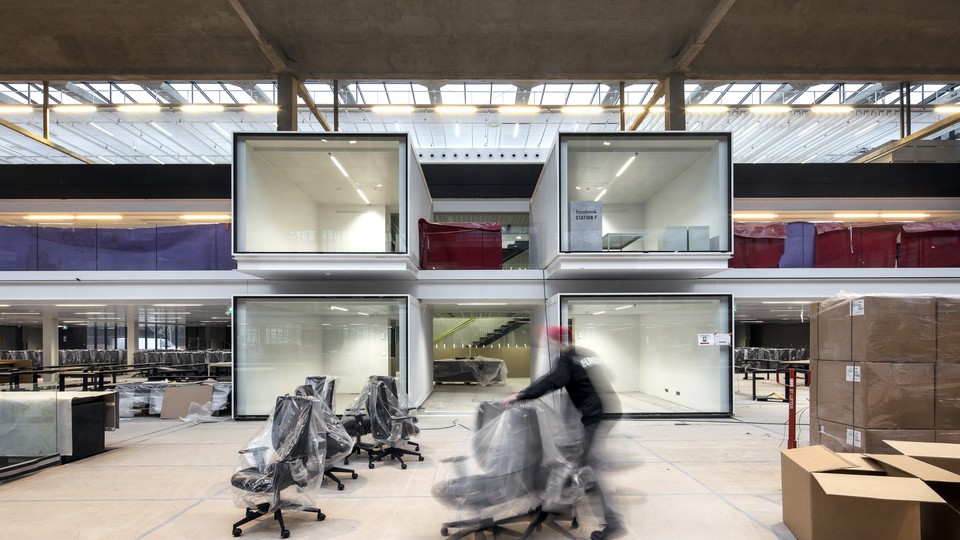 On a recent Tuesday evening in Berlin, Mohamed Jimale stood onstage in a cavernous blue-lit event space before a crowd of hundreds. Projected on a screen behind him was the headshot of a mellow-looking goat.
"You become the owner of the goats' babies," Jimale explained during his pitch for Ari.Farm, his livestock-investment startup based in Stockholm. The crowd murmured approval. "We're planning to expand to camels," he added.
Jimale was among a spate of founders who participated in a start-up-idea marathon, billed as "Pitch Don't Kill My Vibe"—after the Kendrick Lamar song—as part of the housewarming festivities for Berlin's newest start-up campus. The evening gave entrepreneurs and investors, among others, a peek at the 75,000-square-foot workspace, dubbed Silicon Allee in a nod to California's tech mecca. What had begun in 2011 as a monthly meet up for tech entrepreneurs at a local coffee shop had grown until its organizers set out to procure a dedicated physical headquarters in the center of the city.
The refurbished office building is among the latest in a wave of sleek structures for entrepreneurs to pop up in Europe in recent years, as cities including Berlin, Paris, Warsaw, and Amsterdam race to construct brick-and-mortar start-up campuses in the hope of luring talent and incubating the next unicorn. In a growing number of capitals, large U.S. firms are scrambling to call "dibs," pouring significant resources into establishing a European-campus presence. These tech giants are betting that wrapping themselves in promising local start-ups will smooth the way for broad global expansion efforts, even as foreign regulators try to rein them in.
* * *
Start-up-campus directors say their model has come to dominate the European landscape because it fosters in-person connections among founders—as well with some potential investors and corporate sponsors. Campuses, many of which mimic the clean-lines aesthetic of some Silicon Valley headquarters, typically comprise a mix of workstations, private offices, meeting rooms, and areas for socializing and events that encourage tenants to rub elbows. The campuses occupy a hybrid niche of sorts, with more selective admissions criteria than the typical coworking space, but a less hands-on approach than accelerators like Silicon Valley's Y Combinator that require founders to give up some equity and demonstrate progress.
Big tech is willing to pay up for the chance to rent desks or host events or office hours. Travis Todd, a co-founder of Silicon Allee—allee means "avenue" in German—says he's already fielding partnership inquiries from large U.S. companies like General Electric eager to mix with budding entrepreneurs.
Or take Station F, a sprawling glass-and-steel Paris workspace set to open its doors this summer to roughly 3,000 aspiring entrepreneurs. The refurbished 1920s train station is "the size of the Eiffel Tower lying down," and is funded by French businessman Xavier Niel. Start-ups have been vying for approval by its selection committee. But at least one firm has already been cleared to set up shop: Facebook.
Sheryl Sandberg, Facebook's chief operating officer, stopped by the French campus in January for a hardhat tour, where she announced that the social network would be a founding partner. Facebook said it will be making its first foray there into onsite start-up initiatives with a new mentorship program called Start-Up Garage.
Such partnerships aren't just a chance for corporate tech leaders to waft fresh ideas. They're also an employer-branding win for big companies, helping them make the case to potential corporate hires that they're plugged into the start-up scene and are therefore a cool place to work. In turn, signing on household names typically is a boon for campuses, lending credibility, name recognition, and a steady rent check to their organizations. And many campuses have begun to tout access to representatives from the likes of Facebook as a perk of membership distinguishing them from traditional coworking spaces.
Who knows? A chat over cold-pressed juice at the campus café might lead to an acquisition or a job offer.
* * *
But probably not. Much as some U.S. tech giants might hope to project an interest in scouting talent and ideas abroad, several European campus directors and venture capitalists say corporate partners rarely acquire or even invest in the campus' start-ups. In fact, they say, cash often flows in the other direction as big companies pitch tech tools—including devices, software, cloud storage, and development platforms—to a captive audience.
Still, any marketing boost at the margins pales in importance relative to what campus leaders say is Silicon Valley's foreign-campus long game: influencing policy in strategic locations across the globe on core issues like data privacy, net neutrality, and online censorship. The hubs function as touchpoints for feeling out local regulatory climates and cozying up to start-up leaders.
At Factory Berlin, a campus housed in a converted brewery a few minutes' walk from Silicon Allee, Google parent Alphabet is front and center. The search giant's Google for Entrepreneurs division hosts regular events there, including talks on machine learning or web analytics. Vinton Cerf, a Google vice president who is widely considered one of the internet's inventors, recently stopped by for a "fireside chat." A display of Android devices graces one of the campus's walls.
Though company representatives have been onsite since soon after the campus opened in 2014, Google has yet to acquire or make a significant investment in a Factory Berlin start-up. Google maintains that it isn't, in fact, there to scoop up companies; its entrepreneurship arm supports early-stage firms like those at Factory Berlin through initiatives like educational workshops and product discounts, while its investment arm, Google Ventures, operates independently and targets later-stage start-ups.
Instead, Google's campus initiative seems to hinge on identifying policy areas where its business interests overlap with those of the start-up communities it supports. For instance, Simon Schaefer, a co-founder of Factory Berlin, says when privacy regulations governing transatlantic data transfers came up for debate in the European Parliament last year, he spoke with policy representatives at Google and others to brainstorm lobbying strategies. The fear was that a European privacy crackdown could crimp companies' efforts to transmit some types of personal data overseas. An unfettered ability to store data abroad is critical both for scaling start-ups and for Google's business model, he says.
Schaefer, who now co-runs Silicon Allee alongside Todd, says the consensus was that advocates representing fledgling local start-ups might be better received in Brussels than a Silicon Valley juggernaut. He says he was among several entrepreneurs who traveled to the Belgian capital to voice start-ups' concerns before parliamentary committees. Though the issue is still pending, the sense among start-ups and big tech firms alike is that the so-called Privacy Shield measures implemented since the hearings and currently in place are friendly enough.
Google has planted flags of a similar sort in start-up communities across 125 countries since 2011, according to the company, establishing a sprawling web of influence. Often, as in Amsterdam, Stockholm, and Dublin, Google has linked up with existing spaces. Yet in a handful of cities like Warsaw, Google has constructed and runs its own standalone complexes, and plans to complete a new one in Berlin by early next year.
* * *
It's clear that Silicon Valley leaders have high hopes for this resource-heavy approach to charming European regulators. Yet the symbiotic entrenchment, which has at times cast big tech in the unlikely roles of far-flung community organizer or office-space manager, could soon show diminishing returns as global capitals become saturated with branded workspaces.
One sign the wave might have crested: The campus-partnership strategy has now begun to attract more traditional firms, prompting directors to weigh costs and benefits of inviting somewhat stodgier brands aboard. Factory Berlin partners like Deloitte and Deustche Bank will have increased access to start-ups now that the campus has reopened a roughly 11,000 square-foot wing vacated last year by Twitter, according to a spokeswoman for the campus. Deutsche Bank plans to host office hours there twice a week.
Silicon Allee plans to go a slightly different route, its directors say. Large companies won't be granted office space there, but instead will be steered towards hosting events. The concern, Schaefer and Todd say, is that too many onsite corporate employees might dilute their core community of founders.
After all, the last thing they'd want would be to kill the vibe.