A Transcript of the Greg Gianforte 'Body-Slam' Audio
Yet again, a recording contradicts the alleged assailant's account of what happened.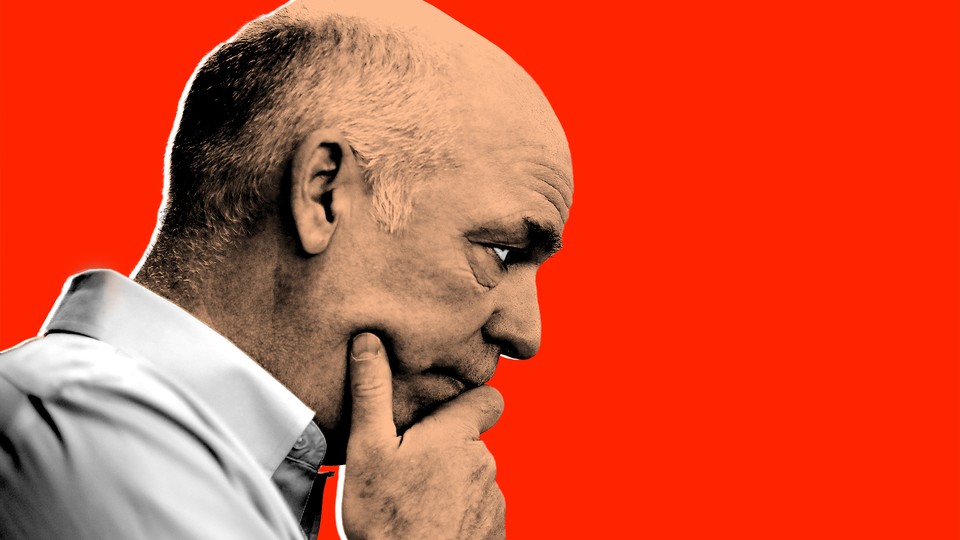 The audio recording of a congressional candidate accused of body-slamming a reporter on the eve of a special election in Montana is extraordinary for several reasons.
If you haven't listened to it yet, and you really should, it's essential to at least read the short transcript:
Ben Jacobs, a reporter for The Guardian: ...the CBO score. Because, you know, you were waiting to make your decision about health care until you saw the bill and it just came out...
Greg Gianforte, the congressional candidate: Yeah, we'll talk to you about that later.
Jacobs: Yeah, but there's not going to be time. I'm just curious—
Gianforte: Okay, speak with Shane, please.
[loud scuffling noises, an even louder crash, repeated thumping]
Gianforte: [shouting] I'm sick and tired of you guys!
Jacobs: Jesus chri—!
Gianforte: The last guy that came in here, you did the same thing! Get the hell out of here!
Jacobs: Jesus!
Gianforte: Get the hell out of here! The last guy did the same thing! You with The Guardian?
Jacobs: Yes! And you just broke my glasses.
Gianforte: The last guy did the same damn thing.
Jacobs: You just body-slammed me and broke my glasses.
Gianforte: Get the hell out of here.
Jacobs: You'd like me to get the hell out of here, I'd also like to call the police. Can I get you guys' names?
Unidentified third man: Hey, you gotta leave.
Jacobs: He just body-slammed me.
Unidentified third man: You gotta leave.
This is an astonishing encounter. First, there is the simple fact of it. A man who is perhaps hours away from being elected to the U.S. Congress—a person who is pledging to represent the interests of his fellow Americans—can be heard shouting and allegedly attacking a citizen who calmly asked him what he thought about his party's health-care plan.
I have experienced many tense confrontations with elected officials in my life as a journalist. They have shouted at me and run away from me—into taxi cabs, state-house elevators, even (hilariously) the little slow-moving trolley cars under the U.S. Capitol. Once, the former mayor of Honolulu—at 6 feet 7 inches tall, towering over me—screamed at me after I asked him a question, about historic preservation of all things, on the steps of City Hall.
Reporters are accustomed to this treatment. What appears to have happened to Jacobs is something else entirely, and it should frighten any citizen who believes in democracy. (And not least of all because the Gianforte campaign's description of what happened contradicts what anyone can hear on the tape.)
There's something just as frightening in the fact that the audio—shocking as it is—is so ordinary these days. I don't just mean the alleged assaults in recent weeks against journalists like Jacobs in Montana; or Dan Heyman, the reporter arrested for shouting a question at the Health and Human Services secretary, Tom Price, as Price toured the West Virginia Capitol two weeks ago; or John M. Donnelly the reporter who says he was pinned to the wall at the Federal Communications Commission after he tried to ask the commissioner Michael P. O'Rielly a question.
The ubiquity of recording and broadcasting technology has given Americans an unprecedented view of how frequently and grievously people in positions of power will intimidate, assault, and even kill ordinary citizens in the United States.
Why should anyone be surprised to hear that a congressional candidate may have grabbed a reporter by the throat, thrown him to the ground, and repeatedly punched him—that's how a Fox News crew in the room described Gianforte's actions—when we've seen the blood-soaked T-shirt of a man killed by police during a routine traffic stop, and the stoic face of the 4-year-old girl who watched it happen?
We have seen it all before and we will see it again. And it's still not clear whether watching or listening, which is itself a kind of knowing, prevents future violence. Videos of police violence against black citizens are everywhere. Attacks against American citizens who question public officials in public spaces seem to be on the rise. All while corporate and government surveillance is rampant. All while the president of the United States calls information-gathering citizens his "enemies" and "the opposition" and "the lowest form of life."
There are still strong institutional responses—from advocates for police-worn body cameras, for example, and from the three Montana newspapers that took the rare step of rescinding their endorsements of Gianforte last night. But such steps can only do so much. The public's faith in myriad institutions is steeply declining.
Citizens have the power to bear witness, to document, to question—and to elect—our nation's top legislators. It's unclear how last night's altercation, or the recording of it, will affect the Montana election, if at all. Many voters already submitted ballots in early voting, before the alleged assault occurred. Still, the outcome of the race will offer a glimpse of how Americans perceive the status of their own rights in democratic society. The rest of us will be watching.