A Conversation With Liz Spayd, the Controversial Public Editor of The New York Times
"My job is not to win any popularity contests."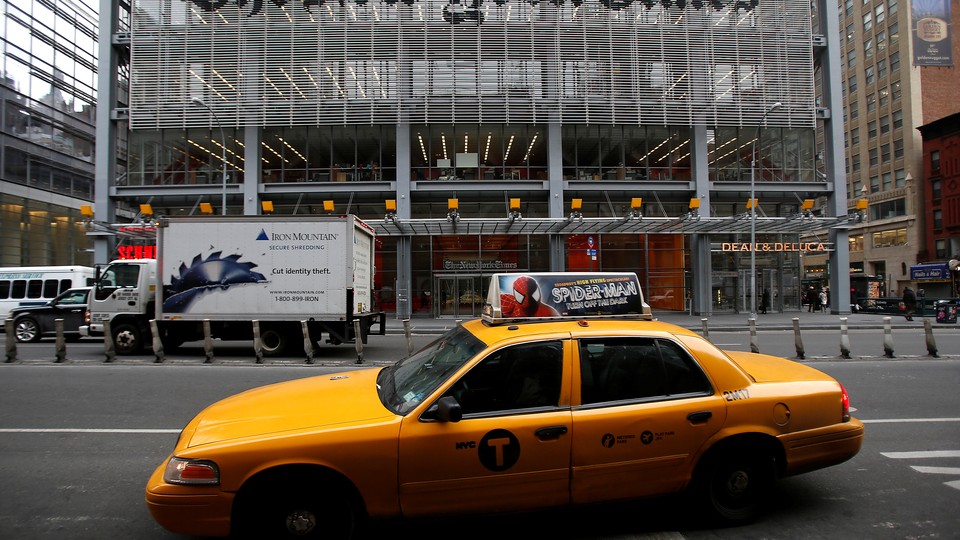 It's been a hell of a year for the public editor of The New York Times.
The veteran journalist Liz Spayd started in the gig last July. As an independent liaison to the Times-reading public, Spayd's job is to consider reader feedback and make determinations about the newspaper's decision-making, ethics, and other issues.
Other journalists, especially, have been vocal critics of Spayd, saying she's "inclined to write what she doesn't know," that her work has become "iconic in its uselessness and self-parody," and that she is "squandering the most important watchdog job in journalism." Newspaper editors and public editors frequently disagree, but The New York Times's executive editor, Dean Baquet, has been blunt: "It was a bad column," he said of one of Spayd's articles in January, calling her argument in that instance "fairly ridiculous." Then again, that wasn't the first time Baquet challenged a public editor, well, publicly. He had his moments with Margaret Sullivan, Spayd's predecessor and an industry darling, too. But where Sullivan was lauded for taking on systematic newsroom problems like underrepresentation of women—both in influential positions at the Times and as subjects in the paper—Spayd has developed a reputation for being more interested in ideological balance, for better and for worse.
The Times has had a public editor since 2003, when a committee of more than two dozen journalists made the recommendation in the wake of an explosive plagiarism and fabrication scandal at the paper. Other American newspapers have had ombudsmen since at least the 1960s, hired to be "privileged readers," as Nieman Lab explained last year, "experienced outsiders who combine access and wisdom to thoughtfully critique their paper, help readers trust it, hold journalists accountable to the professionalism they know first-hand, and explain to readers how and why journalism works as it does." Before joining the Times, Spayd ran Columbia Journalism Review and spent 25 years at The Washington Post in various reporting and editing roles, including as the paper's managing editor.
In her tenure at the Times thus far, Spayd's critics have blasted her for her "disastrous" defense of false equivalence, for sympathizing with "readers' chauvinistic gripes about the Times' sports page," for validating an alt-right "fringe campaign" aimed at a Times writer, for her characterization of some Times journalists' tweets as "over the line" in a television appearance with the political commentator Tucker Carlson. ("I should have held back more, not knowing what the context was for the tweets," she later told Politico. "I think that's a fair criticism. But I stand by my view that journalists should be careful, sometimes more careful than they are, with what they say on social media.")
Spayd happens to be doing the job at a truly remarkable moment in journalism. The news industry is undergoing seismic change. News organizations are fighting for revenue as the ad-based model implodes, and clamoring for readership in a fiercely competitive news environment. Meanwhile, the news environment itself is absolutely chaotic. The president of the United States, embroiled in a controversy that parallels Watergate, is antagonistic to the press. Donald Trump calls journalists the "enemy of the people," disparages the Times as "fake," and routinely threatens to cut off press access and enact stricter libel laws.
I spoke with Spayd Monday morning about the pressures of the job, the backlash she's received, and how she thinks she's doing. Here's our conversation, lightly edited and condensed.
---
Adrienne LaFrance: You started in July 2016, so it's been not quite a year. But you've had a rather eventful run already.
Liz Spayd: Well, it's been really fascinating and very lively for a lot of reasons. Probably most significantly is the time I entered the job. A very controversial and divisive presidential administration. That stirs everybody up. It has really had a big influence on readers and what they're concerned about, at least from what I see.
LaFrance: And you've emphasized listening to readers as one of your foundational values as the public editor.
Spayd: I guess, I mean, I'd first like to say that the definition of the job as public editor is to collect and absorb the reader email. So that is the job. I don't know that I do it to any greater degree. Just so you understand how it works, I have an assistant and he reads literally every email that comes in and I receive a portion of those that he thinks might be of interest to me. And then, of that portion, I find someone making an interesting argument or pointing something interesting out, then I look at a percentage of those. I feel like there's maybe a little bit of confusion that I take what readers write about and agree with them. The majority, I don't agree with. You know, you pick the ones that you think are making an interesting case for something.
LaFrance: But your very first column was about your desire to listen to readers more.
Spayd: Yeah, that's true.
LaFrance: So—
Spayd: And obviously I do think we should be listening to readers. I'm not questioning that. I'm just—I'm not necessarily trying to push back, but trying to clarify that that's literally the definition of the job. I'm not bringing this unique idea to it.
LaFrance: It sounds like you are aware of some of the criticism of your work.
Spayd: I'm sure I'm aware of some of it. I doubt I'm aware of all of it.
LaFrance: Well, I wanted to ask you about some of the reaction to one of your most recent pieces, about libel. It seemed to suggest you believe more people should be suing The New York Times.
Spayd: Did you actually read it? Is that what you thought?
LaFrance: I did read it. It seemed strange to me that you suggest that it's a bad thing if people feel too intimidated to sue the Times for libel, but you don't offer the suggestion that perhaps the Times' consistently high journalistic standards are the reason people aren't suing.
Spayd: I'm not suggesting that. What I'm saying is that I hope that for those who do have a legitimate claim, that they're not intimidated to pursue a case against The New York Times. It's a very formidable institution. I'm not encouraging phony or unsubstantial claims. I don't think if you seriously read that, as opposed to some critique on Twitter, that you'd think that.
LaFrance: But to focus on this at a time when the president of the United States is suggesting tougher libel laws against news organizations, and threatening to sue journalists, do you worry about leaving the impression that you agree with him?
Spayd: I don't worry about giving that impression, no.
LaFrance: Are there any columns where you think back and regret what you wrote, or wish you could have done it differently?
Spayd: I guess I would say probably that anybody that writes and doesn't have regrets about some piece of that is not being honest with themselves. I don't have anything that the whole thing I wish I wouldn't have written. Sometimes I wish I'd been clearer about something or, you know, emphasize something more, or included something that I didn't include. I don't have wholesale regret.
LaFrance: Can you give me an example of one you'd do differently?
Spayd: I don't really have an example.
LaFrance: Have you talked to past public editors about the job? Has anyone given you advice?
Spayd: I have an occasional drink here and there with somebody. I know Margaret [Sullivan, the previous public editor]. So occasionally. There's not a secret society.
LaFrance: What are the things that only someone who's been in this job understands about it?
Spayd: Anybody who has been in this job would readily say that you're just constantly taking it from all sides. It's the nature of the job. It's not easy to be publicly criticized. People are always sort of ready to take aim and it just depends on what you've written. People can be—it's hard to predict what the reaction will be. Sometimes I can predict what its going to be, but I don't let what I anticipate people are going to react to guide what I think. I know sometimes that something's going to cause a stir, and I gird myself for it. But I'm most myself when I don't buckle to any of that.
LaFrance: Do you think being on the side of the reader is naturally at odds with being on the side of journalists?
Spayd: I feel like I'm not understanding what you're saying. We get hundreds of letters per day. If I were in agreement with all of them, it would be impossible. There's a fraction of those that I pursue. Of those, I may or may not agree with them. My job is to listen to them. My first column, you can look through every single line, I said we must listen to them. If you have a child, you listen to that child. It doesn't mean you agree. They're really two different things.
LaFrance: I understand readers aren't one monolithic group and journalists aren't one monolithic group, but do you notice a difference between what tends to irk journalists versus non-journalists? Are there instances where you're getting mostly angry letters from journalists and thank-you notes from other readers, for instance?
Spayd: I feel like it's hard to say. There are very specific things that only interest journalists—like credit. I get a fair amount of emails or complaints that the Times didn't give some other news organization or journalist credit. But in terms of other issues, like Trump or something like that, I don't know that I really notice a difference.
LaFrance: As you approach your work, what is the quality you're always trying to calibrate? Or the challenge you find yourself thinking most about?
Spayd: I would say it's just a really heavy, strong sense of mission and what you're in this job for. I feel like, for me, that mission—for probably most public editors—the mission is to help keep The New York Times operating at a high standard of excellence in journalism, and I think on many days it does. I have great admiration for the Times to let someone sit in this job and let them write to the public—to the readers—about their concerns. It takes a lot for them to do that with every passing column, and they keep it up. My job is not to win any popularity contests. It's not to put my finger up and gauge the direction of the wind and move toward that. My job is to do what I think, based on my many years of experience, is the right thing to do.
LaFrance: How good of a job do you feel like you're doing?
Spayd: I don't know. I really don't have an answer to that question. The public decides that. I don't.
LaFrance: Do you like the job?
Spayd: I mean, most days I do like the job. It's super intellectually challenging. It can be very gratifying when you feel like you've said something important that you hope will be heard. It's not easy. It's not an easy job.
LaFrance: Knowing what you know now, would you take the job again?
Spayd: Sure, I would take it again. It's a great experience.
LaFrance: Can you give me a hint of what you're working on next?
Spayd: Obviously the biggest thing going is in politics—the White House and the administration and a very divided country. I'm sure that will remain a dominant theme.