Yahoo's Demise Is a Death Knell for Digital News Orgs
The beleaguered company's failure is a sign of what's to come for many ad-based websites.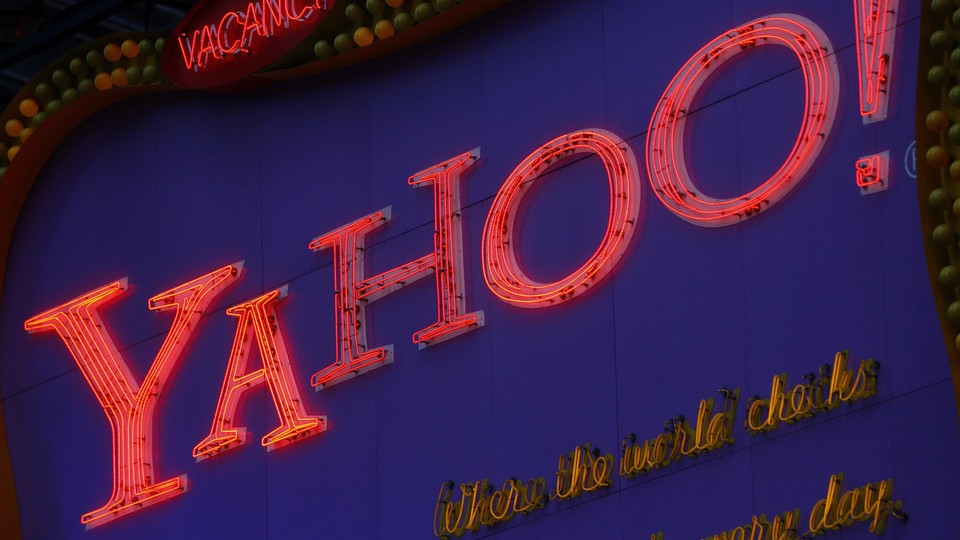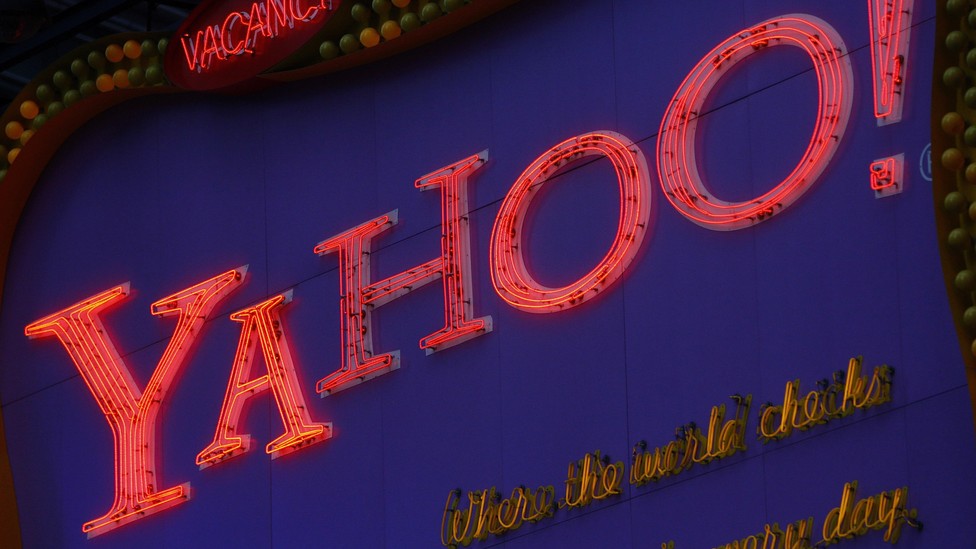 Yahoo filed its final quarterly report this week. And just like that, the once-mighty tech firm is exiting public trading.
The company has been unraveling—slowly and spectacularly—for more than a decade now. But this particular moment is a good one for reflecting on how Yahoo's troubles are likely to be replicated in a wave across the web, and soon, among businesses like news organizations that rely heavily on advertising revenue for their survival.
Print newspapers will continue to fold, but Yahoo's demise is a signal that web-native companies are next. If you run a business that relies on digital-advertising revenue for an outsized portion of your funding, you need to find new streams of revenue. Now. It may already be too late.
Unless you're Facebook or Google, that is. Facebook and Google are practically drowning in ad revenue—together they command a huge portion of global digital-ad dollars—and that's the root of the problem for every other business trying to clamor for a piece of it. The precise estimates vary. One often-repeated stat, based on last year's financials, is that Facebook and Google account for 85-percent of every new dollar spent on digital advertising.
But the numbers may be even more stark than that. Jason Kint, the CEO of Digital Content Next, estimates that Facebook and Google accounted for about 99 percent of all advertising growth in the third quarter of 2016—54 percent of the pie for Google, 45 percent of it for Facebook, 1 percent for everybody else. (That's based on numbers from the each company's public financial records and data from the Interactive Advertising Bureau, a trade group for advertisers.)
For everyone other than Facebook and Google, Kint tweeted in December, it's a "zero-sum game."
Many investors have reached this conclusion, too. "The ad-tech market will go the way of search, social, and mobile as investors and entrepreneurs concede that Google and Facebook have won and everyone else has lost," the venture capitalist and blogger Fred Wilson wrote in January. "It will be nearly impossible to raise money for an online advertising business in 2017."
Though Yahoo's failures were multi-faceted, the company's fundamental problem was that it could not figure out a way to command a significant enough piece of the advertising money that is increasingly rushing to Facebook and Google.
It seems preordained now, having watched Yahoo stumble for so many years, but there was a time when Yahoo was much bigger than either company. It is true that Yahoo was "never able to decide on exactly what it wanted to be," as Jonathan Weber and Jeffrey Dastin put it for Reuters last year. Perhaps if it had committed to search, for instance, it could have fended off Google. And remember Yahoo's failed attempt to buy Facebook for $1 billion in 2006? Instead, Verizon's deal to buy Yahoo is expected to close in June, at which point Yahoo and Verizon-owned AOL will become a new brand called Oath.
One particularly telling detail in the recent Associated Press coverage about Yahoo "bowing out as a public company" is the fact that it was at least partly automated—meaning elements of the story were generated by a computer. One way for today's ad-based companies to survive: replace humans with machines.
Way back in 1995, Yahoo seemed destined to establish a successful ad-based business model for the internet era. Back then, the company was still just a directory of sites on the web. And in July of that year, Yahoo announced that "it had signed five initial sponsors as part of a plan to redesign the service and become advertiser-supported," as The New York Times reported at the time.
What that meant was that the logos of the five sponsors would appear, as part of a daily rotation, at the top of Yahoo's site—primitive banner ads. At the same time, Reuters announced it had signed a deal with Yahoo to feature news on Yahoo's site in exchange for a piece of the ad revenue coming in.
All this seemed to be the first hint at what was to come, an idea of how the web might carry advertising-based businesses like news organizations into the online age.
But the picture is much different now. Today, Facebook and Google alone are slurping up the ad dollars, neither company pays for the news it features (despite occasional partnerships with news organizations), and Yahoo as we knew it has all but vanished.
It won't be the only web giant to fall.