Why Watching People Break Up on YouTube Is So Addictive
When internet-famous couples fall out of love, the result is an unsettling mix of performance and raw emotion.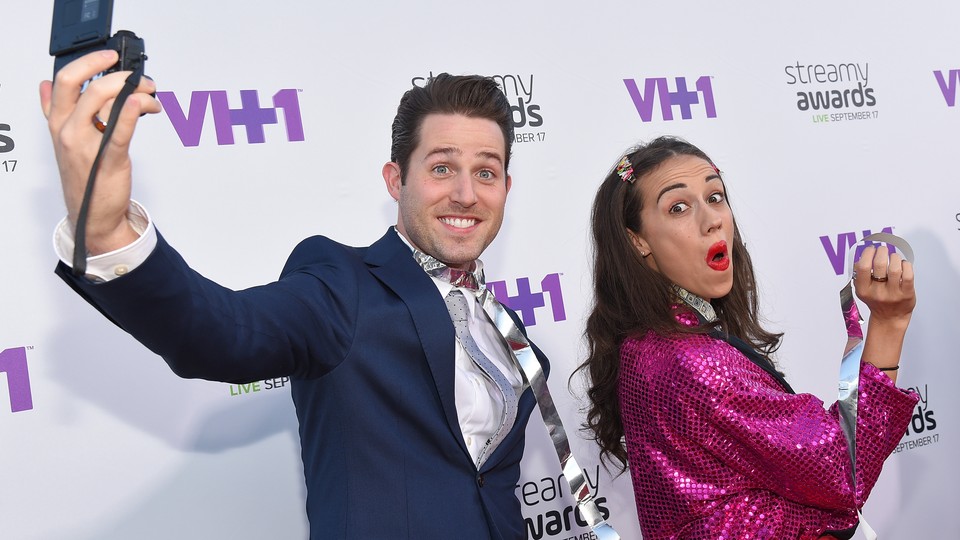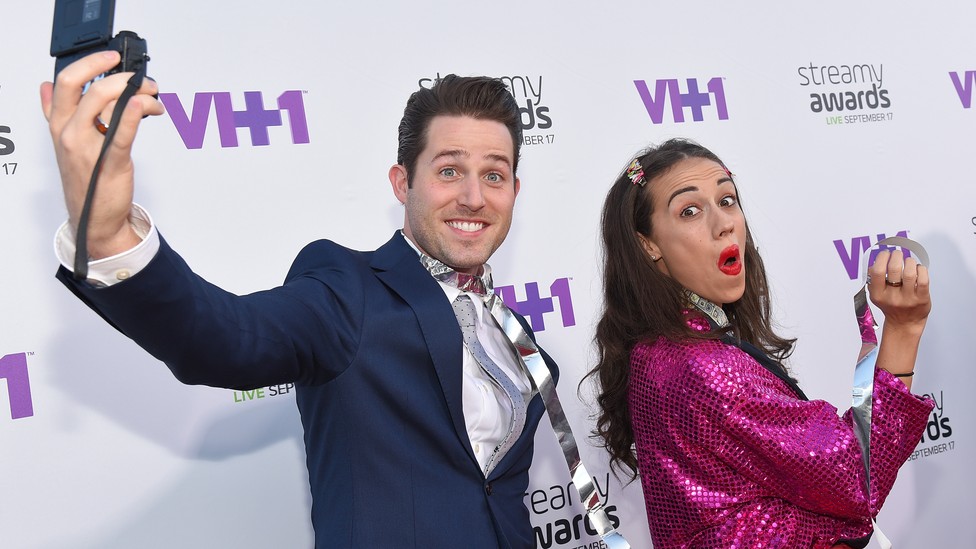 There are a few schools of social-media breakup etiquette. In my experience, most people simply hope that nobody notices their Facebook relationship status turn blank and profile picture turn solo. Some—as I've done in the past—temporarily deactivate their accounts. Others opt for vague sadposting. Only a brave few acknowledge the uncoupling publicly.
For YouTube stars, though, the bar is different. If viewers know a YouTuber is in a relationship, the relationship—in all its #relationshipgoals glory—often becomes an integral part of the YouTuber's  video stream, from daily vlogs of the couple to video tags like the ever-popular "My Boyfriend Does My Makeup." Video stars not only document the relationship, but also publicize and discuss when it's over—making the breakup an oddly participatory event, emotionally hard-hitting for both YouTubers and their viewers.
Take the video "Life Update," uploaded by the YouTube star Colleen Ballinger in September 2016. As of mid-March, the video had over 11 million views on Ballinger's channel—though it has since been deleted and re-uploaded on other channels. "Joshua and I are getting a divorce," she announces between sighs, sniffles, and tears. "Man, that sucks to say out loud."
It's not how viewers are used to seeing Ballinger. On YouTube, she's more known as Miranda Sings, whose off-key singing and clueless dancing have earned her 7 million subscribers. In videos as herself, Ballinger appeared happily married to Joshua David Evans, another YouTuber; his most-watched work is various stages of their courtship. On both Ballinger's and Evans's channels, the relationship features prominently. Their proposal garnered 6 million views, and their idyllic cliff-side wedding, 13 million. There's silly stuff, too, like one called "Worst Types of Kisses."
After the divorce, Ballinger's and Evans's separate, teary-eyed announcements feel like parents sitting their kids down to tell them they're splitting up. That's pretty much what it is, anyway—only in this case, the kids number in the millions. The fans respond through comments; on Evans's video, one of the top comments—with 1,194 upvotes—reads, "They were brave for putting their love story on the internet, don't be trolls."
Ballinger and Evans aren't alone in this spectacle of sympathy. There are plenty of YouTube couples: Others, who are still together, include the beauty star Zoella and her vlogger boyfriend Alfie, known as PointlessBlog, and the recently controversial PewDiePie and Marzia. It's not all sad. Fans compile clips of their favorite couple, and make couple names like Joshleen, for Ballinger and Evans. But for every happy couple, there's one that just didn't work: "We're Breaking Up," "Why We Broke Up," "We Broke Up," "The End."
For the YouTubers making these videos, baring their heart on camera appears to be cathartic. Ballinger says what she'd held back before: that there'd been tough times that she and Evans had chosen not to share, that she felt like she'd both disappointed viewers and herself. The tears and the sighs are real, and the emotions are raw.
What's unsettling, of course, is that these videos are also click-driving content. YouTube creates a platform where stars can profit off their pain, and viewers watch their emotions as entertainment. YouTubers know that breakups boost view counts. Sometimes couples even post videos with titles implying breakups to grab eyeballs, though those often turn out to be pranks or just misleading. In haunting prescience, in 2013, Ballinger and Evans posted a video titled "We broke up," though it was really just a relationship-focused Q&A.
This commodification of personal life is largely what sets YouTubers apart from Hollywood celebrities, according Crystal Abidin, an anthropologist at Curtin University in Perth who studies people who have become famous through social media. "Many of them do have other talents, but no matter how you look at it, the bulk of this industry, the influencer industry, is their personal lives," she says.
Essentially, to gain viewership and retain a mass of followers, Abidin observes, YouTubers shooting for lasting fame have no choice but to make their lives hypervisible. When money is tied to clicks or sponsorship-backing, radio silence comes at a cost. A breakup announcement has a strategic benefit: It doesn't only reel viewers into one video, but prompts them to follow a YouTuber's journey after or to go back in time to see what happened before it.
Milestones like relationship announcements, engagements, or even breakups create markers that viewers remember, says Abidin. Moreover, they help "influencers" build their brand identity. Since the lifestyle vlogger Aspyn Ovard's marriage in 2015—documented on YouTube, of course—she and her husband, Parker Ferris, have capitalized on their relationship through sponsored couples-cooking videos and branded trips to Bora Bora. When the beauty vlogger Fleur DeForce announced her engagement in 2012, she launched a spin-off channel called Bride DeForce for bridal content—with the new milestone came another market for viewership.
After you watch one breakup video on YouTube, the platform automatically recommends another, and then more and more. Watching just one of these videos easily inspires sympathy and sadness, but seeing them together and realizing that it's not isolated to one or two couples is more of an emotional paradox. A bizarre glass case of emotion, it partly leaves me feeling like a voyeur, like I stumbled onto something I'm not supposed to see. But I also know that I am supposed to see it—then like it, share it, and click on more.
Still, the appearance of authenticity, whether real or not, genuinely engages viewers' emotions. Fans spend hours watching, and they take it personally when their favorite YouTube couples split up. For them, there's clearly an emotional stake in the relationship. They leave sad comments about their own heartbreak, or even make their own videos discussing the breakup.
In one response, a YouTuber who goes by MeetingSkylar discusses a breakup between a couple known to fans as Shannon and Cammie. "I feel this emptiness inside my heart," she says, but acknowledges that other longer-standing fans likely feel even more heartbroken.
In an email, she expanded on how the couple made her feel: "In every one of their videos, there are small gestures shared between them that convinced me the love is real. … When people get invested in [relationships], real life or not, sometimes it's because we're seeking for something we lack in our own lives. We see the love, the chemistry and it warms our heart, so when the source of the happiness is destroyed just like that, there is no doubt that people from the fandom may get very depressed."