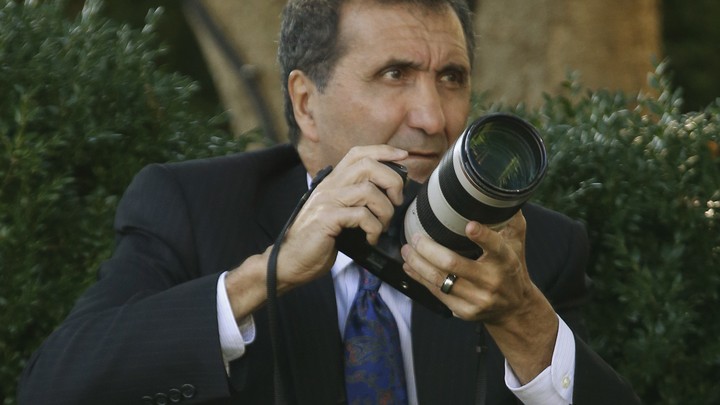 In the days leading up to the presidential inauguration in January, Barack Obama's supporters began mourning the outgoing White House administration.
Prolonged disbelief over the outcome of the 2016 presidential election had given way to the realization that even deep disappointment would not stop the march of time. People shared their grief for the future and their gratitude for the quickly dissolving present where they share everything these days: on the web.
Pete Souza was among them. In the twilight of the Obama presidency, Souza—who served as the White House photographer for Barack Obama and Ronald Reagan—used his official Instagram account to publish some of his favorite images from the Obama years.
There was the president, making snow angels with his daughters after a 2010 blizzard. There was the president, painting the tiny section of a monarch butterfly's wing on a mural of Martin Luther King Jr. There was the president, feet on desk, in the drab office where his Senate career began. There was the president on the White House basketball court, chucking a ball into the air with a grin.
And, finally, there was the president and the first lady relaxing with their daughters—Malia between them and Sasha on her father's lap. It was the last photo Souza posted to the account. "So proud of this family and how they have represented our country the past eight years," Souza wrote in a caption. "A great honor to have documented their lives for history."
That was it. The next president would be inaugurated two days later, and Souza's official Instagram account and its 2,113 photos were handed over to the National Archives and Records Administration, saved for history and frozen in time.
But then Souza started posting again.
This time, he published photos from a personal account with the user name petesouza. The first image he shared, on Inauguration Day, was an overhead view of the president exiting the east door of the Oval Office for the last time. A few more images followed—another view of Obama leaving the Oval Office, a shot of him waving from the steps of a helicopter after the inauguration, and a photo showing Obama looking out of the window of the aircraft at the White House below. "Farewell," the final caption read.
Souza said in the caption of one of these photos that he planned to take "a little break" from Instagram. That little break, if he ever took one, didn't last. To the delight of Obama devotees, Souza began sharing photos of Obama that seemed to take little digs at the new president. On January 21, amid reports that Donald Trump redecorated the Oval Office with buttery gold drapes, Souza shared an image of the office as Obama had decorated it. "I like these drapes better than the new ones," Souza wrote. "Don't you think?"
"I like the president more than the current one, too," one commenter replied.
Souza's Instagram feed has continued this way—with occasional breaks for other subject matter. ("I realize people want their daily Obama fix," he said in a caption to a non-Obama photo in January.) On January 24, as the new White House press secretary attempted to defend President Trump's unsubstantiated claims of widespread voter fraud, Souza shared an image of a TV screen broadcasting a press conference from when Obama was still president. On January 25, amid questions about when Melania Trump and Trump's 11-year-old son would move into the White House, Souza shared an image of Obama carrying his daughter, Sasha, in a White House elevator.

For Souza's fans—and Obama's—the Instragram account has been a source of solace during the chaotic beginning to Trump's presidency. The responses to Souza's recent photos of are full of comments like this:
"Missing him terribly."
"Thank you for continuing to share. It's comforting to see!"
"I miss him sooo much!"
"No Drama Obama I wish you were still my POTUS"
"Beautiful, saudade."
"I miss our president."
There's some criticism for Obama in the comments, too, but the overwhelming tone is one of homesickness for the recent past. One person who commented on one of Souza's photos called his recent feed "almost a form of therapy" during a Trump presidency, saying, "I look at them to calm down and things feel a little more peaceful for a bit."
Souza's account demonstrates the power of nostalgia as a salve for anxiety. (Ironically, Trump tapped into this same sentiment with his presidential slogan: "Make America Great Again.") But Souza's photo choices aren't merely wistful; they're often playful and pointed.
After The New York Times reported that Trump's aides had to "confer in the dark because they cannot figure out how to operate the light switches in the cabinet room," Souza published an image of an Obama-era meeting in the room with a short caption and winky-face emoticon: "Those damn lights ;)"
In January, with Trump's questionable ties to Russia making headlines, Souza shared an image of Obama meeting with Vladimir Putin taken several years ago. In February, the day after Trump's national security advisor, Michael Flynn, resigned, Souza posted another image of Obama and Putin. (Flynn was forced out after admitting he had misled the vice president about his communications with a Russian diplomat.)
Two days after Trump signed a sweeping immigration ban, Souza posted a photograph of Obama smiling and chatting with a young refugee in 2015. The next day, Souza shared a photo of Obama meeting with a 6-year-old boy who had written to him about "the Syrian boy in the ambulance," an iconic image of 5-year-old Omran Daqneesh, bloodstained and caked in dust. "Can you please go get him and bring him to [my home]?" the boy had written to Obama, "Park in the driveway or on the street and we will be waiting for you guys with flags, flowers, and balloons. We will give him a family and he will be our brother." On March 6, when Trump signed an updated version of his controversial immigration ban, Souza shared an image of Obama meeting with students at the Islamic Society of Baltimore Mosque and Al-Rahmah School.
Viewed one way, Souza is giving a masterclass in presidential criticism—highlighting the differences between Obama and Trump in a way that portrays Obama as far more thoughtful and dignified than his successor. As the Republican health-care proposal fell apart last month, for instance, Souza shared an image of Obama working on his own push for health-care reform—the photo shows a heavily marked-up speech that Obama would give to Congress six months before the Affordable Care Act passed.
Some images are more nuanced than others—and require close attention to current events for context. On Monday, as Trump tweeted about meeting with the president of Egypt at the White House, Souza posted an image of the Situation Room in 2011, when protesters in Cairo were calling for then-President Hosni Mubarak to resign. It was, Souza wrote in a caption, "the only time during hundreds of meetings in the Situation Room that I ever remember the TV being turned on." This is an interesting tidbit in and of itself, but also a possible jab at Trump, who is known as a dedicated viewer of cable news. On the day the Senate confirmed Trump's controversial pick for secretary of eduction, Betsy DeVos, Souza posted an image of Obama meeting with a pre-kindergarten class in 2013. And after a phone call between Trump and Malcolm Turnbull, Australia's prime minister, that was reportedly tense, Souza posted an image of Obama laughing with Turnbull and the former prime minister of New Zealand.
It is these images—presented without explicit commentary about today—that create the most dissonance for the person casually scrolling through Instagram. Encountering them can leave the fleeting impression that Obama is still the president. They force the viewer to seek parallels to the current political moment. And Souza can remain mischievously quiet about why he's publishing certain photos at certain times. (Souza didn't respond to an interview request for this story.)
Still, taken as a collection, even his subtlest photo choices seem meaningful. It's hard to ignore the possibility of metaphor in, for example, Souza's decision to share an image of a dark storm cloud gathered over the Washington Monument.
In other cases, Souza's commentary is clear. The day Trump nominated Neil Gorsuch to the Supreme Court, Souza shared an image of Obama and former Vice President Joe Biden meeting with Merrick Garland, Obama's Supreme Court nominee whom Republicans refused to consider. Souza's caption: "Merrick Garland. Just saying."
After the Mexican president, Enrique Peña Nieto, cancelled his meeting with Trump, Souza posted an image of Obama and  Peña Nieto sampling tequila together during a meeting in 2013. On the day of Trump's meeting with Justin Trudeau, the prime minister of Canada, Souza posted a photo of Obama and Trudeau meeting. And in early February, as Trump's administration took shape—his cabinet is more white and more male than any president's since Reagan's—Souza published a floor-level photo he took of Obama meeting with three top advisors. Obama is in slacks and dress shoes, his advisors are all in skirts and heels. "I guess you'd say I was trying to make a point," Souza acknowledged in the caption.
Souza's Instagram account also highlights the different approaches to photographing the 44th and 45th presidents of the United States. For a president who so highly values having his own direct line of communication to the American people, Trump's administration seems strangely unconcerned with the president's public visual representation so far. Consider the photos that dominated in the press after Trump's meeting with Trudeau in February, for instance. One widely shared image showed a skeptical-looking Trudeau looking at Trump's hand—perhaps considering Trump's tendency to yank the hands of fellow world leaders during public events, some suggested.
These images, juxtaposed against Souza's photograph of Obama and Trudeau appearing at ease together, seem to be further evidence of a rocky start to the Trump presidency—especially when depicting as close an ally to the United States as Canada. (Or Germany, for that matter.)
That's in part because Shealah Craighead, Trump's official photographer, has shared little of her work so far. Trump's Facebook page has a special photo gallery dedicated to the first 50 days of his administration, but most of the photos are from events—meaning they resemble the sort of imagery already available in news stories. The president can be seen giving a thumbs-up to a crowd, shaking hands with colleagues at official events, and posing for photos with the vice president. There's nothing yet that approaches the level of intimacy in Souza's depictions of Obama. The one photo that comes closest shows Ivanka Trump holding her baby son while talking on the phone in the East Colonnade of the White House.
Instead, as Sean O'Kane pointed out in an essay for The Verge, some of the most iconic images of the early Trump administration have come from "bystanders taking photos with their phones, like when a Mar-A-Lago guest snapped a photo of Trump using his cell phone's flashlight to look at what appeared to be sensitive documents." It's possible, O'Kane says, that the public will glean a more accurate representation of the president from photos taken without his explicit approval. Souza's images for the White House may have appeared candid and authentic, but he was still working for the president, after all.
"Many people are surprised to learn I also worked as a White House photographer for President Reagan," Souza wrote in the caption to a 2009 photo depicting Obama and Nancy Reagan, which he posted to Instagram on January 24. "I have always looked at this job as documenting for history. It was never about politics."
Now that Souza's job in the White House is over, however, he seems to be relishing his ability to extract political context from his rich trove of Obama images. And those who miss their old president appear to be charmed by Souza's newfound political streak. For others, remembering the former president now that Trump has replaced him may be too much to bear.
One commenter, in response to one of Souza's recent images of Obama on Instagram, seemed frantic: "Please! OMG, PLEASE COME BACK!"
"Don't go," wrote another commenter on the image of Obama in a helicopter flying over the White House.
And another: "COME BACK!!! Come back!"
We want to hear what you think about this article. Submit a letter to the editor or write to letters@theatlantic.com.
Adrienne LaFrance is the executive editor of The Atlantic. She was previously a senior editor and staff writer at The Atlantic, and the editor of TheAtlantic.com.