How a Mormon Church-Owned Site Defeated Craigslist in Utah
The unusual success of KSL Classifieds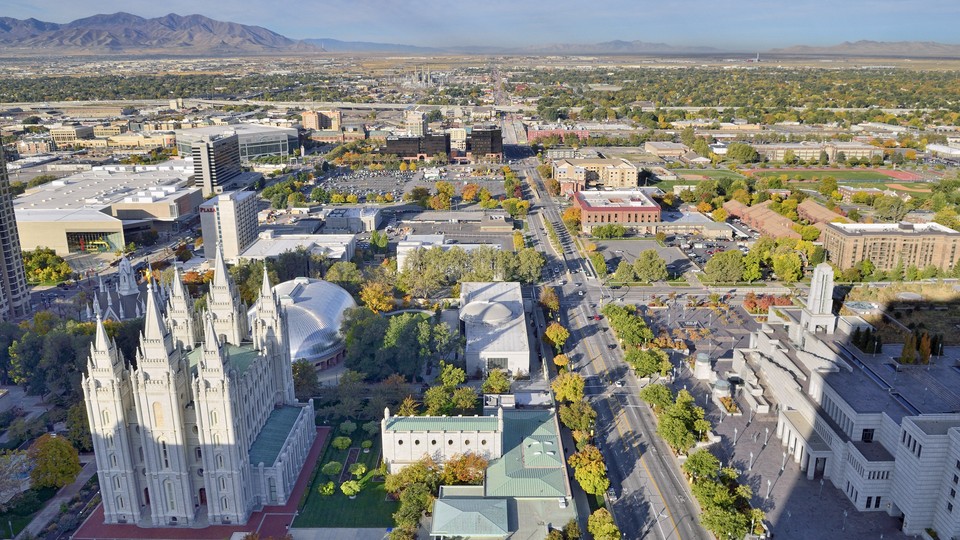 The familiar lament goes like this: Newspapers once enjoyed monopolies on classified ads, the "rivers of gold" that subsidized their whole operation. Then came Craigslist—web-based, sometimes sketchy, but free!—and, well, that was that. The site expanded. Newspapers collapsed. Across the country, Craigslist became our default place to buy and sell used stuff online.
And yet, there is one place in America where that is not so.
In Salt Lake City, Craigslist is an afterthought. If you want to buy or sell a car or a cow or a hot tub in Salt Lake City or in one of the nearby towns in Utah, Wyoming, or Idaho, you go to a local website called KSL Classifieds, which takes its name from local television and radio stations owned by an arm of the Mormon Church.
KSL Classifieds works pretty much the same as Craigslist. The typefaces are a bit more modern and user profiles more structured, but there's only so much formal innovation in online classified ads. It's a bunch of listings with some photos.
Among several KSL Classifieds posters I talked to on a recent afternoon were: a young mother selling 2,000 ounces of extra breast milk ("I bought my wedding dress, my wedding ring on KSL—literally, we use it all the time—our couch and our TV"), a retiree who assembles and sells beehives as a hobby ("I get more responses from KSL than Craigslist—quite a bit, probably three- or four-times more"), and a man selling eggs from his backyard chickens (re: Craigslist, "I don't even know the concept. I don't know how it works or anything"). By and large, people in Utah use KSL Classifieds because it's what everyone else uses.
So how did KSL Classifieds become what everyone else around Utah uses? Like most business stories, it's good timing and connections. And because it's Utah, it of course involves the Mormon Church.
* * *
To hear current KSL executives tell it, KSL Classifieds began in a backroom closet office. And like most business lore, it includes an obligatory short-sighted executive convinced it was all going to fail.
The executive, in this case, was smarting over spending $800. Around 2000, Russell Banz, who at the time was working on KSL.com, the stations' website, had come up with the idea to run online classified ads and needed the money to buy software for it. He kept asking and asking and, finally, the executive relented. The money came but with a vote of no confidence. "You got your money, but we're never getting our $800 back," Banz remembers the executive saying.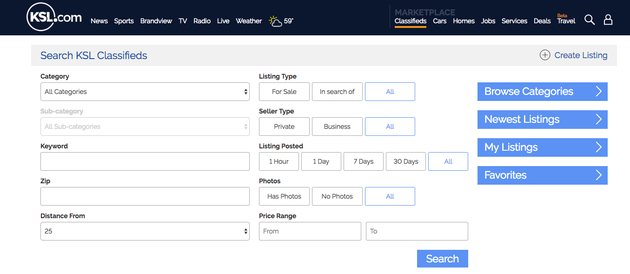 What made Banz's scheme seem even crazier at the time is that he wanted to make the ads free for individual users. Newspapers were used to charging several dollars per line in print, and these web guys wanted to give it away for nothing. To Banz, though, this was intuitive. He had the bigger goal of making KSL the destination for locals, and the way to entice users was to make using it free. Whether someone was looking for news or a new car, Banz's mantra was, "Heard it on KSL, saw it on KSL, got it on KSL."
KSL launched a classifieds section online early and aggressively in 2000, while in general, the newspaper industry was hesitant. "They didn't want to cannibalize their business. They were highly, highly, highly profitable, and classifieds were the most profitable part of the business," says Peter Zollman, a consultant at Advanced Interactive Media Group whose specialties include classified advertising. KSL had the advantage of not worrying about destroying an existing business to build a new one. It also beat the competition—Craigslist didn't expand into Salt Lake City until 2004.
Today, according to the company's vice president of e-commerce, Eric Bright, KSL Classifieds gets over 100 million page views a month, and it employs 100 full-time staff.  Like Craigslist, KSL Classifieds charges for commercial listings like those from realtors and car dealers. It also charges extra to feature ads, and in a move that perfectly embodies the dense commercialization of the modern internet space, it runs display ads right next to its classifieds ads.
* * *
Like all things special to one's hometown, KSL Classifieds can inspire intense loyalty. "We get request from out of staters all of the time who are generally  Utah transplants who are like, 'Please can you bring KSL to Phoenix,'" says Bright. (True story: The Atlantic editor J. Weston Phippen sold his '64 Volkswagen Beetle on KSL Classifieds while he was living in Phoenix to a guy in Salt Lake City.)
Amelia Murdock, an artist originally from Utah, told me she paid her way through school buying and selling dozens of horses on KSL Classifieds. "I've lived in NYC, LA, Cincinnati, and Chicago," she says, "and I am always amazed that these cities have nothing even close to something as great as KSL Classifieds." Murdock lives in Chicago now. "I still look on KSL for things for my mom to buy. I love this."
Bright also likes to emphasize community as part of KSL's success. "We're a community marketplace, built by locals for locals," he says. In Utah, that community means a lot of Mormons, and it helps that KSL's chain of ownership leads to the LDS church. The site is not explicitly geared toward Mormons, and it has plenty of non-Mormon users. But it steers clear of the more controversial categories that Craigslist is sometimes notorious for: personal ads, escort ads, and massage-services ads. In 2012, it also stopped selling guns.
"The Mormon community has always been built around community and buying and selling from each other, and I think for sure that has helped us," says Bright. Several people I spoke to said that KSL Classifieds felt less "dodgy" and buyers were not as flaky compared to Craigslist. "It doesn't surprise me that a tight-knit community would prefer to use an online marketplace that maps to their existing networks of trust," says Lana Swartz, a media-studies scholar at the University of Virginia.
Deseret Management Corporation, the for-profit arm of the Mormon Church that owns KSL, also owns the Deseret News, a paper based in Salt Lake City. Didn't this make for some awkward competition in the early days of KSL Classifieds?
When I asked Banz, he demurred. "It was kind of interesting," he says, though he notes that KSL and the Deseret News worked in different buildings and operated independently at the time. He didn't really have to worry about it. A corporate restructuring later, KSL.com and DeseretNews.com now share a building and even a newsroom—news and classifieds sitting side-by-side once again.