Why Do the Big Stories Keep Breaking at Night?
Even in the internet age, the rhythms of print publications drive the news cycle.
It's usually around 8 p.m. when the push notifications start rolling in. On Wednesday night, The New York Times kicked things off at 7:56 p.m. with a major story about how Obama administration officials had scrambled to preserve intelligence on Russia in the days before President Donald Trump's inauguration.
An hour later, the next big story dropped. This time, from The Washington Post, with a bombshell revelation that Jeff Sessions did not disclose at least two encounters he had last year with Russia's ambassador to the United States, despite having told lawmakers that "I did not have communications with the Russians" in his recent confirmation hearings to become the United States attorney general.
Both stories were stunning, but not wholly unexpected. In the chaotic early weeks of the Trump presidency, a drumbeat of late-night breaking news has become routine. News junkies have come to anticipate big scoops before bedtime.
"In a world where we had control of such things," Tom Jolly, the associate masthead editor at The New York Times, told me in an email, "we'd break the big stories early in the day, when more people are online."
This dynamic is, in a strange way, a throwback. As Matt Pearce, a national correspondent for The Los Angeles Times pointed out in a string of tweets Wednesday night, "it's like we've bizarrely returned to the era of the evening edition."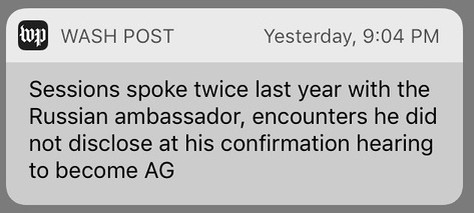 In the late 19th and 20th centuries, the evening edition was the newspaper you grabbed for your commute home from work. Because it was published in the afternoon, it was the best way to get the most up-to-date news in print. After all, by the time the work day ended, that day's morning paper covered events that had taken place at least a full day before.
That's why, in their earliest incarnations, newsiness was emphasized: The New York World's evening edition, branded The Evening World, was a "bright, sparkling paper," "bubbling over with all the news from everywhere," according to newspaper descriptions in 1887, when The Evening World first launched.
Radio, television news, cable news, and the internet all chipped away at the need for an ultra-newsy nighttime print product. Evening editions were already becoming scarce 30-plus years ago. In many cities, when one of two big metro dailies folded, the evening paper was the one to go.
Today, in an age of nearly-real-time news, the evening edition as we once knew it has been made obsolete. ( "We print news as it breaks, and it has been that way for years," a spokeswoman for The Washington Post told me.) But if you're someone who feels a romance for print, there's something especially nostalgic about the evening paper. And that's part of why there have been so many attempts to revive it.
When the iPad first launched, several news organizations wondered whether tablet technology might create an opportunity for a new kind of evening paper. The idea was to captivate readers at a reflective moment of the day, with a high-gloss news product that had a calmer feel than the dizzying (and often junky) social-media news streams.
But as it turns out, social platforms—and notably Twitter, where journalists and news junkies tend to gather—have become a new kind of evening edition, one that's an amalgam of breaking news and people's reaction to it, driven by good ole-fashioned print newspaper deadlines.
"It is true that print deadlines create a publishing target because if a story isn't done in time for print, it obviously doesn't get into the paper," Jolly, the Times editor, said. So, instead of individual news organizations putting out their own evening editions, print deadlines across the industry mean different newspapers all put out their big stories for the next day's print paper around the same time the night before.
At the Times, there are three major targets between the national and city editions of the paper: 7:30 p.m., 9:30 p.m., and 11 p.m. "In pre-Internet days, those stories often broke when the newspaper came out in the morning, but now we're breaking them when we can on our digital sites," Jolly told me. "And, when one publication breaks a big story, others tweet it out and try to match it, which means news blows up in the moment in a much bigger way than it did in the days of print only."
Of course, the nightly news drops of late aren't purely a technological phenomenon. You can't have big scoops without serious reporting. And the biggest scoops tend to reflect the volatility of this particular moment in time.
"While Trump and his administration have put us in an unusually lively news cycle, the rhythm of news out of Washington has always leaned later in the day," Jolly said. "It just hasn't always been as momentous."