As Uber Melts Down, Its CEO Says He 'Must Fundamentally Change'
The ride-sharing giant's full-blown PR crisis is getting worse.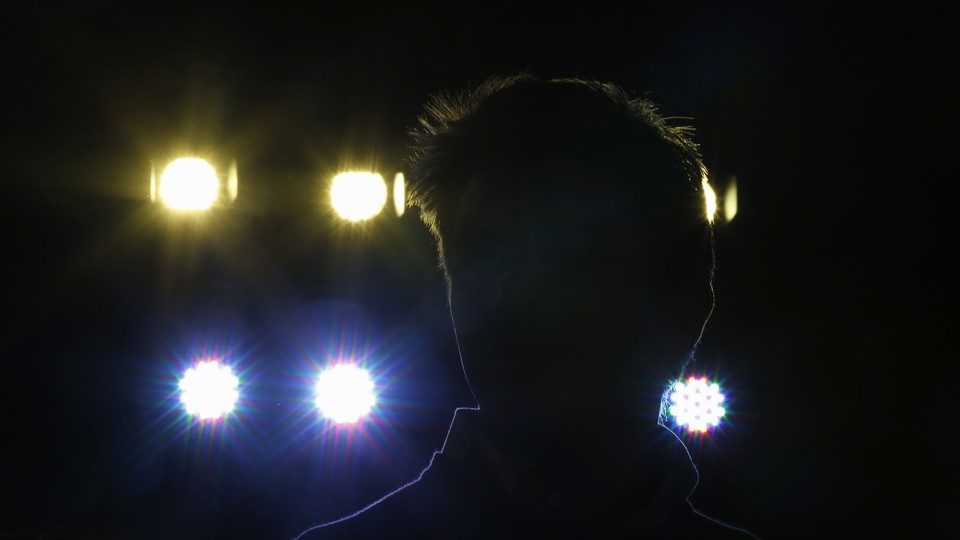 It took eight years and at least as many back-to-back-to-back-to-back controversies to break Travis Kalanick.
After a stunning month of scandals at Uber, Kalanick, its founder and CEO, sent an emotional and uncharacteristically apologetic memo to his employees Tuesday night. "This is the first time I've been willing to admit that I need leadership help," Kalanick wrote. "And I intend to get it."
Uber has always been controversial, but never like this.
Kalanick's message came hours after a video surfaced that showed dashboard-camera footage of him arguing with an Uber driver who had just given him a ride. In the video, Fawzi Kamel, who gave a recording of the conversation to Bloomberg, tells Kalanick that he and other drivers suffered as a result of lower fares for riders. "People are not trusting you anymore," Kamel tells Kalanick. "I'm bankrupt because of you... You changed the whole business. You dropped the prices."
"Bullshit," Kalanick repeatedly says, raising his voice, criticizing the driver, and eventually exiting the car with the slam of a door.
"By now I'm sure you've seen the video where I treated an Uber driver disrespectfully," Kalanick said in his message to Uber employees on Tuesday night. "To say that I am ashamed is an extreme understatement. My job as your leader is to lead … and that starts with behaving in a way that makes us all proud. That is not what I did, and it cannot be explained away."
In the past, Uber explained away all kinds of transgressions. Its publicists are experts at managing the perception of mounting public backlash. And for a long time, Uber had the only two things that seem to matter in Silicon Valley: a product people kept using and an obscene amount of money.
Now, Uber's future suddenly seems questionable.
One day before the dashcam video came out, Uber's senior vice president of engineering resigned after having failed to tell Uber that he'd left his previous job at Google over a sexual-harassment complaint against him, according to Recode. Less than a week before that, Uber's head of self-driving cars was accused in a federal lawsuit of having stolen a trove of secret documents from Google. That news came only days after an explosive blog post, written by the former Uber engineer Susan Fowler, describing a culture of pervasive and systematic sexism at the company.
"When I joined Uber, the organization I was part of was over 25 percent women. By the time I was trying to transfer ... this number had dropped down to less than 6 percent," Fowler wrote. The clear reasons for this, she said, were "organizational chaos" and sexism. In one particularly memorable example, Fowler details an episode in which Uber's female employees were told they couldn't get the leather jackets that were being ordered for male staffers.
The director replied back, saying that if we women really wanted equality, then we should realize we were getting equality by not getting the leather jackets. He said that because there were so many men in the org, they had gotten a significant discount on the men's jackets but not on the women's jackets, and it wouldn't be equal or fair, he argued, to give the women leather jackets that cost a little more than the men's jackets.

Uber even botched its response to the outrage over Fowler's blog post, sending to some users who'd asked for more information a message that seemed to blame Fowler: "Everyone at Uber is deeply hurting after reading Susan Fowler's blog post," it said. Uber also felt compelled to come out and say explicitly that it's not behind a smear campaign against Fowler, which she says started in the wake of her blog post about Uber, perhaps because Uber's senior vice president of business once suggested spending $1 million on an opposition to dig up dirt on its critics personal lives. Uber declined to speak with me on the record for this story, and turned down requests for interviews with the company's global head of diversity and its chief human resources officer.
The Fowler blog post dropped just weeks after a noisy anti-Uber campaign, which spread across the internet as #DeleteUber, launched by people who were incensed that Uber was giving rides to John F. Kennedy Airport, in New York City, during a strike by the union representing New York City taxi drivers. The New York Taxi Workers Alliance had halted service to and from the airport to show solidarity with people protesting President Donald Trump's immigration ban.
Initially, Kalanick said in a statement he would raise concerns about the ban with Trump in a meeting with other business leaders as part of a White House economic advisory group he'd agreed to join. "I understand that many people internally and externally may not agree with that decision [to join the group], and that's OK," he wrote at the time. "It's the magic of living in America that people are free to disagree... I've always believed in principled confrontation and just change; and have never shied away (maybe to my detriment) from fighting for what's right." After the backlash, Kalanick stepped down from the council.
The question now isn't whether Uber has real problems—it clearly does—the question is whether one of Silicon Valley's biggest success stories is actually a cautionary tale about hubris, sexism, and, ultimately, failure.
The conceptual simplicity behind Uber—press a button on your phone to hail a ride from anywhere—was always its strength. It's why the company has been so frequently emulated by any startup that claims to be "like an Uber for" some other service. Uber's growth since it launched in 2009 has been astounding by any measure. What began in San Francisco as driving service with four staffers and two cars is now a global juggernaut with 11,000 employees operating in more than 500 cities across six continents. Uber is valued at an eye-popping $68 billion.
That growth isn't unequivocally good. Uber remains "massively unprofitable," as the Forbes writer Brian Solomon put it in an article about leaked financial documents from 2015. Uber has declined to comment on reports about its financial standing, but analysts point out that its widening losses are likely tied to longer term initiatives like strategic acquisitions, mapping for self-driving cars—and self-driving cars themselves. In other words, Uber has been investing heavily in its own growth. Which is part of why, for a long time, the biggest mystery about Uber was when it would go public. The timing of an IPO is now very much secondary. It's not clear that Uber can survive its own cratering reputation and uncertain business model. There are signs investors are worried. And if the reasons for Uber's success were fundamentally about its simplicity, the reasons for its demise may be just as straightforward.
So maybe it's too little, too late. But Kalanick is vowing to change things at Uber. He hired Eric Holder, the former U.S. attorney general, to investigate claims of sexual harassment and discrimination. In the months to come, the company will almost certainly showcase the work of two additional high-profile recent hires: Its new human resources chief, Liane Hornsey, who spent a decade at Google, and its global head of diversity and inclusion, Bernard Coleman III, who worked on Hillary Clinton's presidential campaign.
It's easy to see why. "There's strong evidence that shareholder activists do affect public company decisions," Terra T. Terwilliger, a director at the Clayman Institute for Gender Research told me.  "Of course Uber is not yet a public company, but it hopes to be one soon. Regardless, activism of all kinds is a reality in today's market, and companies must learn how to deal with activists both in the investor community and, increasingly, among their employees."
The memo Kalanick sent last night suggests that he may finally have seen himself the way others do. "It's clear this video is a reflection of me,"  he wrote in his memo, "and the criticism we've received is a stark reminder that I must fundamentally change as a leader and grow up."
This, from the 40-year old CEO who, in 2014, jokingly characterized his desirability among women as "Boob-er," and referred to his own success as "Holy shit ... hashtag winning." The man whose quarrelsome demeanor has been described—by one unnamed venture capitalist to Vanity Fair, anyway—as "douche as a tactic, not a strategy." The man who is frequently described as being on a warpath against taxi companies, against regulators, against Uber drivers, and against anyone else who might stand in his way.
In the past, Uber has approached controversy with swagger and a shrug that seemed to say: Tough shit. Things change and there's nothing you can do about it.
That was certainly the stance Kalanick seemed to have adopted in his confrontation with Kamel, the Uber driver who recorded footage of their encounter. One can't help but wonder whether, by watching himself from the distance of a dashboard camera, Kalanick realized that the insult he'd lobbed at Kamel was actually better directed at him: "Some people don't like to take responsibility for their own shit," he'd growled. "They blame everything in their life on somebody else."