When Bad News Was Printed on Milk Cartons
Before push notifications and AMBER Alerts, dairy farmers doubled as publishers.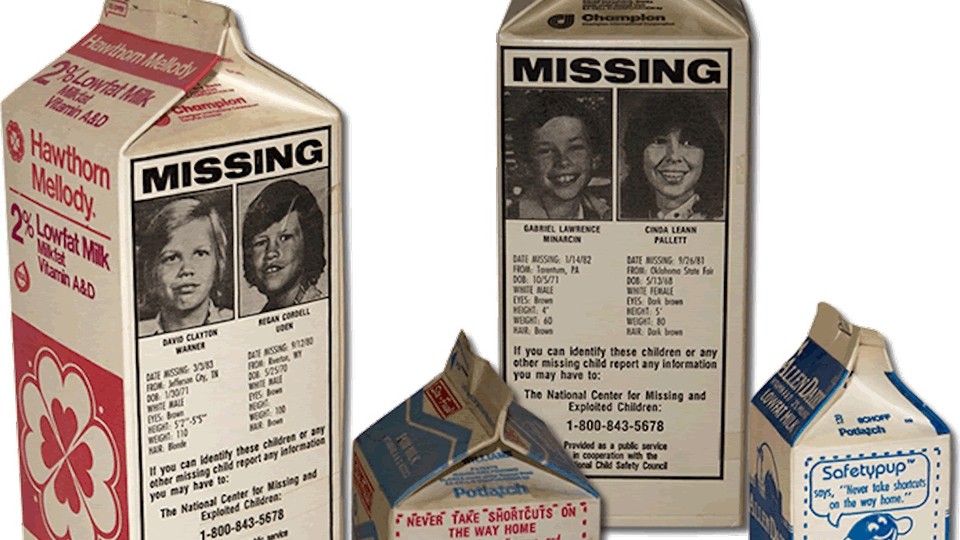 Tuesday's guilty verdict in the kidnapping and murder of 6-year-old Etan Patz, whose abduction rattled New York City in 1979, is the latest step toward solving a decades-old mystery.
It's also a reminder of how dramatically information-distribution channels have evolved in recent decades—specifically the systems used to notify the public about missing children and other emergencies.
Patz was the first missing child to appear on milk cartons nationwide in the United States, in 1984, as part of a campaign run by the National Child Safety Council and hundreds of dairies across the country. The program began in Des Moines, but expanded so that the same photos could be distributed across state lines. The idea was to reach a wider audience "since kidnappers often whisk children from state to state," as one news syndicate explained matter-of-factly in 1985.
This logic is remarkable in retrospect, now that information can be instantly published and shared on a global scale. To distribute information nationwide, just 30 years ago, people were using milk cartons. The World Wide Web was still nearly a decade away from entering the public domain.
Milk-carton kids, in their day, were the face of a clunky kind of push notification—one that you had to buy at the supermarket and keep in your fridge.
In the early 1980s, you could get national news each night from the big television networks—but this was a format concerned with matters than extended beyond missing children. Or you might turn to magazines, which came out weekly or monthly. Media space was finite. News took a while to get around. The New York Times didn't launch a national edition until 1980. The idea of real-time broadcasting—on fledgling networks like CSPAN and CNN, launched in 1979 and 1980 respectively—was still strange and new.
This was the media backdrop at a time when milk manufacturers were compelled to enter the world of news distribution. And they were willing to help publish information about missing children—even though it meant they lost potentially valuable ad-revenue space on their cartons. (Yes, milk cartons carried ads in those days.)
"Their faces will be there at the breakfast table," Joe Mayo, a police commander in Chicago told The Associated Press in 1985, shortly after the program launched. "People will have to think about it."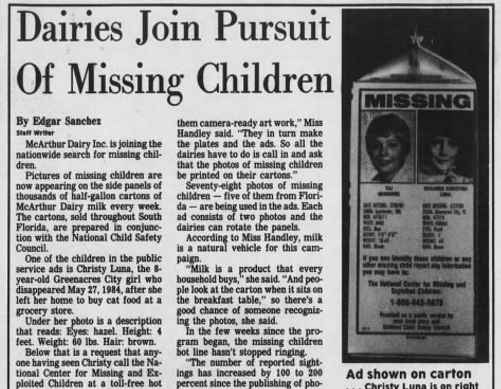 "With so many children missing," The New York Times reported in 1985, "the milk-carton program could continue for years." And it did, for a while. In fact, missing children began to pop up everywhere: on grocery bags, videotapes, television commercials, toll tickets, trucks, billboards, utility bills, pizza boxes, telephone directories, and beyond. The effort worked at least some of the time: Newspapers in the late 1980s and early 1990s carried countless stories about milk-carton children who were recognized and reunited with their parents.
The concept quickly established a cultural foothold, too. There have been best-selling books about milk-carton kids, and song lyrics.
"The milk-cartons program ran its course," Gaylord Walker, the vice president of the National Child Safety Council, told the Orlando Sentinel in 2010, but they have remained vivid in the popular imagination. "They had a tremendous impact and they did a great job of creating public awareness," Walker said.
Milk-carton kids also may have become so ubiquitous that people stopped paying attention to them. "I don't really look at them too much," one woman told the Times in 1985. A similar concern arose after the AMBER Alert system was established in 1996. Officials worried that as the network for the alerts expanded, people would get so many of them that they wouldn't take them as seriously, or react as quickly. But the alerts still work, according to Justice Department data: 186 AMBER Alerts were issued in 2014, according to the most recent data available, and 154 of them resulted in a recovery—52 of which officials say were directly attributable to the alert system.
Today, AMBER Alerts are texted directly to cellphone users. They're also broadcast on digital billboards and transmitted via NOAA Weather Radio. But distribution channels are evolving once again: Two years ago, Facebook announced a partnership with the National Center for Missing and Exploited Children to make AMBER alerts pop up in people's Facebook News Feeds. Law enforcement would determine the geographic range for which users see an alert, Facebook explained, and the number of alerts would depend on how many were issued in a given area.
Theoretically, this streamlining of crucial information is helpful. (Facebook is also where you might find friends marking themselves as "safe" in a tornado or mass shooting.) If Facebook is your go-to destination for news—and for many people, it is—then it makes sense to have essential information delivered there. That is, at least, until the next distribution channel supplants it.
Cardboard milk cartons were replaced with plastic. Telephone books have largely faded from use. And, eventually, Facebook News Feeds and push notifications as we know them today will go missing.