Donald Trump's Lost 1990s Websites
The president was all about GIFs, Flash, and #C5B358, but it wasn't until the rise of the mobile web that he really found a home online.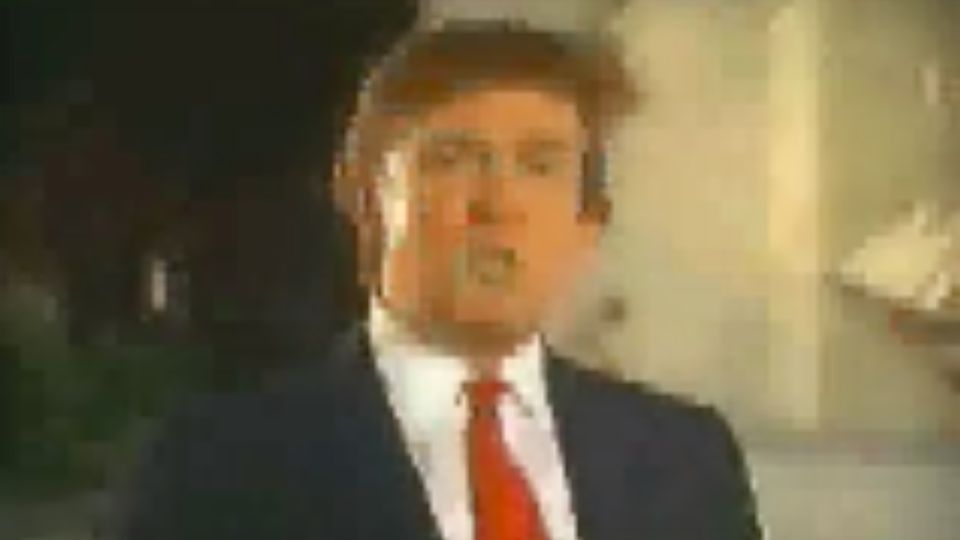 Donald Trump is a television and tabloids kind of guy.
It's easy to see why. Broadcast and publishing platforms helped make him a star. Page Six crowned Trump the unofficial king of New York's gossip pages in the 1980s and 1990s. The reality-TV craze of the 2000s ensured he remained a household name.
Today, it has been suggested that you can tell which cable news station Trump is watching by tracking his tweets—which at times seem to be direct responses to whatever's being said on air. (Often, Fox News.)
Trump's love of television notwithstanding, he is very much a president for the internet age—and not only because, with his infamously trigger-happy Twitter finger, he is making full use of the self-publishing power of the internet.
In fact, Trump has a decades-long presence online.
As a trip through the Internet Archive's Wayback Machine reveals, the president's digital real estate has often appeared as glittery, aspirational, and over-the-top as his offline properties. It's also clear that he appreciated the power of the web to reach people directly relatively early-on.
"It's great to be with you on the internet," Trump says in a short video that appeared on his website in 2000, five years before YouTube was founded. "We've worked very hard to make our homepage your homepage," he continues. (This doesn't make sense, exactly, but it does sound hospitable.)

Domain registry records show that Trump.com—which now directs visitors to the Trump Organization's website—was first registered in 1997. It was used to promote Trump hotels and casinos soon thereafter. (The first Internet Archive snapshot of the site wasn't captured until 1998, so it's not clear when the site first went live.) Trump has also used TrumpOnline.com, DonaldTrump.com, and DonaldJTrump.com—the latter two of which now redirect to his presidential campaign site—for going-on 20 years.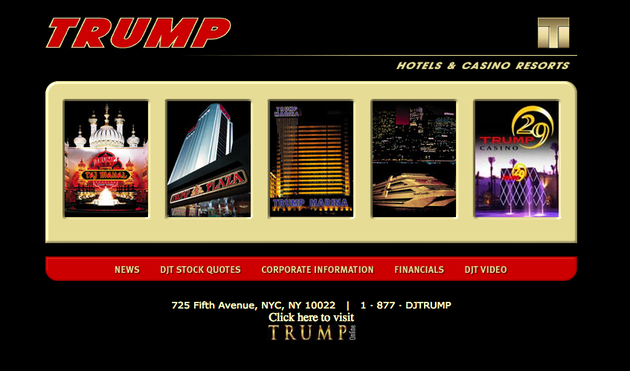 On all of these websites, from the very beginning, Trump himself has been highly visible. Trump the brand, after all, has always been about Trump the man. Here's a screenshot from his TrumpOnline.com homepage in the early 2000s: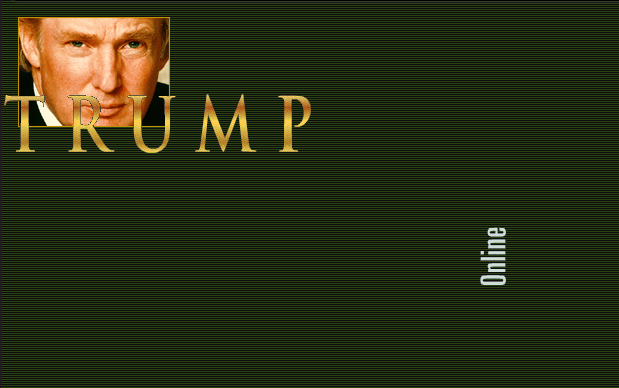 In the early 2000s, Trump also made good use of animated GIFs and Flash video, using the standard software of the era. One particularly garish website intro begins with an animated Trump jet taking off and ends with a huge close-up of Trump's face. (Click here to watch the video with the original audio.)
Trump's site at the time also featured a special "message from Donald J. Trump," complete with his signature in gif form: "I am pleased to welcome you to TrumpOnline.com, where you will be able to view and interact with the ever-expanding universe of my business interests, including commercial and residential real estate, casino gaming, hotels, model and talent management, beauty pageants, and social and golf clubs. All that you will see share a common theme of excellence, which I am proud to be part of," the letter says.

Over the years, it's Trump's business interests that are most visible in his web history.
Deep (and not-so-deep) in the Internet Archive you'll find images of Trump brand chocolates and bottled water alongside an offer for the Trump Rewards Visa card, information about his modeling agency—and write-ups on his hotels, casinos, and golf courses.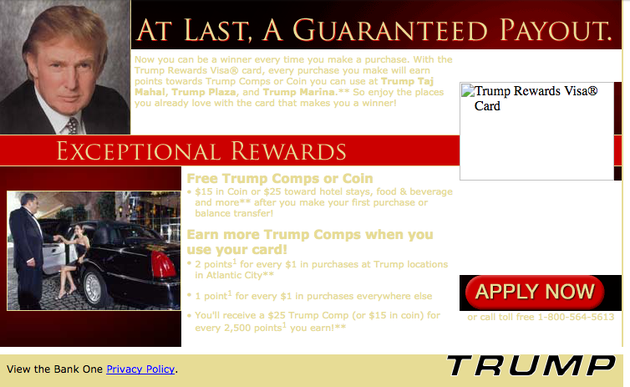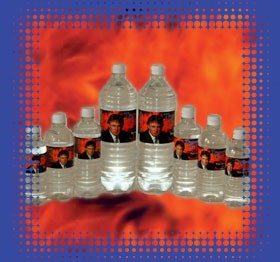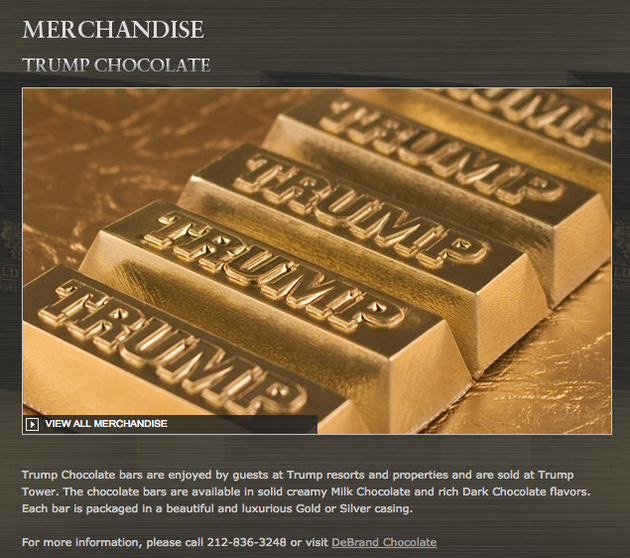 But Trump has also had websites devoted to his flirtations with the presidency going back to at least 2000, with donaldjtrump2000.com. That site was run by the web master for Jesse Ventura, the professional wrestler and former governor of Minnesota who encouraged Trump to enter politics. Sadly, I found no traces of it in the Internet Archive, but the site lives on in newspaper clippings—in part because it was still online, and possibly soliciting donations, for at least a week after Trump said he was not running for president that year, according to an Associated Press story at the time.
Then there was donaldtrump2008.com, created by a Trump-supporting political action committee in 2006, which featured a short video mashup that made it look like Trump was firing then-President George W. Bush—a riff on Trump's "you're fired" catchphrase on the game show, The Apprentice. (Trump was not involved in the making of that website, a Trump spokeswoman told newspapers at the time.)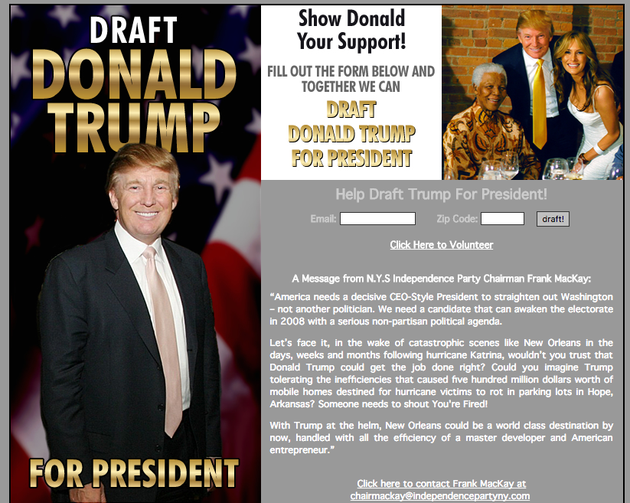 Even on his own sites, it's not clear from web records how much Trump was involved in shaping his early-web presence. But looking at his past websites probably isn't the best way to understand the way he thinks about the web today. Trump has repeatedly expressed skepticism about computers, and, according to a report by The New York Times, does not use one. (A tweeted photograph of Trump using a laptop was novel enough to prompt a Gizmodo story—"Here's a Rare Photo of Donald Trump Using a Computer"—in November.)
In other words, Trump's early websites are more a reflection of his branding opportunism than an indication of his internet sensibilities—though there's plenty of overlap between the two.
If you want clues for how Trump thinks about the web in 2017, it's most instructive to look to his longstanding affinity for broadsheet and cable—where shouting and exaggerating are stylistic requirements. Trump, a man who "lives by the media blitz," as one newspaper put it in 1990, is tailor-made for the crowded, over-the-top, unfiltered, real-timey quality of today's internet. Let me put that another way: It's no surprise that an impulsive man who relishes being at the center of attention is right at home on the mobile-social web.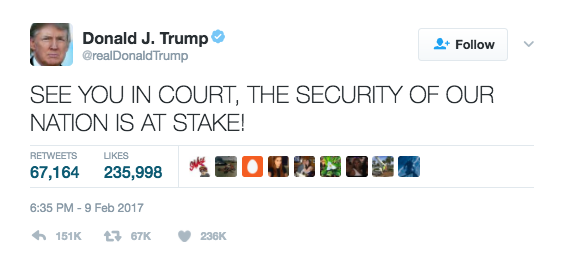 It turns out that an all-caps tweet from the president of the United States is surreal not only because it's unlike any behavior the world has previously seen from a sitting president, but also because it's a throwback to the lurid pageantry of Trump-focused headlines in the American gossip rags of the late 20th century.
In 1991, The New York Post saw "its mission as reporting 'what people talk about in elevators and saloons, in language they use in elevators and saloons,' said Jerry Nachman, the Post's Twinkie-loving, phrase spouting editor," according to a feature about the Post published in The Los Angeles Times that year. "One way it does this is by turning the lives of people such as entrepreneur Donald Trump, Mayor David Dinkins, and hotelier Leona Helmsley into pop caricatures called Donald, David and Leona that New Yorkers can gossip about, detest or admire."
Then: Elevators and saloons. Now: Twitter and Facebook.
In 1999, the newspaper columnist Norman Lockman wrote an essay warning against the  inclination to "cackle at the pretensions of Donald Trump" and the political pundit Pat Buchanan running for president of the United States. The temptation to write them off was terrific, Lockman wrote, "But given the American taste for tasteless spectacle, these people are going to change the way we think about national politics. As long as they are on the scene, the media will worship these guys. Whenever slambang personalities vie with issues, do I really have to tell you which will get more media time?"
Getting media time has never been a problem for Donald Trump. He became famous at the dawn of the cable news era, and became president at a time of media convergence, in the infancy of the mobile web.
"He watches me on CNN probably more than my mom watches me on CNN," Anderson Cooper, the CNN anchor, recently told Seth Meyers in an appearance on Late Night. A Washington Post headline last June put it this way: "Donald Trump watches more cable TV than you do." (For what it's worth, a Pew study in July found 85 percent of Americans over age 65 often get news from television. Trump is 70 years old.)
Trump is obsessed with the news media, but three decades of news clips prove that the fascination is mutual.  (As early as 1985, The Washington Post noted how "for all his cultivation of publicity, Trump is surprisingly thin-skinned about the press.") Except today he doesn't have to vie for media time, not that a U.S. president ever would; he seizes it with each tweet.
There's a strange harmony, given his chaotic ascent in politics, in Trump's rise to power at such a tumultuous moment for the media industry. Observe Trump in the Oval Office, or journalists in shrinking newsrooms, and you get the sense of watching someone navigate, not always gracefully, a world that is coming apart at the seams.
The Donald Trump of the early web may be the same man he is today, but he now occupies a vastly different realm than the one we once knew.