How New Orleans's Favorite Mardi Gras Cocktail Was Saved From Extinction
No one knows why Ojen became so popular in the city, but it has long been the party liqueur of choice. An Object Lesson.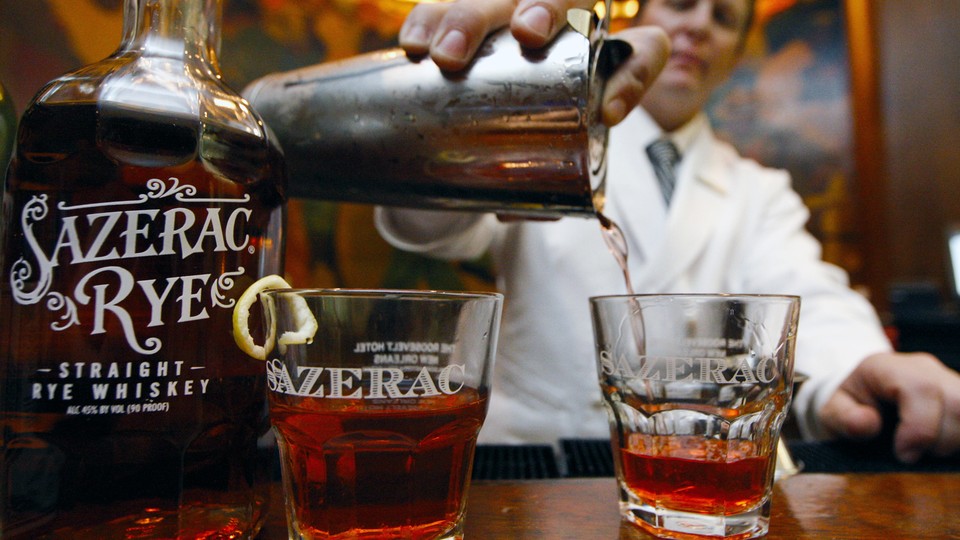 Updated at 9:20 a.m. ET on November 7, 2019.
"Wait one second, let me go see if I have any Peychaud's." Tommy Westfeldt leaves the room and returns wagging a small bottle of reddish-pink bitters. I'm sitting in Westfeldt's Gravier Street office in New Orleans, where he runs one of the oldest coffee-importing businesses in the United States. Westfeldt, a Crescent City native, has been drinking Ojen since he was 18 years old. "You know, my father drank Ojen Cocktails, and my grandfather drank them too. It's been around for as long as I can remember. We usually had it on Mardi Gras day and during Christmas, and sometimes when we went duck hunting," he reminisces.
Ojen (pronounced oh-hen) is an anise-based liqueur that came into production in 1830 near the small town of Ojén, Spain, in southern Andalusia. It's sweeter and far less alcoholic than absinthe, and always mixed over ice with seltzer and a few dashes of Peychaud's bitters ("not Angostura," Westfeldt emphasizes). In the mid-20th century, Ojen found a thriving market in New Orleans because of its popularity during Mardi Gras, though nobody knows exactly why. "You used to drink absinthe on Mardi Gras day for good luck, but that's about all I know," the renowned absinthe collector Ray Bordelon tells me.
What New Orleanians do know is that Ojen has been hard to find—until recently, when it was resurrected by the Sazerac Company.
Ojen is an obscure ingredient that most people have never heard of, even in New Orleans. Hailed as the "preferred cocktail of the Rex ruling class," the Ojen Cocktail is, or was, a bougie drink, one for the crustiest of the upper crust of New Orleans.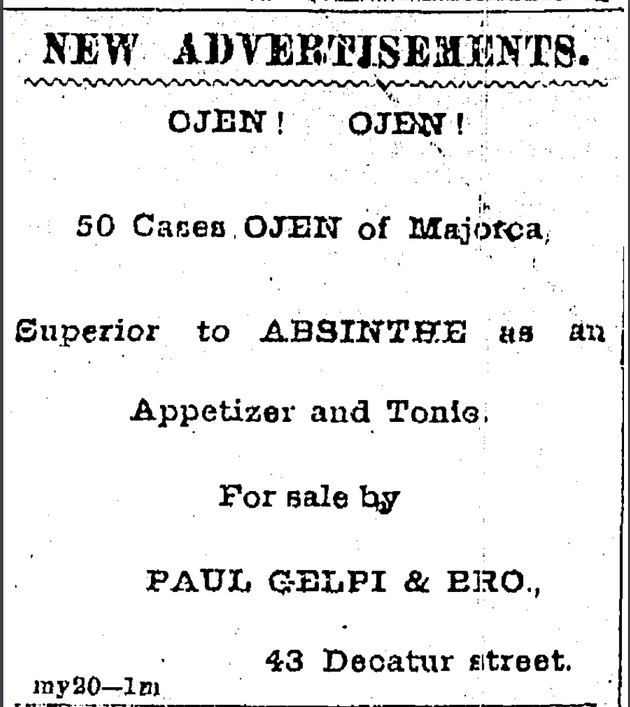 It became widely popular in the late 1940s, when Brennan's, a well-to-do Royal Street restaurant, opened in the French Quarter. They featured the Ojen Frappé—a fancy term for a cocktail over shaved ice—as a brunch menu item, marketed as "the absinthe preference of the Spanish aristocracy."
But by the time the Ojen Frappé was introduced at Brennan's, Ojen had already been a New Orleans staple for decades. In 1874, a young businessman named Paul Gelpi and his brother Oscar opened a liquor distribution company specializing in imported wines and spirits. Between May and June of 1883, the Gelpi brothers ran a series of advertisements for Ojen. It read, in part, "Superior to ABSINTHE as an Appetizer and Tonic."
Describing Ojen as "superior to absinthe" was a savvy move. Like absinthe, Ojen was first used as a tonic for medicinal purposes. Southerners, Northerners, and foreign tourists alike made pilgrimages to the former French colony of New Orleans to imbibe the Absinthe House's "Parisian style" of dripped absinthe at the corner of Bourbon and Bienville. Not only did Gelpi advertise during the height of tourist season, but claiming that Ojen is superior to absinthe invokes New Orleans's sophisticated European past. It connotes the authenticity and bourgeois refinement for which the city was renowned.
As a prominent and successful citizen, Paul Gelpi served as a board member in a number of the city's powerful and influential organizations, including an elite gentlemen's club, the Boston Club. The Boston, as it was known, was influential in the founding of the Krewe of Rex, one of the oldest Carnival organizations in New Orleans. On an uncharacteristically warm February day in 1886, Gelpi was inaugurated as a member, and it was at the Boston Club that the Ojen Cocktail was first mixed by adding two dashes of Peychaud's bitters and soda water over cracked ice. By the early 1900s, the Ojen Cocktail had become the Boston's most popular drink.
In the early 20th century, the Ojen Cocktail made its way out of the Boston Club and onto banquet and cocktail menus, recipe snippets, and printed advertisements. It was served at elite cocktail parties and events through the 1910s, including the annual banquets of the Louisiana Bar Association and the Louisiana Engineering Society. Absinthe was banned in 1912 after the Temperance movement successfully lobbied for a number of legislative measures designed to curb alcohol consumption, so New Orleanians looked for other anise-based alternatives like Pernod, L.E. Jung's Greenopal, and Herbsaint, which rose to popularity during this period. New Orleans generally preferred Ojen, though, and during the pre-Prohibition period extravagant stories teeming with inebriated tourists drinking Ojen circulated around the country. In a 1919 issue of The Photo-Engraver's Bulletin, one visitor recounted waiting for his colleague, E.C. Miller, at the train station. When Miller didn't show, the visitor went to his hotel to find that he had already checked in:
"On arriving at the hotel they discovered that his High Nibs had registered. After locating his room this Committee was received [...] in Miller's room. Miller was in the bath-tub with a Sazerac cocktail in one hand, a Ramos gin fizz in the other, and a[n] Ojen cocktail in his shaving cup. He seemed to become acclimated almost immediately."
A few months later, the 18th Amendment and the Volstead Act brought a prompt end to such tales. Anticipating financial ruin when it became clear that Prohibition would not be repealed immediately, the Gelpis left the liquor industry and went into candy-making. Less than a year later in 1920, Paul Gelpi passed away at the age of 72. In an unsuccessful attempt to revitalize his father's liquor dynasty after the repeal of Prohibition in the mid 1930s, Paul's son, Vivian, would wax romantic about his grandfather sailing heroically into the port of New Orleans on a clipper ship from Barcelona, a hull filled to the brim with rare and coveted wines.*
Others in the liquor industry reinvented their businesses to profit within the confines of Prohibition, trying their hands at creating non-alcoholic versions of New Orleans cocktails. One of these companies was the New Orleans-based manufacturer L.E. Jung & Wulff Company, which manufactured absinthe substitutes. Jung, also a prominent liquor salesman, was an associate of Gelpi, and both were members of the Boston Club.
In fact, the Boston Club is the hub through which four generations of Ojen drinkers can be traced. It's how the Ojen Cocktail became the Mardi Gras drink. As Westfeldt explains, the King of Carnival used to toast his queen at the Boston Club, a practice that was abandoned due to time constraints. "The Krewe of Rex—and a lot of other Krewes, too—used to drink Ojen every Mardi Gras, usually before a parade." A krewe refers to a Carnival organization that puts on parades and balls during Carnival. "I remember when I was younger, there was a secret stash of Ojen that only the lieutenants of Rex could drink. The rest of us had to drink champagne. It's not like that anymore, though." All members of Rex are now allowed to drink Ojen, if they can get their hands on it.
The Ojen distillery in Spain ceased operations nearly 30 years ago. However, efforts to recreate Ojen began even before Manuel Fernandez, its last proprietor, shut the place down. Cedric Martin of Martin Wine Cellar, Ojen's sole distributor in New Orleans, had initially tried to obtain the recipe from the distillery in southern Spain. "It just wasn't available," Martin told me by phone. "In the late 80s, all the Fernandezes were gone, and the distillery was going to shut down. We panicked." Ojen devotees imported 6,000 bottles into the city, hoarding them away in private liquor cabinets. The last bottle officially sold in 2009. A select few restaurants continue to serve Ojen, if you know to ask for it. Chris Hannah of Arnaud's French 75 Bar showed off his collection of vintage Ojen bottles to the Times-Picayune in 2012, and Ralph Brennan served Ojen to Jack Maxwell of the Travel Channel's Booze Traveller in 2015.
New Orleanians are famous for their boozy traditions: lax open container laws, the Go-Cup, and drive-thru daiquiris shops (to name but a few). They often despair in the disappearance of even the most minor culinary tradition. In Louisiana, to lose a tradition such as Ojen often means losing entire communities and ways of life.
Westfeldt sets down the fetched Peychaud's and picks up an aged bottle of Ojen he keeps in his office. Its label, off-white and peeling, reads "MANUEL FERNANDEZ." Behind it, a slightly-yellowed liquid fills the bottle halfway. Westfeldt sniffs the bottle and makes a face, wondering aloud if it's gone bad. He calls for three small cups with ice, and then makes three Ojen Cocktails, a recipe that's remained unchanged for 130 years: a shot of Ojen, a couple of drops of Peychaud's bitters, and a splash of seltzer served over ice.
We taste it. It has indeed turned slightly, like a corked bottle of wine, with a cardboard aftertaste. "That's a shame," sighs Westfeldt, and we pour them out. "I've gotta get a bottle of that new stuff."
The nostalgic cultural appeal of Ojen has made it possible. After that last bottle in 2009 sold, work began again to revive the liqueur. "We'd been tossing around recreating Ojen for a few years," Amy Preske of the Sazerac Company explains. In January 2016, they released a small run of the drink, just in time for Carnival.
Before the re-release of Ojen in January 2016, Sazerac had spent a few years working on an authentic reproduction of Fernandez's original recipe. They secured a bottle from his last run and sent it to their lab. "The chemists in our lab basically reverse engineered it to recreate the flavors," Preske tells me. Sazerac then worked with a few Ojen devotees to tweak the taste profile until they could get as close as possible to the original. "If you tasted [the old and new versions] blind together," said Martin, "you wouldn't be able to tell the difference." The Sazerac Company, which also produces Peychaud's Bitters, the other key ingredient in an Ojen Cocktail, named it Legendre Ojen, after New Orleanian J. Marion Legendre, the inventor of Herbsaint, a brand which Sazerac now also reproduces. Both Herbsaint and Ojen are products in the company's New Orleans Specialty Brands, which includes Sazerac Rye, Southern Comfort, Peychaud's Bitters, and Peychaud's Apertivo.
Sazerac maintains that it didn't bring back Ojen for commercial profit: New Orleans is the only real market for Ojen, though Preske said that they do take orders from other elsewhere.
Through the new production of the liqueur, Westfeldt hopes that the Mardi Gras tradition will continue for the next generation. Fortunately, 2017 will be the second year in a row that tourists and local alike will enjoy clinking their pink Ojen Cocktails as the parades rumble past. He smiles, "It's a hard liquor to acquire a taste for. But when you do, you just sit there and it's just beautiful."
---
*This article previously identified Vivian Gelpi as Paul Gelpi's daughter. In fact, he is his son.