The Exhausting Work of Tallying America's Largest Protest
A pair of political-science professors are combing through news stories and individual reports to estimate the number of people who demonstrated on Saturday.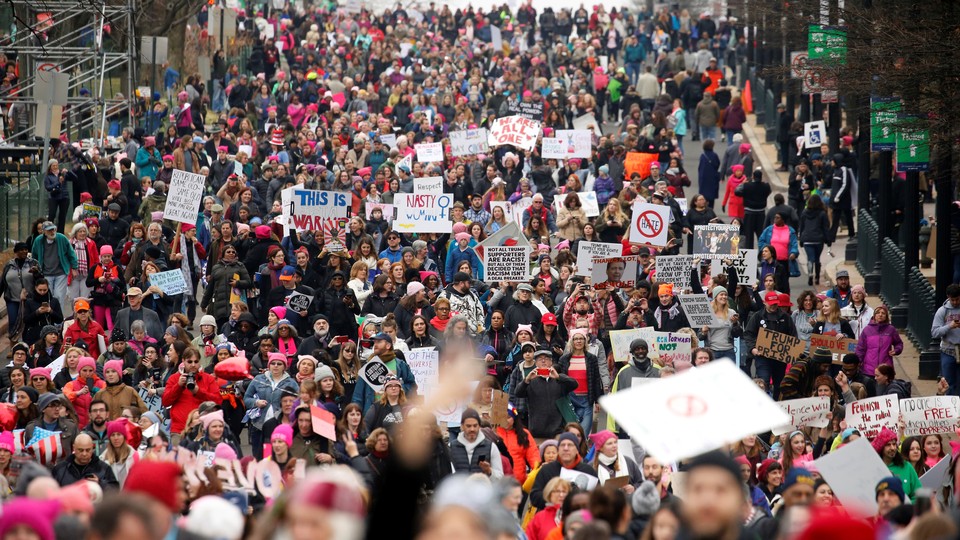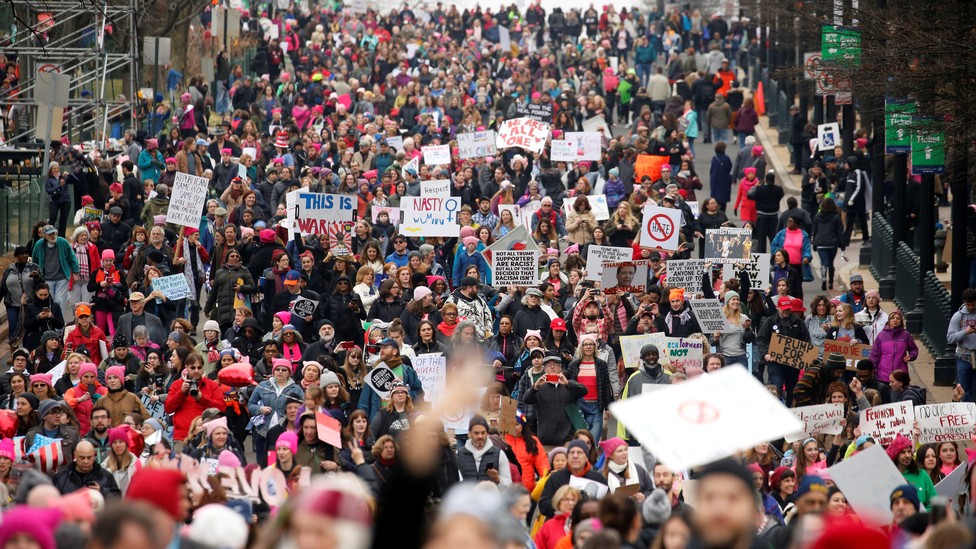 How many people attended the various Women's Marches around the globe this weekend? The question is simple, but it's hard enough to estimate the crowd at any one event. As my colleague Rob reported last week, one popular method involves satellites and weather balloons, but the low clouds that hung over Washington, D.C. on Saturday made aerial estimates difficult. Multiply the challenge by several hundred to account for all the sister marches, and assembling a total becomes a very daunting task.
But over the weekend, as President Donald Trump fought with the media over the attendance at his inauguration—experts' estimates put the crowd at about 160,000 people, while Trump falsely claimed an attendance of 1.5 million—a pair of political-science professors began work on a sprawling database that compiles attendance numbers from every protest, demonstration, and march affiliated with the Women's March on Washington that they could find.
On Saturday, Jeremy Pressman, a professor of political science at the University of Connecticut, was planning to attend a Women's March in Hartford. Before he set out, he wondered if anyone was assembling on a spreadsheet to track attendance at the various marches. He asked on Twitter, and soon, someone replied, "Don't know, but hope so!" Pressman tweeted back: "I'm starting one."
Pressman scoured the internet for links to news stories with crowd-size estimates. He added each to a Google spreadsheet, with a high and low estimate for attendance in each city he found. Within two hours, he tweeted an early version of the spreadsheet.
His post attracted the attention of Erica Chenoweth, a professor at the University of Denver and an expert on nonviolent protest. Chenoweth offered to help with the tedious, long work of compiling news reports, and by Sunday morning, Pressman had an initial estimate: Between 3.6 and 4.6 million people had marched the day before. (At press time, the low-end estimate has fallen to 3.3 million.) As my colleague Conor wrote this morning, even the bottom line would make the Women's March the largest protest in United States history.
At first, most of the data came from news reports, but before long, "social media started working," Pressman told me. People started tweeting new information at Pressman and Chenoweth, and some dug up the professors' emails in order to send in more detailed reports. They set up a Google form for people to send in their own estimates and share sources.
The spreadsheet currently has entries for nearly 550 cities and towns in the U.S., from the march in D.C. (470,000 to 680,000 participants) to a protest in Show Low, Arizona (one participant). The spreadsheet also tallies attendance at rallies in more than 100 cities around the world.
Chenoweth studies emerging political movements, so she jumped on the opportunity to watch a new one perhaps begin to unfold here in the U.S. But more fundamentally, she said, the act of counting itself is an important one. "It's a really empowering thing to be noticed and to be tallied," she said. "That actually came to be much more evident to me when people started emailing us and tweeting at us, reporting that they had two, five, seven, 12 people in their tiny outpost."
The Women's March has some of the hallmarks of the beginning of a successful movement, Chenoweth said. The ability to mobilize large numbers of people is often associated with the creation of an effective campaign. The fact that the march was inclusive and broad rather than tied to a specific policy goal helped draw big numbers, Chenoweth said, and the explicitly non-violent nature of the protests helped attract even more. The level of organization on display at events large to small bodes well for the social movement, as does the proportion of march participants who aren't usually politically engaged.
As the researchers keep gathering data, they're grappling with the implications of suddenly becoming the stewards of sensitive information. When they started out on Saturday, they didn't expect that people would report their own participation in marches. Their submission form doesn't ask for any identifying information, and Chenoweth says they're taking care not to expose those who emailed in to say they participated in a demonstration from a personal or work address.
Chenoweth and Pressman's spreadsheet is separate from another effort to gather attendance data using SMS messaging. This text census, which was put together by an organization called It's Time Network, has raised questions about privacy and its affiliation with the organizers of the Women's March.
In person and on social media, demonstrators were urged to text the words "count me" to the number 89800. Those instructions were boosted by celebrities like Jamie Lee Curtis and George Takei, who have large followings on Twitter. Despite appearing at first to be an official effort from the Women's March organizers themselves, the march's official Twitter account briefly tweeted, then deleted, a message distancing itself from the headcount, according to Snopes.
A spokesperson for It's Time Networks, which partners with organizations focused on empowering women and girls, said the confusion was the result of "an unfortunate miscommunication." It's Time Network had been in touch with the organizers of the Women's March since early January, the spokesperson said, and had offered to turn over all the data they gathered by SMS—they asked participants for their phone number, zip code, email, and where they marched—to the organizers.
It's unclear whether the march organizers ever officially endorsed the text census—emails to a spokesperson for the Women's March weren't returned—or what they plan to do with the data they'll receive. While participants were asked to text in order to be counted, one of the main goals of the campaign is to build a list of phone numbers that belong to people who demonstrated on Saturday, or who supported the marches. If the march organizers choose to, they'll be able to send messages to the list of people who asked to be counted.
Some privacy advocates pointed out on Twitter that the number that march participants were asked to text—89800—appears to be connected to a company that uses the number to send up to eight monthly "alerts regarding promotions, coupons, and time sensitive deals from local businesses." The opt-in message associated with the marketing line, however, is "DEALMEIN" rather than "count me." The company that appears to maintain 89800, txtwire, could not be reached for comment.
Chenoweth said she spoke with representatives of It's Time Network a few weeks ago, and cautioned against using SMS messaging to gather data on march participants. "I don't know if you guys want to be liable for keeping people's personal information about their participation," she warned. "If you are, make sure that people know the risks of self-reporting at an individual level."
She and Pressman are still building out their census spreadsheet, and they've already enlisted at least one research assistant for help. "I view this as a first cut," Pressman said of the spreadsheet as it stands. He told me he wanted to break out participation by U.S. state—and within hours of our conversation, a new tab appeared on the spreadsheet that did just that.
The pair is thinking about ways to institutionalize their ad hoc head-counting operation to track future events. For now, they hope that a running count of will offer march leaders and participants a rare commodity in organizing: a way to measure their success.