Trump: 'I Think' Hacking Was Russian
The president-elect's latest statement brought him closer to the position of the intelligence community.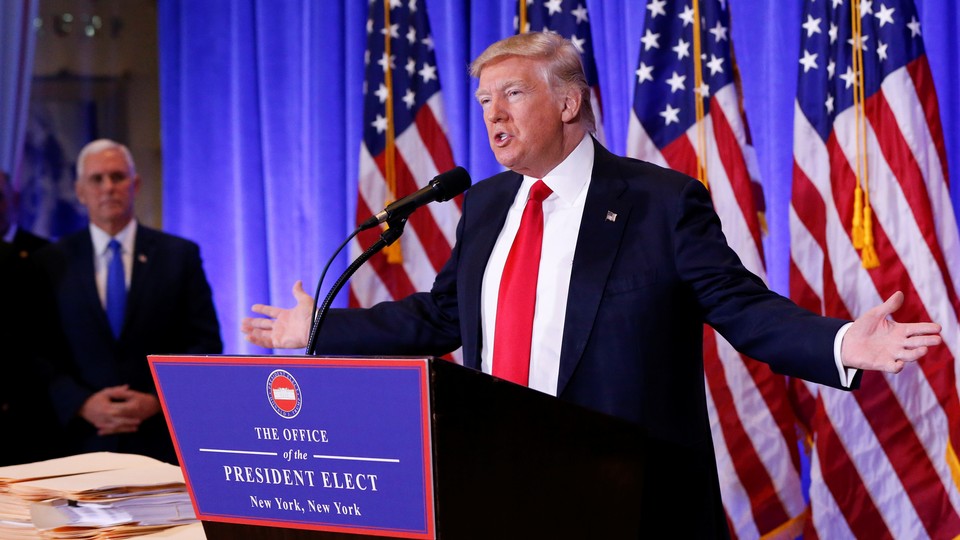 Updated at 12:25 p.m.
After months of equivocating on the origin of cyberattacks that targeted Democrats before the election, President-elect Donald Trump said Wednesday that he thinks Russia was behind the intrusions.
"As for hacking, I think it was Russian," Trump said at a press conference in New York. "But I think we also get hacked by other countries and other people."
Later, he emphasized his skepticism. "It could've been others also," he said.
At a meeting on Friday, the president-elect was briefed on classified intelligence by the heads of the NSA, FBI, and CIA, as well as the Director of National Intelligence. They presented a report that concluded, with high confidence, that the Russian government directed the cyberattacks on the Democratic National Committee and top Democrats like Hillary Clinton's campaign manager, John Podesta. The investigation also found that that the Russian campaign, ordered by President Vladimir Putin, was engineered to help get Trump elected. A brief, unclassified summary of the agencies' findings was made public last week.
Trump said he expects hacking will subside once he takes office. "Russia will have much greater respect for our country when I'm leading it than when other people are leading it. You will see that," he said. "[Putin] shouldn't have done it. I don't believe he'll do it anymore."
After touching on Russia's cyberattacks, the president-elect brought up the data breaches at the Office of Personnel Management in 2014 and 2015, which were linked to the Chinese government. He says the election-related hacking has been blown out of proportion, and that other governments are also involved in cyber-espionage. (One key difference: Information stolen in the OPM data breach has not been made public, while Russian agents leaked sensitive communications between Democrats to WikiLeaks and other mouthpieces for publication.)
Trump blamed the Democratic National Committee for its lax cybersecurity, and praised its Republican counterpart for its network protection. He claimed that hackers were "unable to break through" the Republican National Committee's defenses—but the FBI says Russian hackers were in fact able to penetrate some "old" computer systems that were "no longer in use."
Asked if the Russia's hacking campaign was justified, Trump deflected the question. He said that he has "no dealings" with Russia which would leave him vulnerable to being influenced, but declined again to release his tax records to back up his claim.