Kremlin-Sponsored News Does Really Well on Google
Should technology companies treat state-funded outlets like RT the same way as they treat The New York Times?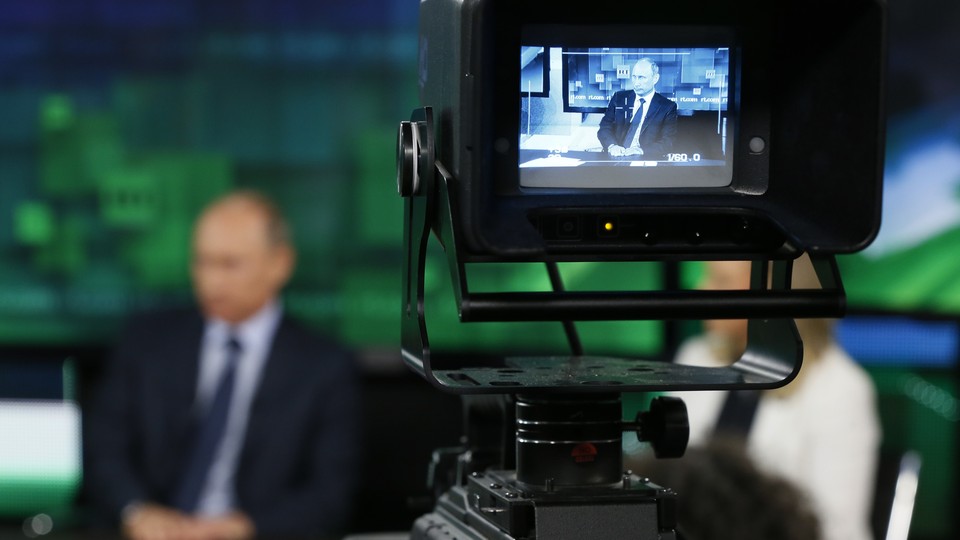 In the weeks after the election, tech companies scrambled to shoo fake news off of their platforms. It was too late to stave off pernicious false rumors about Hillary Clinton's health problems, or her involvement in a nonexistent underground child-prostitution ring, but the companies still moved to make it harder to spread similar misinformation in the future.
Facebook and Google quickly took aim at the most egregious offenders: websites that peddled deceptive news stories in order to attract hordes of readers and make money off of advertising. Both companies banned those types of sites from their powerful ad networks.
But there's a category of often-misleading news sources that seems to have escaped the notice of tech companies: state-sponsored outlets like RT, a TV network and online news website that's funded by the Russian government.
As my colleagues Julia Ioffe and Rosie Gray wrote in the Columbia Journalism Review and BuzzFeed, respectively, RT—formerly known as Russia Today—routinely shapes its coverage portray Russia in the best possible light, and to make the West, and especially the United States, look bad. As part of a landmark report released last month, the intelligence community concluded that RT was part of a "state-run propaganda machine" that spread misinformation about the U.S. election. The report said RT "actively collaborated" with WikiLeaks, and gave its founder, Julian Assange, a platform from which to publicize documents stolen from top Democrats. (Some experts say, however, that the intelligence community may have overstated the channel's influence.)
RT stories regularly appear toward the top of Google search results. Earlier this month, when I Googled "ODNI hacking report" on my smartphone, I was inundated with links to RT news stories and video clips from its TV broadcasts. (ODNI stands for the Office of the Director of National Intelligence, which released the document.)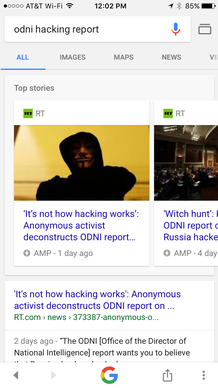 The first two items in the carousel of "featured news stories," the top three listed search results, and seven of the ten featured videos on the page linked to RT content. One story presented the Kremlin's line on the report: "It is truly reminiscent of a witch hunt." In another story, Assange called the report "quite embarrassing to the reputations of the U.S. intelligence services." The stories and videos aren't factually inaccurate; they're simply framed to discredit the hacking report and distance Russia from the accusations it contains.
A Google spokesperson declined to comment on whether the company had any policies for how to rank and display news stories and videos from state-sponsored outlets like RT. But since I reached out to the company, searching for "ODNI hacking report" no longer displays sections for featured news stories or videos. On Tuesday, only one link on the first page of Google results for the search pointed to RT.
Google came under fire in November when searches for "final election results" prominently featured a page from an amateur website that falsely claimed that President Donald Trump had won the popular vote. (In fact, Clinton received nearly 2.9 million more votes than Trump.) "In this case we clearly didn't get it right," a spokesperson for Google told me at the time. "But we are continually working to improve our algorithms."
Google searches for other political issues also turn up plenty of RT content, but none featured as many as the hacking report search earlier this month. The top news result in a search for "how big was women's march" is an RT article focused on criticism of the mess left behind by demonstrators. A search for "Trump inauguration attendance" returned an RT story as a featured news article, with the headline, "'You are wrong': Trump & spokesperson blast media over inaugural attendance figures."
Data about Facebook engagement and reach isn't public, beyond the number of people who like RT's Facebook page: more than 4 million. That pales in comparison to Facebook pages of major American news networks, but eclipses the audience of smaller news sites and magazines. I asked a spokesperson for Facebook, which has taken an aggressive approach to slowing the spread of misleading news stories, if articles or videos from state-sponsored outlets are treated the same way as content from The New York Times or The Wall Street Journal. The spokesperson only pointed me to changes the company has already announced, which suppress the circulation of links to news stories that users report as false. But since RT's stories are more likely to be biased than to be "purposefully fake or deceitful," as Facebook's reporting tool puts it, its users may not report them that way.
Before Trump's inauguration last week, RT was briefly banned from posting links, photos, and videos to Facebook. The network decried the ban as an act of censorship, but a Facebook spokesperson said that suggesting that the move was "in any way linked to outside factors or events is entirely inaccurate." RT said the ban may have stemmed from a copyright claim.
There's a bright line between discussing how technology companies circulate news stories from state-funded outlets and advocating for media censorship. RT and other foreign state-sponsored sources can legally broadcast and publish in the United States without fear of reprisal or meddling.
But today's gatekeepers of online information, like Facebook, Google, and Twitter, get to decide what information deserves to be elevated—in Google's "Top Stories" box, for example—and which, by extension, get suppressed. Real estate on the all-important first page of Google results is a zero-sum game: Only about ten links will ever appear on it for any one search, and if four of them point to one news site, those slots can't be used to direct users elsewhere.
Russia is far from the only country to sponsor a media organization. The U.K. helps fund the BBC, France 24 is paid for by the French government, and the U.S. funds publishers and broadcasters like Voice of America and Radio Free Europe/Radio Liberty. The problem isn't RT's funding sources, but rather its record of skewed, pro-Moscow reporting.
Speaking to The Atlantic in 2015, Ann Cooper, a professor of journalism at Columbia University and an expert on Russian media, said that the government shouldn't designate RT as a foreign agent. "You don't want to get into a situation where you're trying to set up categories and define different news agencies and basically say, 'These ones are good, these ones are not,'" Cooper said. She argued that the public should be allowed to choose what news source they want to listen to.
And RT, of course, isn't about to swallow up a significant portion of the U.S. news landscape. According to The Economist, the network routinely inflates the size of its TV audience, and its performance on Facebook and Twitter falls way behind mainstream news networks like CNN and the BBC, newspapers like The New York Times, and news services like Reuters and the Associated Press.