Most Babies Don't Need Breathing Monitors
There's no real evidence that consumer devices keep infants safer, and doctors say "peace of mind" isn't a good enough reason to buy them.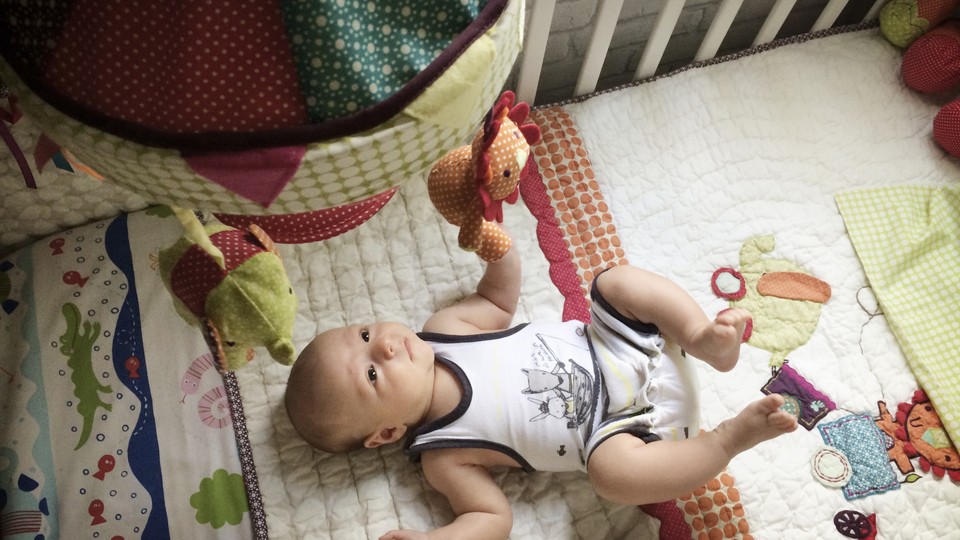 Parents of newborn babies are an easy target.
Being perpetually exhausted and overwhelmed makes a person way more likely to, say, shell out $30 on a single baby bottle, or fork over hundreds more for a fancy bluetooth-enabled swing.
Then there are the baby monitors. No longer is it enough to simply hear one's baby howling from the next room, with a walkie-talkie style audio monitor (or, for that matter, through the walls). These days, there's enough technology out there for parents to create a Batcave-esque baby-surveillance command center—built on live video feeds, wearable temperature trackers, breathing and movement monitors, and more.
But which of these devices, if any, actually keep baby safer? And how are parents supposed to separate the legitimately useful technology from sensor-equipped snake oil?
Whether this level of attention is necessary, or even helpful, is perhaps a matter of personal preference. But like many questions in the realm of parenthood, it's also a source of much debate. "We send parents home from the hospital with a sheet of paper to record wet diapers and poopy diapers," says Lisa Asta, a pediatrician and a spokesperson for the American Academy of Pediatrics. "That piece of paper is useful for about three to five days, and after that, there really isn't any recommended technology." New guidelines from the American Academy of Pediatrics say that parents and infants should share a room (but not a bed) for the first year of life anyway—a recommendation that makes remote-surveillance tech seem rather unnecessary. The best way to track your baby, pediatricians will tell you, is with your own two eyes.
But the makers of myriad baby devices are still trying to convince parents otherwise, and marketers attempt to appeal to people's worst fears in doing so. Consider, for example, the tagline for the Owlet infant sock, an over-the-counter heart rate and breathing monitor: "Know if Your Baby is Breathing."
The sock, which costs $250, is sold as a pulse oximeter for home use, based on technology that measures blood-oxygen levels. (If a baby's vitals drop precipitously, Owlet says, an alert is sent to the caregiver's smartphone.)
"That may sound really, really important," says Kitsiou Spyros, an assistant professor in biomedical and health-information services at the University of Illinois at Chicago. "But you have to be very careful. What is the efficacy of the device? Right now we have no evidence whatsoever that it works."
A spokesperson for Owlet told me the company has conducted "side-by-side accuracy tests with hospital-grade oximeters in a clinical setting" and "conducted tens of thousands of hours of in-home testing prior to releasing the product." But such devices aren't subject to the kind of scrutiny that bonafide medical devices must face. David King, a pediatrics lecturer at the University of Sheffield, in England, wrote about his concerns with the booming baby-wearable industry in the medical journal BMJ in 2014.
Owlet states on its website that the device "alerts you if something appears wrong with your baby's heart rate or the amount of oxygen in his/her body." Rest Devices claims that its product allows parents to see their "baby's breathing patterns, in real-time." Sproutling says that it will let you know "if your baby is sleeping soundly or if something is wrong." No published data support any of these claims, and because the devices are being sold as consumer rather than medical devices such data are not required. Ideally, manufacturers would be required to undertake observational studies or randomized trials to support any claims they make concerning the utility and efficacy of wearable devices in infants—even if they are categorized as consumer devices.
The American Academy of Pediatrics also cautions against using such devices, saying there is no evidence that they decrease sudden infant death. One study, published in the Journal of the American Medical Association in 2001, found the efficacy of such devices is unproven even for babies with an increased risk of SIDS.
Movement and breathing monitors have been around for decades, but they haven't always been widely available for purchase the way they are today. A flurry of attention on crib death in the 1960s and 1970s increased public awareness of sudden infant deaths, but also likely contributed to fear among parents of newborns. In 1978, a pair of engineers at the tech firm Intersonics Corporation patented a wearable monitor belt for infants. It consisted of a plastic disk affixed to an elastic cloth that was meant to go around a newborn's waist. An alarm would sound, according to newspaper reports at the time, to indicate dangerous fluctuations in temperature, pulse, or respiration. (It also featured a light that showed the device was turned on in the first place.)
"To older pediatricians, this may sound familiar," King wrote. "In the 1980s and 1990s a plethora of similar products was developed and sold with the intention of reducing sudden infant death syndrome. Unfortunately, epidemiological studies showed that such devices had no effect on the incidence of SIDS in healthy infants."
None of this has stopped people from buying wearable infant monitors. And it certainly hasn't stopped companies from claiming you can purchase prepackaged peace of mind for $200 or more. Snuza has sold some 300,000 breathing and movement trackers since it launched nine years ago, the company's CEO, Greg Gallagher, told me. "I appreciate that a doctor might only speak from the research they're aware of," he said. "We don't make the claim this device prevents SIDS, but we haven't had a single death."
Unfortunately, the same cannot be said for all such devices. In 2013, the U.S. Consumer Product Safety Commission ordered a recall of Angelcare movement and sound monitors after two babies died. They had been strangled by cords attached to the device. A spokeswoman for Angelcare told me their products' testing processes are now "extremely rigorous," but that she "can't divulge the information [about these processes] due to its confidential matter, unfortunately."
There's still the question of why, given what wearable monitors claim to be able to do, they aren't regulated as medical devices. A spokeswoman for the United States Food and Drug Administration told me that products intended to monitor an infant's breathing are within the agency's regulatory purview, meaning companies could seek FDA approval, but Gallagher says it doesn't make sense for Snuza to do so. In the United States, that would mean the monitor would be only available through a prescription, a potential outcome he characterizes in the starkest of terms: "It robs parents of the opportunity for the device to save their babies." And, of course, robs manufacturers from selling as many devices as possible.
There is a real logistical challenge here, too. "A huge problem in the area of health informatics right now is that the technology evolves so fast and the pace at which these companies are producing these products outpaces our ability to do research with randomized controlled trials," Spyros said. "By the time we start and we design the studies, the technology is already obsolete."
And the thing is, people are buying them anyway. A lot of people. But why?
Obviously, people desperately want to keep their newborn children safe. The idea that a device might possibly help them do so is undoubtedly powerful. Dawn Nafus, a data scientist at Intel Labs, suggests the popularity of such monitors may also reflect a larger cultural shift. Public demand for these devices—despite the high cost and despite warnings from experts—illustrates changing perceptions about why people turn to various technologies in the first place. "The consensus in my field is that beliefs about safety and risk have been changing over the last 40 years by increasingly placing the onus of managing risks onto individuals, as opposed to institutions," Nafus said.
In other words, if people increasingly feel like the institutions that once kept people safe are failing them—and that it's now up to the individual to determine and manage various everyday risks—they may be more likely to ignore official guidelines in favor of reassuring narratives about consumer technologies.
Besides, these companies aren't really selling SIDS-prevention devices (despite giving the strong impression that they are); they're selling peace of mind. A little bluetooth-enabled object that you clip onto a baby's diaper may do nothing for the baby, but it becomes an amulet of sorts—a worry stone meant to protect parents from indulging in their own worst fears.
But finding peace of mind this way isn't ultimately harmless.
For the babies who truly need constant monitoring of vital signs, several doctors told me, a medical team should be coordinating their care—very often in a hospital setting. Giving parents the false sense of security that an unproven device will somehow keep their baby safe isn't just a waste of money, doctors say, it also trains them to focus on the wrong things as parents.
"A certain level of anxiety is helpful," Asta says. "Don't look at the monitor, look at the patient. And trust yourselves, folks. I always tell people, 'What ever you buy, keep the receipts.'"