Facebook Is America's Favorite Media Product
It's equivalent to 1.5 Super Bowls happening every day, audience-wise.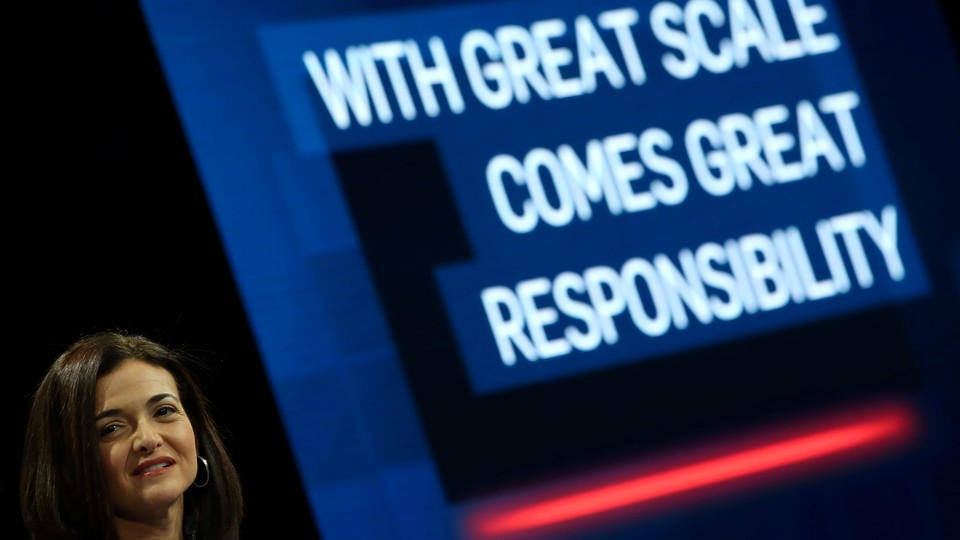 The most-watched television broadcast in U.S. history is Super Bowl XLIX. On February 1, 2015, about 114.4 million people watched the Patriots defeat the Seahawks, and even more—about 118 million—tuned in for Katy Perry's halftime show.
Even in a culturally divided nation, about 36 percent of all Americans could unite around simultaneously seeing Left Shark become Left Shark.
It is an impressive number, a testament to the continuing scale of mass media. Compared to Facebook's audience, however, it is an absolute pittance.
A new Pew report finds that 52 percent of the adult population use Facebook every day. Simply in terms of audience size, Facebook is like one and a half Super Bowls happening every day of the week.
Its reach extends even further when you also count occasional Facebook users. Fully 68 percent of American adults use the site at all*.
No other social network comes close to Facebook's power. In fact, the second most popular social-media app in the country is also owned by Facebook: Instagram is used by 32 percent of online American adults. Only the third and fourth most-popular social networks, Pinterest and LinkedIn, sit beyond the company's grasp. About three in ten online American adults use each of those.
---
Facebook: Far and Away the Most Popular Social Network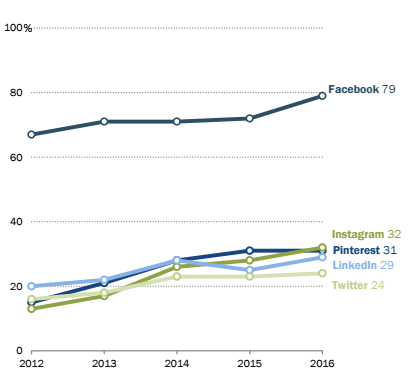 ---
It may seem silly to compare Facebook to the Super Bowl. One is a four-hour nationally televised championship; the other is an online platform for photos and text. Yet Facebook is a cohesive media product, governed by certain rules and all-powerful algorithms. The values of that software shape one of the most powerful vehicles for both popular expression and commercial content ever constructed.
One of those values is a complete disregard for factual information. As Josh Benton wrote at Nieman Lab on Wednesday:
Facebook has become a sewer of misinformation. Some of it is driven by ideology, but a lot is driven purely by the economic incentive structure Facebook has created: The fake stuff, when it connects with a Facebook user's preconceived notions or sense of identity, spreads like wildfire. (And it's a lot cheaper to make than real news.)
Indeed, investigative reporting from The Wall Street Journal and BuzzFeed found that the most popular "partisan news" pages during the 2016 election shared fake, distorted, or simply incorrect stories as fact.
As my colleague Kaveh writes, Mark Zuckerberg denies this influenced the outcome of the election. Yet the company's vice president of product, Chris Cox, once spoke hopefully about turning Facebook into the world's best newspaper.  That is now undoubtedly what it is—a daily newspaper read by half the country, filled with stories that have nothing to do with reality.
---
* This article originally stated that 53 percent of adults use Facebook every day, and that 71 percent of American adults use the site at all. We regret the errors