What's Missing From Mark Zuckerberg's Memo on Peter Thiel
The Facebook CEO focuses on Thiel's support of Donald Trump, when he should be addressing Thiel's crusade against the press.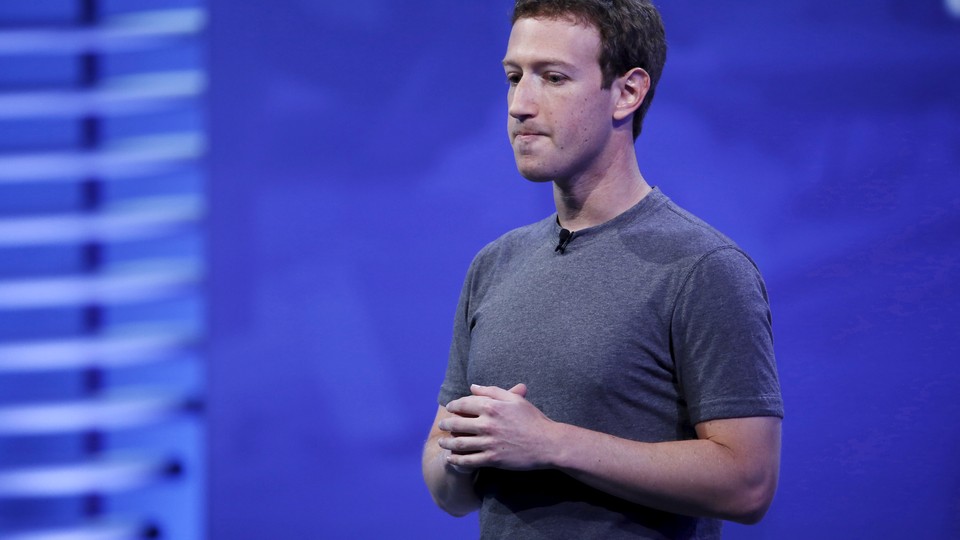 Peter Thiel is not the most popular guy in Silicon Valley.
The venture capitalist and entrepreneur has had a particularly volatile year. First there was the bombshell that Thiel was secretly financing a lawsuit aimed at destroying the news site Gawker. (His $10 million investment paid off: Gawker lost in court, went bankrupt, and shut down after a 14-year run.)
Then, Thiel announced his support for Donald Trump—an unwelcome political position in center-left Silicon Valley—praising Trump for being "honest," "a builder," and a man not distracted by the country's "fake culture wars."
Most recently, amid the Trump campaign's spectacular meltdown, came the news reports that Thiel would donate $1.25 million to Trump. (The New York Times attributed its report about the donation to "a person close to the investor.") That, apparently, was enough to prompt Mark Zuckerberg, the Facebook founder, to send a memo to his staff this week.
It was time to address the "questions and concerns about Peter Thiel as a board member and Trump supporter," Zuckerberg wrote in the memo, which was leaked to the website Hacker News.
Keeping Thiel on the board was a reflection of Facebook's commitment to diversity, Zuckerberg explained. "We can't create a culture that says it cares about diversity and then excludes almost half the country because they back a political candidate..." he wrote. "Our community will be stronger for all our differences—not only in areas like race and gender, but also in areas like political ideology and religion."(A spokesperson for Facebook confirmed to me that the leaked memo, pictured below, is authentic.)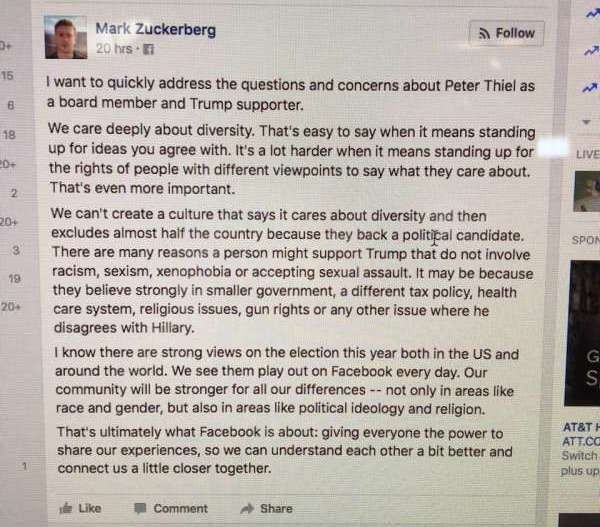 Setting aside the question of whether Zuckerberg's explanation holds up to scrutiny—the make-up of Facebook's board gives plenty of reason to doubt its actual commitment to diversity, for instance—there's still the question of why Zuckerberg felt compelled to address Thiel's support for Trump, but not Thiel's antagonism toward a free press.
After all, Facebook is arguably the most influential publisher on the planet.
Facebook's commanding position in the media ecosystem has upended digital journalism. The social giant drives an inordinate volume of traffic across the web. Some 40 percent of all traffic to news sites comes from Facebook. Needless to say, many of those sites depend on online ad revenue for survival.
Facebook itself commands a staggering portion of all digital ad revenue online—about 65 percent.
In this regard, Zuckerberg's silence on the question of Thiel's attitude toward the press looks more like a deliberate strategy. It fits into Facebook's larger reluctance to acknowledge what it really is: a media company.
Over the years, Facebook's senior leaders have spouted platitudes about the importance of a free press. They've repeated that Facebook is committed to sharing quality journalism. Yet Facebook repeatedly makes questionable editorial decisions while denying the platform has any editorial obligations. (Facebook declined my request for comment from Zuckerberg, and said his memo was intended to remain private anyway.)
Last spring, the website Gizmodo published a report about former Facebook workers who said they "routinely suppressed news stories of interest to conservative readers" from Facebook's prominent "trending" news section. (Zuckerberg denied the practice.) In August, Facebook waited hours before removing a false report—that the news anchor Megyn Kelly supported Hillary Clinton and had been fired as a result—from its news section. And last month, Facebook came under fire for censoring an iconic wartime photograph—removing an article featuring the image that had been shared on Facebook by Norway's largest newspaper. (The Pulitzer-Prize-winning photo features 9-year-old Phan Thị Kim Phúc, frequently referred to as "napalm girl," running naked in the street after suffering severe burns in a napalm attack in Vietnam in 1972.)
Espen Egil Hansen, the editor of that newspaper, wrote a scathing open letter to Zuckerberg, blasting him for restricting Hansen's ability to exercise his editorial responsibility. "Mark, you are the world's most powerful editor..." Hansen wrote. "I think you are abusing your power, and I find it hard to believe that you have thought it through thoroughly."
What does any of this have to do with Peter Thiel? His attitude toward the Fourth Estate is troubling by itself, and even more so given Facebook's status as a publisher.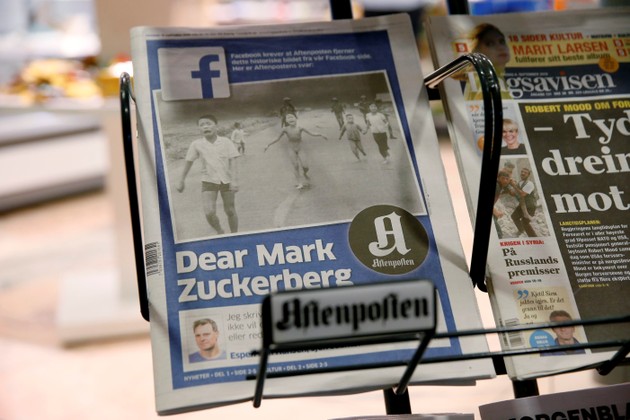 Hansen's concern is a worry that's widely shared among journalists—that Facebook is abusing its power by denying the fact that it is media company, ignoring the ethical obligations that come with being a news publisher and distributor, and compromising journalistic standards and independence as a result.
Viewed in this light, the decision to keep Thiel on the board of the most influential publishing company on the planet is astounding.
Thiel is an affluent public figure who "could have fought speech with speech, and he would have been heard," as Marcus Wohlsen wrote in an essay for Wired in June. "In seeking to destroy Gawker," he added, "Thiel showed that what matters to him isn't freedom but the raw exercise of power."
Remember, too, Thiel is supporting a presidential candidate who openly hates journalists, and has vowed to "open up our libel laws so when they write purposely negative and horrible and false articles, we can sue them and win lots of money."
Thiel said in an essay for the Times that he's proud of his role in taking down Gawker, and that he'd "gladly" do it again if he had to. What that means is that a Facebook board member—a billionaire on the board of "the biggest publisher on Earth," as Jill Abramson, the former New York Times editor, put it in a talk last month—could be using his wealth to take out competitors.
Why would a publisher want a person with Thiel's attitude toward the First Amendment representing its company?
"These are hard issues," said Sheryl Sandberg, Facebook's chief operating officer, at Recode's Code Conference over the summer, according to CNN.
Her comments came around the time when Zuckerberg and other members of Facebook's leadership voted to keep Thiel on the board. When a reporter asked Sandberg about the possibility that Thiel was secretly bankrolling additional lawsuits against media organizations—as he had against Gawker—and whether that would change Facebook's commitment to keeping him on the board, Sandberg had little to offer. "It's really hard to answer all of these hypotheticals," she said. "But what really matters is that we're an open platform."
An open platform, that is, until Facebook doesn't like the photograph you published. An open platform that is capricious at best about its own editorial responsibilities and standards. An open platform represented by a board member who will "gladly" finance the destruction of competing publishers.
"Facebook won't admit it's a media company," said John Temple, the managing editor of the Investigative Reporting Program at University of California Berkeley's Graduate School of Journalism. "When the bulk of your revenue comes from advertising—in other words you sell audience to marketers—what else are you?"
"It competes with other publishers," Temple added. "It decides what content its users will see. That's what media companies do. It's time for Facebook to accept responsibility." (He first made these comments in a private Facebook post, naturally.)
Every year, The Atlantic asks dozens of Silicon Valley entrepreneurs, CEOs, and technology critics to fill out a wide-ranging survey on the state of their industry. This year, we asked participants which was worse: Thiel's support of Trump or his war with Gawker. Slightly more than half of those who responded were more disturbed by Thiel's support of Trump, but there was still deep concern over his attitude toward journalism.
"The Gawker suit demonstrated that Peter Thiel has no regard for a free press," said Jillian C. York, the director for International Freedom of Expression at the Electronic Frontier Foundation. "His endorsement of Trump, on the other hand, should surprise no one."
What remains surprising is that the world's largest publisher refuses to acknowledge the business it's really in. Facebook has not yet come to terms with its own power or, for that matter, with Thiel's.
Facebook tells the world that it's a champion of the free press. And now it is telling its shareholders, users, and employees that Facebook stands by a man proud to shut those freedoms down.
SaveSaveSaveSaveSaveSaveSaveSaveSaveSaveSaveSaveSaveSaveSaveSaveSaveSave
SaveSave