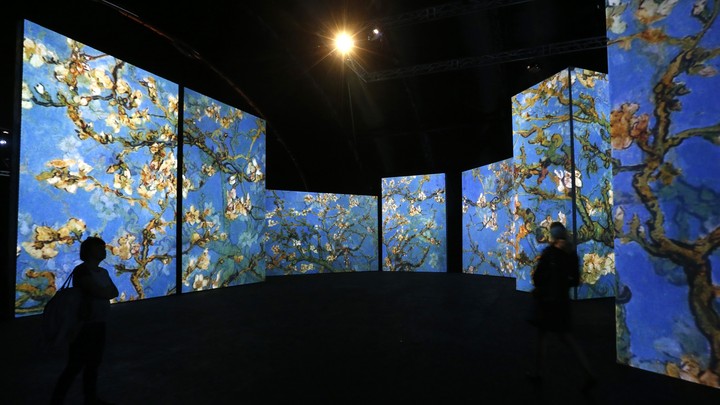 At its best, Twitter is supposed to be a kind of all-encompassing wire service, a wave of information forever breaking. Even if it's not always perfectly relevant, the service is at least perfectly timely—the chronological 140-character updates are as close to the present as we can get on social media. But that same ultra-relevance can also be painful, say, if you're keeping tabs on each Trump campaign mini-meltdown and the ensuing media frenzies.
That's why lately, I've decided to trim down my feed and focus on image-heavy accounts rather than breaking news—at least until November 8th. Some accounts post art, others incisive comics, and a few just cute animals, but all break up the timeline and add some visual bacon bits amongst the newsier vegetables.
Twitter has never quite embraced the Internet's quirkier side. Sure, we had Weird Twitter, and thirsty comedians practicing one-liners abound. But the utopian @horse_ebooks dream that an algorithmic robot could provide us perfect absurdist humor has been shattered for a long time now (three years, to be exact). Instagram is for lifestyle porn. Snapchat is for hanging out with friends. Tumblr's impenetrable teen wilderness is where the real memes get made. The image accounts I follow bring some of that sense of fun to Twitter at a time when it's desperately needed.
Here are a few suggestions for where to find the beauty. You don't need to retweet them or give them any favs. All you have to do is follow along and enjoy.
@Lianafinck
You might have seen the New York-based cartoonist Liana Finck in The New Yorker or on The Awl. Her drawings are loose and incisive evocations of city life that are as likely to make you laugh as groan in recognition. Finck has a way of nailing the problems of art, dating, work, and socializing in a way that makes them painfully familiar. Then her well-tuned sense of the absurd saves the day.  
https://t.co/qBibc9nNz4 pic.twitter.com/WwFyG41YJo

— Liana Finck (@lianafinck) September 30, 2016
@Oniropolis
Darran Anderson's account translates to something like "imaginary cities," which is also the title of the Irish writer's second book, inspired by Italo Calvino. The account traverses cities real and fictional, aggregating photographs and visual art as well as clips from movies and speculative utopian architectural diagrams. Anderson creates an ongoing universe within the Twitter feed.
'Bridge City Across the English Channel' (1963) by Eckhard Schulze-Fielitz & Yona Friedman pic.twitter.com/3PlQ7mOQ45

— Darran Anderson (@Oniropolis) October 2, 2016
@Rabihalameddine
The novelist Rabih Alameddine uses his feed to explore art history in the way that it should be consumed: not as a didactic, chronological textbook, but a leapfrogging network of connections between artists and eras. One of his threads might collect images of water, another plant life, or perhaps non-objective abstraction. Part of the game is figuring out which theme ties what you're seeing together. Alameddine chalks it up to a break from his fiction work—"The more beautiful the image, the more frustrated I am in my writing," he told NewYorker.com. For the rest of us, it's educational. (Those up for something a little more NSFW in the art realm might consider @21primitive.)
And here's a book sculpture that I don't know who made! pic.twitter.com/59SAcz2xvM

— Rabih Alameddine (@rabihalameddine) October 6, 2016
@VeraCausa9
Similar to Alameddine, this assiduously cited account aggregates artwork, but it's all from the ancient world. It's a connoisseurial, impressionistic look at entire era's worth of culture underlining the fact that it's not just us today—humans have always been obsessed with sex, religion and violence. Like reading Anne Carson's translations of Sappho, the feed of images is more about the fragments than the whole.
Black-figured lekythos- Achilles waits to ambush Polyxena at the lion-headed fountain - ca.480 BC @MuseeLouvre pic.twitter.com/ozcCOYHSDC

— Libertas (@VeraCausa9) October 3, 2016
@Neomechanica
Sometimes it's comforting to know that the future has failed. @Neomechanica collects representations of futuristic technology from vintage anime, video games, and movies (unfortunately uncredited). Usually dark, sometimes dystopian, it functions as a reminder that no matter what we think will happen in the next few decades, it probably won't be as bad (or good) as all that.
September 25, 2016
@Machinepix
Remember when Mr. Rogers would take his viewers on tours of factories to see how things are made? This account, run by venture capitalist Kane Hsieh, is kind of like that, if the factories made robots. Beyond GIFs of the physics of fountain pens, it gives a glimpse inside Amazon warehouses and LEGO factories. The account is satisfying because you know these machines are always getting the job done, even if you're procrastinating.
The Ghost Robotics Minitaur can open doors. pic.twitter.com/BlmhOs603l

— Machine Pix (@MachinePix) October 1, 2016
@Dog_rates
Sometimes you just need cute pics of animals, or in this case, "puppers." Run by a college student named Matt Nelson, the extremely viral We Rate Dogs (tm) is less curation and more a long-running absurdist farce: Nelson solicits photos of followers' pets to judge, but then jokes that they aren't actually dogs, before giving them all a rating somewhere above 10/10. Why? Why not? "The time I spend trying to entertain with each rating makes the page much more than another content aggregating CuteEmergency account," Nelson says. The tweet pinned at the top of the account explains it all: don't take social media quite so seriously.
Idk why this keeps happening. We only rate dogs. Not Bangladeshi Couch Chipmunks. Please only send dogs... 12/10 pic.twitter.com/ya7bviQUUf

— WeRateDogs™ (@dog_rates) September 29, 2016
We want to hear what you think about this article. Submit a letter to the editor or write to letters@theatlantic.com.
Kyle Chayka
writes about technology and culture for several magazines including the New Yorker, the New York Times Magazine, and Businessweek.