Facebook Is Overwhelmed With Check-Ins to Standing Rock
… though there's no evidence that protesters made the request.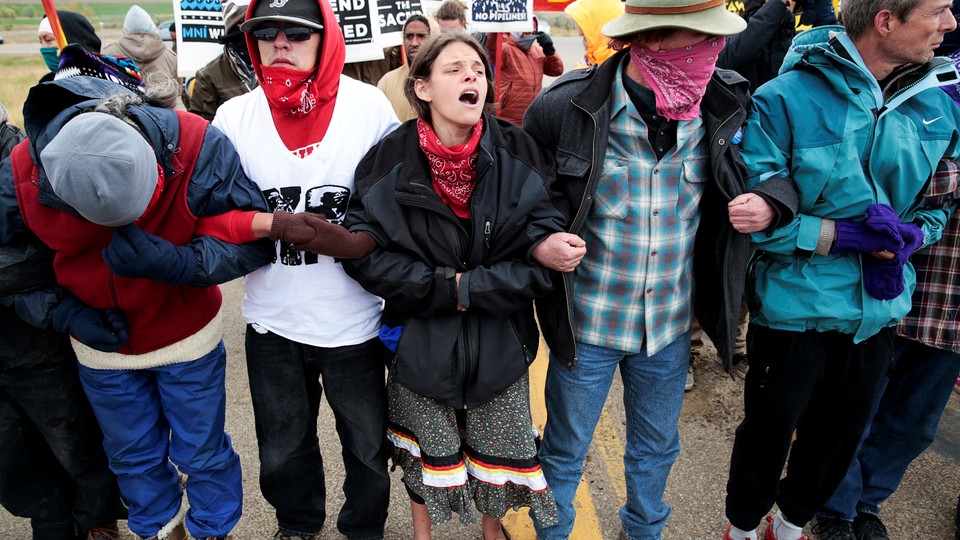 Updated at 3:45 p.m.
Our Facebook timelines erupted early Monday morning with a specific kind of post: Seemingly half of our friends had apparently traveled to the Standing Rock Reservation in North Dakota and used Facebook to "check in."
Except they weren't really there. They had used Facebook's check-in feature to lend support to the ongoing protests. According to one of the viral posts that called on Facebook users to check in at the reservation, the flood of check-ins is intended to "overwhelm and confuse" police agencies. The post alleged that the Morton County Sheriff's Department had been using check-ins to identify and "target" protesters.
"This is concrete action that can protect people putting their bodies and well-beings on the line that we can do without leaving our homes," read the call to action.
So far, no protester group has claimed responsibility for the request. A legal team working with the Standing Rock Sioux told us they were not aware of who sent the message or who wrote it.
In addition, the Sacred Stone Camp has told Snopes that they are not responsible for the tactic, though they affirmed it was a "great way to express solidarity." Standing Rock protesters have previously requested that people contact leaders in the Army Corps of Engineers and the Obama Administration in opposition to the pipeline, and #NoDAPL lists a wide varieties of other solidarity actions on their website.
"The Morton County Sheriff's Department is not and does not follow Facebook check-ins for the protest camp or any location. This claim/rumor is absolutely false," said the department in a Facebook post.
Even if they were, it's unclear whether this tactic could disrupt their activities. Law-enforcement agencies routinely use technologies like Geofeedia to track protesters' posts, photos, videos, and locations in real-time. They can monitor a wider sort of geo-tagged post than Facebook check-ins—such as regular posts that include location data on Facebook, Twitter, and other services. It's not clear whether the Morton County Sheriff's Department or any other police agency in the Dakotas is a Geofeedia client. The North Dakota state government's IT department lists Geofeedia as a "social media" tool on its website. Neither the sheriff's department nor Geofeedia were immediately available to comment.
The mass check-in is a new and unusually public step in the months-long conflict over the construction of the Dakota Access Pipeline. The pipeline, which would connect the Bakken Formation oil fields to a shipping depot in Illinois, must cut across the Missouri River, a federally controlled waterway that holds religious importance and also supplies clean water to the Sioux reservation. The pipeline also cuts through land, now privately owned, that was ceded to the Sioux by an 1868 treaty.
On Friday, police officers from the Morton County Sheriff's Department used armored vehicles to push protesters back from the construction site, arresting about 140 of them. That police action also garnered mass public recognition for the protest—which the viral post on Monday capitalized on.
As of Monday afternoon, the Facebook page for the Standing Rock Indian reservation had been "visited" more than 868,000 times and liked more than 310,000 times. A stream of five-star ratings—the page has more than 7,000 of them—came with messages of support, many of them copied from earlier posts.