Amazon Wants to Scan Your License Plate
Identifying cars would help it speed up pickup times at brick-and-mortar stores—but it could use the information to track your location.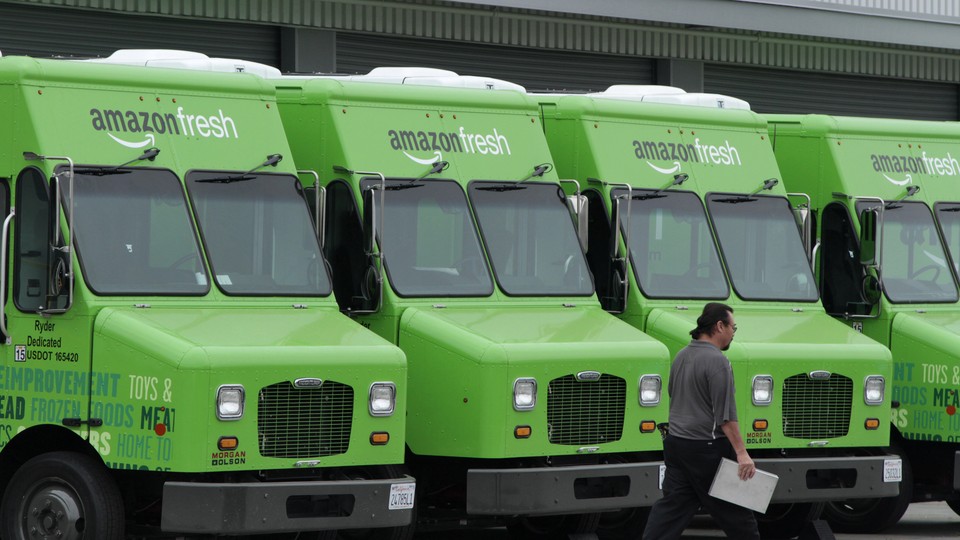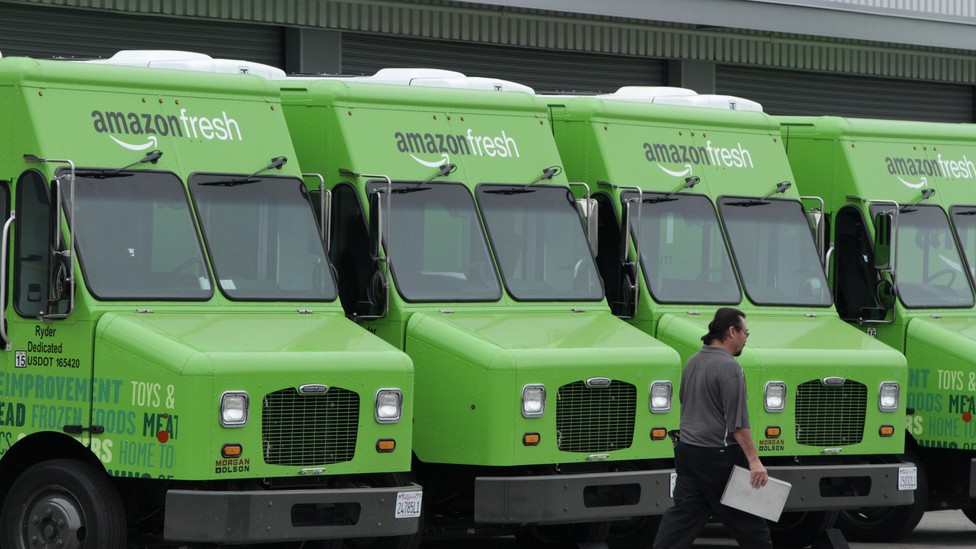 A drive-through for your groceries: According to a report from The Wall Street Journal, that's one of Amazon's many ambitions for the next version of its grocery-delivery service, Fresh. The company will set up a series of "convenience stores," the Journal reports, where it will sell basic goods like milk, produce, and meat.
Some locations will also allow people to pick up orders they placed online. Here's how the Journal described that feature:
For customers seeking a quicker checkout, Amazon will soon begin rolling out designated drive-in locations where online grocery orders will be brought to the car, the people said. The company is developing license-plate reading technology to speed wait times.
That detail about the license-plate readers caught my attention. Scanning the license plates of incoming cars makes sense: If your plate is connected to your Amazon account, the system could alert employees working in the store that you've arrived to pick up your grocery order before you even have a chance to park. If someone met you at the curb with your order in hand, you could be in and out of the lot in less than a minute.
But that's not the only reason implementing a license-plate system would be a smart move for Amazon. If the company can convince you to tell it which car is yours, it could link your license plate number to your Amazon account. Then, if it bought data from another company that shows where else your car has traveled, it could potentially use that information to develop an even more complete picture of your habits, preferences, and personality.
Automated license-plate readers are primarily used for policing—but they're also useful to a range of private companies, as I reported earlier this year. Insurance and repossession companies, for example, buy license-plate data from clearinghouses and use it to find cars whose owners have stopped making loan payments, or cars whose owners don't have auto insurance.
The data is valuable for market research, too. In 2014, a mall in Syracuse, New York, began using a license-plate reader mounted on a security vehicle to figure out where shoppers were coming from, in order to better target advertising. An informational brochure for a license-plate recognition system from Scheidt & Bachmann, a German company that sells technology for parking lots and garages, advertises that scanning plates can "provide statistically informative data on customer use patterns" for marketing.
Imagine, for example, that Amazon had access to a database of license-plate scans. Commercially available databases include information about where and when each license plate was sighted. With that data, Amazon could make inferences about where its customers live, work, and shop: a marketing gold mine.
Amazon would not comment on the Journal's reporting, or on how it might use license-plate reader data.
Using location tracking for marketing is already popular and lucrative, says Joseph Turow, a professor at the University of Pennsylvania who researches marketing and digital privacy. For now, most of the information for tracking comes from smartphones: GPS and cell-tower readings help advertisers target messages to people in a certain area, or learn more about their habits. He says he hasn't heard of companies using license-plate scans to achieve the same goal. "It's a brilliant idea," said Turow, "but it has far-reaching implications."
Combining location data with the already extensive information that Amazon has on individuals' shopping and browsing history would be potentially beneficial to both the company and its customers, who would presumably get better recommendations—but it would be a particularly invasive way to gather data on online shoppers, if it didn't come with a clear and easy way to opt out.