Why Won't Trump Blame the DNC Hack on Russia?
His refusal to point fingers is a departure from the Obama administration's willingness to attribute cyberattacks to foreign countries.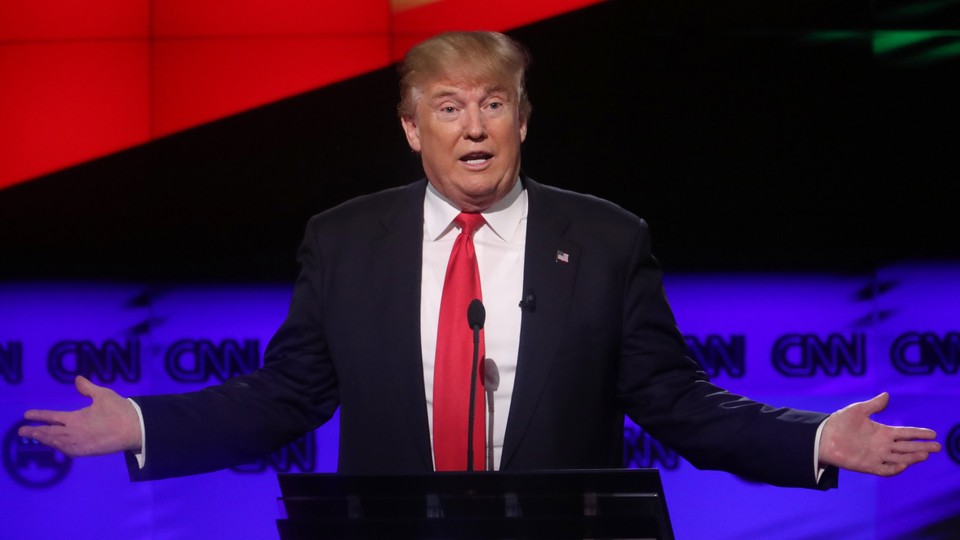 After FBI Director Jim Comey warned a congressional panel on Wednesday that hackers are "poking around" voter-registration systems in various states, law-enforcement officials told CNN that the U.S. suspects Russian involvement. ABC News reported that nearly half of U.S. states have come under cyberattack from hackers affiliated with Russia, which helps explain Comey's comment during Wednesday's hearing that the FBI is looking into "just what mischief is Russia up to in connection with our election."
Time and time again, officials and lawmakers have shown a willingness to point fingers at Russia for election-related mischief, either publicly or under cover of anonymity. CIA Director John Brennan said Russia has advanced cyberwar capabilities, and that the country has been "very active" in trying to manipulate elections overseas, at a Wednesday event during the Washington Ideas Forum, presented by The Atlantic and the Aspen Institute.
And when hackers broke into the Democratic National Committee's email systems this summer, President Obama himself said that "experts have attributed this to the Russians."
So why did Donald Trump stand on a debate stage this week and equivocate on the DNC hack? Here's what he had to say when Lester Holt, the moderator, asked both candidates who should be blamed for cyberattacks on the U.S.:
I don't think anybody knows that it was Russia that broke into the DNC. She's saying Russia, Russia, Russia. I don't—maybe it was. I mean, it could be Russia, but it could also be China, it could also be lots of other people. It also could be somebody sitting on their bed who weighs 400 pounds, okay?
He was responding to Hillary Clinton's straightforward analysis of the situation: "Putin is playing a very tough, long game here," she said. "And one of the things he's done is to let loose cyber attackers to hack into government files, hack personal files."
Monday night wasn't the first time Trump shrugged when it came to Russia's role in the cyberattack. When Matt Lauer asked Trump about his relationship with Putin, pointing out that Russia is "probably … the main suspect for the hacking of the DNC computers," Trump replied: "Well, nobody knows that for a fact." (In July, on the other hand, Trump encouraged Russia to "find" emails sent to and from Clinton's private email account.)
In cyberwar, attribution matters. The Justice Department has increasingly brought formal charges against them and hanging up their photos in the FBI's gallery of most-wanted cybercriminals. Blaming another country for cyberattacks can make it harder for a country to justify sponsoring further intrusions, or can bolster public support for retaliation, Bruce Schneier, a computer-security expert, has argued.
It's not like Trump waffled onstage because he truly didn't have the information that Clinton had. A U.S. intelligence officials told Time that the government's confidence in Russia's involvement in the DNC hack was covered in one of Trump's intelligence briefings.
"I do not comment on information I receive in intelligence briefings," Trump responded in a statement to the magazine. "However, nobody knows with definitive certainty that this was in fact Russia." But Trump doesn't have a particularly stellar track record of keeping details from his classified briefings to himself. Earlier this month, he said intelligence officials in one briefing seemed displeased with the Obama Administration, based on their body language. (His comments were criticized by former intelligence officials, who say agents who deliver briefings are trained never to betray emotion or display a preference for one policy over another.)
Instead, Trump's statement during the debate came across as another manifestation of his apparent willingness to cozy up with Russia. As The Washington Post pointed out earlier this week, the way Trump discussed the DNC attack mirrors how Russian President Vladimir Putin tends to talk about it: first, a demurral about the identity of the attackers—It's complicated! We may never know!—and then, a pivot to the information that the hackers leaked, which was damaging to the Democratic Party.
On one hand, it certainly doesn't appear that repeatedly pointing fingers at Russia for election-related cyberattacks has convinced Putin to lay off the hacking. But on the other hand, refusing to lay blame on the culprit at all could potentially be more dangerous: It allows state-sponsored hackers an additional layer of safety in anonymity, which may embolden them to keep attacking.